Security
Key Areas Of Focus In Healthcare Data Security
The healthcare industry evolved much in recent years because of digitalization and technological advancement. The transformative power of data-driven solutions has improved this industry's standards and working capability, ultimately influencing how a country can progress. With the integration of electronic health records (EHRs), telemedicine, and other digital platforms, you can benefit from enhanced patient care and operational efficiency. However, some changes are still needed to take the integrity and functionality of this company to an advanced level. We have developed this guide to help you learn about the key areas of focus in this tremendous industry.
How has Technology Transformed the Healthcare Industry?
We all know very well that the progress of a country can easily be calculated from its healthcare standards and the condition of this industry. Recently, the disease outbreak has pressured companies to integrate technological advancements in their infrastructure. So, they become able to manage repeated processes and automate them for more productivity. Through the involvement of the latest technology, companies can protect patient information alongside maintaining regulatory compliance. Consequently, they can ensure the overall integrity of healthcare data. Further, the development of certain software has influenced many processes, making it easier to care for patients and provide better treatment.
Areas Of Focus In Healthcare Data Security
Although technology has delivered enormous perks, certain areas still need improvements. We have enlisted them in the under-section. Have a look at them and design a proper strategy to improve them.
1 – Data Encryption
Data security is always important to maintain the perfect balance for the treatment and well being of patients. Therefore, the healthcare industry has to scrap a larger database to keep things simple. Numerous tools and software are available on the web with the potential to extract the personal data of the patients present on social media or different sites. However, a consideration arises regarding the management and security of such a larger collection. It is the portion where this industry is lagging. Unauthorized access can cause the leakage or modification of all the information, resulting in disastrous impacts. 
How to Deal with It?
Implementing multi-factor authentication to limit false access.
Enable role-based access to ensure only selected individuals will reach the database.
Review your access privileges regularly to maintain safety.
Maintain crucial elements of a comprehensive control strategy.
2 – HIPAA Compliance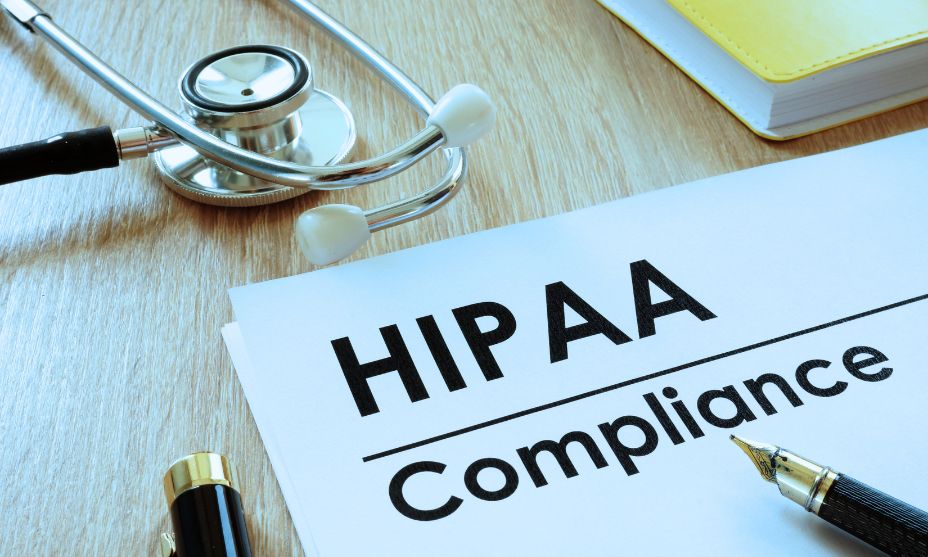 The Health Insurance Portability and Accountability Act, most commonly referred to as HIPAA, works in the United States. The main duty of this organization is to set the standards for safeguarding protected health information (PHI). Healthcare industries must not understand them but also take proactive measures to implement them in their functioning. By implementing the policies and procedures, you can comply with the HIPAA regulations. Thus, data collection, storage, and transmission become more secure. However, some companies don't follow them precisely, causing a big compromise on the health status of individuals.
How to Deal with It?
Train your staff regularly and educate them about their duties.
Maintain PHI confidentiality by focusing on following the main regulations.
Create a team to monitor compliance with HIPAA.
3 – Vulnerability Management
Vulnerability management is another critical point where you have to focus greatly on the healthcare industry to maintain a perfect balance between the performance and functioning of this industry. Without proper management, hackers and stealers can identify and attack weak points to perform their activities. Consequently, you will suffer from great losses. That's why it is important to identify weak points in healthcare systems, applications, and networks to cope with them.
How to Deal with It?
Patch the vulnerabilities before malicious activities begin.
Eliminate the risk of data breaches by implementing end-to-end encryption.
Update yourself with the latest information and tools to stay ahead of potential threats.
4 – Employee Training
Human errors are always the biggest concern in the healthcare industry. In other fields, a slight mistake may not have such drastic impacts as seen in this field because of its extremely sensitive nature and dealing with human beings. That's why companies are directed to hire highly professional employees that can work at their best to reach the advanced level. Further, keeping the newbies away from extremely important activities is a critical strategy to follow for maintaining the perfect balance. Otherwise, you will end up producing drastic results.
How to Deal with It?
Train the workers about the latest cybersecurity threats and phishing attempts.
Make sure that all personnel are well aware of their roles
Lastly, generate a portal to report suspicious activities readily.
5 – Mobile Device Management
The popularity of mobile devices in the healthcare industry has not only delivered exclusive benefits but also opened the door to new challenges. Most professionals rely on smart devices like mobiles, tablets, etc, to access the patients' data. Any change or malfunctioning of them can manipulate the sensitive information causing serious trouble. Similarly, stealing or theft activities result in data breachment or loss.
How to Deal with It?
Implement robust mobile device management (MDM) strategies.
Enforce essential security policies on these devices.
Enable application whitelisting to prevent unauthorized software installations.
6 – Third-Party Vendor Risk Management
We previously described that numerous third-party software and tools are available to automate several procedures. However, you must be very careful when including new software in your infrastructure. The reason is that unprotected tools can open the door to new security risks, negatively impacting your company's credibility and performance. 
How to Deal with It?
Follow essential security practices.
Be vigilant when leveraging new software.
Sign a contract with a vendor to outline their responsibilities in case of breach notifications.
Final Verdicts
The modern healthcare industry is mainly relying on technological involvement to carry out necessary activities and functions. However, several security risks come with the utilization of these tools. Therefore, it is necessary to tackle all of them. You should follow effective tactics to eliminate other threats. By ensuring end-to-end encryption and delivering access controls to employee training and incident responses, you can contribute to the overall robustness of the healthcare industry. In this way, you can confidently improve health standards and utilize digital transformation.