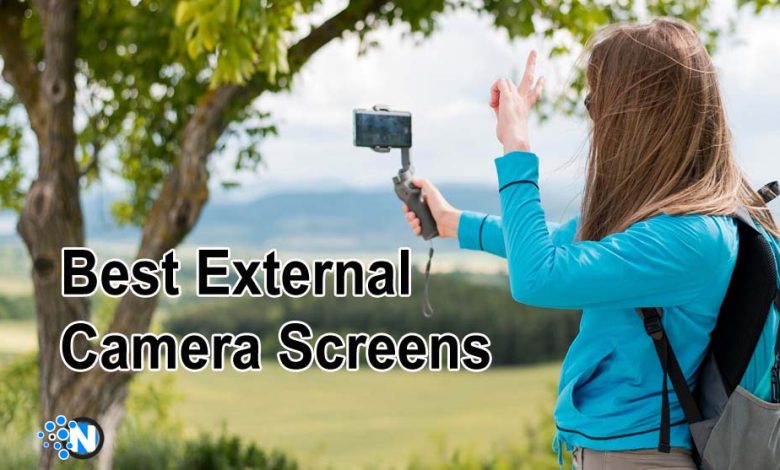 Photography is now something more than a simple art because of the evolution of cameras and lenses in recent years. However, we all know that these high-end photoshooting gadgets don't feature a larger display. Thus, you cannot effectively assess the quality of pictures or videos. To overcome this problem, numerous companies develop external camera screens to allow you to compose quality shots, review footage, and make critical adjustments. With the rise in their popularity, there has been a tremendous rise in manufacturing these products. Therefore, we have developed this guide to provide details on the top 12 options available in the market.
Best External Camera Screens
The under-section will provide you with the details regarding the top 12 best external camera screens. After researching the market extensively, we have enlisted them so you will have the most of your money.
1 – FEELWORLD F5 Pro V4 Camera Screen
FEELWORLD has taken the market by storm with its outstanding products because of its enhanced manufacturing criteria. This F5 Pro V4 camera screen also comes with a complete kit to allow easy installation. Further, wireless transmission makes handling more easy.
What We Like the Most?
Easy Touchscreen
Accurate Exposure and Focus
F970 Battery Plate
Micro HDMI Cable
1920 x 1080 Resolution
What are the Cons?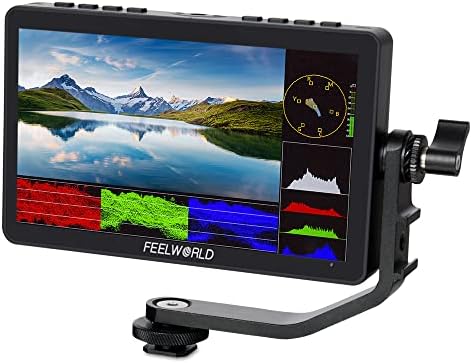 2 – Portkeys PT5 II Touch Camera Screen
Embedded with several quality features, the Portkeys PT5 touch camera screen has also made its entry to this run down. It has built-in editing tools to allow you to generate quality images on the spot, which could be impossible otherwise.
What We Like the Most?
3D LUT
RGB & Luma Waveform
Color Temperature
HD Screen
One Year Warranty
What are the Cons?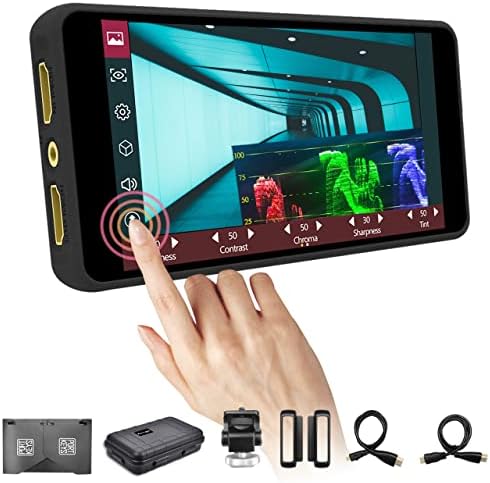 3 – FEELWORLD 1600Nit Camera Field Monitor
Thirdly, we have placed another FEELWORLD camera screen. It is best compatible with all cameras, especially with DSLR. Moreover, the 5.5-inch screen is wide enough to give you a comprehensive view of every object in the frame.
What We Like the Most?
4K HDMI Input
Customizable LUTs
1600 Nit Brightness
Intuitive Touch Screen
Highly Portable
What are the Cons?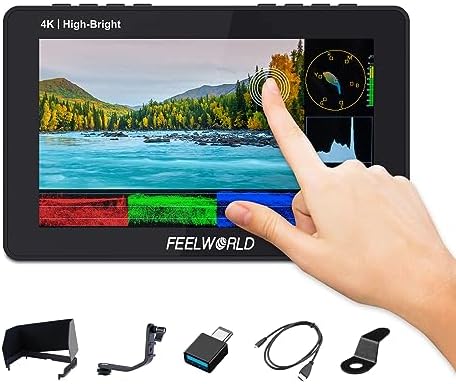 4 – FEELWORLD FW759 Camera Monitor
Another highly efficient item from the well-renowned company is present in this rundown. Providing you with the 1280 x 800 dimensions, you can easily set the angles besides capturing all the objects. Further, a high contrast ratio is good for steady cams.
What We Like the Most?
Camcorder Kit
Handheld Stabilizer
Larger Screen
Enhanced Pixels
IPS Screen
What are the Cons?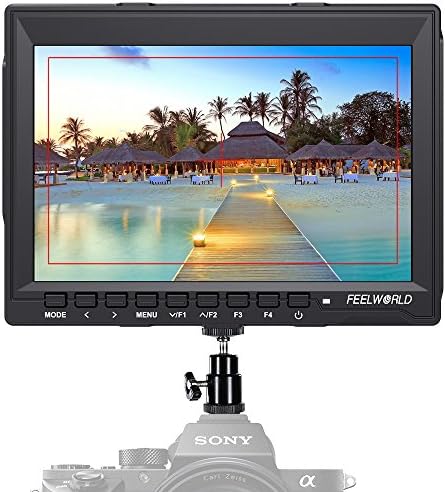 5 – Neewer F100 7 Inch Camera Field Monitor
Neewer is a relatively new player in this field, but its tremendous products have shocked the world. Its F100 external camera screen is not only famous for its slim design but also for its incredible handheld stabilizer.
What We Like the Most?
Handheld Stabilizer
Film Video Making Rig
Slim Design
Very Lightweight
450 Nits Of Brightness
What are the Cons?
6 – VILTROX HDMI Camera Screen
VILTROX HDMI camera screen is another well-known external camera screen, providing you with 1200 Nits of brightness. Thus, you can capture exceptional pics even in the dark. Moreover, the 4K option is available.
What We Like the Most?
Powerful Video OS
Support Touch Screen
Button Control Menu
RGB Histogram and Audio Meter
1200 Nit
What are the Cons?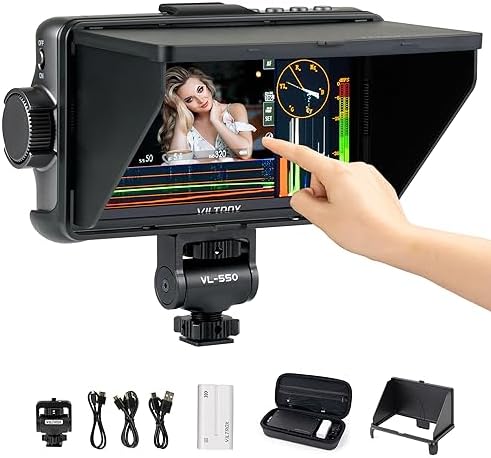 7 – FEELWORLD LUT5 External Camera Screen
If you are a professional photographer and want to improve your skills, then you must have this LUT5 external camera screen. It comes with a complete kit, including HDMI input and an auto-dimming screen so you can perform necessary tasks with prolonged battery timing.
What We Like the Most?
Improved IPS Panel
Excellent Brightness Control
Auto Dimming Screen
5.5 Inches Size
Installed Kits
What are the Cons?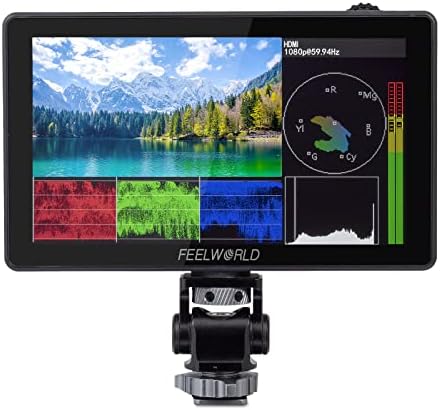 8 – FEELWORLD FW568 Camera Field Monitor
After covering all the aspects, FEELWORLD has launched this most power-efficient external camera screen. In addition, the broader display with a completely functional IPS panel also delivers improved image quality and shooting experience.
What We Like the Most?
8.4 Volts DC Input
Full HD Screen
Cold Shoe Mounted Tilt Arm
1 Year Warranty
4K HDMI Input
What are the Cons?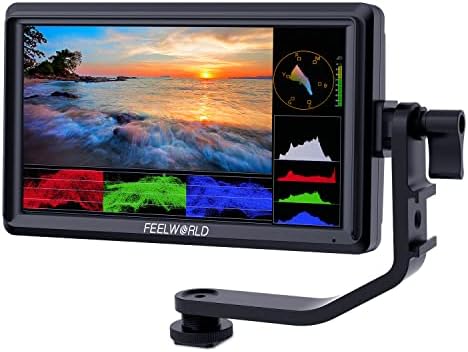 Buying Guide
Before deciding on external camera screens, you must consider the following points. Hence, you will have your hands on the exact product as required.
1 – Manufacturing
Firstly, you must focus on the manufacturing and sturdiness of the external camera screen to ensure it serves you longer.
2 – Portability
Secondly, you must search for a highly portable product. As a result, you can take it anywhere to capture your favorite moments.
3 – Screen Size
Thirdly, the screen size must be large enough to cover all the objects and things inside the frames. So you will have a comprehensive photography experience.
4 – Design
Fourthly, the design of the external camera screen must be very ergonomic. Hence, you can present this as a gift to your relatives or friends.
5 – Budget
Lastly, it depends upon you how much you want to spend on these items. However, you must look for a budget-friendly pick and should not break the bank.
Final Verdicts
Many known companies have launched their external camera screens into the market. But, not everyone is capable of delivering the same performance level. That's why you must be very precise when making a purchase decision. Consider crucial factors such as pixels, screen quality, body strength, manufacturing, and portability because they help you pick the right products. Also, you must not break the bank and select the one suitable to your budget. Above all, the items mentioned in this guide are high-end and promise to help you take your photography experience to an advanced level.