TikTok
TikTok Wrapped – Download Stats of Your TikTok Activity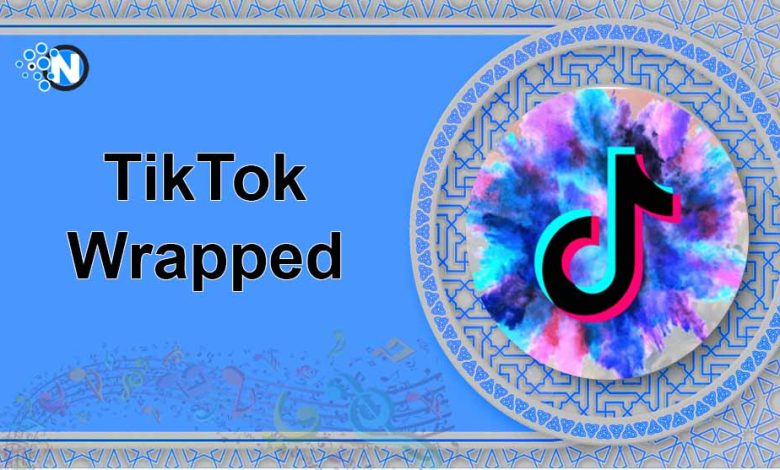 TikTok Wrapped is an exciting feature that allows you to see your activity on this popular video-sharing platform throughout the year. In this way, you can have insights regarding your attachment to this high-end social platform. Further, you can learn about your audience and upcoming trends. As the end of the year is getting closer and closer, TiokTok has started improving this feature to improve the experience of users and influencers present on it. We have developed this guide to help you learn how to download your data, its benefits, and its associated aspects.
What is TikTok Wrapped?
TikTok Wrapped is the best way to get a personalized summary of your activities and engagement on this platform in a specific year. TikTok launches this feature at the end of the year to allow influencers and creators to learn about essential insights such as total views, likes, comments, followers, and videos. Moreover, it provides you with the details regarding your top-performing content and music tracks used. As a result, you can learn about your pitfalls and generate a comprehensive strategy to remove them in the upcoming year to boost your popularity and user base. Overall, this feature is designed only for excitement and for the overall look of your journey with this platform.
How to Access TikTok Wrapped?
Accessing TikTok Wrapped is not rocket science. You must work in the right way to have your hands on all statistics. Generally, TikTok reveals the data at the end of the year, allowing users to review their journey. In the under-section, we have detailed the steps to access and download the data.
1 – Update TikTop App
Firstly, you must update your mobile app to get the TikTok Wrapped data. Generally, most users fail to access the data as their apps are outdated. We described previously that TikTok enables this feature towards the end of the year. Therefore, it is necessary to update your app. You can perform this task by opening the Play Store or App Store on your Android and iOS phones respectively. Go to the updates section and download the latest version.
2 – Log In to Your Account
After updation, open the app and log in to your account after adding the credentials. You may need to perform this operation if you are a consistent user. However, if you are an occasional user of TikTok, you will be logged out due to the improved security standards of this widely famous social video-sharing platform. In case you don't remember the password, consider forgetting it to create a new one.
3 – Navigate to the Profile
After logging in to your account, it's time to navigate to the profile. The profile button may vary in different mobiles because of the screen sizes and dimensions. Moreover, Android and iOS users can also experience changes in the shape and location of this button. Generally., Android users can find the profile button in the bottom right corner. On the other hand, iOS users can navigate to this option by clicking at the upper left corner.
4 – Find the TikTok Wrapped Banner
After updating the application and opening the profile option, you can access multiple options, including settings and customization. If the developers have launched the data extraction feature, you will see a TikTok Wrapped banner in the profile section. You can access and download the overall history by clicking it if it is present. Otherwise, wait until the developers come up with this option.
5 – Review Your Stats
After accessing and downloading the data, you can review your stats and overall journey with this data. The TikTok Wrapped helps you analyze the number of likes, video plays, and audience engagement. By analyzing your top-performing content and understanding the potential down parts of your other content, you can make efforts to add more engaging elements to your videos to influence visitors and increase your user base.
6 – Share Your TikTok Wrapped
After downloading the data from TikTok Wrapped, you can share it with your friends, family, relatives, and others to receive appreciation and guidance to improve the quality of your contempt. Also, you can store them in your drive to save your memories for a longer duration and utilize them to get enormous benefits in the future.
What TikTok Wrapped Data Reveals?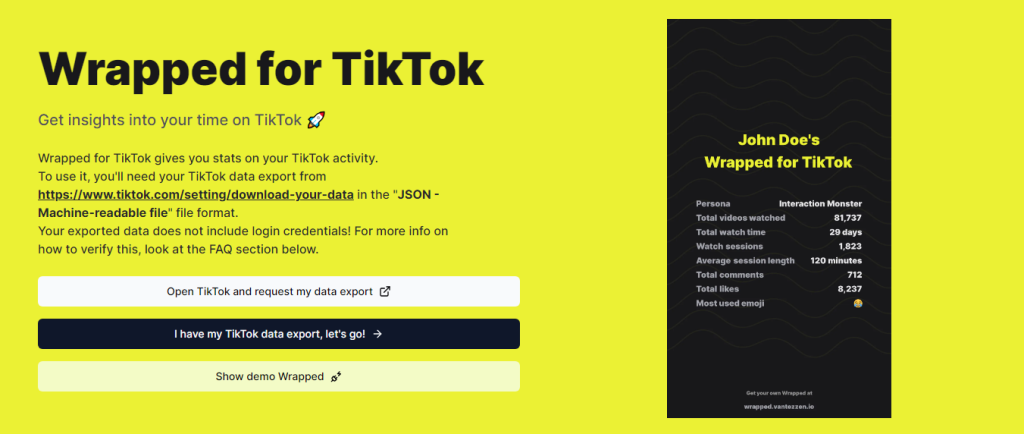 TikTok Wrapped data reveals numerous pieces of information about your overall engagement and experience on the world's most famous video-sharing platform. Hence, by overviewing the details, you can learn everything to improve your performance. In the under-section, we have provided complete details on the information revealed in this extracted data.
1 – Total Views
In this fast-paced world, not every creator has enough time to calculate the overall views of his content. Thus, TikTok Wrapped is the most authentic way of getting insights regarding the total number of views received throughout the year. Moreover, it is an excellent indicator of your progress and content's reach and popularity.
2 – Likes and Comments
Another detail the TikTok Wrapped provides is the total number of likes and comments. You can find the details of users who liked your content. Also, this data provides you with the profiles of those who commented on your videos., Hence, by contacting them individually, you can build stronger links with them for long-term advantages.
3 – Videos Created
If you are a regular creator and post multiple videos on your account, tracking the total number of videos on your account could be significantly challenging. Nevertheless, TikTok Wrapped has resolved this problem by delivering the data regarding the total number of content you upload to your account within a specific period. Additionally, you can get information about the dates.
4 – Followers Gained
Just like Instagram, TikTok Wrapped generates a comprehensive report to let you learn about the followers gained in a specific time period. Hence, you can compare it with your previous year's insights to learn whether you have experienced a positive result. If not, you must change your strategy to take you ahead of the competition.
5 – Top Videos
It's tough to check each video manually and determine its views, likes, and comments to assess which has engaged the audience the most. The main reason is that it is quite a hectic and time-consuming task. However, TikTok Wrapped has a special section to deliver your insights regarding your top-performing videos.
6 – Top Music Tracks
TikTok has launched a feature of the music library to avoid copyright infringement issues on the videos. Now, creators only have to generate the videos and can add the song through the library. As a result, you can get more details in the TikTok Wrapped about the top music track you used in your videos.
7 – Time Spent on TikTok
The time spent on TikTok can be quickly evaluated with the help of TikTok Wrapped, as it gives you insights into your engagement with this platform. It could be helpful if you want to reduce your spent time. By analyzing the critical times you come in contact with this app, you can engage yourself in other productive tasks. Moreover, you can check your children's TikTok engagement through this data.
8 – Audience Demographics
Creators are very curious about the demography of their audience. Additionally, if they have a well-established account, they look for sponsorships to monetize their audience. TikTok Wrapped comes up with a feature to provide insights regarding your audience's location. In this way, you can generate more quality content to resonate with their preferences.
9 – Hashtags Used
Hashtags play a major part in the success of content on social platforms, and TikTok is no exception. Therefore, you must add as many relevant hashtags as possible to improve the visibility of your content. Moreover., TikTok Wrapped helps you learn about the most popular hashtags in your content that bring maximum traffic to your profile.
What TikTok Wrapped Data is Used For?
Based on the data provided by TikTok Wrapped, you can use it for different purposes. If you achieve a milestone during the year, you can celebrate the achievement with your friends and family. Similarly, the data helps you learn about potential defects in your content generation. Hence, you can engage the audience more effectively and collaboratively by making solid improvements. Above all, this wrapped information helps you identify the next trends and create your videos accordingly for more engagement and amusement. Also, you can set goals for the upcoming year.
Final Verdicts
These are the details about TikTok Wrapped and associated details about its composition and downloading. The data is essential to examine the overall engagement with this video-sharing platform deeply. Also, you can learn about the total number of likes, comments, video plays, and other insights to bring improvements to your content and enhance its quality. Furthermore, you can download this data to check on your children's activities and restrain them from overusing this video-sharing platform for better outcomes. As a result, you can govern all the activities with this comprehensive strategy.