Facebook
Facebook for Business – How to Create and its Benefits
Utilizing the power of Facebook for business could be the best way to dominate the competitors in this highly competitive landscape. Otherwise, you will not be able to reach many customers and receive enough sales. In the beginning, Facebook was launched for communication and entertainment. However, the developers have made epic changes, making it one of the most significant sources for getting more and more customers. Thus, businesses can experience more sales and revenue. We have developed this guide to help you learn how to use this social media platform for your company. Also, we have mentioned the potential benefits of this high-end strategy.
How to Create A Page to Use Facebook for Business?
In the under-section, some critical steps are enlisted that highlight the complete information for creating a page to utilize Facebook for business.
Sign Up or Log In
Signing up for an account is the foremost step for using Facebook for business. You must create a personal account to unlock all the features of this top-quality social platform. Enter your Email, phone number, and password to set up your account. However, if you already have one, you only need to enter your credentials in the login section and reaccess the dashboard.
Create a Business Page

You must create a business page after signing up or logging in to your account to use Facebook for business. To accomplish this task, you must click on the start button, present in the top right corner of the homepage. Afterward, a drop-down menu will appear. You can select the Page option from here to create one for your company. It is a compulsory step to direct yourself to more advantages.
Choose the Page Type
This social platform provides multiple types of pages to resonate with a wider range of businesses and their styles. Hence, you must select the one according to your requirements and needs. Some common types are the following.
Business or Brand: As the name represents, this type is the most suitable option for most companies.
Community or Public Figure: Such pages are ideal for influencers, collaborators, and organizers.
Shopping: Designed for E-commerce stores to list their products and showcase them to a larger audience.
Venue: If you are running a restaurant, cafe, or any other store, this type of page is perfect. Hence, you can use Facebook for business in this way.
Fill in the Details
After creating the Facebook for business page, it's time to add the essential details in the respective sections. Adding the data correctly will help you create a unique identity for your company. The following information is necessary and must be provided accurately.
Business Name: Enter your real business name, as it will help you influence your potential customers.
Category: Next, you must list your page in the most relevant category because it is critical for maintaining consistency.
Address: Your address must be in a valid area so that users can access you physically if necessary.
Phone Number: Phone number is the most convenient way of communicating with each other. That's why you must ensure that the provided phone number is valid and available for contact 24/7.
Add Profile Picture and Cover Photo
Facebook has been a brilliant and outstanding platform with multiple benefits beyond entertainment and contact. However, you must use the potential of this platform strategically to pocket all the main advantages. After adding the credentials or details, you should look forward to adding a profile picture and cover photo to represent your company's face and trademark identity.
Create a Username
In the previous section, we talked about entering the business name. In most cases, the business name also becomes the username, resulting in the same URL. Nevertheless, you can customize with one of your choices by editing the username. For example, if you have a personal account and want to uncover your real account, you must generate an old username according to your experiences.
Fulfill About Section
After completing the above steps, you must fulfill the About section of your Facebook for business account. This section is crucial because it helps your audience learn more about your brand or company. Therefore, you must look forward to generating a precise description to showcase your mission and any other relevant information. Also, you should ensure adding the targeted keywords depicting your company's services and products.
Add Additional Business Details
Adding additional business details to your Facebook for business page could be very helpful to sharing your business thoughts with your clients more precisely and effectively. As a result, they will better understand your working model, taking you ahead of the competition by purchasing more products from your company. Moreover, they will become your permanent advocates, serving you for extended duration and long-term advantages.
Create Your First Post
The first post is always necessary for your business operations as its success will motivate you to work more engagingly and perfectly. Moreover, it is a common saying that the first impression is the last one. Therefore, you must work hard to make it more impressive and according to the taste of customers to allow them to learn more about your brand's perspectives. Also, it directs your marketing approach in this fast-paced environment.
Benefits of Facebook for Business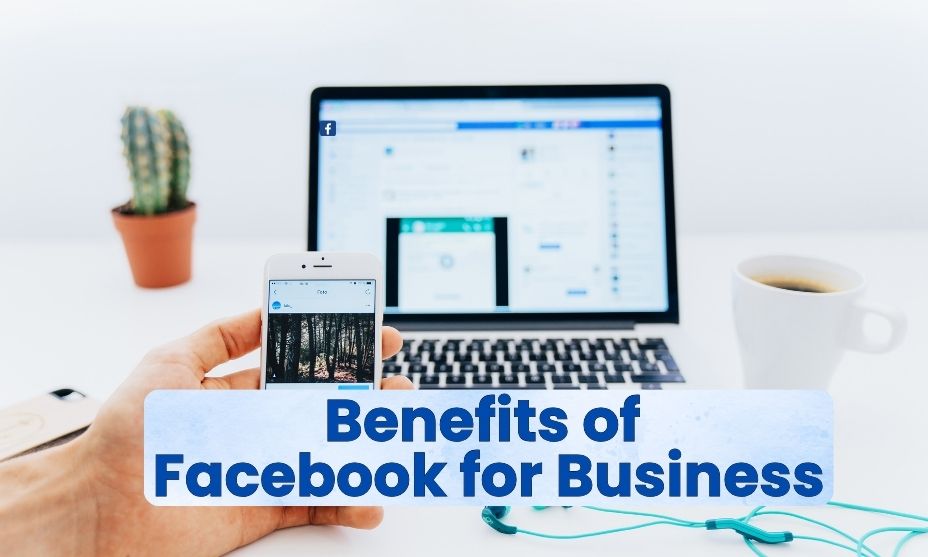 The following section will help you learn about the potential advantages of Facebook for your business and marketing purposes.
Enhanced Visibility
The primary purpose of Facebook for business is to improve your brand's visibility in the online brand across different countries. We all know that Facebook is famous worldwide. Hence, with the help of this platform, you can target a global audience and receive enough sales to sustain your position at the top of competitors.
Targeted Advertising
Another exceptional benefit of using Facebook for business is that you can target the audience more effectively and precisely through the robust advertisement tools integrated into the infrastructure of this social platform. In this way, you can direct your marketing campaigns to receive sales only from your potential customers.
Customer Engagement
Engaging with your customers is the main requirement of this modern world, and Facebook for Business offers you this option through commenting and chatting. As a result, you can build brand credibility and ensure customer loyalty. Moreover, responding to feedback, comments, and messages will exhibit your activeness and commitment to business success.
Analytics and Insights
Over the years, technology has been improved incredibly, and so have the applications and tools. Similarly, Facebook is no exception. The developers have converted this top-class social platform into one of the best marketing tools for companies and brands to come to the top and pocket all the benefits. Moreover, the analytics tools are there to deliver insights regarding your performance and future strategies.
Cost-Effective Marketing
Traditional advertising is getting increasingly expensive due to the rise in global inflation. Therefore, people are now more biased toward using Facebook for business as it provides more cost-effective methods to reach the targeted audience. Also, you can set a daily or lifetime budget to spend a specific amount on ads, including image, video, and carousel ads.
Drive Website Traffic
E-commerce store owners are now considering Facebook for business as one of the most authentic sources of improving their website traffic. By highlighting the details on the Facebook page and linking it with the website through a URL, they can redirect their customers to the site and place orders there.
Build a Community
Facebook experiences millions of users on an everyday basis. Thus, it is a beautiful source for creating a community with your potential customers as it will help you resonate with their preferences and reach them about their desired products. It will improve your credibility and promise to deliver you long-term advantages, taking you ahead of the competitors.
Increase Brand Loyalty
We described previously that Facebook for business is the best option for understanding your audience by contacting them personally and understanding their thoughts. Hence, you can increase your brand's loyalty by reaching them with their desired products. A loyal fan base is nothing more than a miracle; it will unlock new doors to success.
Easy Accessibility
Another significant advantage of leveraging Facebook for business is that users can access it through smartphones because of its cross-platform compatibility. As a result, they can learn about your brand and find their favorite products even when on the go.
Final Verdicts
In today's digital landscape, Facebook for business is a fundamental tool for companies of all sizes. It provides a solid way to increase brand visibility and other marketing and engagement opportunities. The detailed steps mentioned above can help you create your Facebook Business Page and leverage its benefits to grow your brand. It lets you connect with your audience and thrive in the online marketplace. Remember that the key to success on Facebook lies in consistent, authentic, and customer-centric interactions.