There is a current discussion about Twitter VS Instagram, which is better for advertising products and communicating with consumers. This is because both sites frequently employ the same #hashtags. A closer investigation reveals various ways in which they stand out from one another. Which one do you think is best for your business? With so many contradictory features available. It can be difficult for businesses to choose the best platform for their marketing needs. This article will compare and contrast Twitter and Instagram so that you may choose the best social media network for your business.
Twitter vs Instagram:
Twitter and Instagram are popular social media platforms but have distinct differences in features, target audience, and content focus. Here is a comprehensive differentiation between Twitter and Instagram based on the provided information:
Twitter:
Twitter is a microblogging platform that permits users to share short and concise updates known as tweets. It emphasizes real-time communication and encourages conversations through hashtags and mentions.
Instagram:
Instagram is a visual-centric platform focused on photo and video sharing. It offers various creative tools, filters, and editing features to enhance visual content.
Read More: Meta Launched Instagram Threads to Beat Twitter
User Base and Engagement
Understanding a social media platform's user base and engagement levels is vital for effective marketing. Let's compare Twitter and Instagram in this regard.
Twitter:
Twitter boasts around 450 million active users. It is known for its active user base, particularly in the age group of 25-34. The platform offers a dynamic environment that encourages instant engagement and facilitates swift interactions and discussions among users, making it the optimal option for connecting with an audience keen on current trends and news.
Instagram:
Instagram has surpassed Twitter in terms of monthly engaged users. It has more than 2.35 billion active users. This makes it the premier destination for eye-catching media. The majority of its audience is comprised of people aged 18 to 34. Instagram is designed to keep its users interested with eye-catching images and interactive content.
Content Types and Formats
Different businesses require different content types and formats to convey their message effectively. Let's explore how Twitter and Instagram support various content types.
Twitter:
Twitter's character limit of 280 characters per tweet encourages concise and to-the-point messaging. It is the best platform to share news, updates and quick thoughts. It allows users to attach images, videos, and GIFs to their tweets, providing a visual element to the content.
Instagram:
Instagram's primary focus is visual content. Users can share photos and videos, apply filters and editing effects, and craft engaging stories. Instagram offers features like IGTV (Instagram TV) for longer videos and Reels for short-form video content. The platform's emphasis on visual storytelling makes it a powerful tool for fashion, travel, food, and lifestyle businesses.
Advertising and Marketing Opportunities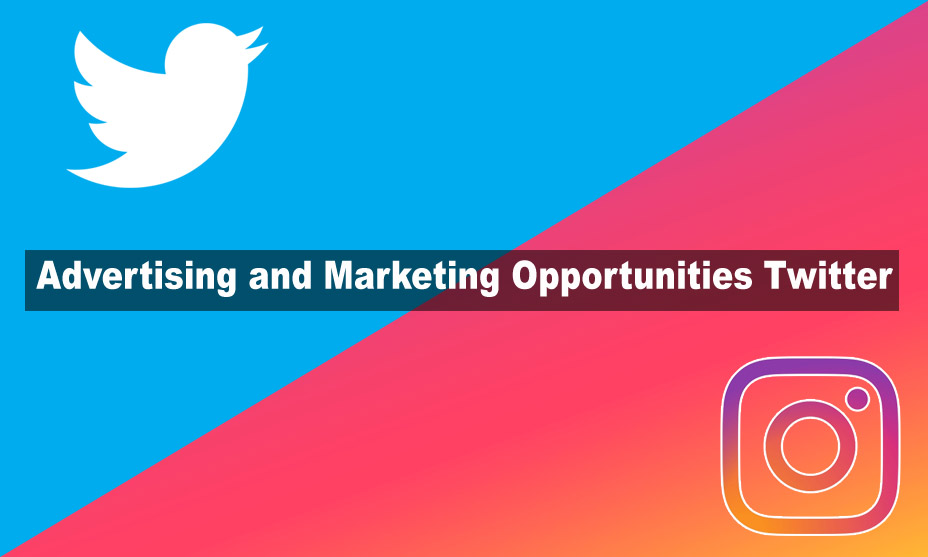 Effective advertising and marketing strategies are crucial for businesses to reach their target audience. We have compared the opportunities offered by Twitter and Instagram below.
Twitter:
Twitter's well-established advertising platform offers various options for businesses to promote their products or services. It provides tools for targeting specific demographics, interests, and locations. Promoted tweets and trends can amplify the reach of marketing campaigns, allowing businesses to engage with a wider audience.
Instagram:
Instagram's advertising platform has seen significant growth and provides a range of options for businesses. Sponsored posts, stories, and carousel ads empower businesses to showcase their offerings creatively. Instagram's targeting capabilities allow businesses to reach users based on their interests, behaviours, and demographics. The visual nature of Instagram makes it a compelling platform for brand storytelling and product promotion.
Real-Time Interactions and Customer Support
Engaging with customers in real time and providing efficient customer support are crucial aspects of any business. Let's examine how Twitter and Instagram facilitate these interactions.
Twitter:
Twitter excels in real-time interactions and conversations. The platform's character limit encourages concise and immediate responses, making it ideal for promptly addressing customer queries or concerns. Many companies leverage Twitter for customer support, allowing them to provide quick assistance and maintain a public record of their responsiveness.
Instagram:
On the other hand, Instagram lacks Twitter's real-time conversational nature. While users can leave comments on posts and direct messages, Instagram primarily focuses on visual content and sharing experiences. Although customer support can be provided through comments or direct messages, the lack of real-time conversations makes it less suitable for immediate interactions.
Analytics and Insights
Tracking the performance of marketing efforts is essential for refining strategies and measuring success. Let's compare the analytics and insights available on Twitter and Instagram.
Twitter:
Twitter provides a comprehensive analytics dashboard for businesses to monitor the performance of their tweets and campaigns. Users can track engagement metrics, follower growth, tweet impressions, and more. This data helps businesses gain insights into their audience's preferences and optimize content accordingly.
Instagram:
Instagram also offers a robust analytics platform known as Instagram Insights. Businesses can access valuable data on post reach, impressions, engagement rates, follower demographics, and more. Instagram Insights provides actionable insights to refine marketing strategies and improve audience engagement.
Stories and Disappearing Content
Instagram:
Instagram features "stories," short-lived posts that disappear after 24 hours. Stories let users to share brief content, including photos, videos, and text, creating a sense of urgency and temporary engagement.
Twitter:
Twitter does not have an equivalent feature to Instagram Stories, and tweets are permanent unless manually deleted by the user.
Direct Messaging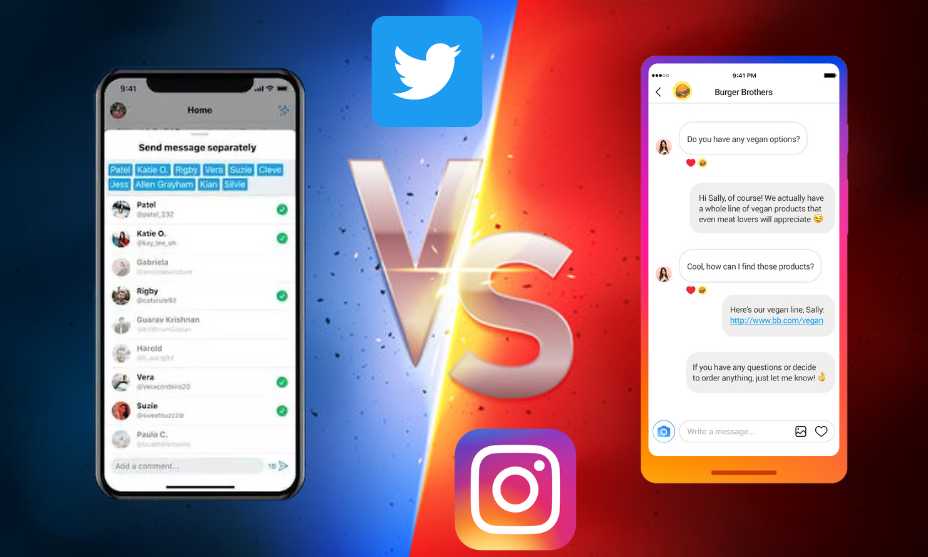 Instagram:
Users can use Instagram's direct messaging function to engage in one-on-one or small-group chats with other Instagram. Businesses can communicate by text, image, and video with their customers.
Twitter:
Twitter also has a direct messaging capability, enabling private conversations between users. However, Twitter's direct messaging feature is less prominent than Instagram, which is more widely used for communicating and sharing content.
Group Chat Sizes
Instagram:
Users can add up to 250 participants in group chats on Instagram, facilitating larger-scale group conversations.
Twitter:
Twitter permits larger group messages with up to 100 participants, accommodating limited discussions and interactions.
Replies and Interactions
Instagram:
On Instagram, users interact with posts primarily through comments. Users can comment on posts and respond to comments made by other users. They can also carry-on threaded discussions in the comments.
Twitter:
Tweets can be responded to in a number of ways, like quoting, retweeting, liking, and responding. Users can share tweets with their followers, express agreement or disagreement, and engage in discussions by replying to specific tweets.
Character Limits
Instagram:
Instagram does not enforce a specific character limit for captions, but captions longer than 240 characters are hidden, requiring users to tap "More" to view the full caption.
Twitter:
Twitter has a strict 280-character limit for each tweet, encouraging concise and concise expression of thoughts.
Conclusion
Twitter, once dominating the social media marketing landscape, has faced formidable competition with the rise of Instagram's popularity. Although Instagram has become increasingly popular, it may not be essential for marketers to fully quit Twitter. It's important for businesses to compare and contrast different platforms to pick the one that's most suited to their needs and the needs of their target audience.
This report's comparisons should make it easier to pick one service over the other in the Twitter vs Instagram argument. It's worth noting that when Twitter and Instagram receive updates and new features, the lines between them may blur.