Facebook
How to Monetize a Facebook Page in 2023 – Complete Guide
Facebook monetization is a fantastic way to start earning money from your social media activity. There are multiple ways Facebook offers to help you turn into a full-time content creator directly on their platform. If you have a page with a substantial audience and actively engaging with your content, you can start monetizing it. There are multiple ways through which you can monetize your page in 2023.
Different Ways to Monetize a Facebook Page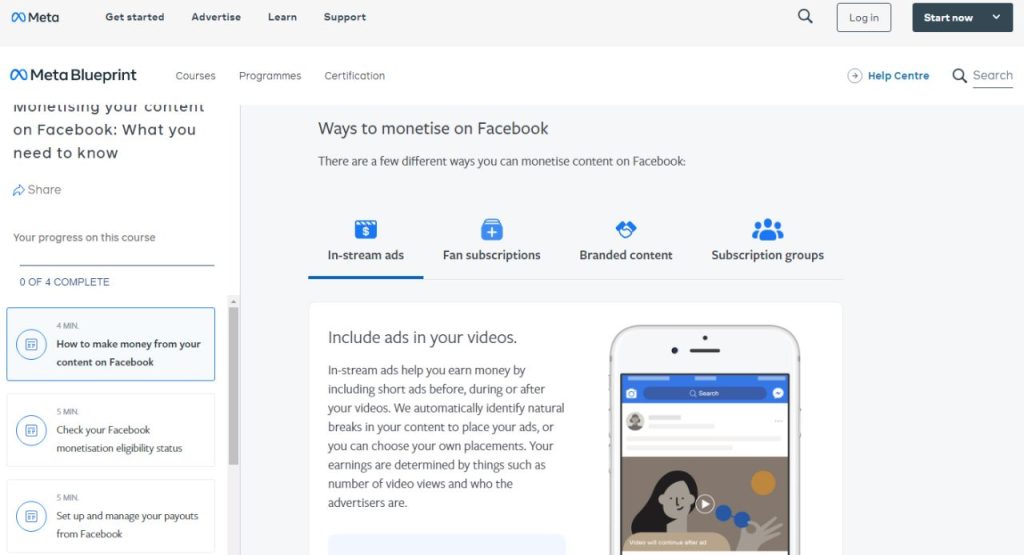 Pages and accounts that share content with their audience to help these individuals and organizations generate meaningful, reliable revenue that's sustainable over time Facebook has introduced monetization tools. These tools are a few different ways to monetize a Facebook page.
In-Stream Ads:
Embedding short ads in your videos can be a simple yet effective way to monetize on Facebook. You have the option to choose which ads you want to run and when, and what percentage of the revenue will be yours. This allows you to be in full control and you can tailor the ads toward your audience. With Facebook, you have the choice to let them automatically position your ads for maximum exposure or you can hand-pick strategic placements yourself. Your rewards are based on elements such as the number of video views and advertiser profiles.
Requirements:
You should be a citizen of a country that is on the monetization list.
You must have a minimum of 10,000 followers
This page must contain a minimum of five live videos, whether on-demand or previously live. Crossposted videos are excluded from this requirement.
600,000 total minutes naturally viewed in the last 60 days, this does not include the boosted videos
Tips for In-Stream Monetization:
Create high-quality content that is relevant, informative, and engaging.
Make sure you have a captivating thumbnail image.
Collaborate with other creators and participate in influencer marketing.
Structure your videos for maximum engagement and viewership.
Interact with fans and show appreciation for their support.
Advertise your page and videos with the right target audience.
Fans Subscription:
Fan subscriptions offer your most passionate followers the opportunity to financially support your Page through regular, recurring payments that you can determine. Display fans' loyalty with a special badge they'll receive in the comments, and thank them for their dedication by providing exclusive content and discounts as an incentive.
Requirements:
You must be a public figure, a media company or a brand.
Reaching a minimum of 10,000 followers or having 250+ return viewers is essential
50k post engagements and 180k watch minutes
With just 2% of your capable 10,000 followers signing up for a subscription service (200 people), you will have the chance to earn an extra $3,498.00 every month – that's over forty thousand dollars in annual income.
Tips for Fan Subscription Monetization:
Engage with your followers as much as possible. Reply to their comments, answer their questions, and make sure they feel heard.
Provide exclusive content that is only available to fans who subscribe.
Give discounts to subscribers on your products and services.
Promote your fan subscription program to build awareness and drive subscriptions.
Focus on creating high-quality content that is valuable to your audience.
Run contests and giveaways to generate interest in your page.
Cross-promote your fan subscription program on other social media platforms.
Form partnerships with other creators to drive more subscribers.
Monetize live streams:
Facebook Live is a great way to share content with your audience in real time. The monetization feature enables you to earn money from each live stream. You can choose to set a price for your stream or run ads before, during and after the live broadcast. When streaming online, viewers can show their appreciation for your content with stars. These stars can then be converted into real money and are an excellent way to generate income through live streams.
Tips for Live Stream Monetization:
Choose a compelling topic for your live stream.
Promote your live-streaming event in advance to generate interest and build an audience.
Engage with the viewers throughout your live stream.
Keep the content fresh, exciting, and interactive.
Provide valuable content that viewers won't get elsewhere.
Run polls, Q&A sessions, and other interactive activities during your stream.
Set a reasonable price for your stream and make sure the content is worth it.
Encourage viewers to donate stars during the broadcast.
Share replays of your live streams to maximize visibility.
Cross-promote your live stream on other social media platforms.
You should have a good interactions with your followers. Make sure that your live streams are at least 4 minutes long and have a minimum of 300 viewers per broadcast. This will make able to some users spend more on their life.
Collaboration with brands:
Collaborating with brands is a great way to monetize your Page. You can partner with brands to promote their products and services on your Page. This gives brands the chance to reach their followers while allowing them to earn money. Attract revenue by creating content that is either inspired or supported by a partner company. Businesses are eager to collaborate with creators and their followers, so take advantage of this incredible opportunity.
Tips for Collaboration:
Showcase your expertise in a certain field or industry.
Make sure you have an engaged audience before pitching to brands.
Provide value to your audience by creating helpful content.
Be selective with which brands you choose to collaborate.
Pitch yourself to the brands you are interested in.
Create unique content that resonates with your followers.
Be timely and professional when responding to brand inquiries.
Follow up with brands and ensure that all agreements have been met.
Share the results of your collaboration on social media.
Paid Membership to Groups:
Creating a private group and charging for membership is an excellent way to monetize your Page. Paid memberships give people access to exclusive content, discounts, and other perks. You can also create an online course or membership program to further monetize your page. Subscription groups provide admins with a sustainable source of income, which allows them to continue investing in and nurturing their communities.
Tips for Paid Memberships:
Create an exclusive and unique content experience.
Provide value to your members with helpful resources and educational materials.
Offer discounts on products and services for paid members.
Ensure the content is high-quality and relevant to your audience.
Promote the benefits of joining the group to your followers.
Provide exclusive access to events, webinars, and other activities.
Keep the content fresh and engaging for members.
Promote the group and membership offerings through social media.
Set reasonable prices for memberships to ensure that it is still accessible to your followers.
Be transparent with pricing and terms of membership.
Respond to feedback from members promptly.
How much Facebook Pay for 1000 Views:
Facebook does not pay for views, but it does offer monetization opportunities through video ads. Video ad revenue is based on the number of people who watch your video ads, as well as other factors like the video's length and quality. With 2,000 ad views and a CPM of $3.00, you could be looking at impressive total earnings of up to $6.00. This number may vary depending on your video content and the ad partner you work with. To maximize earnings, it's important to maximize the number of people who watch your video ads, as well as other factors such as the length and quality of the video. Additionally, it's important to promote your content to ensure that it reaches the maximum number of people. The formula of calculating ads revenue is (Ad CPM x Ad Views)/1,000.
When done correctly, Facebook video monetization can help you generate a steady stream of income. With the right combination of content, promotion, and dedication, you can maximize your earnings and create a sustainable revenue stream with Facebook Ads.
Conclusion:
Facebook is a great platform to monetize your page and content. With the right combination of creativity, collaboration, and promotion, you can maximize your earnings and create a sustainable income stream. Whether it's through video ads, paid memberships, or collaborations, there are plenty of ways to generate revenue on Facebook. Keep in mind that each option has its own set of rules and guidelines, so it's important to do your research before getting started.