Apps
Best Language Learning Apps in 2023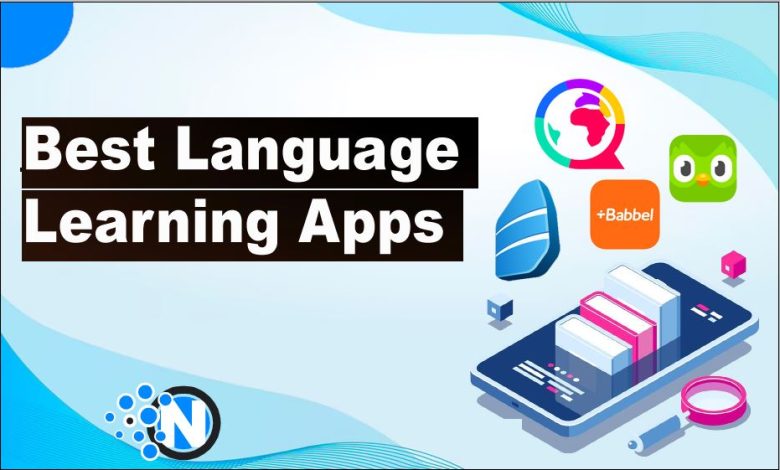 Language learning apps are becoming increasingly popular due to their immense benefits and advantages. With time, smartphones become the most accessible form of technology. Utilizing this pocket-sized device lets you perform numerous operations simultaneously, improving your multitasking ability. Additionally, you can carry out online shopping, remote-based work, and learn new skills. In 2023, language learning apps dominate the market due to their convenience and interactive features. You can easily learn all the basic to advanced tactics to get a complete command of the language. We have developed this guide to help you learn about the best learning language apps in 2023.
What are Language Learning Apps?
Language learning apps are mobile smartphone applications for Android and iOS users. You only need to visit the respective stores to download it on your devices. These innovative platforms allow you to learn different languages quite comfortably. Additionally, you don't need to go outside your home to acquire the knowledge. Owing to the evolution and improvements in the interface, these apps now provide users with an enhanced experience. The developers have catered these apps to a wide range of proficiency levels by uplifting the essential elements and highlighting their unique features. Consequently, people of every age and every experience level can leverage their benefits.
Best Language Learning Apps in 2023
Due to the increased demand and popularity, large numbers of applications have been created and launched into the market. Some of them are entirely free, while others need a membership to work. However, not everyone can deliver the desired outcomes. We have developed this guide to help you learn about the best language-learning apps in 2023
Although launched in 2011, Duolingo has revolutionized the modern world incredibly by offering incredible benefits and exceptional features. This application has turned language learning into an engaging experience by integrating the gamified approach. Thus, the learners can choose from a wide range of options, making language learning an engaging experience. Duolingo offers multiple courses in different languages, allowing users to have advanced knowledge.
Duolingo has been ranked among the best language learning apps because of its intuitive interface and incorporation of different visual elements. Moreover,iot contains game-like challenges motivating learners to complete them and practice consistently. Along with the timeline, the developers continue adding more and more components to the app's infrastructure to innovate features like real-time multiplayer. Besides, the cultural insights and pronunciation analysis improve the user experience and overall effectiveness.
Secondly, we have placed Babbel among the best language-learning apps in 2023. The main purpose of this application is to emphasize the practical conversational skills of the users. Since its launch in 2007, Babbel has continued dominating the market because of its active development team and frequent innovations. They have signed up specialized language experts who provide bite-sized lessons, focusing on vocabulary and grammar relevant to everyday scenarios.
In 2023. Babbel has launched speech recognition technology with the help of Artificial Intelligence. As a result, it can easily analyze your pronunciation and dialogues. Further, it promotes real-life conversation between users, encouraging them to improve their verbal talking skills. One of the best parts about this app is that it provides you with courses in 14 different languages. Hence, it has gained traction among adults and other learners who aim to acquire different speeches for global tours and social purposes.
Rosetta Stone is the next in this rundown on the best language learning apps. It is one of the oldest platforms and is best famous for its immersive approach to assisting you in language learning. The app's theme is mainly based on context-based learning without providing you with the option to translate it into the native language. Although, it is looking like a massive collapse of this platform. However, this is the main reason for its so much fame and success in this digital and competitive landscape.
Rosetta stimulates the way a person can learn different languages. With the integration of voice recognition and manipulation technology, you can easily check the critical flaws in your speech. Furthermore, the live tutoring sessions with native speakers make it a valuable resource for learners to seek less commonly taught languages by having conversational opportunities in real-time practice. In addition, Rosetta features language training solutions based on individuals, educational institutions, and businesses.
Fourthly, we have listed FluentU in this list of the best language-learning apps. Exhibiting an innovative approach to using video content to teach learners about a particular language put it on the top in 2023. If we date back to its launch in 2011, the developers integrate the videos by taking them from numerous sources, like movies, news, YouTube and others. To help students understand the voices, the app provides them with interactive captions as well as their translations. Ultimately, people learn different languages more ergonomically with this app than the others.
However, certain concerns are also associated with the incorporation of such videos. Now, the developers only add authentic videos from the language experts. Moreover, they have focused on adding interactive quizzes and language-specific playlists, enabling users to learn the languages based on their interests. Furthermore, the flashcards allow you to uplift your proficiency levels. Owing to such an immersive environment, people can develop their language learning skills effortlessly. FluentU developers are looking forward to adding more elements to developing language comprehension and cultural understanding simultaneously.


Promova, a comprehensive language-learning app, emerges as a game-changer in our selection of top language-learning apps. With a dedicated team of over 100 language enthusiasts from around the world, Promova is on a mission to empower individuals to achieve their language-learning aspirations while fostering global cultural understanding.
This versatile app offers a personalized learning experience that caters to learners of all levels. Its features include bite-sized lessons, practice communities, tutoring, conversation clubs, and detailed progress tracking. Promova supports nine languages, including five of the world's most widely spoken languages, alongside specialized courses for Korean and Ukrainian learners. Users have the freedom to choose their preferred language of study and the language in which they receive explanations.
Notably, Promova has garnered over 10 million downloads worldwide, attesting to its effectiveness and popularity.
Founded in 2010, Memrise emerged as one of the best language learning apps by using mnemonics and memory techniques to enhance the learning procedure. With time, the manufacturers or the parent company continue to update its interface by incorporating the latest elements and components. As a result, it has distinguished itself by providing more interactive and imaginative ways to memorize vocabulary and phrases.
Users can access the vast built-in library of this masterpiece to improve their knowledge of the subject and eliminate their mistakes. Similarly, the spaced repetition system guarantees that the learners have accessed all the material regularly to reinforce retention. One of the best things about Memrise is that it allows the potential audience to create their own content to polish their skills and foster active participation in the learning process.
Final Verdicts
These are the top and best language-learning apps to use in 2023. To sum up, these applications have become one of the most productive sources of education. Owing to their exceptional features, they have revolutionized how a person can acquire new languages. Above all, the developers have worked on integrating the gamified approach into the infrastructure of these platforms to offer personalized learning experiences. Similarly, different other techniques like mnemonic aids, real-time conversations with experts, real-world video content, and immersive picks help catering diverse learning preferences, making this procedure more accessible and enjoyable for all learners worldwide.