Facebook
How to Change a Public Facebook Group into a Private?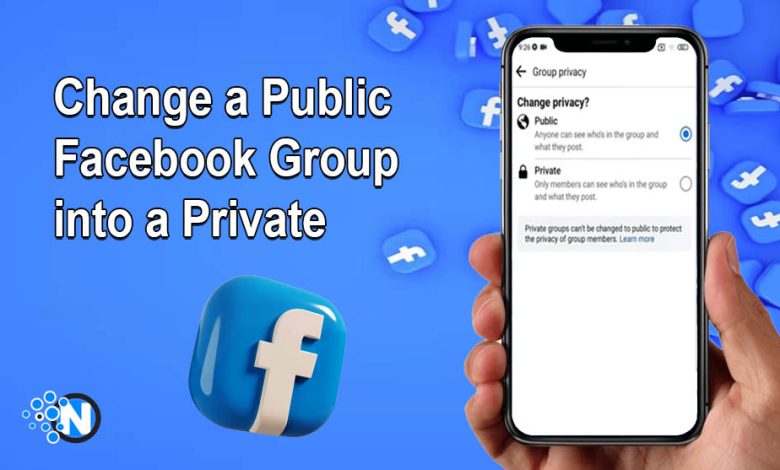 Most people search to change a public Facebook group's privacy to a private group because of the increased risks over the web. Generally, the groups are an exciting source of entertainment, information, and communication where people sharing the same interests provide insights regarding their experiences and expertise. Also, they become an important resource for marketing, promotion, and other purposes. Most of the groups available on this social site are public. But, now people are looking forward to changing them for specific reasons. We have developed this guide on the complete steps to convert a public Facebook group to a private one.
Why is It Necessary to Convert a Public Facebook Group to a Private?
There could be several reasons why it is necessary to convert a public Facebook group to a private one. The admin, coordinators, and respected members of the group must be very aware of the facts and causes due to which a privacy change is required. Communicating directly with all participants can maintain transparency and make your temporary members permanent. In the under-section, we have enlisted some of the top and most common reasons for this activity.
1 – Maintain Privacy
Public Facebook groups can be accessed by everyone, even if they are not members. Thus, the profiles and activities are visible to all. Everyone can see, like, and comment on the posts of each other. Although it looks engaging, some users may consider it frustrating as some people post negative comments on the posts. It not only disrupts privacy but also spoils the group's entertainment. On the other hand, private groups allow only those people to comment or like posts who are permanent members. Thus, converting a public Facebook group to a private one is necessary to maintain the users' privacy.
2 – Ensure Group Quality
One of the most significant drawbacks of public Facebook groups is that everyone can see the activity and respond to the posts. Thus, there are chances that people with no similar interests can contribute to the group just for the sake of entertainment and fun. Changing the privacy to the private group will help you get rid of all these negative experiences by enabling you to avoid irrelevant people. In this way, you can maintain transparency and group quality by controlling the size of groups.
3 – Enhancing Group's Engagement
Converting the public Facebook group to a private one will hide the content, posts, members, and comments from all users who are not added to it. As a result, it builds interest and curiosity among the users, who will request to join the group to see the activities happening inside it. It not only enhances the group's engagement but also attracts people who are interested in groups like yours. The only requirement is to be very active to determine the interested people.
Steps to Change a Public Facebook Group to a Private:
It is not necessarily possible that the process to change the privacy of a public Facebook group to private will remain the same. The steps may change whenever a new policy arrives. Based on the current settings and interface, we have created a step-by-step guide on how to convert the privacy of a group. You must follow every step precisely and accurately to get the desired outcomes.
1 – Access to Facebook
Firstly, you need to access your Facebook profile on your device. Desktop or laptop users can accomplish this step from their web browser. On the other hand, smartphone users have to download the application on their mobiles. Open your browser, type Facebook in the search bar, and hit enter. It will take you to the results page. Here, you have to locate the official site to reach the homepage of this popular social site.
2 – Login to Your Account
You can skip this step if you are already logged in to your account. Otherwise, if you are out of your profile, you must enter the credentials like username, phone number, and password. Further, complete the verification procedure if you receive a code. As a result, you can regain access to your account.
3 – Find the Group
After logging in, the desktop users will see different options on the left sidebar. Here, you have to click Groups to reach the page where you can get insights about all the groups you have created as well as those you have joined.
4 – Find the Settings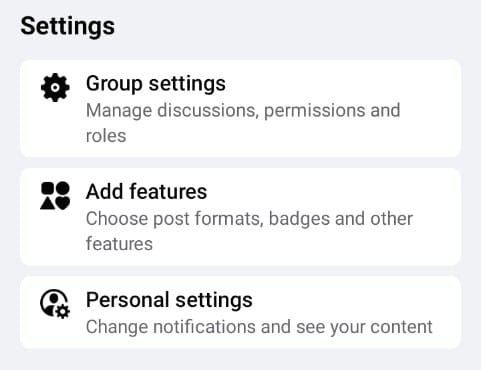 On the Groups page, you will see a gear icon that represents the settings menu. It is important to remember that this setting is related only to the groups, not to your original profile. Therefore, you can access and customize it without any hassle, as it won't bring any damage or harm to your original ID.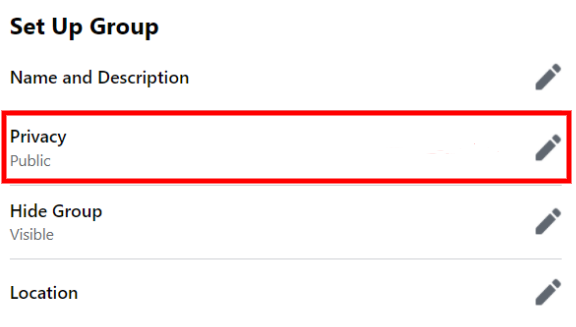 5 – Change the Privacy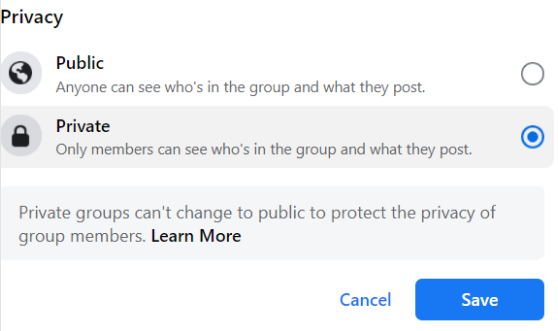 After accessing the settings icon, you will find the button regarding the privacy settings. Select Private, and then click Save. In this way, you will be able to convert your public Facebook group into a private one.
What Will Happen After Changing the Privacy?
The following things will happen after changing the privacy settings of a public Facebook group to a private one.
The admin will have 3 days to review the settings to decide whether he wants to retain the changes or revert them.
During this period, all members will receive notifications regarding the change.
After the change occurs, the group will lose its temporary members or those who contribute to the group without joining it.
Final Verdicts
It is necessary to change the privacy of a public Facebook group to a private one to ensure that users share their interests and insights in a more secure environment. As an admin, you must monitor group members' activity and associate harms to determine whether you really need to take this action. In this way, you can maintain the transparency and credibility of your group while limiting the members for better and more concentrated information sharing. However, it is necessary to follow the steps precisely.