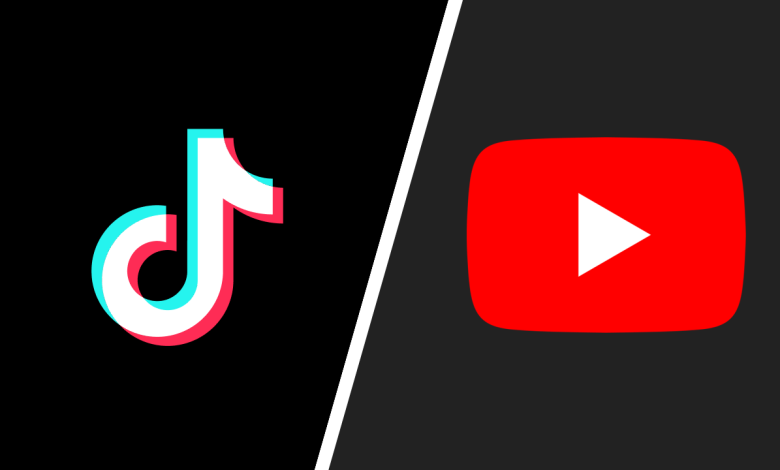 YouTube and TikTok are no doubt the best video-sharing platforms. YouTube has over 2.6 billion active users, and these numbers are increasing day by day. 1/4 of the world's population uses YouTube monthly. According to estimation, YouTube will have 2.8 billion users by 2025. While TikTok is sitting with 1 billion active users, it has severely grown in recent years. When you have both of these apps, which one will you prefer?
If you want to market your business, then YouTube and TikTok are the two platforms that will be on your priority list. They are identical but have some differences. When you are scrolling down on the platform, you will experience multiple changes rapidly. Both of these platforms grab your attention by providing entertainment and quality content. But you have to search for the best one where you can earn more money than the other.
TikTok Vs YouTube
TikTok is a platform that was initially designed for short videos. You will only find the videos with a maximum length of three minutes. The app revolutionized the market, which now has a video-sharing function and an enormous amount of content from different industries. ByteDance is the Chinese company that officially introduced the app in 2017 as a Musical.ly. Firstly, it was a music and lip-sync app later became TikTok. The app is well-known globally and has 2.6 billion downloads in 150 countries, officially generating $4.6 billion in revenue.
YouTube is the most visited platform in the world after Facebook. It is the priority of 78% of internet users. Youtubers are creating different kinds of content to get more watch time and earn more money. You can find videos with hours of length. The platform launched two decades ago, and the app's main focus was to share home videos, which later changed with time. Now you will see how to earn on both platforms. It was founded in 2005 by Steve Chen, Chad Harley and Jawed Karim, which Google now owns.
Tiktokers Vs Youtubers: Who Earn More from The Platform?
When talking about YouTubers, it is easy for them to get more revenue from the platform. The only thing they need to do is to get more subscribers and views. The ads will help them to generate more revenue. With the increase in viewers and subscribers, you will get more watch time, allowing you to earn more money.
However, TikTokers can only get the benefit of the Creator Fund. With the increase of TikTokers in the creator's Fund, the deserving people are generating less money because of a static sum of money. The platform is getting more engagement with the rise in competition, but the creators are getting less money.
How do Tiktokers Earn Money?
There are different ways to earn on TikTok. Below are mentioned some of the best practices that help tiktokers to earn on TikTok:
In 2021, the app introduced TikTok Shopping, where tiktokers can sell their products by adding them to your shopping tab.
You can use TikTok ads to drive sales on your website and 
There is no need to sell your products to earn money. You can use affiliate marketing to recommend goods by using a link.
You can also add songs to your videos to get more money, and the music playing in the background will also gain fame.
If you have at least 100k views on your videos, you can join TikTok Creator Fund.
How do YouTubers earn money?
There are different ways to earn on YouTube. Below are mentioned some of the best practices that will help you to earn on YouTube:
Once you have reached 1K subscribers, you can apply for the YouTube Partner Program to help your account monetize. When the number of subscribers increases, your revenue increases.
You can choose to be an Affiliate Marketer if you want to make money.
Companies seeing you get more traffic will offer you sponsored deals like a sponsored video, or they will ask for a shoutout.
You can also advertise your products like YouTuber Marques Brownlee provides the link to his products in the description of every video he posts on YouTube.
You can also get Crowd Funding to monetize your channel.
Which platform should you prefer?
The platforms support social communications among users worldwide. YouTube and TikTok provide beneficial elements to assist your business to the next level. It will help to investigate the difference between these platforms to check social availability and help organizations grow.
Many ways can help to generate more revenue, like creating content that will help you to convey your message. You can compare YouTube and TikTok to show which one is better in one way and the other one is best in a different way. The various parameters are given below:
Content Creation
YouTubers can create any content related to any field on the platform. You can see educational videos, business ideas, and entertainment; you will even see full movies on YouTube. Recently, it has introduced reels in its app where you can see short videos. People are addicted to this feature. From the start, the app has been attracting people and growing consistently.
On the other hand, you will find the TikTok app more convenient regarding content creation. Recently, brands are utilizing TikTokers to generate awareness and attract the youth. The main focus of the TikTok app is to offer entertainment and maximize the scrolling. When uploading content, it should be accurate and convey your point. TikTok cannot post videos that have in-depth knowledge. When comparing Tiktokers vs YouTubers, Youtubers provide high-quality content most satisfyingly.
Ease of Use
When comparing Tiktokers vs YouTubers creating content, the YouTube interface is user-friendly because it has been around for the last two decades. YouTubers can easily make videos and upload them directly using free online editors. 81% of YouTubers are adults, and their age is from 18 to 49. While TikTokers are younger, the number of users is increasing tremendously. 60% of the users are between the ages of 16 to 24. TikTok comprehends that TikTokers need to create videos vividly and quickly, better than YouTube. The app's user interface is like the videos cover the whole screen, making it more attractive.
TikTok is a more versatile stage where the user experience is more consistent. It is more like a TV-like user interface that isolates it from other platforms. You can easily use these features. Additionally, the video itself contains many features like comments, sharing, liking and saving the video, which are given in the bottom-right corner. Meanwhile, the YouTube interface is outed where you have to tap on a particular video. It would help if you tapped again to maximize the screen and search through many videos. That is why it is easier and preferable to use TikTok than YouTube.
Advertisements
The advertisements on TikTok are not as integrated into the application as YouTube advertisements are. Since the videos are to the point, TikTok does not show ads in the actual videos. It is young enough that promotions have not taken over, but the areas of the videos are yet authentic. You don't see publicized content since many influencers work with organizations to promote items. You do not feel engaged with ads when you see your favourite content.
YouTube allows Youtubers to stick various ads inside a similar video. The user cannot be able to concentrate on the video when multiple ads are running. You will also see different ads while scrolling and searching for the content. It will help to generate more revenue on YouTube. You do not feel engaged, and sometimes you want to hit something when you see ads in your content. That is the negative point that makes the user experience awkward. You will want to add multiple ads to your content to generate more money if you are a YouTuber.
Quality of Content
TikTok attracts more youngsters with its short videos and simple transferring system. Tiktokers who have a decent smartphone can start their TikTok channel. The quality will be as excellent as a specific number of recently airing videos.
YouTube has an enormous amount of content where two types of Youtubers upload their videos. The first type shows those individuals that post simple videos. But the second type of creator uses expensive camera stuff and post-production hardware.
The content created on a high-quality camera is likely to get viral. In a comparison of Tiktokers vs YouTubers content, you will prefer to watch YouTube videos.
Tiktokers vs Youtubers: Wealthiest Categories
Tiktokers and Youtubers create content in many categories. But which category is the highest earning for influencers on both platforms?
YouTube wealthiest categories:
Children's Channel
Comedy/Entertainment
Life/Vlogging
Sport
Gaming
Cosmetics
Education
TikTok wealthiest categories:
Life Synching/Music
Dancing
Acting
Comedy/Entertainment
Life/Family