Urlebird can help you monitor your favorite TikTok accounts anonymously and is one of the best ways to perform this task. TikTok emerged as the most interesting and fascinating platform in recent years for its outstanding content and short videos. Millions of users are biased toward it to entertain themselves. However, one limitation of this video platform is that it quickly notifies the creators about the visitors. Although it is quite interesting, some people may find it offensive. If you are also one of them, you must leverage the power of this brilliant website to get the ultimate perks. We have detailed all the features and alternatives in this guide.
What is UrleBird?
Urlebird is an online platform that provides you with the opportunity to watch your favorite TikTok content and visit your desired profiles without letting the owner know about your identity. In this way, you will be able to stalk your crush and learn about their interest and preferences. Furthermore, this high-end website comes with other exclusive features that play a crucial role in the popularity and performance of this brilliant platform. Above all, the interface of the website is highly user-friendly, making it the top priority of people of every age group.
Features of Urlebird: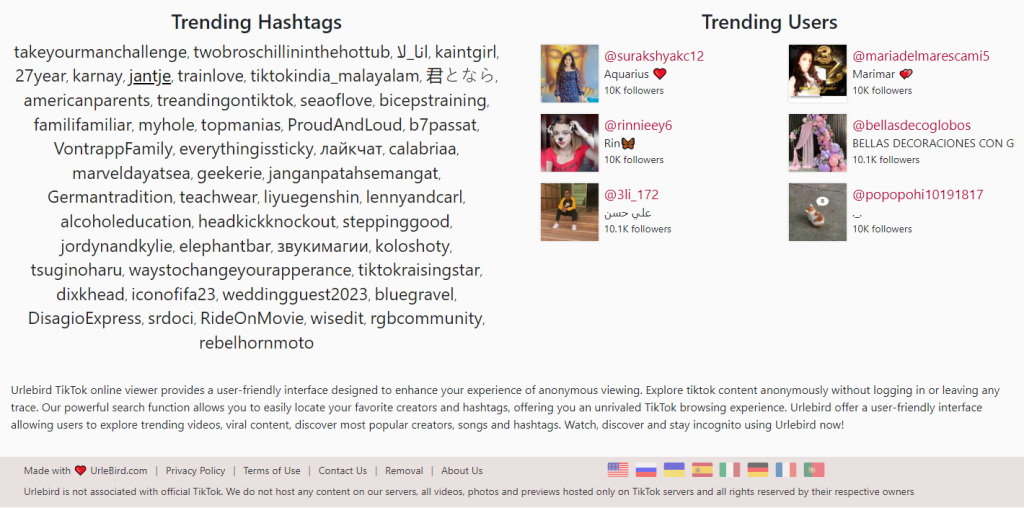 Urlebird has the official application of TikTok based on its exclusive features and attributes. That's why we researched well and compiled its characteristics. You must look at them to understand the significant perks associated with them. All the details are mentioned below.
1 – User-Friendly Interface
Urlebird's developers have worked extensively hard to integrate such components into the infrastructure of the website to make it highly user-friendly. You don't need to go through hectic procedures to stream the TikTiok videos. Just open the homepage of the site and start watching the already-created feed. The developers have incorporated numerous algorithms to provide you with more personalized recommendations.
2 – Search and Discover
In the previous section, we talked about watching the home feed on Urlebird. You will also get the opportunity to search your favorite content creator to find their latest videos. Additionally, you can like and save them to receive more updates whenever they upload a new one. Hence, you can direct yourself to more entertainment and enjoyment without letting them know.
3 – Downloading Videos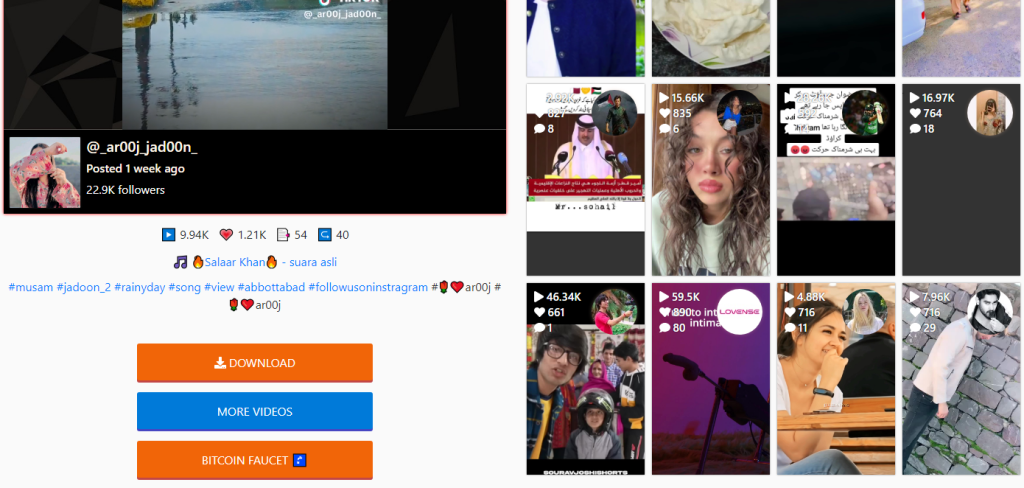 Just like the official application of TikTok, you can download the videos on Urlebird. However, the major difference between the two is there may be chances that the pixels of downloaded videos may get split, resulting in poor quality from the official app. On the other hand, this online web-based platform ensures complete pixels of the downloaded content to maintain the visual experience.
4 – Privacy Control
The biggest attribute of the Urlebird is that it has surpassed the popularity of the official application. With the help of this platform, you are able to watch the content of your favorite creators anonymously. Hence, they will never know about users who have watched and liked their videos. Besides, you can perform stalking to your known people and surprise them without watching their videos from your official account.
5 – Access Without Account
Another noteworthy point is that you don't need to create a new account or use your credentials on Urlebird to watch, like, and share videos. Hence, you can keep your personal data more secure and safe. Although the developers are promising to enhance the level of security, you must stop taking risks to maintain your privacy in this online hectic environment.
How to Access Urlebird on a Laptop/PC?
In the above section, we clearly mentioned that Urlebird is an online web-based platform that can only be accessed with the help of a desktop PC or laptop. Thus, if you are interested in enjoying the videos on the larger screen, we have detailed the step-by-step guide below.
1 – Grab a Device
Firstly, you must grab a compatible device on which you can watch videos anonymously. Then, you should connect it to the Internet connection and update the browser. It is necessary to ensure that the connection has enough speed. Thus, you will be able to have your hands on the following outcomes.
Strong internet will minimize the buffering.
The updated browser will enable all cookies and caches.
Hence, you will enjoy seamless entertainment.
2 – Visit the Site
After grabbing the device and connecting it to your high-speed Internet router, you are all set to watch the TikTok unblocked anonymously. Just follow the steps as described below.
Open your PC or laptop and double-click the browser.
In the search bar, type "Urlebird" and hit enter.
The results page will be opened, showcasing numerous sites.
Locate the official Urlebird site and click on it to reach the homepage.
Enjoy the home feed or utilize the search button.
3 – Navigate and Search the Site
After performing the steps mentioned previously, you will be able to reach the Urlebird homepage. Now, you can navigate the site to scroll through the content of different categories. You can also bring personalization by using the search button and visiting the TikTok profiles of your loved ones as well as top creators.
How to Access Urlebird on Smartphones?
It is quite interesting that the Urlebird developers have not created the application for smartphone users. Thus, it is pretty challenging for them to watch the videos anonymously. However, Android users can get this perk by turning on the desktop mode on their browser in the mobile. Thus, by visiting the official website, they can watch videos anonymously.
Alternatives of UrleBird:
UrleBird also has some amazing alternatives that allow you to stalk your favorite person's TikTok videos. Here, you will get to know some of the best alternatives to this platform:
Firstly, we have added SnapDownloader to our list of alternatives to UrleBird because of its interface and exclusive features. This platform allows you to watch videos in HD resolution to enhance your visual experience and pleasure your eyes. You are allowed to download videos from Instagram, TikTok, and more because it is supported by 900 websites.
Tiktokstalk is another alternative to the most amazing platform UrleBird that allows you to watch TikTok videos anonymously. You can search user names of TikTok users to watch the videos uploaded to the platform TikTok. Moreover, you can search hashtags and music to explore more videos. This platform provides you real time data about the user you searched as well as hashtags.
We have added Xaller to our list of alternatives to UrleBird because this also allows users to watch videos anonymously. You can watch your favorite users' activity on this platform by searching their user names in the search bar. This platform enables you to save TikTok videos without a watermark on them to enhance the visual experience.
Urlebird has another exclusive alternative known as SaveTT that enables users to watch TikTok videos anonymously. You are allowed to watch your favorite users' activity without signing in to TikTok and either this platform. This platform enables you to watch and download your favorite videos without a watermark and without any sign-in or registration.
Conclusion:
Urlebird is a user-friendly online platform that allows for anonymous TikTok content exploration. Its accessible interface, search and discovery features, high-quality video downloads, and the ability to maintain privacy while enjoying content make it an attractive option for TikTok enthusiasts. However, it is primarily accessible via desktop or laptop, posing a limitation for mobile users. Nevertheless, Android users can employ the desktop mode on their browsers for access. These tools empower users to explore TikTok content in new and flexible ways.