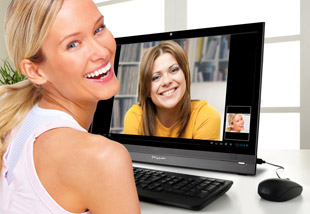 It seems like wherever you shop, travel, eat, or even wait in line, commercial displays—also known as digital signage—make the experience all the more engaging, interactive, and engrossing. Whether they're there to broadcast the news, impart information, or sell a product, these screens impart an air of professionalism and poise to any establishment. Read on to spark some ideas for your own business or institution and to learn more about what fine commercial displays have to offer.
There are countless uses for a commercial display set-up. If you're the manager or proprietor of a restaurant or fast food location, the benefits of a top-of-the-line commercial display are easily imaginable. Old-fashioned locations rely upon the printed text or overhead signage to feature menu items, specials, prices, and options. No matter how well you dress up a burger, a static photograph can only attract so much desire. With high-resolution commercial displays, you can bring food to life—beads of moisture trickling down the freshest tomatoes or heads of lettuce, flames roaring on open grills, succulent sauces running over fresh buns and platters. A dynamic display full of moving, living food creates a call to action that can't be matched.
Larger institutions will always benefit from strategically placed screens. Don't rely exclusively upon overhead announcements to transmit messages (no doubt translated into a wide range of languages, effective only for those who are not hearing impaired). Direct travelers in bus and train stations to departing and arrival gates, information, and appropriate exits with easy-to-understand digital signage. Make long-distance travelers feel at ease and secure with displays placed throughout airports indicating delays, arrival times, weather conditions, and important announcements—in real-time. Hospitals can post vital health information and floor plans in whichever wings visitors require them. Run 24-hour news stations or relaxing music videos in waiting rooms in medical or dental offices, government-licensing facilities (for renewing identification, for example), diners and pubs, and anywhere people wait—they'll appreciate the distraction and mental occupation.
Many exciting formats and features can be perused by heading to Toshiba.ca/Business/Commercial_Displays/. As you'll discover, commercial-grade screens will stand up to continual use much better than domestic screens (most businesses or institutions will want their screens running throughout the entire business day, night, or constantly). Furthermore, a consumer-grade screen may not have a proper warranty if used for commercial purposes, so it's always best to go with the appropriate hardware. These screens are available in a multitude of sizes and designs, and routinely offer fantastic HD resolutions and picture settings, showing off your product or information in crystal clear quality without glare, shadow, grease, or lag. Moreover, their typically thin display depths mean you save the invaluable floor, retail, waiting room, or hallway space.
In this industry, customization is king. Top-quality providers will also provide options for installation—wall-mounted flat-screen displays and those set up with articulated arms to target various viewing angles are common, as are options for landscape or portrait images, videos, and text. With simple installation software, you can quickly learn how to program video loops, design frames with different information, input text, and get your timed displays up and running in no time (even choosing from pre-made templates, depending on the software). Multiple ports and inputs allow you to connect computers, sound systems, USBs, and other electronics not possible on a consumer-grade or domestic screen.
Take your retail location, sales floor, display booth, trade show set-up, or major institutional location to the next level of professionalism with quality digital signage. Your customers, patrons, and guests will no doubt show their appreciation!