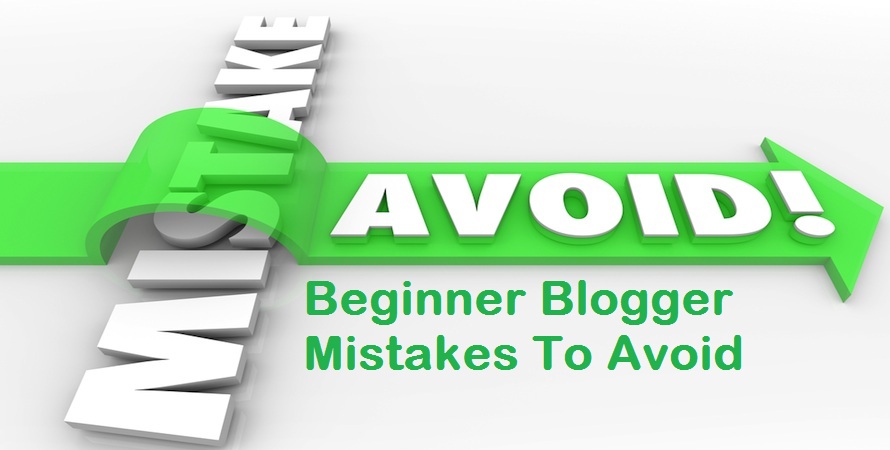 Passionate about blogging but fear of making beginner blogger mistakes holding you back to do?
If so, then don't stop yourself just due to the fear of blogging mistakes that can lead you to failure and go through the article to be acquainted with those mistakes and proven tips to get started efficiently.
Use of free hosted blogging platforms
One of the very first and foremost beginner blogger mistakes to avoid is starting a blog with a free hosted blogging platform like Wordpress or blogger (without buying a hosting plan).
These are great to get started because you don't have to spend lots of bucks but when it comes to kick start blogging for professional or money making purpose, you must buy a suitable hosting plan to make your domain name attractive and professional as well.
Solution for this blogging mistake
In order to start a professional blog or website for your own business, you must purchase a unique domain name and hosting plan according to your business needs.
By doing so, you will enjoy the benefits that free hosting never ever offers you.
Lack of proper plan
Lack of a proper content plan is at number 2 in the list of blogging mistakes that can lead you to failure.
Having a foolproof plan always leads you towards success and when it comes to start blogging, you have to spend enough time on planning before you get started.
By doing so, you will easily manage to your time when running your blog to chase your goals without any delay.
Solution for this blogging mistake
You need to follow these steps in order to get maximum ROI from your blogging efforts;
Choose the niche wisely
Do proper keyword research
Create unique, engaging and quality content
Promotion of the blog
Lack of great content publishing schedule
Consistency is one of the success factors when you want to earn more from your blog and it is only possible with help of a proper content publishing schedule.
No matter you are writing daily, weekly or monthly for your blog, you must publish the content according to a schedule in order to keep your visitors engaged for a long run.
Publishing some post on daily basis and then a gap for a week will disappoint your readers.
Start with less and when you are used to with the situation, start adding more but with consistency.
Solution for this blogging mistake
Make a list of days and time as well according to which you will update your blog.
Almost all content management systems allow you to schedule your posts to maintain steadiness.
No idea of target audience
It is the matter of identifying that what people you are writing for. Without having a fair idea about it, you cannot address your readers properly to keep them engaged with your blog.
For instance, if you are selling discounted hosting plans, you must have an idea that who will read your blog post and what writing tone you should use to make your content worth reading.
It is one of the biggest blogging mistakes that can lead you towards failure and almost 80 % of beginners are doing this.
Solution for this blogging mistake
As it is mentioned in recent lines that if you are selling discounted hosting plans, all bloggers who want to save some pennies when it comes to buy hosting plans, are your target audience.
And you should choose a persuasive writing tone to make them buy from you right after reading your post.
Once you are able to define your target audience, everything will be on right track and marketing will also be easier for you.
Focus on quantity rather than quality
In order to get success in blogging, quality matters a lot, not quantity.
Most of the beginner bloggers think that quantity of the content on the blog will impress the readers instead of quality, but it is one of the biggest beginner blogger mistakes to avoid.
Believe me that, if you have few posts on your blog with high quality and engaging content, readers will love to stay on your blog instead of one that only has lots of posts but with low-quality content.
Solution for this blogging mistake
It is recommended to write 10 blog posts with unique and informational content instead of writing 20 posts that are not creating the great impression on readers.
If you are unable to write good quality content, just hire a professional writer to get some great posts written for your blog.
Not publicizing the blog
Writing unique and quality content is great for your blog but it is not enough to reach maximum readers but after some promotion and marketing.
Publicity is the only way to let people know about you and your business and there are several ways to promote your blog that you must take on in order to grow it in the market where you want.
Promotion and publicity will help your blog reach a big number of readers, so spend some of your valuable moments on promotion of your blog to get some extra.
Solution for this blogging mistake
Search engine optimization and social media marketing are most common ways to promote a new blog or website.
SEO (search engine optimization) helps you improve search results for your blog as well as to get higher ranks and SMM (social media marketing) enables you to spread your blog in social circles to get more views and reads as well.