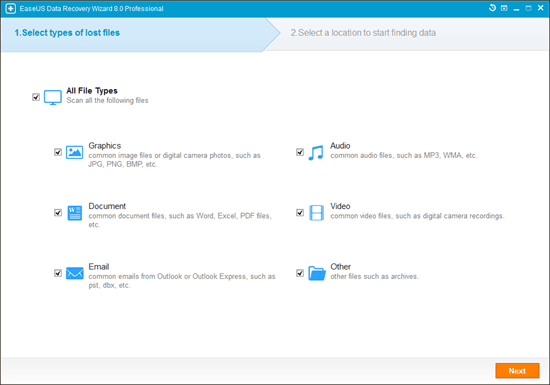 We all have been in a situation where we use our smartphone or digital camera and take a lot of photos with it, then suddenly the memory card cannot boot. Or you did manage to transfer the photos to your PC or laptop to upload it to your social network, but then the files were accidentally deleted or you are unable to access the files and folders. So how do you recover lost photos or recover deleted files?
Thanks to EaseUS Data Recovery Wizard Professional, you can use it to perform data recovery and recover lost photos from your sd card. Not only that, it can recover deleted files from your PC, laptop, hard drive, server and many more. Under whatever conditions you can attempt to recover the lost data either due to deleting, formatting, partition loss, virus attack, improper operation or for any other unknown reasons. It is very user-friendly and only requires 3 simple steps which mean that anyone can use it to recover lost photos. Just Launch the Program, Scan the Device and finally Preview & Recover.
Let's start with Step 1, which is to Launch the Program. Once it starts, you have an option to select the type of files that you want to recover either Graphic, Audio, Document, Video, Email and Other. So if you're looking to recover lost photos, just select Graphic. Next, you can specify the location of the scan. So if you want to recover from your sd card, remember to connect it to your PC or laptop, it should be able to find your media storage.
Once you have completed the above, Step 2 is to proceed with Scan the Device. You can see the progress bar with the estimated remaining time on how long the entire process will take. At any point in time, it also allows you to Stop or Pause the scan and to resume it at a later time. But it is strongly advisable that once you know your device is giving you problems, the faster you begin the recovery process, the higher the chances will be to recover deleted files. Because it's just the way the storage media works, every time a file gets deleted, it is only on the surface but the actual data is still there. But once fresh data goes in, it might be overwritten by the newer data. Technically the first scan will be very quick and will be done in just a matter of minutes. If you still can't find what you're looking for Deep Scan.
Step 3 is Preview and Recover deleted files. Here you can sort the files that were found either by folder, name, date and time, plus there's a preview pane on the right; so if it is a photo, you'll be able to view the thumbnail of the photo before proceed to recover it. Then just choose where to recover the deleted files and it will begin the recovery process. Finally, there's an option to Export Scan Status so you don't have to repeat the whole scanning process all over again.
EaseUS Data Recovery Wizard Professional is your perfect companion if you're looking for a solution that can easily recover lost photos and to recover deleted files. You can buy it for $69.95 USD which is for a single user license or you can also download the trial version before spending your money. You will also be protected by a 30 days money back guarantee.