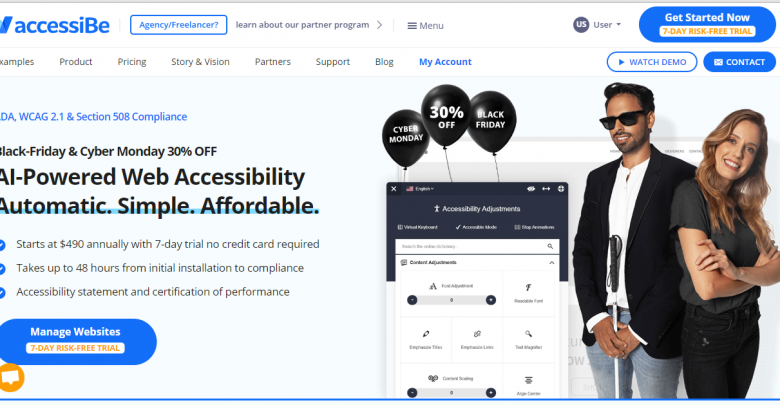 Did you know that if your website fails to comply with the Americans with Disabilities Act (ADA), you could get sued, potentially lose thousands of dollars, and even ruin your business?
All of these things can happen to you if your website isn't ADA compliant.
Even Beyoncé's company, Parkwood Entertainment, faced a lawsuit because the website failed to comply with the ADA requirements.
So if you don't want to face web accessibility-related lawsuits, you'll need to make your site ADA compliant.

accessiBe, for that matter, is one of the best solutions you can tap to secure your site against ADA-related lawsuits and service your people-with-disabilities (PWD) customers better.

With web accessibility platform accessiBe, you can easily make your website ADA compliant AND accessible with the platform's AI-powered technology and accessibility interface.

In this review, we'll take a look at accessiBe's features and how they can make your website ADA compliant.
Ready? Let's jump right in.
What is accessiBe?
accessiBe is a web accessibility platform and automated solution that will help make your website completely accessible to your users who have disabilities by complying with the ADA requirements and Web Content Accessibility Guidelines (WCAG) 2.1. 
accessiBe uses AI technology – such as machine learning, image recognition, and contextual understanding – to make your website ADA and WCAG compliant.
With accessiBe's AI-powered background apps, you won't need to manually code changes to maintain compliance every time your website goes through an update.
The platform can also adjust to your website's template or design easily, and it's fully customizable, so you won't need to do any hard coding to implement accessiBe's features.
Plus, since accessiBe was developed to accommodate users with different disabilities, your website will be compliant with the law, and at the same time, addresses why your website needs to be accessible to everyone.
1. Offer a web accessibility user interface.
For your website to be ADA compliant, it needs to make it easy for your PWD users to access and use your site effectively.
accessiBe helps you achieve this with the accessibility adjustments user interface.
This accessiBe feature allows your PWD users to customize how they want to access your site according to their disability and needs.
Here are some of the features that accessiBe's accessibility adjustments have to offer.
Navigation adjustments
accessiBe's navigation adjustments help your PWD users browse through your website easily with features that allow them to hide images, find useful links from a single dropdown menu, use keyboard navigation, and more.
For instance, accessiBe's keyboard navigation feature lets your users with motor impairments navigate through your site by only using the Tab key.
When your users go over your, let's say, your website menu, each element they navigate to will be given visual focus, and they can "click" on it using the Enter key.
The navigation adjustments also offer letter navigation, emphasize focus and mouse hover, and more for your PWD users.
Content adjustments
With accessiBe's content adjustment tool, your PWD users can scale the content of your website, adjust the font size, word and letter spacing, change alignment, and more. 
accessiBe' accessibility adjustment interface also has a built-in phrase, slang, and expression dictionary that helps your elderly users or those with cognitive impairment comprehend your content better.
This can improve their experience since the dictionary can quickly provide full descriptions of expressions and abbreviations for them just by typing it in the search bar.
Users can just type in the abbreviation or term they're unfamiliar with, and accessiBe will provide the meaning without your site visitors having to leave your website.
Color and display adjustments
Your website users who suffer from visual impairments, such as color blindness, can browse through your site easily with accessiBe's color and display adjustments.
The feature helps your users adjust the background, text, and title colors on your website or even choose different color settings like invert colors, dark or light contrast, and monochrome.

These accessiBe adjustments can help your colorblind users who may have difficulty detecting your site button colors or those who might experience headaches due to contrasting colors and images.
accessiBe's accessibility adjustments feature provides a user interface that lets people with a broad spectrum of disabilities navigate through and access your website successfully.
At the same time, your website complies with ADA requirements and answers the WCAG 2.1 guidelines.
2. Leverage AI technology.
Some of the issues you can face with making your website ADA and WCAG compliant is how to maintain compliance once you have your web accessibility solution installed.
Factors like your website updates, newly added content or web pages, and changes to the ADA regulations that can happen any can be challenging to keep up with since you'll need to ensure that all of these adapt to the ADA guidelines every.single.time.
With accessiBe however, your website will be covered on both the accessibility and WCAG and ADA compliance end.
accessiBe uses AI technology through machine learning techniques to scan, analyze, and learn your website's widgets, functionality, and structure. 

After learning about your website and its elements, accessiBe's AI technology then applies various behaviors – including Aria Attributes – based on the ADA and WCAG requirements and best practices.
accessiBe also uses Optical Character Recognition (OCR) technologies and Image Recognition to give accurate text descriptions for your website images.
For instance, accessiBe's AI will provide an accurate image alt text that allows your visually impaired and blind users' screen readers to read out descriptions like alt-" Image contains: Luggage, Shoes, Travel."
All of these happen on the fly without you needing to code and make manual adjustments every time you apply changes to your website.
The best part is, accessiBe's AI scans your website for any revised or new content every 24 hours.
With this kind of web accessibility AI technology and automation, you can ensure that your website is compliant and stays compliant every time.
3. Install accessiBe to your website.
Installing accessiBe to your site is a pretty straightforward process, and you'll only need to follow a few steps to do it.
First, you'll need to create your account, and once you're done, you can add your websites.
You can choose from two installation methods: The quick and basic way and the advanced and customized way.
With the basic installation method, you just need to copy the installation code shown in the screenshot below and paste it to your website's system.
If you choose to go with the advanced and customized installation, you will need to choose icons, colors, language, positions, and more first so you can adapt the interface to your brand design and your website.
Once you're done, you can then generate your custom script and paste it to your site's system, as well.
It will take 48 hours from the time you installed accessiBe, and after the forty-eight hours are up, your website will be fully WCAG and ADA compliant.
Bottom Line
By now, you understand the importance of making your website ADA compliant with accessiBe – to help you avoid web accessibility-related lawsuits.
Not only that, but accessiBe also helps make your website compliant and at the same time, improves the experience of your PWD users on your website.
If you found this review useful, then please click on the share button if you agree.