Laptops
HP Laptop Docking Station- Best Docking Stations For HP Laptops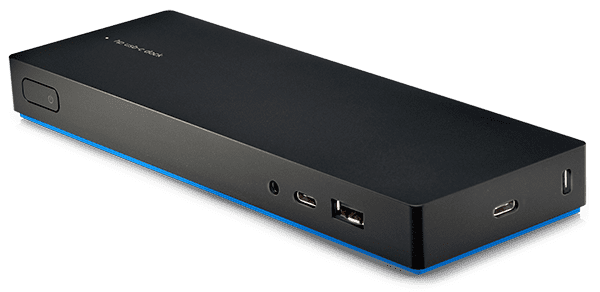 There has been an age-long debate on laptops versus desktops. Laptops are more portable, whereas desktops, in general, are more powerful. Several other factors might confuse the buyer. However, docking stations are a great compromise to achieve the sweet spot in between a laptop and a desktop. With a laptop docking station, you have the convenience of a laptop and added facilities of a desktop, like additional charging power and connection to PC monitors and speakers.
HP is a popular and smart choice for buying laptops from. They offer one of the best features at competitive prices. As such, existing and new HP owners should take a look at the best HP laptop docking stations and choose accordingly.
Also Read:
Pros and Cons of HP Laptops and Computers
Best Laptops for College Students
Top 4 Innovative Upgrades for Your Laptop
The Best Docking Stations for HP Laptops:
1) HP USB-C Dock G55TW10AA
The HP USB G5 docking station works with 100-watt power. It is suitable for the Elite Book X360, Elite X2, G6, and other units. You get all the major features in this docking station. The main advantage is the single cable from the USB C ports that allow for efficiently connecting other devices and wired networks with the laptop. On top of this, the docking station is compatible with other notebooks from brands such as Lenovo, Apple, and Dell.
2) HP D9Y32AA Docking Station 65W Adapter
This docking station is designed to fit the ultra-slim HP Elite Book notebooks. It is also great for expanding the display device connectivity and network throughout the day with a one-click slide inside feature. With this HP docking station, you will get four USB 3.0 ports that offer high-speed connectivity to the USB devices.
3) HP UltraSlim Dock D9Y32AA
The docking station has four units of USB 3.0 ports. Overall, it is very compatible with all units. For the quick and easy expansion of the display device and connectivity, this docking station is ideal. This station works with a simple one-click installation and is compatible with most of the ultra-slim HP Elite Book and Notebook. The docking station comes with four units of USB 3.0 ports.
Read More from our Tech Blog:
10 Essential Tips and Tricks to Make the Most of Use a Laptop
Have you seen these official laptops in 2021- The latest update!
4) HP Genuine Elite USB-C
This docking station is best to boost productivity. This ultra-portable will give you a full range of connectivity to the desktop and other accessories. With this docking station, connect effortlessly to multiple displays, external hard drives, and other devices. This new docking station comes with multiple ports like HDMI, USB C, a display port, and 4 USB ports as well. This is one of the best docking stations from HP.
5) HP Thunderbolt Dock 120W
The best dock to work well with a wide range of notebooks and laptops with a host interforce of type USB C. The Thunderbolt dock comes with 5 available ports. It offers effortless connectivity to several devices. Enjoy network connectivity with no lags along with operationally integrated audio. This docking station gives users great value for their money.
6) HP USB-C Dock G5 5TW10UT
This docking station is compatible with HP laptops and laptops of other brands. The dock works on a single cable system that allows an effortless connection. The docking station includes USB type C and USB 3.0 charging ports.
Takeaways
Buying a suitable HP laptop docking station can increase your productivity and give you a great work experience. Especially for people working from home or those who are always on the move, the right docking station can greatly enhance your working capacity.
Follow our tech blog for the latest tech-related updates and news. Our tech blog offers valuable insights and reviews to help you choose the best technological solutions.