Mpow H10 Wireless is one of the best and is recognized by a great number of music enthusiasts as noise-canceling headphones. There are so many different brands and models out there, it can be tough to decide which ones work better in different scenarios. Therefore I've been using them for a few weeks now and I'm impressed with the sound quality they provide. The noise cancellation is also top-notch, making them perfect for use in noisy environments like offices or on public transportation. If you're finding a great pair of wireless headphones with excellent sound quality and noise cancellation, these headphones are definitely worth checking out. Here I'll explore the benefits and features of the Mpow H10 Wireless noise-reduction headphones.
Mpow H10 Wireless Headphone:
The Mpow H10 wireless is a top-tier set of wireless headphones. Featuring 40mm neodymium drivers, which deliver a powerful, balanced sound, along with the enhanced bass response, you won't miss a beat when listening to your favorite tunes. The comfortable Memory-protein cushion and adjustable headband provide the ultimate comfort for extended wear. On top of that, these stylish headphones have an impressive battery life: up to 30 hours of music or talking time. Best of all, they are compatible with Bluetooth-enabled devices and feature intuitive controls, like play/pause and hands-free calling. So get ready to enjoy your favorite music, movies, or calls in style – with these wireless headphones.
Mpow H10 Wireless Features:
Some of the top-rated features that attract customers to buy Mpow H10 wireless are given below:
Noise Cancellation:
The Mpow H10 headphones employ active noise cancellation (ANC) technology to minimize ambient sound levels. This means you can block out any distractions, so you can concentrate on the music or whatever audio content is playing. The headphones can cancel out low-frequency noises, such as engine and wind noise, making it easy to focus on what's important. With the ANC activated, you can enjoy your music without the distraction of those unwanted noises.
The Mpow H10 Wireless headphones' noise cancellation feature is beneficial for those looking for a peaceful environment to work or study in. The headphones also come with an adjustable, low-profile headband to ensure the perfect fit for maximum comfort.
Sound Quality:
The Mpow H10 wireless offers superior sound quality with clear and balanced audio. When you put on the Mpow H10, the crystal-clear sound will be the first thing that stands out. These headphones are engineered with Bluetooth 5.0 technology to deliver high-definition audio clarity and come equipped with active noise cancellation capability so you can easily filter out distractions while streaming music or taking calls. The Mpow H10 is a powerful choice for all your audio needs – enjoy immersive listening experiences like never before.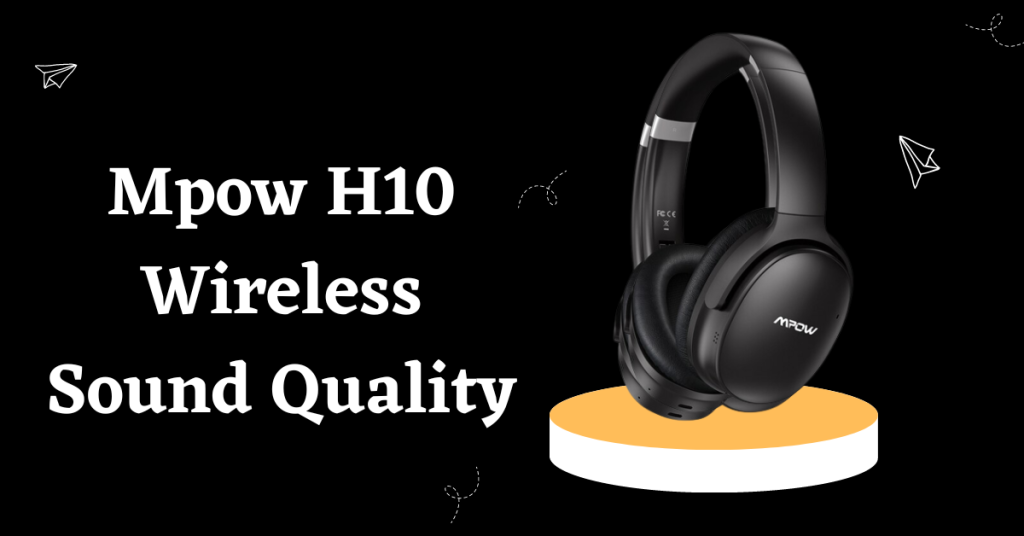 The Mpow H10 envelops your head with its plush, adjustable memory foam band and ultra-soft ear cups for a snug and comfortable fit. Not to mention, the lightweight design ensures that you won't even feel like they're on after long periods of use.
Relying on advanced digital signal processing circuitry, the headphones minimize ambient background noise for an immersive, peaceful experience. On top of that, a custom-fit earbud design maximizes comfort and sound isolation creating an incredibly soothing atmosphere.
Wireless Connectivity:
The Mpow H10 wireless headphones come with a long-range Bluetooth connection, allowing you to stay connected up to a distance of 33ft. This means that you can enjoy your media from any room in the house, or even while you're on the go. The headphones are compatible with almost any device that supports Bluetooth audio, making them the perfect choice for those who want to enjoy their media without the hassle of cables.
Buttons: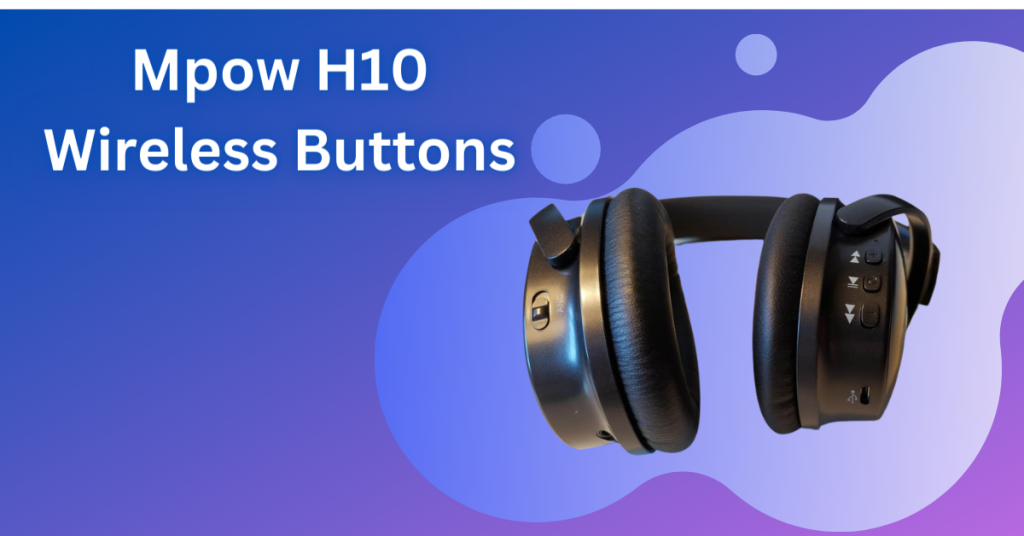 The Mpow H10 wireless also features intuitive controls that make it easy to control your audio. The buttons are situated on the right ear cup, you will find three multi-function buttons that enable you to play/pause music, skip between tracks and adjust the volume. Although this requires a bit of learning at first due to multiple controls jammed into these few buttons, it is still far better than having only two multi-function keys. The headphones have a built-in microphone to make and receive calls hands-free.
Design:
The Mpow H10 wireless headphones feature a sleek and modern design that is sure to turn heads. The black matte finish with silver accents creates a stylish and chic look, perfect for the modern lifestyle. The design and comfort of the headphones are top-notch. Ergonomically crafted from durable materials including an adjustable headband, the headphones are designed to provide a fit that's both secure and comfortable for all users.
Soft cushioned ear pads provide extra comfort for those long listening sessions, while noise cancellation technology eliminates unwanted background noise so that you can experience unwavering sound quality every time. Not only does the headphone's design provide comfort and ease of use, but its sleek and modern look makes it a stylish accessory as well.
Mpow H10 Battery:
Headphones are only good if they last, and that's where the Mpow H10 Wireless really shines. It has a generous battery life of up to 30 hours, so you won't have to worry about running out of juice in the middle of an important call or session. When you do need to recharge, it only takes two hours to get a full charge.
Unfortunately, these devices lack the more advanced USB-C charging port. Moreover, they are not equipped with fast charging capabilities; it takes approximately 2 to 3 hours of 0.2A current to recharge their 500mAh batteries fully. When charging, the status light changes to a brilliant red hue while Bluetooth is automatically disabled, nevertheless, you could still utilize a wired connection for your convenience.
Mpow H10 Wireless Price:
Despite their small size, Mpow H10 wireless headphones cannot match the portability of earphones. They still provide a comfortable listening experience. Moreover, their price tag is relatively affordable. At $50, these headphones provide great value for the money with their rich features and modern design.
Mpow H10 Wireless Overall Review:
The Mpow H10 Wireless headphones offer great sound quality and a sleek design that makes them perfect for any situation. Their noise cancellation technology allows you to block out external noise and distractions, making them ideal for commuters or anyone who wants to focus on their music. Their long-range Bluetooth connection allows you to roam around without losing your connection and the comfortable ear-pads ensure that you can enjoy your music for hours on end. The Mpow H10 headphones are an excellent choice for anyone looking for a reliable and stylish listening companion.