Digital marketing strategies offer businesses several benefits that can help them increase their reach, generate more leads and sales, and build a stronger brand. The best part? It's easier than ever to get started with digital marketing. Here are some of the top benefits of digital marketing strategies for businesses, so you can decide if it's the right fit for your organization.
What Is Digital Marketing?
Digital marketing uses digital technologies and tactics to market a business's products and services. It can include website development, social media marketing, content marketing, search engine optimization (SEO), email marketing, and influencer marketing. Digital marketing can build brand awareness, attract new customers, and grow sales. It is an effective way for businesses to reach a wider audience and connect with potential customers.
Digital marketing campaigns can be tailored to target specific audiences, allowing enterprises to deliver personalized messages that engage their customers. By utilizing digital marketing strategies, businesses can maximize their ROI and the success of their campaigns.
Digital marketing strategies are essential for businesses to succeed in the modern world. The ability to reach more customers, increase brand awareness, improve ROI, and develop lasting relationships with customers is invaluable. By leveraging the right digital marketing strategies, businesses can generate more leads, build better relationships, and ultimately grow their bottom line.
What Are The Critical Areas Of A Business?
Businesses must focus on several key areas to be successful. These areas include customer service, marketing, sales, operations, finance, and human resources.
Customer Service
This business area ensures customers have positive experiences when dealing with a company. Customer service activities include responding to customer inquiries, addressing customer complaints, and providing technical support.
Marketing
This business area is responsible for building brand awareness, generating interest in the products or services, and increasing sales. It includes advertising, public relations, promotions, and product development.
Sales
This area of a business is responsible for generating revenue. Sales activities involve convincing potential customers to purchase the company's products or services.
Operations
This area of a business is responsible for overseeing day-to-day operations. This area includes production, logistics, inventory management, and quality assurance.
Finance
This business area is responsible for managing the financial aspects of the company. This area includes budgeting, accounting, financial reporting, and cash flow management.
Human Resources
This area of a business is responsible for the management system of employees. Human resources activities include recruiting, hiring, training, performance management, and employee relations.
Top Benefits Of Digital Marketing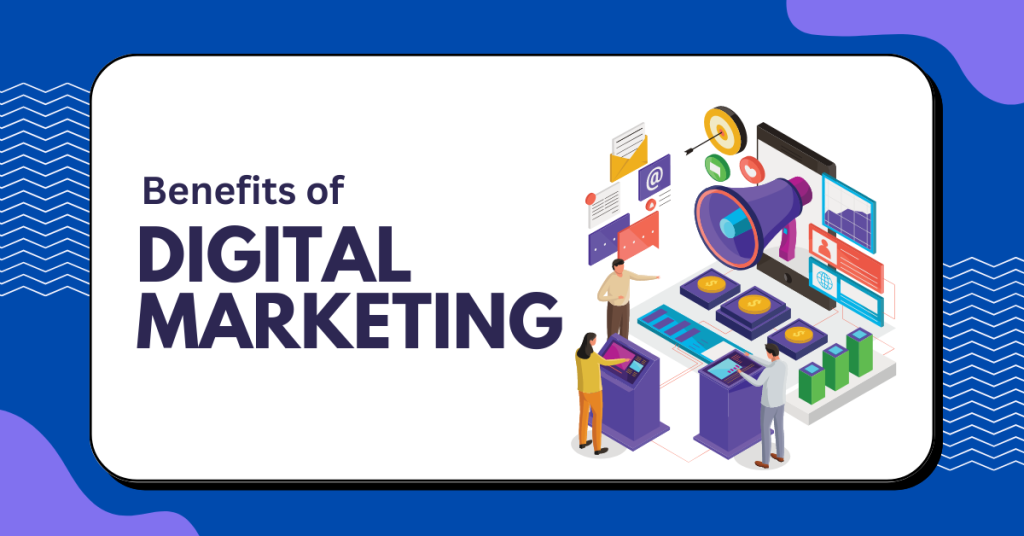 Some of the major benefits of digital marketing are:
Increased Visibility
Digital marketing strategies such as SEO, social media, and email campaigns allow businesses to reach a wider audience. By targeting a suitable demographic and creating content that resonates with them, you can increase your brand's visibility and expand your customer base.
Improved Brand Recognition
Digital marketing helps build your brand's recognition and credibility among potential customers. By utilizing the proper digital marketing channels, you can make a solid reputation for your business and establish yourself as an industry leader.
More Cost-Effective Than Traditional Marketing
Compared to traditional marketing tactics like television, radio, or print advertisements, digital marketing is far more cost-effective. It also allows businesses to track their campaigns and measure ROI more accurately.
Increased Conversion Rates
Digital marketing tactics like search engine optimization, content marketing, and remarketing allow you to reach people who are already interested in your products or services. It leads to higher conversion rates since the visitors are already looking for what you offer.
Better Customer Insights
Digital marketing allows businesses to gain valuable insights into their target market and customer base. Companies can better understand their customers' needs and preferences by analyzing data from various sources like website analytics, social media, and surveys.
Improved Customer Engagement
Digital marketing helps businesses build customer relationships. Companies can engage with their customers through interactive content, personalized messaging, and campaigns and cultivate long-term relationships.
Why Digital Marketing Is Vital For Your Business
Digital marketing is essential for companies of all sizes. It offers a range of benefits that traditional forms of marketing do not and helps businesses reach a larger audience more cost-effectively.
One of the key benefits of digital marketing is the ability to target your ideal customers precisely. With digital channels such as search engine optimization (SEO), pay-per-click (PPC) advertising, and social media marketing, businesses can target their message to a specific demographic or geographic area. It ensures that your message reaches the people most likely to be interested in what you offer, increasing the chances of conversion.
Digital marketing also allows businesses to build relationships with their customers through engaging content and personalized messaging. Through email campaigns, companies can connect with their customers one-to-one, allowing them to get to know their customers better and develop trust. Social media platforms such as Facebook, Instagram, and Twitter enable businesses to establish an authentic connection with their customers and foster loyalty.
Sign You Need Help With Digital Marketing
Are you missing out on the advantages digital marketing can bring your business? Do you need help with the best way to use digital marketing strategies? If so, it might be time to look into professional help.
There are a few tell-tale signs that it's time to hire a digital marketing agency:
You Don't Have An Online Presence
If your business is not online, you miss out on the countless opportunities digital marketing can bring. An online presence will increase brand visibility, drive more traffic to your website, and open up potential new markets.
Lack Of Engagement On Your Social Channels
If you have social media channels but do not see any engagement, then you need to optimize your posts. A digital marketing agency can help you create better-targeted content for your audience and help engage them in conversation.
You Don't Have Any Ad Campaigns Set Up
Paid advertising campaigns can be a great way to reach more people and get more conversions. Without them, you miss out on valuable opportunities to generate leads and sales. A digital marketing agency can help you develop a customized ad strategy that fits your budget and objectives.
You Don't Know What Your Competitors Are Doing
Keeping track of your competitors' actions in the digital space is essential if you want to stay ahead. A digital marketing agency can help you identify your competitors' tactics, allowing you to create a better strategy for your own business.
You Don't Have An SEO Strategy
SEO is integral to any digital marketing strategy, as it helps you get found in search engines. A digital marketing agency can help you create a comprehensive SEO strategy to ensure your content is optimized for search engine results pages (SERPs).
If you're experiencing any of the above signs, consider working with a digital marketing agency. With their expertise, you can develop an effective online strategy that will help take your business to the next level. Not only do they specialize in creating powerful campaigns, but they also understand the analytics behind them. They can monitor and analyze data to ensure your campaigns get maximum exposure. They can also provide invaluable insights into what works and doesn't work for your business, enabling you to adjust your strategy accordingly.
Conclusion
Digital marketing is an integral part of a comprehensive marketing plan that should be considered and taken seriously. Investing in a well-crafted digital marketing strategy will pay off in the long run and help your business stand out from the competition. Whether you're just getting started or have a fully developed digital presence, an effective digital marketing plan will help you maximize the return on your investment.