Digital marketing is evolving rapidly due to technological evolution, and so does the competition. That's why it is necessary to stay ahead of the world to pocket the maximum perks. Otherwise, you may end up with your plans and investment in dismay. In this rapidly evolving landscape, Google Analytics 4, more commonly called GA4, has proved its authority in the marketing sector. The owners can make data-driven decisions by providing the necessary information regarding the websites and applications' ranking and user engagements. We have developed this guide to help you learn about the features, benefits, and implementation strategies of GA4.
What is Google Analytics 4?
Google Analytics 4 is the latest development of the well-renowned Universal Analytics platform. It is designed specifically to deliver analytics regarding the website's performance in search results. Furthermore, it has several other high-end benefits to help you streamline different processes by taking you above the competitive landscape. Google has strengthened the infrastructure of this tool by leveraging the power of machine learning and predictive analytics. Hence, it provides you with more comprehensive insights into user behavior across different devices and platforms. By evaluating the results, you can easily determine the potential drawbacks and work more to improve them.
Key Features of GA4
Google developers have worked really hard to bring iteration to this top evaluation platform. Unlike the traditional one, the interface of Google Analytics 4 previews some tremendous features. We have detailed some of them in the following section.
1 – Event-Driven Tracking
Although there are many developments in this new launch, the core feature remains the same. You can get the details of all the real-time events on your site through GA4. These include pageviews and clicks in the case of a website. In the case of the mobile app, you will also get the details regarding how many downloads you receive in a particular span. As a result, you can understand your site performance more comprehensively and predict user behavior in the next intervals.
2 – Enhanced Cross-Platform Tracking
While websites are the major sources of traffic for your brand, mobile applications have paved their way to be one of the biggest sources of bringing customers to your business. Therefore, monitoring the presence of users and traffic coming through these platforms is extremely important. The previous analytics tool wasn't capable of providing a holistic view of the customer journey and route through which they accessed you. On the other hand, GA4 tracks users' interactions on smartphone applications, websites, and even offline touchpoints. In this way, you can better assess the results to make improvements.
3 – Machine Learning and Predictive Metrics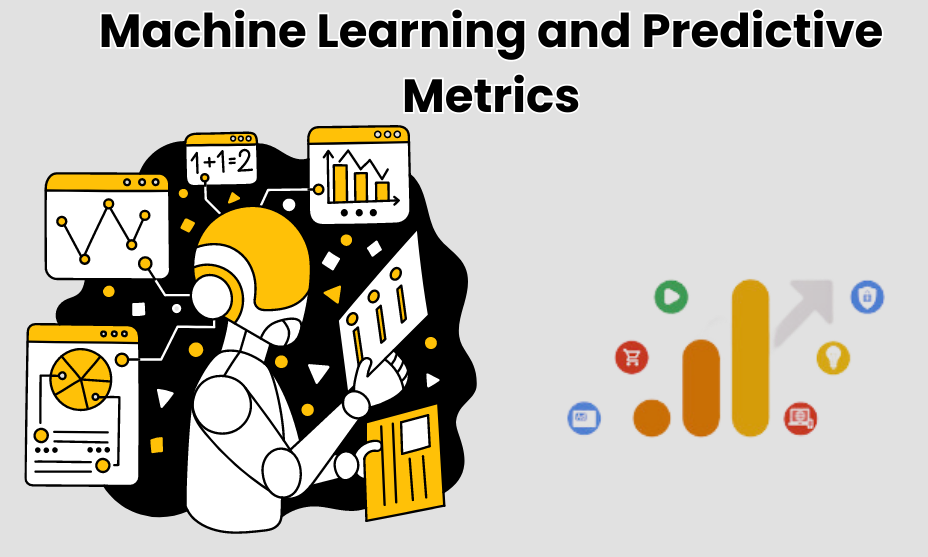 Artificial Intelligence has taken the world by storm by delivering unimaginable results, and Google Analytics 4 is no exception. It utilizes the power of machine learning algorithms to predict user behavior. Hence, marketers can quickly assess the details and make proactive decisions to surpass their competitors. Moreover, these data-driven decisions help site owners and marketers to take necessary steps to improve their conversion and sales possibilities.
4 – Customizable Event Tracking
GA4 lets marketers customize their event tracking policy to get more tailored results from a specific device. For example, if you want to monitor how your brand is influencing smartphone users, you can limit the event tracking only to them. It will provide you with enhanced insights and down pits to work accordingly for better performance. Similarly, you can analyze the website traffic to align with the business requirements and objectives.
5 – User-Centric Reporting
Previously, it was impossible to track the IDs and locations of the users. Thus, companies fail to evaluate how they should improve their work strategy for better results. Google Analytics 4 has resolved this issue by introducing a feature of user-centric reporting. It enables you to track users' details across different devices or platforms alongside their location and other details, providing a unified view of their interactions.
6 – Precise E-commerce Tracking
E-commerce has always been on the top when it comes to earning quick money from the web. In recent years, this field has experienced tremendous development as many individuals and companies have shifted online to sell their products. However, the traditional analytics platform was not suitable for tracking the performance of these stores. Considering this, precise, Google has upgraded it to come up with GA4. It features more advanced tools to upgrade e-commerce tracking capabilities. Also, it provides reports on real-time product views and purchases.
Benefits of Google Analytics 4
After elaborating on the features, we have enlisted the exclusive benefits you can receive from this tremendous online activity-tracking tool.
1 – Comprehensive User Insight
We already described that GA4 is designed specifically to track the user's journey and how they approach your website or application online. This event-driven approach is mighty effective in earning deeper insights regarding user engagement and interactions. Thus, marketers can understand the way to bring in more traffic.
2 – Holistic Customer Journey
In the features section, we have elaborated on how you can easily learn about the cross-platform approach of your users to your website or app. This unified result approach can help you identify main touchpoints, contributing to conversion.
3 – Data-Driven Decision Making
Google Analytics 4 helps you make more data-driven decisions to direct your website growth more productively. Moreover, AI and machine learning optimize your campaigns by allocating the desirable resources for a particular activity.
4 – Privacy-Centric Design
The major benefit of GA4 is that it is built considering the latest security standards and measures to meet data protection regulations. It results in more credibility and fosters trust with users.
Final Verdicts
Google Analytics 4 is a tremendous tool for marketers. It helps them to understand user behavior across an increasingly complex digital ecosystem. You can make better data-driven decisions by leveraging machine learning insights, event-driven tracking, and enhanced cross-platform analytics. As a result, you can optimize your campaigns more effectively to receive meaningful business outcomes. With the evolution of the digital landscape, GA4 allows site and app owners, along with marketers, to tackle the critical challenges and avail possible opportunities lying ahead.