Web Dev
Common User Experience Mistakes to Avoid on Your Website
Analyzing User Experience (UX) is one of the important psychological techniques if you get it, you'll be able to engage more and more users on your site. A UX designer focuses on all aspects of product development, including design, layout, work, and marketing. He works to improve meaningful and to-the-point experiences for the users.
A huge number of users on a daily basis come across the digital world. It is necessary to catch them and their attention on your website. If your site gives them a good experience, they'll surely like it.
Only in a few seconds, a user accepts or reject your website. Just a slight blink on the website homepage creates the whole scenario of the website in his mind. To catch his attention and create a good website with extra UX is only possible when you'll avoid common user experience mistakes. In reality, a single User experience mistake will cause discomfort for the users, leaving your website and causing financial losses to your company.
Some of the common user experience mistakes are given below. You should avoid these to improve user experience on your site.
Non-Responsive Web Designing
One of the most common UX mistakes on the web is the non-responsive design on the home page and landing Pages. Many companies believe that they are doing well by hiring someone without experience and knowledge internally to take care of web design and management. This mistake leads to the website's death.
An inexperienced web designer will damage your company's reputation with bad UX. Timely you'll save money, but its consequences will be long-term deprivation from the search engines. Don't trust anybody further for the management of your website.
Hire a web designer expert who knows to optimize the user's experience. An expert web designer can create good layouts, designs, and attractive visuals for your website. According to Google, they'll rank down non-responsive websites and rank up the responsive ones.
Poorly Written Content
Contents are the main part of any website, infact, they are the backbone of internet sites. Users go through searching to gain reliable and authentic information. Every of your content has great importance on the internet. For a better Users experience, you should have rich content on your website and follow given common mistakes.
Keyword Stuffing
Grammar mistakes
Post consistently
Keep old content up-to-date
No large Content
Read More:
Lacking Functionality and Creativity
There should be relativity between your website's creativity and functionality. Aesthetic aspects are necessary for better UX. However, there should be no compromise on functionality. When your website functionality will not be enough to explore a web store or purchase a product, then how is it possible that you'll generate better results.
Pure functionality with easy access to different menus will make your website popular among users. There should be filters and sorting options in the functionality. To achieve brand loyalty, creativity and functionality play a crucial role.
Thin and Light fonts
Thin and light fonts are accessible on different mobile apps and websites. Due to improved screen technology, many designers prefer these clean and attractive fonts.
These thin fonts cause usability problems and lose UX. Thin fonts are hard to read. Moreover, Not All viewers with different devices will be able to see or read these words.
In IOS devices, it is hard to read thick and light fonts. To avoid UX mistakes, designers should use simple fonts available on all devices.
Mobile Top Bar Navigation Design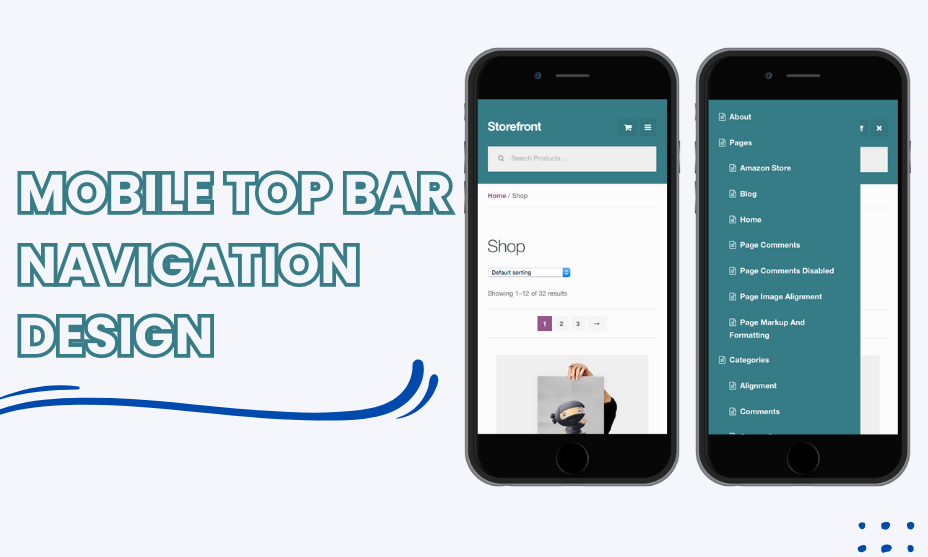 Even if you are working with a professional audience that always uses the mobile application, you have to work on mobile and replace top bar navigation with a slide in the menu. One other thing which compels the viewers to leave the site is the difficult Navigation catalog.
The user is stuck in the menu and doesn't know where to proceed next. It is a common user experience mistake, and it should be avoided; otherwise, it may harm the reputation of the site.
Difficult Navigation Patterns
Before designing mobile navigation, take a look at the information you have developed. Which category should appear first? Which pages are secondary or less important in the ranking? Try the steps people take most often and provide users with a quick and intuitive way to reach their goals.
No Clear Feedback on an Action
Users need clear and visible feedback whenever they add a product to the cart, rate something, copy a link or unsubscribe from the list. Not doing so will consequently confuse, prefer additional customer service inquiries, and make some users stand against you.
Designing for Desktop
Many companies have designed their websites only for desktop systems. While more than sixty percent of website visitors are mobile users. They are exploring your websites on mobiles. If your website is designed for desktop and they want to proceed from mobile, they'll surely have not proceeded, and it gives a weak user experience to the website.
Final words
Achieving an outstanding user experience should always be a primary goal in website design and content creation. According to Just Business Today, customer-centric companies do better – especially in the online world where it's easy for people to move onto the next site.
To maintain a positive image for your company and achieve commercial goals, a good place to start is to avoid common user experience mistakes. After reading this article, you may be better able to highlight and avoid design and content errors. Always keep in mind the goal of your target audience and try to make the website a pleasure to experience.