Marketing
Simple Digital Marketing Hacks for 2021 to Grow Your Business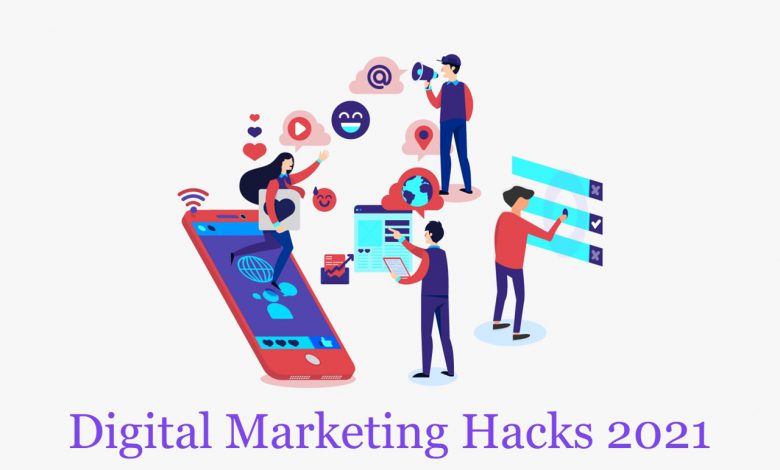 Digital marketing changes constantly. Every year there are new marketing strategies and tactics based on user preference that every business needs to identify and integrate for ultimate growth and success.
The COVID-19 global pandemic has brought serious and unprecedented challenges for brands and companies around the globe. More and more businesses had become tech-savvy to stay afloat. if you want to stand out in search engine result pages in this new year, here we have some simple but most effective digital marketing hacks for 2021 that you must know and implement to grow your business effectively.
Take Your Content Marketing up a Notch
When it comes to digital marketing, content marketing is always on the top of list. This part of online marketing is not just about informative writing, but it includes other types of content like images, infographics, videos, gifs, and eBooks, etc. If you really want to go the extra mile in your content marketing efforts, you should add a variety of content types to it to get more eyeballs for your content. Whether you are creating content for a website, blog or social media profiles, always create informative, interesting, and problem-solving content to increase visibility, reach, and engagement.
Leverage Video Marketing
In this digital era of life, video content has grown amazingly and this digital marketing trend doesn't seem to be going anywhere in years to come. As it is mentioned above, interesting and appealing videos could be an integral part of your content marketing efforts. Modern consumers usually interact with their favorite brands on their mobile devices, and reaching them on their Smartphones via a short but interesting video can help you keep them engaged for longer. Most of the businesses and brands go live on several social media sites including YouTube to make their audience a part of the conversation via comments & mentions. This is a great way to interact with your target audience on a more personal level. So, leverage video marketing efforts this year to stand out among competitors. You can research video production services to help you especially if you want to raise your brand awareness and expand your target market. High-quality videos and effective marketing strategies are needed to get them engaged.
Share Innovative Ideas & Solutions on Your Blog
Blogging is one of the top digital marketing hacks because it provides you a way to solve common problems and issues that your target audience might be facing. Blog posts are not only to share product information and features with your potential and existing customers. Blogging helps you share unique and innovative ideas with your audience to make their lives easier than ever before. You can also share industry news and trends to become an authority. However, you need to make sure each of your blog posts is easily accessible and readable for a layman. Use short sentences to increase attention spans and break your text block up with the most relevant and interesting visuals. It will help you keep your audience hooked.
Optimize your Email Marketing Campaigns Effectively
Email marketing is around for years and a conversion-friendly digital marketing tactic to drive more leads and sales. In order to succeed in email marketing, provide your potential customers with something most relevant and interesting. Make sure all the email IDs on your list are valid and connected to legit domains. Segmentation is another most important aspect of a successful email marketing campaign as it allows you to send personalized messages to the right receivers based on their interests and needs. There are a lot of email marketing solutions available that can put your marketing efforts on autopilot.
Influencers are the New Trend Changers
Influencer marketing is not just limited to YouTube and social media sites like Instagram. TikTok is a new platform to promote your brand or business via Influencers and it is rising continuously. TikTok Influencers can present your brand or products in front of a large and active audience that might be interesting in your products or services. However, you should find the most popular influencers in your industry and work with them to reach a wider target audience.
Dig Deeper into Analytics and Business Intelligence
With the increased use of intuitive solutions, devices, and apps, businesses are generating more data than ever before. Generate data and information can be used in a variety of ways for better growth and ultimate business success. Data analytics and business intelligence software are out there that can help you a lot in business data mining to turn it into a valuable asset. You can also hire IT professionals, to gather, analyze, and mine data of your business to help you make informed business decisions.