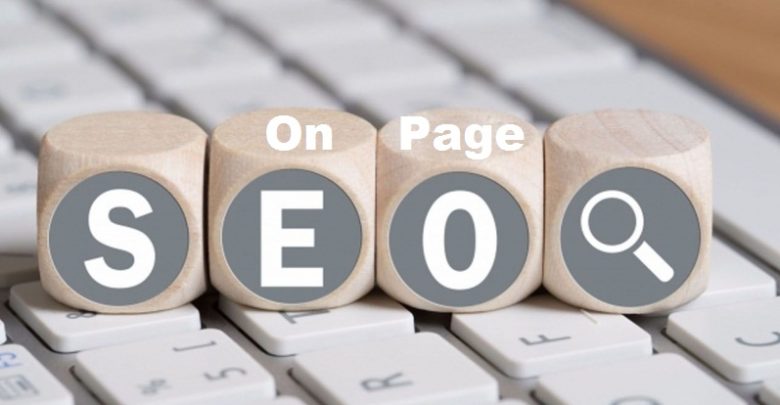 When people search for something (products or services) on the internet that you are also providing or offering as a business, company or brand, you will definitely want to appear on the top search engine results with an intention that internet users visit your site or blog to place an order or purchase something.
But what should you do to get high ranks in search engines?
Unquestionably you will invest your money and energy in search engine optimization of your business website or digital marketing blog to get more new visitors and sales as well.
SEO or search engine optimization is the blend of science and art of making your website search engine and user friendly not only to grow organic traffic but to get returning users as well.
When it comes to rank a business website, blog or online store well in search engines, you have to specify that your web pages are optimized well and are better than the competitors in the market and it is simply called on page SEO.
What is On Page SEO?
It is one of the most important types of SEO and it includes anything that a blogger or webmaster can physically put on to the web pages like quality content, graphics, infographics and codes etc. Basically on page SEO is all about making sure that everything you have on your blog or website is simply awesome and easily understandable as well.
There are several on page SEO factors and techniques that can be considered to improve search engine ranking for a website or blog and some of them are listed below here.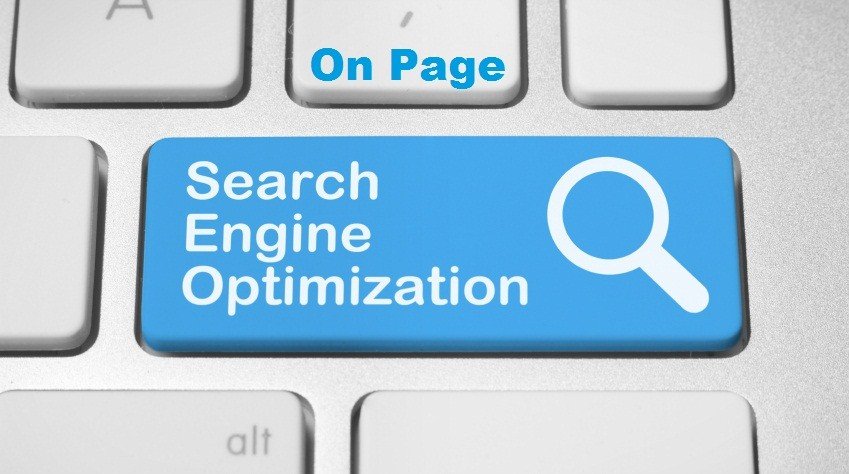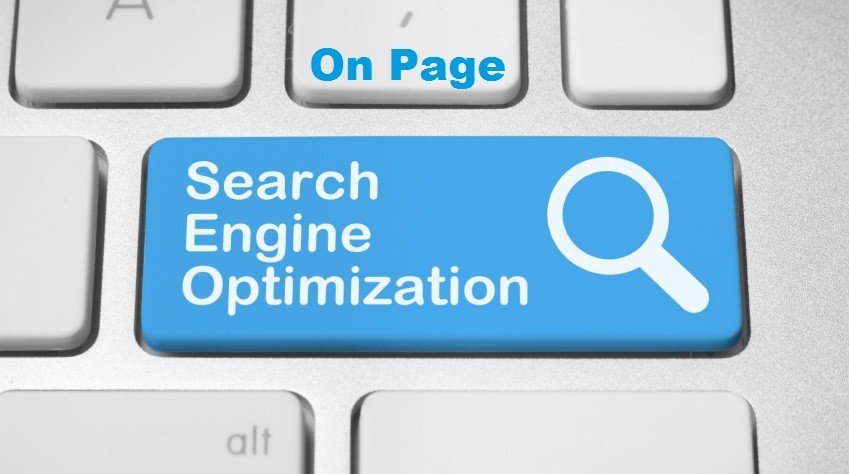 Vital On Page SEO Tactics
Keywords
Selection of right and suitable keywords for your blog or website is the base of result driven SEO efforts. Keyword research is something most vital in search engines optimization because it enables you to find keywords for your business or brand with highest search volume, low difficulty and better CTR not only to get high ranks in search engine result pages but to steer massive traffic to your website or blog as well. There are several keyword research tools for SEO that can be used to make keyword research easier and efficient as well.
Wise Use of H1 Tag
H tags are commonly used to format text to improve reading but nowadays these tags are also used to let search engine bots know that what is most important on the web page to make the ranking process effective.
According to the webmasters, there should be only 1 H1 tag on each web page with a target keyword. It can be the page or post title to highlight using H1 tag. Use of more H1 tags on a page can have a negative impact on your website ranking and can also mark you as spam.
Title
Title of the web page is something that shows to the reader or search engine bots that what the page is all about. Creative use of page titles can help you get better on page SEO results as a title can help you grab the attention of internet visitors when searching on the web to find useful content on products.
10 and 70 characters are more than enough to make your title smart and search engine friendly and it must contain your focus or target keyword in order to secure a visible place in search results. The page title should be representing the content included on the webpage and never ever try to use click-bait titles in order to make search engines and readers fool as it can result a penalty at the end.
Meta Description
It is something located below the page title when we search something in search engines. It sounds like a concise and easy to understand explanation of what your web page consists of. You should use 120 to 158 characters to write a creative and search engine friendly meta description for all your web pages and it should also include the target keyword to get high ranks in search engines.
Image Alt tags
Most of the newbies simply skip the image Alt tags because they think that it is not an effective thing to rank higher in search engines. But, they are damn wrong. Optimizing your images with image Alt tags including your target keywords can help you rank your web pages in Google Images which is great to get more target traffic from Google.
If you are describing the images added on your web pages or blog posts then chances of boost in search engine ranking are always higher. When doing so, you are actually telling the search engines that what your photos are about and how they can help visitors in finding the best possible content from their search queries.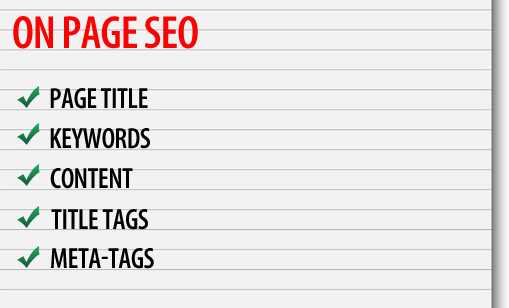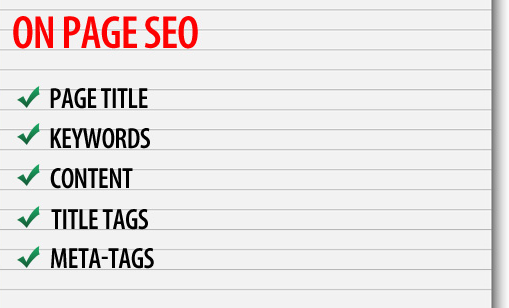 Content
Unique and quality content is something most important in on page SEO as it enables your web pages to appear in top SERPs even without doing off page SEO if written well with the balanced use of target keywords. You should always write engaging, problem-solving and informative content in order to make search engine visitors stay longer on your blog or site because it will help you reduce your bounce rate and will encourage the search engines to rank your pages up in SERPs.
There are several types of blog posts that can help you create high quality and engaging content that the search engine will love to rank your blog up and will also help your readers in getting things done accordingly.
When it is the matter of web content writing, target keyword should be used naturally in order to let search engine bots know that you are writing to help readers instead of getting high ranks. You can repeat your target keyword for 3 to 5 times in an article with the length of 900 to 1200 words in order to prevent any spam issue or search engine penalty.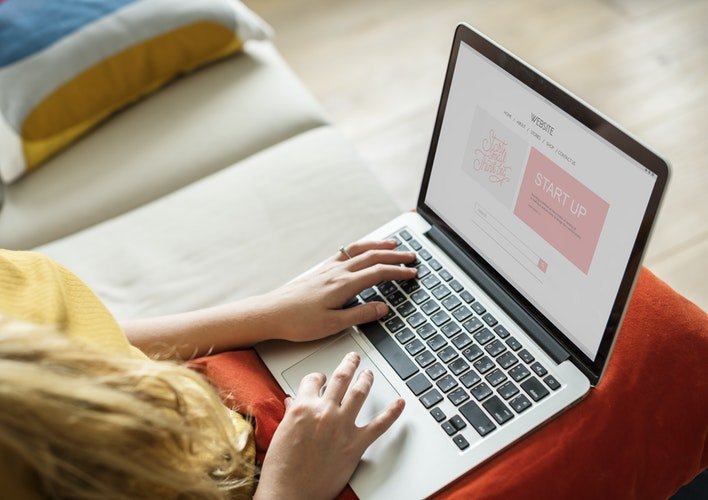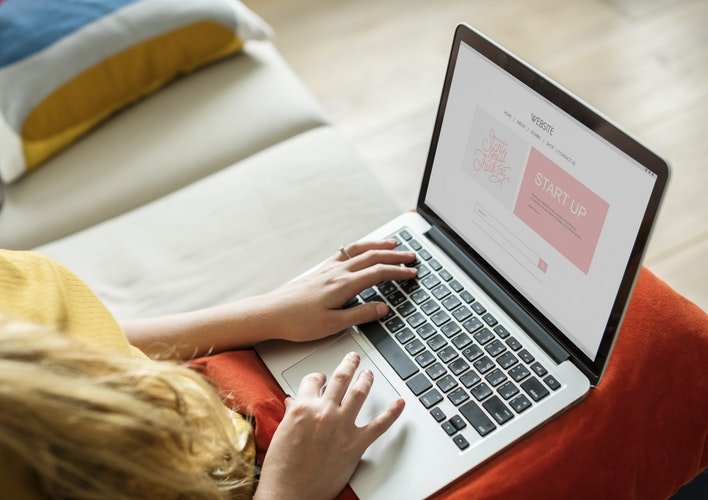 Design and Usability
Overall design and layout of your website or blog can play a vital role in getting higher search engine rank for your website or blog. An ugly and difficult to use site structure can make search engine visitors bounce from your website to another one which is pleasing to eye and easy to navigate as well.
So, you should also spend your efforts on making your site design attractive and easy to understand. You should always use search engine friendly and responsive themes or templates for your sites or blogs to provide your users a great user experience to keep them visiting often.
Site speed
Make your site load faster if you really want to stay on the top of competitors because users are impatient nowadays and cannot wait for a slow loading site. Google is very cautious about site speed in these days because they always want their users to refer something great and loading fast as well. If your site is taking more than 5 seconds to load properly, then you should implement best possible ways to improve your site speed as it can help you improve on page SEO practice.
Make your Site Mobile friendly
You are losing a big number of organic traffic if your site is not properly optimized for mobile devices. Due to the rapid advancement in mobile technology, most of the people use their mobile devices to surf the web when they need to find a useful product or some information on the internet. That's why your website design or theme should be highly responsive to make it easily load on smartphones and tablets etc.
Google accelerated mobile pages is a project powered by Google which helps publishers to design websites or individual web page fast loading and mobile friendly as well as.