AiSensy is created for businesses to respond to their customer queries on WhatsApp Business to ensure instant customer support. Businesses are constantly evolving towards the completion of achieving their potential customers on the spot. AI and ML technologies have enabled them to go to higher paths by making their repetitive tasks manageable on online platforms. CRM and monitoring platforms with various customized settings have led them to perform their operation cost and time effectively. Here, we will explore this tool's features, pricing plans and a few most important alternatives.
What is AiSensy?
Aisensy, an exceedingly robust and cutting-edge platform for WhatsApp Business, presents a magnificent opportunity for enterprises to effectively streamline their customer service and marketing endeavors within the ever-present messaging application. This innovative solution summarizes a diverse array of tools and richly crafted features, exactly launched to enhance and strengthen customer engagement.
Previously, WhatsApp business was only directly available to businesses to respond to customer messages. Later on, it becomes available for businesses to utilize WhatsApp marketing by accessing the WhatsApp Business API, regardless of their size or category. AiSensy is one of the Meta business partners, to which Meta has granted the ability to create a WhatsApp marketing and engagement Platform. Thus, this tool makes it easier for businesses to WhatsApp marketing for customers.
Businesses can easily apply for the WhatsApp Business API just by having a business website, a Verified Facebook Business Manager Account and a mobile number of their business, which is not registered on WhatsApp.
Key Features of Aisensy
Aisensy comes equipped with multiple powerful features that make it an ideal choice for businesses looking to optimize their WhatsApp Business marketing strategies. Some of the key features of the platform include:
Broadcast Lists
Broadcasts in WhatsApp are featured to allow users to send a single message to many of the other users. The feature was previously unavailable on WhatsApp Business but is now available for businesses. Businesses can send a promotional message to many customers on a single click without getting their numbers blocked. Users can also schedule their podcast within a long 2 months into various time zones.
In this regard, AiSensy allows the business to add a call to action and product image and proceed to purchase that particular product in the text. Businesses are also able to add the prompts like, now send Exciting Offer, Festival Wishes, Coupons Codes and discounts on customer chat. That's how AiSensy provides this broadcast automation to organizations who have accessed the WhatsApp Business API.
Products Selling on WhatsApp
WhatsApp allows businesses to list their products on the catalog for customers to purchase. However, the WhatsApp Business APIs like AiSensy expand their way towards selling on WhatsApp. They can build their conversational offerings by establishing the Chabot Workflows and Catalog Flow Builders for ease of customers. Catalog building over the platform is quick, as users can build their catalog within 10 minutes.
Most importantly, payments can also be collected from the customers through different modes of payment like WhatsApp Pay, Payu or Razor Pay.
Multiple Human Chat Systems
Multiple employees of a certain business can conveniently use the same WhatsApp business account to tackle different customer queries. There is no speed or any other error while answering the customers instantly through various log in's. Responders can create the filter tags, attributes and campaigns with the help of Smart Agent Chat Routing.
The features make the business to stay committed and quick in business operations. It ensures the engagement and reputation of the business above all.
Contact Management
Aisensy provides forceful contact management capabilities for businesses to efficiently organize customer contacts. Businesses can categorize contacts into groups, making it easier to send targeted messages based on customer preferences or demographics.
Contacts can be uploaded in bulk or selectively; there's no policy behind importing the contacts. They can also share seamlessly into broadcast messages. This feature highlights that the business will never lose contact while moving to WhatsApp Business API.
Interactive Dashboard
An interactive dashboard is a way to monitor, analyze, and explore data user-friendly and intuitively on AiSensy. Users can get multiple things like template messages, AI Chabot and live chats with several features.
Aisensy offers detailed analytics and insights to monitor the effectiveness of marketing campaigns. Businesses can track message delivery, open rates, click-through rates, and customer responses. These metrics provide valuable data for optimizing future WhatsApp marketing strategies and improving overall campaign performance.
Integration with CRM Systems
Aisensy can integrate with Customer Relationship Management (CRM) systems, allowing businesses to synchronize customer data and communication history. Integrating multiple third-party tools improves the efficiency of customer management and provides a holistic view of customer interactions.
The platform also allows users to integrate with the e-commerce network and Zapier. The integration automates the workability of the whole operating process. For example, you can connect with Woo Commerce, which lets you drive 5x more sales by confirmation of orders over abandoned carts. You can integrate tools like Hub spot, Shopify, OpenCart, Integrately, Web Engage and many more.
The integration of the e-commerce tools provides a healthy experience to get customers' messages directly on WhatsApp Business. WhatsApp Business Links and Buttons can also be created on your website or stores with the integration of this specific tool. The integration at hand serves to efficaciously streamline the complexity of data management systems and promotion supreme regularity throughout numerous customer touchpoints.
WhatsApp Ad Campaigns
One of the standout features of Aisensy is the ability to run targeted advertisements on WhatsApp. With WhatsApp Ads, businesses can strategically showcase their advertisements seamlessly integrated within the platform. It enables them to directly engage with their desired target audience, effectively promoting their unique offerings and strengthening their brand presence. This feature provides an additional avenue for businesses to reach their intended audience and make a lasting impact on their collective consciousness.
Automated Messaging
Businesses can automate their messaging process, saving time, effort and workforce reduction while using the AiSensy. Businesses can create predefined messages or templates for common queries, greetings, or promotional offers. Therefore, the tool's consistent and prompt responses to customer inquiries improve overall customer satisfaction.
How to Use Aisensy?
Aisensy is a powerful WhatsApp Business marketing platform that offers a range of features to help businesses effectively engage with their customers. As you're new to this platform and want to harness its capabilities, this step-by-step guide will walk you through the process of using Aisensy.
Step 1: Go to the Official Website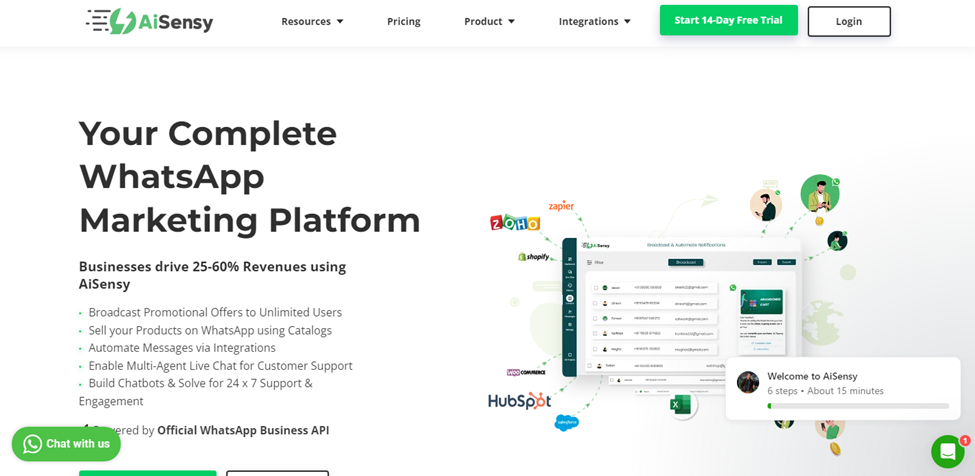 Step 2: Sign Up and Set Up Your Account
You must sign up if you are on the website for the first time. First of all, click on sign up or 14 days free trial that new users can avail to check the tool's effectiveness. You have to provide authentic information to complete the account creation process.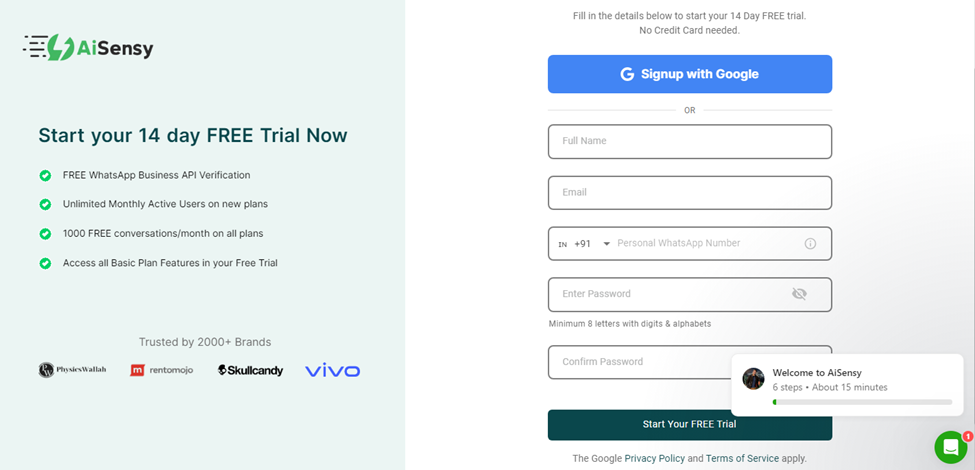 Step 3: Connect Facebook Business Suite and WhatsApp Business
You will be asked to connect to Facebook Business Suite before connecting your WhatsApp Business account. Follow the provided instructions to authenticate and link your WhatsApp Business account with Aisensy.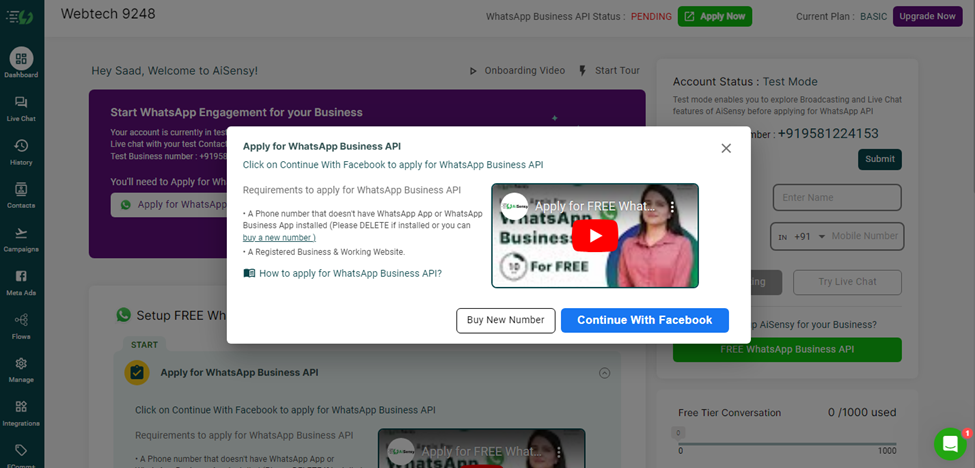 Step 4: Import and Manage Contacts
Aisensy is a powerful contact management tool that offers a vast range of features. You can easily import your contacts or add them individually to your account. In addition, you have the ability to categorize your contacts based on various criteria, such as customer preferences or demographics, to create customized groups.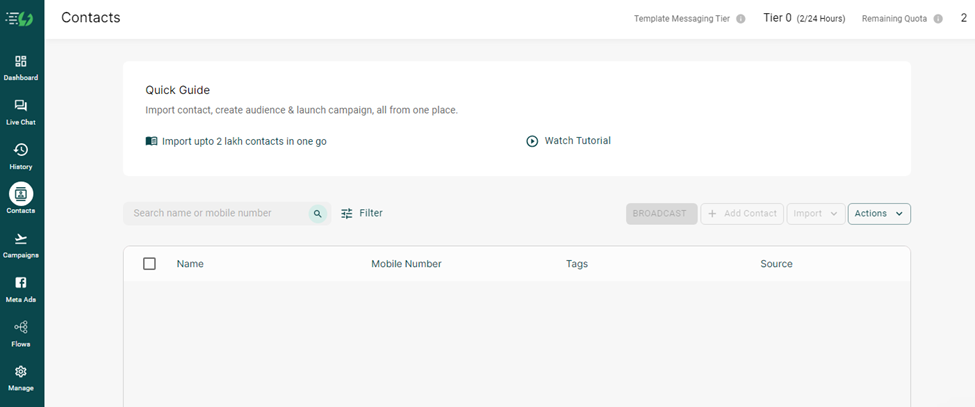 Step 5: Create Automated Messages and Templates
You can create predefined messages or templates for common queries, greetings, or promotional offers. It is better to customize these messages to align with your brand's tone and voice.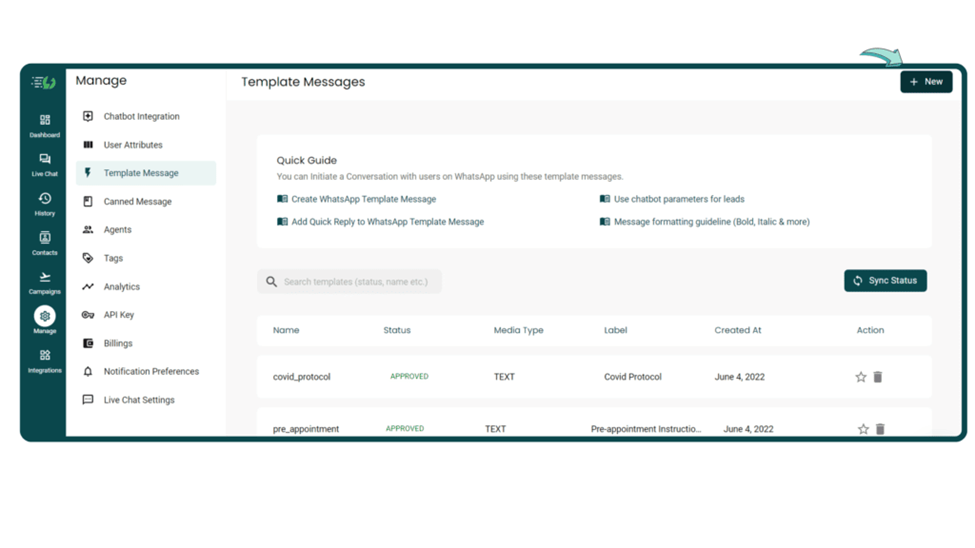 Step 6: Set Up Broadcast Lists
Now, create broadcast lists based on specific criteria, such as customer segments or interests. This feature is for sending out newsletters, announcements, or promotions to a targeted audience to maximize engagement and generate leads.
Step 7: Run WhatsApp Ads
Aisensy empowers you to advertise with precision to your ideal audience on WhatsApp. Craft captivating ad content and visuals that resonate with your target demographic, taking into account their age, interests, and behavior. Monitor the efficacy of your ads with this platform's comprehensive analytics and insights.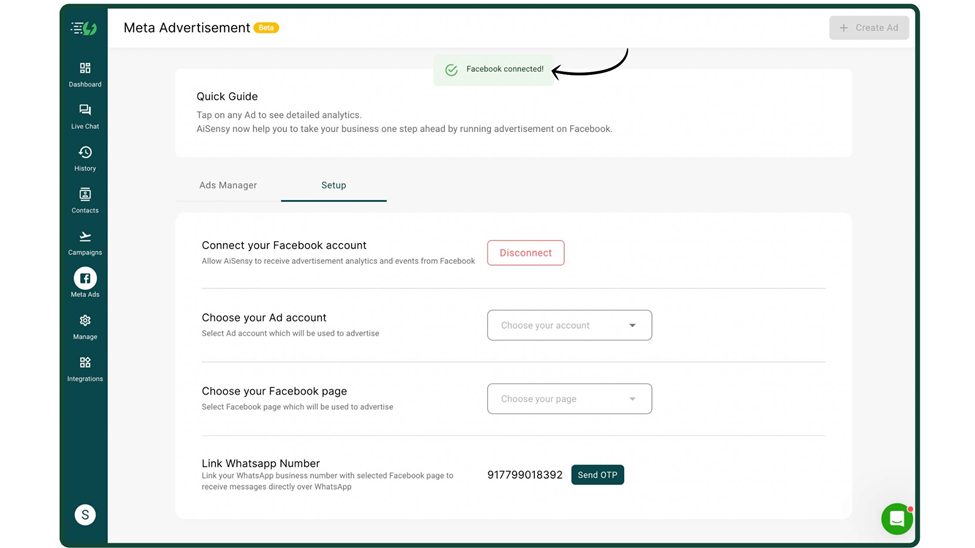 Step 8: Analyze Performance and Optimize
You can track metrics such as message delivery, open rates, click-through rates, and customer responses. After analyzing this data, you can evaluate your marketing campaign's effectiveness. These insights will be helpful in optimizing your messaging, targeting, and overall strategy.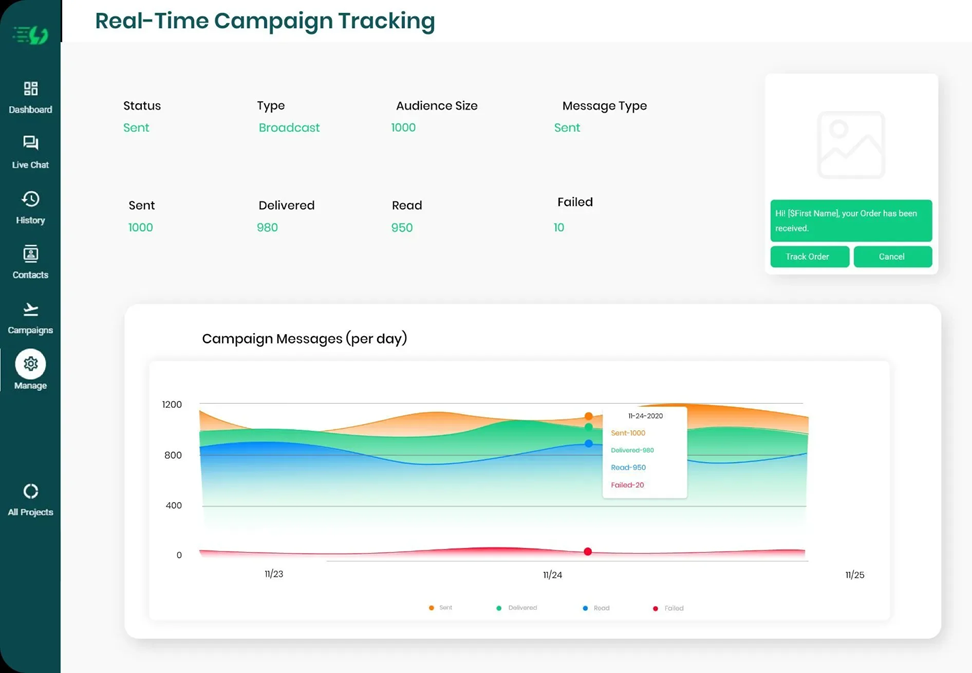 Step 9: Integrate with CRM Systems
By Clicking the integrations button, you will easily reach the applications that are available for you to integrate. If you are already using any of these for your business operations, you will, with no trouble, integrate that into your AiSensy account.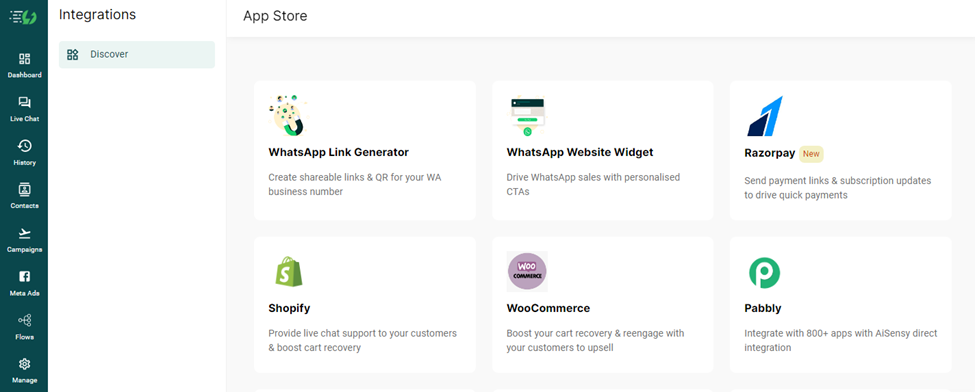 You can use these methods to get into this platform coverage effectively. You all are the basics that you can employ at starting level.
Pricing of the AiSensy: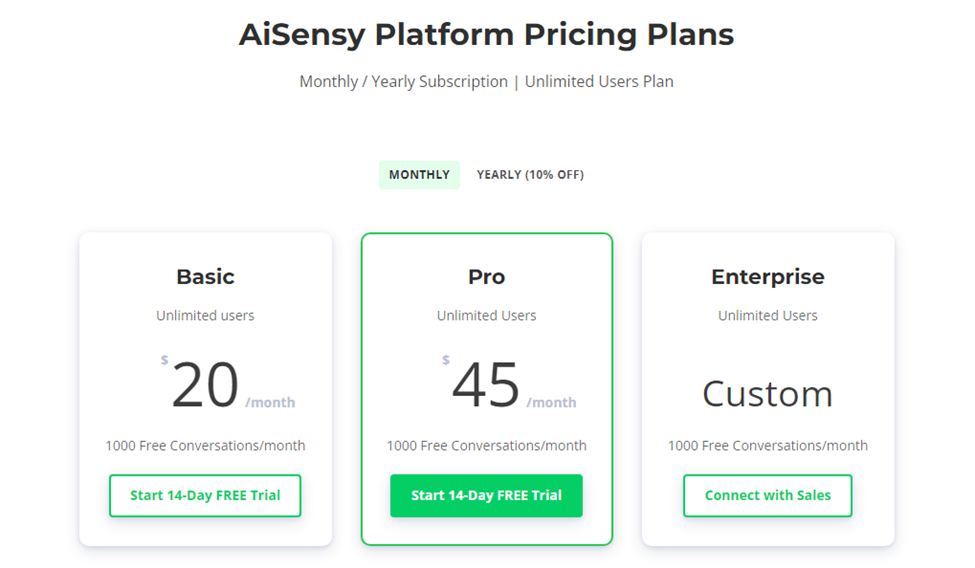 As I have mentioned earlier, that the platform provides a 14-day free trial to newcomers in order to make the WhatsApp Business marketing process understandable for them. However, there are some different plans that the AiSensy offers with different offerings of features. All of these pricing plans provide an unlimited number of users. If a customer purchases a yearly plan from any of the plans, he will get a discount of 10%.
Basic: $20/monthly
Pro: $45/monthly
Enterprise Customized Package
Top Alternatives of AiSensy:
AiSensy is a leading platform for WhatsApp Business Marketing and Integration, undoubtedly holding a prominent market position. However, if you're seeking alternatives with diverse capabilities, let's discuss a detailed exploration of some viable options.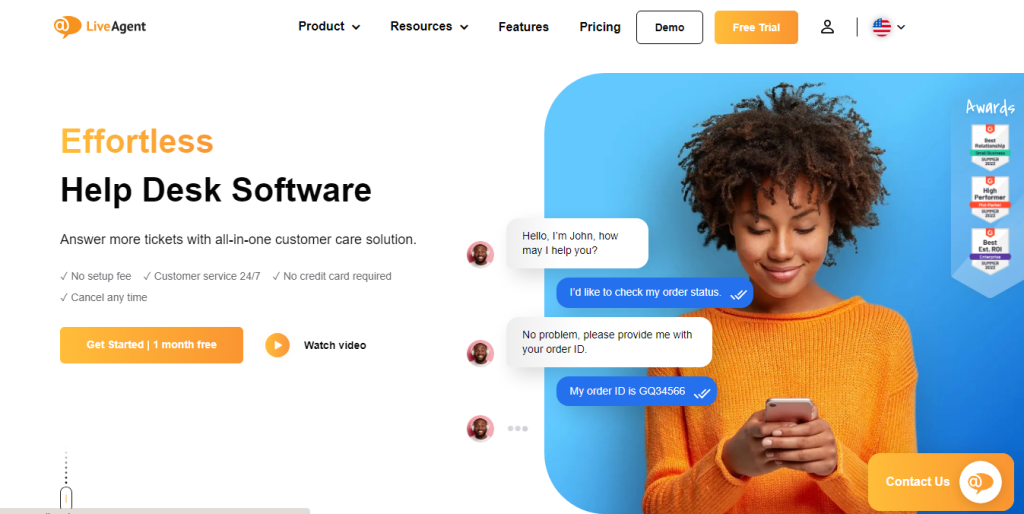 LiveAgent is a comprehensive customer support software that presents an array of functionalities, including live chat, ticketing, and call center operations. This versatile solution empowers businesses to provide real-time customer support across multiple channels such as live chat, email, phone calls, and social media integration. This tool is a highly competitive alternative to AiSensy in the market.

Next, we have Freshchat, which is an innovative messaging software particularly framed to enhance customer engagement. With its contemporary approach, Freshchat enables businesses to establish seamless communication with customers through a variety of channels, ranging from website chat and mobile app interfaces to email and social media platforms.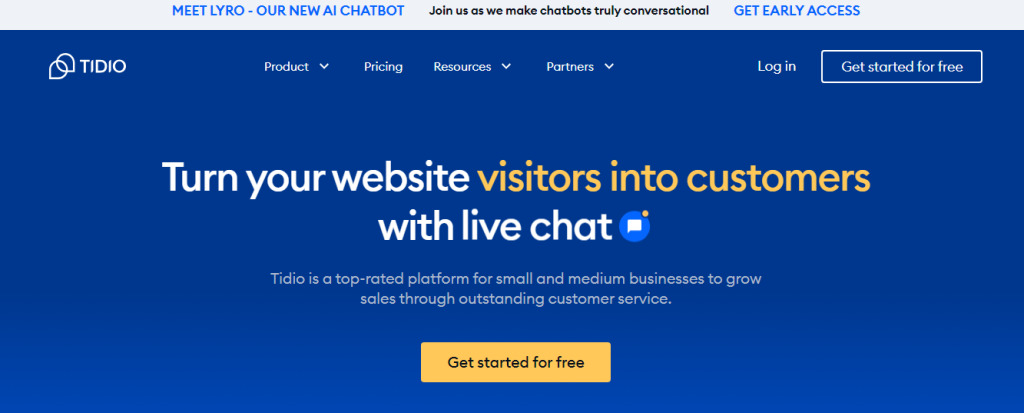 Another noteworthy alternative of AiSensy is Tidio, an interactive live chat and Chabot software engineered to facilitate real-time interactions between businesses and their website visitors. The tool boasts an impressive set of features, encompassing automated Chabot, visitor tracking capabilities, and seamless integrations with popular e-commerce platforms, ensuring efficient and personalized customer experiences.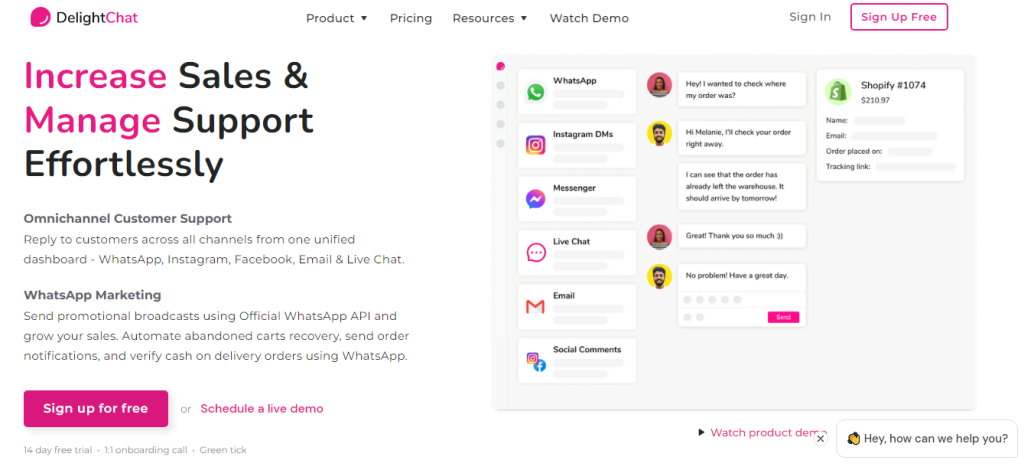 DelightChat emerges as an excellent choice for e-commerce enterprises seeking a tailored customer support solution. Combining live chat functionality, a robust helpdesk system, and collaboration tools, it streamlines customer support operations, bolstering overall satisfaction levels and augmenting the customer journey.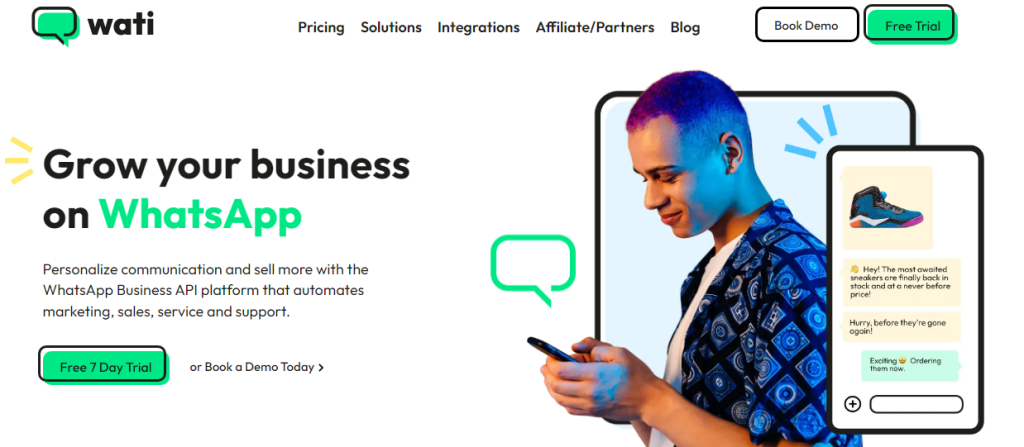 Last but not least, we have Wati. This customer messaging platform serves as a bridge between businesses and their clientele via WhatsApp Business, Facebook Messenger, and other prominent messaging apps. Its impressive feature set includes automation capabilities, intelligent chat routing, and insightful analytics, all designed to elevate the quality of customer communication.
Based on your specific needs and preferences, there are alternative options available that offer similar functionalities to AiSensy and have the potential to meet your expectations. Take a closer look at each option, and choose the one that best aligns with your business needs.
Conclusion:
The use of the CRM Software is expanded at a faster pace to manage the customers on an instant basis. There is huge competition among the business to grab clients towards their products. It is only possible when they have enough management strategies to gain the customers' strategies. The above-discussed platform AiSensy is most effective for the businesses to respond to customers' queries in time and place a good image among customers. A business with fast services will always have great potential for grabbing new customers. I hope that this detailed note will be worth reading for you.