Getting access to watch the latest movies and TV shows can be a challenging job since they are protected under the ownership's rights. Even if you are watching something over the Torrent, you have to wait a couple of days to get free access. But that's not the case with the Vumoo streaming platform.
Vumoo is one of the rarest online streaming platforms that gets you direct access to the most recently released movies and TV shows. With this website, you can leave out the mess of looking for torrent files, downloading them, and waiting for days or weeks to get free access. Without paying a single dime, you can watch all your favorite movies and TV shows.
To explain the usability and accessibility of this platform, we have written this detailed guide to explore Vumoo. We will also talk about how you can watch movies and TV shows on this platform for free and what its features are.
What is Vumoo?
Vumoo is an online streaming platform that features the latest movies, TV shows, and episodes from some famous platforms. The unique fact about this platform is the quality of content that it offers in a minimal time. All of this can be accessed without paying a single subscription fee.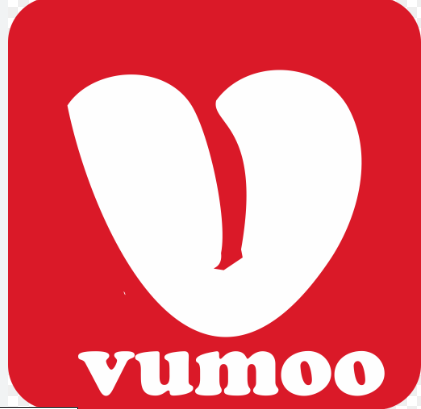 One of the best things we loved about Vumoo was the range of content that it offers. You get the latest movies from many genres and categories. The same goes for the TV shows and episodes that are aired over various platforms like Netflix, Amazon, and HBO Max from various streaming platforms.
Above all these features, you get to access this website on any device or web browser application. It works on smartphones, tablets, and even smart TVs. Hence, compatibility is not even an issue with this online streaming platform.
Why Does the Vumoo Domain Keeps Changing?
Since streaming online movies and TV shows without the consent of the creator or producer is a crime, this streaming platform has lost its domain several times. So far, we know the following domains that have been registered by the same streaming service, which operate in different regions.
Vumoo.to
Vumoo.ch
Vumoo.live
Vumoo.com
Vumoo.cc
Vumoo.tv
Vumoo.life
Vumoo.site
Vumoo.yt
Vumoo.tel
Vumoo.me
Vumoo.be
Vumoo.biz
Vumoo.at
Vumoo.ws
Vumoo.app
Vumoo.vc
Vumoo.tl
Vumoo.hk
Vumoo.tn
Vumoo.mx
Vumoo.pro
How to Watch Movies and TV Shows for Free?
Watching movies on this online streaming platform is fairly easy, and you can do so by following these steps.
Go to the Vumoo website, and you will land on the homepage.
Here, you will see a search tab that allows you to find your favorite content just from the keywords.
If you don't know what to watch, simply click on the 'Movies' tab if you want to watch movies or the 'TV shows' tab to watch TV serials.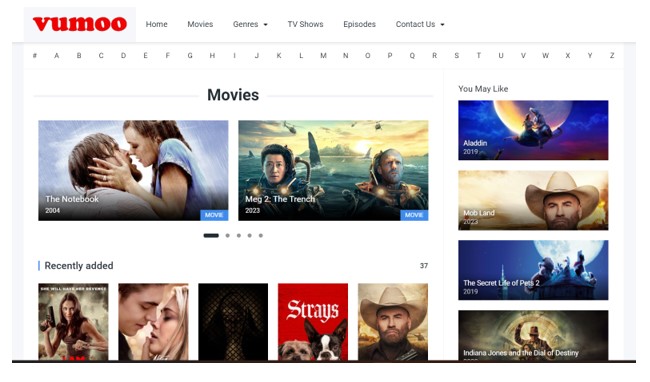 On the main page of both movies and TV shows, you will see the most recently released movies and content that is free to access.
Simply find your taste and click on any of the movie or TV show that suits your choice.
Once you have clicked on a movie or TV show, it will start playing directly.
Watching movies on this streaming platform is as easy as watching a video on YouTube.
Key Features
Let's talk about the key features of this streaming platform that make it a one-of-a-kind option as compared to the others.
Device Compatibility
The first and far most amazing feature of this platform is device compatibility. No matter if you use Windows, Mac, iOS, Android, or Linux. As long as you have a device that can run a web browser, you're good to go.
This platform is a simple website domain that can be run over any web browser as long as it supports the Flash player. You can even run it on Smart TVs since they feature the Android operating technology.
Free to Access
And, of course, why we all love this streaming platform is that it's free to access for everyone. You simply have to open the domain, search for your favorite movie, and watch it interruption free without any ads. It runs seamlessly and does not force you to register an account or avail of a free trial.
High-Quality Streaming
The lowest quality of streaming that you get is 720p, and almost all the movies can be streamed in 1080p. Hence, the promise of Full HD quality is fulfilled by this platform, and you always get the best for the first. All of this goes out for free with a simple web browser.
User-friendly & Fast
Another great feature of this platform is the user-friendly interface that works quickly with just a few clicks. You can simply visit the domain, and the rest of the navigation can be followed by the on-screen options and prompts. Everything is well categorized, and genres can be explored from the pop-up menu, too.
You may also like: HuraWatch – Benefits and Alternatives For Watching Free Movies
What are the Vumoo Alternatives?
Here, we have shared 11 different alternative websites to watch movies and TV shows for free. These alternatives nearly have the same benefits and features for watching your favorite shows.
1. Popcorn Time
2. WatchFree
3. Yes! Movies
4. PutLockers2
5. Archive
6. Zmovie
7. WorldFree4u
8. Watch32
9. FMOVIES
10. VEXMovies
11. 123movies
Conclusion
Vumoo streaming platform is free to access, and it gives you the latest content for free. This platform is compatible to run on all devices and operating systems with just internet access. Plus, there is no condition of login or sign up either. But beware of using this platform with a VPN, and if the domain deletes, you can always choose from the alternatives mentioned in this article. Hopefully, this article was helpful, and you have found the correct way of using this platform to watch movies for free online.