Blogging
How to Start a Blog in 2023?
The Ultimate Guide to Start Blogging
If you want to become a blogger and wondering how to start a blog, you have landed in the right place.
Below is a blogging guide with basic steps we have followed when starting our Nogentech.org blog.
Why should you start a Blog?
Since blogging is all about sharing your knowledge and expertise with people around the globe with similar interests, passion for a particular industry, niche, or topic is the major requirement to become a successful blogger. When you are passionate about something specific, the process of starting a blog becomes easier. As long as you keep writing about things that interest you, your passion will shine through and keep your audience engaged and interested in reading your blog posts.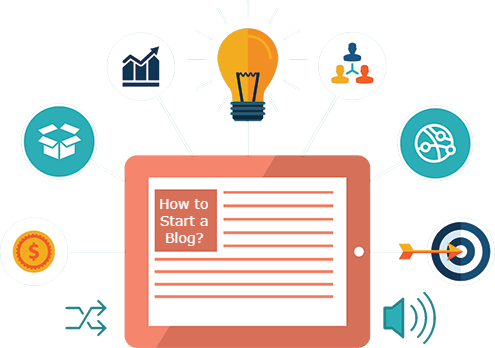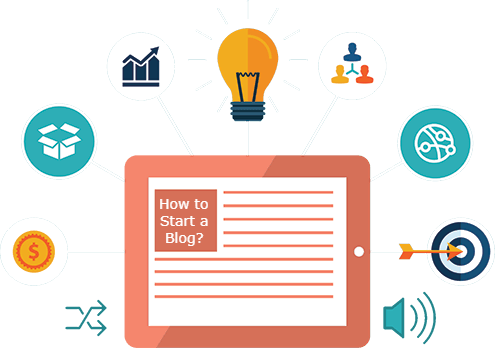 Reasons to Start Blogging Right Now
Blogging is the best way to express your thoughts or ideas and has the potential to open so many doors in this digital world. There are a few reasons to start a blog right now:
To inspire a particular group of people
To Build a Personal Brand Online
To Build a Strong Online Presence for your Business
To Organize Your Thoughts and Learn New Skills
Here is how you can start a blog in simple steps without feeling overwhelmed. This blogging guide will cover everything you need to start and promote your blog effectively. You should go through the following steps carefully to succeed in blogging.
How to Start a Blog in Simple Steps (Table of Contents)
1. Choose a blog name and niche wisely
2. Get your blog online
3. Design your blog with a free WordPress theme
4. Install necessary WordPress plugins
5. Write your first blog post
6. Promote your blog to get more readers
7. Make money from your blog
1. Choose a Blog Name and Niche Wisely
Choosing an appropriate name is the first and foremost step of starting a new blog. The blog name is also known as the URL of your blog and creates a first impression. It could be your name, your business name, or a combination of words you like the most. Choosing a blog niche is also important because it is a specific area of topics or subjects you will be writing about. There must be a sensible connection between blog niche and name to attract more online users and make them stay longer to read and share your content. You can also ask your friends or family for blog name suggestions or try Wordoid to find a good and relevant name for your new blog.
Once you have decided, you should check it to make sure that no one else is running a blog using the same name.

If your ideal blog name has already been registered by someone else, you can do different things like:
Try the blog name with another domain extension such as .org, or .net
Add small words like 'best' or 'the' to make your favorite blog name available
Add dashes between words like nogen-tech.org instead of nogentech.org
You should choose a descriptive name for your blog to give your readers a quick idea of what your blog is all about. For instance, if you are about to start a blog to write technology news and updates, you can use the words 'tech' or 'technology' in the name to let potential readers know that your blog contains useful tech news, updates, and stories. You can click here to search and register your blog name.
2. Get your Blog Online (web hosting)
After selecting and registering a blog name, now it's time to set up web hosting for your blog because your blog needs to be on a reliable, fast, and secure server online. There are so many blogging platforms and CMSs that help you set up and host a blog and WordPress is the most popular blogging and CMS solution around the globe.
We recommend Bluehost to our readers for a variety of reasons:
Our websites are hosted on Bluehost: to be very honest, most of our business and client websites are online with Bluehost web hosting. We recommend it because we use it personally.
Free domain name registration: when you sign up for any Bluehost plan, they allow you to register your domain name for free. This keeps your blogging overheads minimum so you can use the money somewhere else.
Affordable plans: Bluehost is a reliable hosting solution with affordable plans that start from $2.75/month. This helps new bloggers get started effectively without spending a lot of bucks on basics. Later on, one can upgrade the plan according to the growing number of visitors per month.
Money-back guarantee: all their plans come with a 30-days money-back guarantee so you can get your money back if you are facing issues or just have changed your mind.
Automatic WordPress installation: when you use Bluehost to host your blog on WordPress, they offer free and automatic WP software installation to help you set up conveniently.
24/7 customer support: they have an experienced team of customer support professionals to help users resolve their hosting-related issues in real-time. They can be reached via phone or live chat 24 hours a day and 7 days a week.
Below are some simple steps to get your blog online using Bluehost:
Click here to avail $2.75/month offer and hit the 'Get Started Now' button to proceed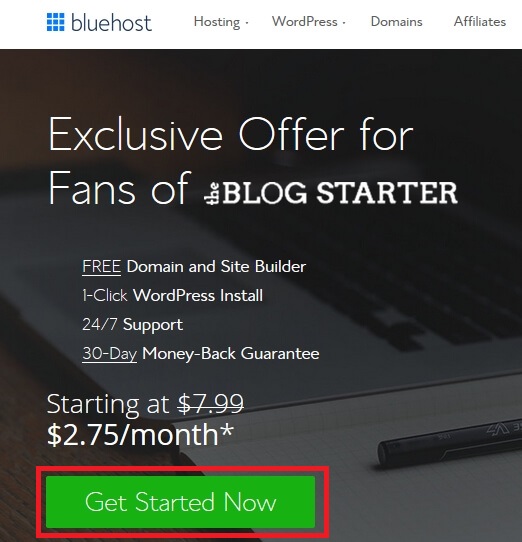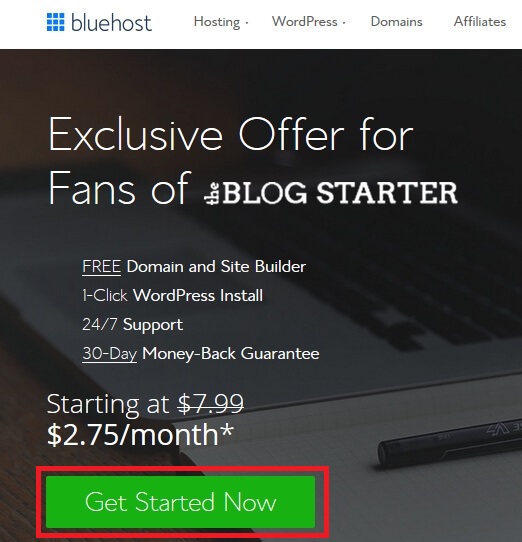 2. Click the 'Select' button to choose and proceed with your favorite plan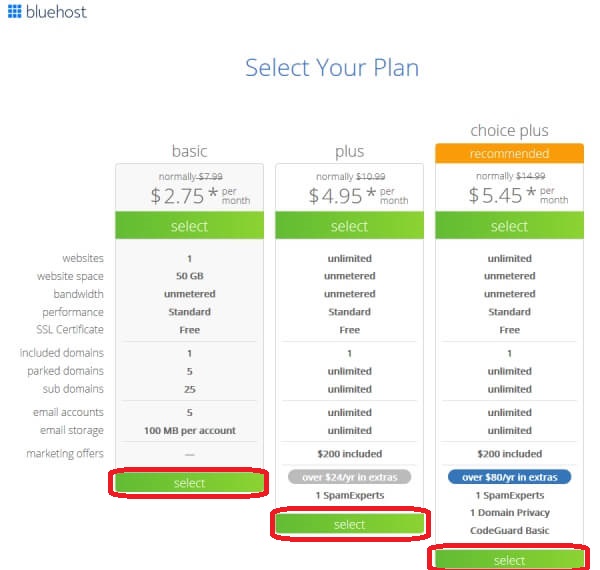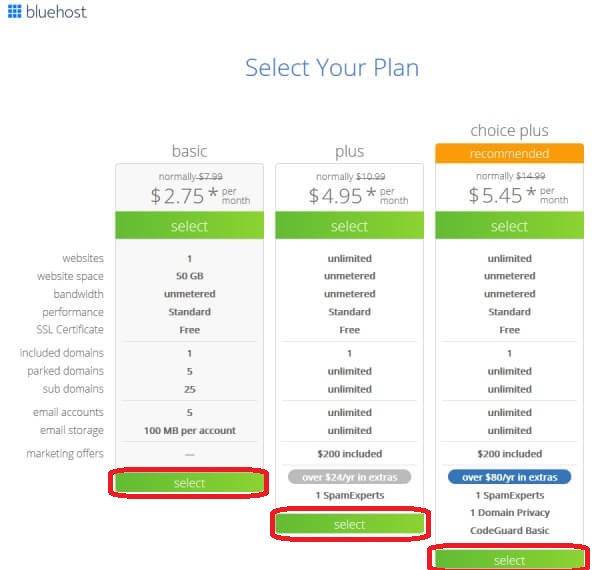 3. Type your own blog name (domain name) or create a new domain name using available boxes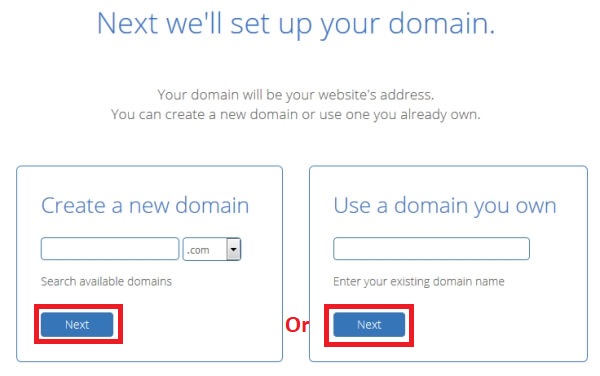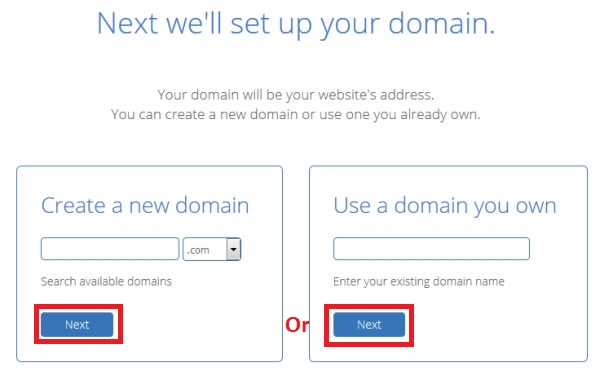 4. Fill up your billing details on the registration page and check the boxes with additional features you want to add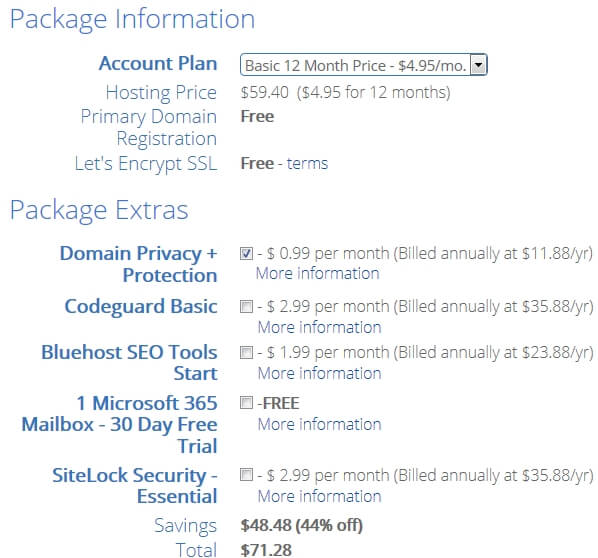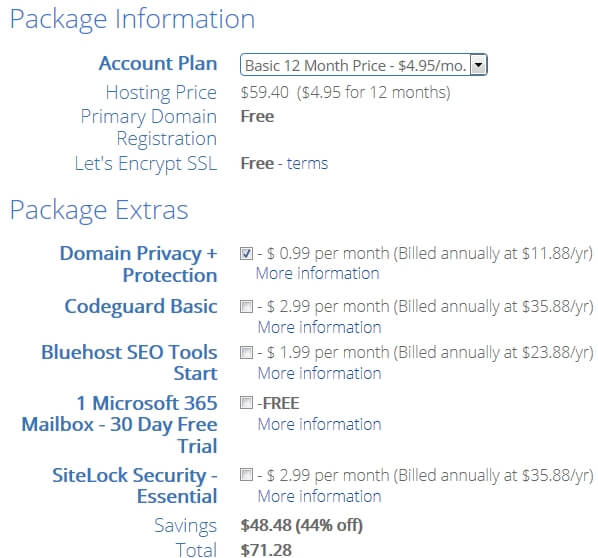 5. Once done, you will need to create a Bluehost account to get your blog online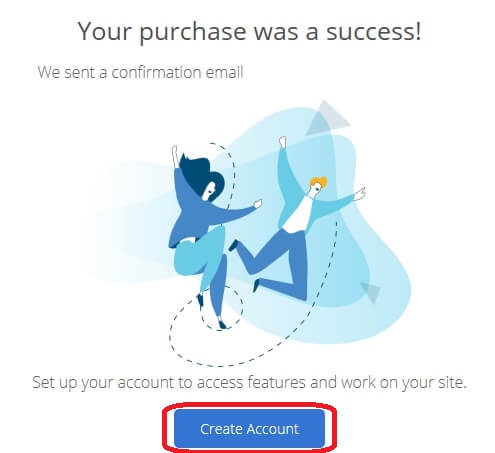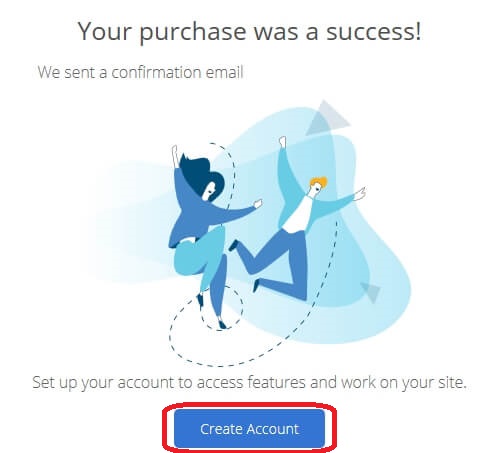 6. On the home page of their website, you can see the 'WordPress' button to install WordPress blogging software automatically and log in to access the administrator area.

3. Design your blog with a free WordPress theme
Once you have all done with web hosting and WordPress installation, now your blog needs a visual appeal (layout and design). Installing a WordPress theme is the best way to choose an appropriate design for your blog even without having programming skills and coding knowledge. This is a free, and straightforward way of increasing the visual appeal of your blog because there are 3000+ free WordPress in their library.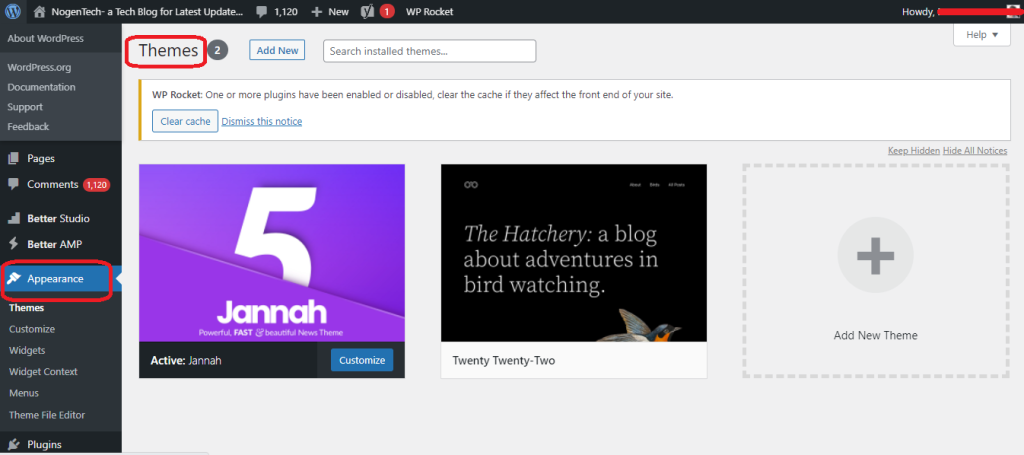 In WP administrative area, you can find the 'Themes' button under the 'appearance' tab in the main menu. Then click on the WordPress.org Themes button on the top of the screen to search and install free WP themes.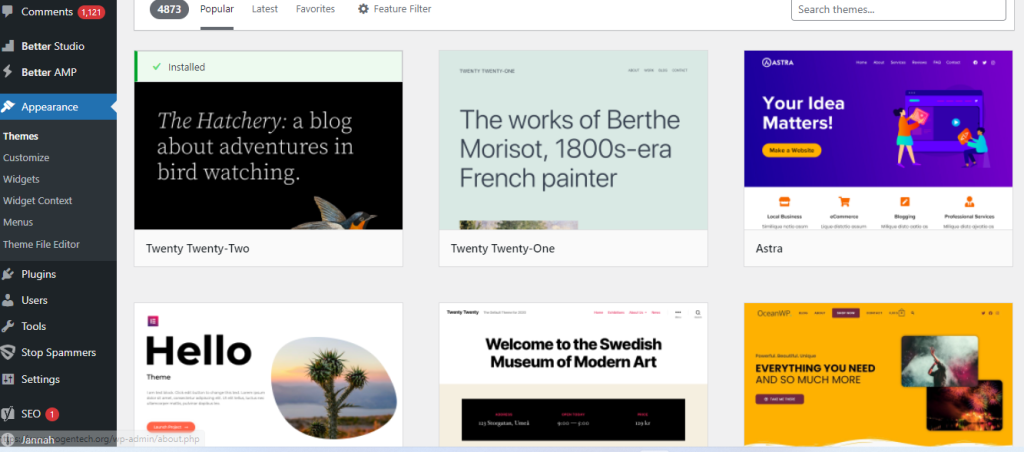 The overall feel and look of a blog totally rely on a theme you pick. Before you install one on your blog, read the theme description, check the theme demos and also check for user reviews. You should choose a simple, appealing, and mobile responsive theme to entice readers and boost your SEO efforts as well. If there are some bucks you can spend on your blog, you should buy a premium theme as they come with plenty of features and benefits that free themes cannot offer.
4. Install Necessary WordPress Plugins
WP plugins are apps used to add new features and functionality to your blog without writing codes.
Below are some expert picks of necessary WordPress plugins to help you add the functionality to your blog you need.
Yoast SEO: it is an SEO plugin that helps you optimize blog posts and pages easily. Yoast SEO plugin also helps you optimize content for improved readability.
UpdraftPlus: one of the best WordPress backup plugins that help you create regular backups of your blog.
Sucuri Security: Sucuri is a free security scanner for WordPress blogs and websites. It keeps your blog protected from hackers and cyber threats.
WP Rocket: WP Rocket is a highly recommended plugin to improve the overall performance of your blog. The plugin speeds up your blog and provides basic stats so you can see how your blog is performing.
Divi page builder: experts recommend the Divi page builder plugin to create, customize and optimize landing pages or design home pages.
PushEngage: it is a plugin that helps you add push notifications to your blog to increase blog traffic and subscribers.
HubSpot: when you need more email subscribers for your blog, you should install the HubSpot plugin to create simple and appealing popups, call to action, and scroll boxes.
Bonus tip: You can use SEO tools such as Sitechecker to improve your site's SEO. This tool crawls website and performs a quality SEO analysis. This way you can find all the problems on your website that affect its ranking and fix them.
5. Write your First Blog Post
Finally, your blog is up and ready to attract and entice readers. Now you have your own blog to turn your vision and passion into reality. In your first blog post, you can introduce yourself to your audience and let them know what you will be sharing on the blog. In the main WordPress menu, you can see the 'Posts' tab and find the 'Add new' button to start creating a post.

You can type inside the WP editor or copy-paste your article written somewhere else such as in MS Word or Google Docs. Before you hit the 'Publish' button, optimize your blog posts for search engines make sure to add keyword-rich Meta title, description, and tags into your post to make it SEO friendly.
If you are not sure how to do it, you can install an SEO plugin like Yoast SEO or AIO SEO to optimize your content for search engines using focus keywords. When it comes to publishing content on your blog, you should maintain consistency to attract new readers and retain old readers.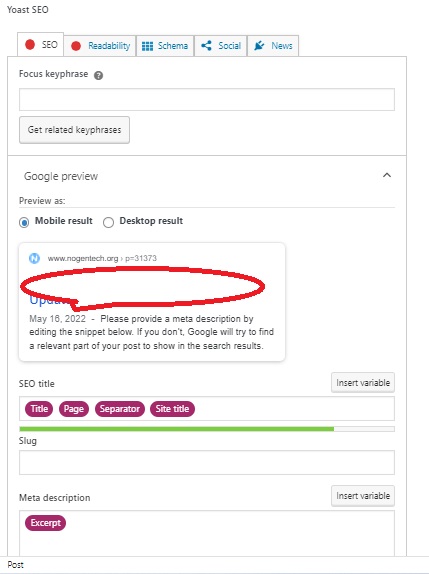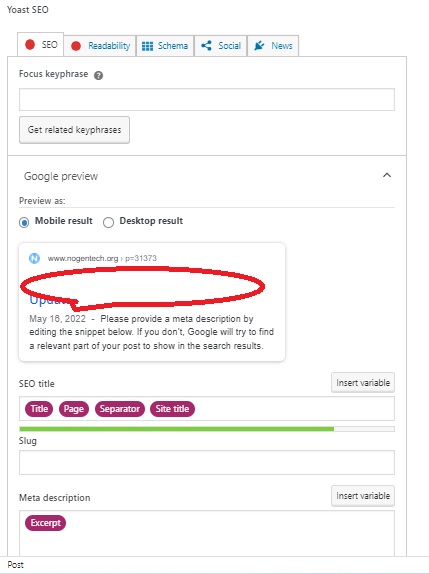 Read Also: Online tools for bloggers to improve writing
6. Promote your Blog to Get More Readers
Along with writing informational and valuable content consistently, you should promote your blog to get more eyeballs on your content. There are several ways to promote and market your blog like:
Adding your blog URL to your email signature
Sharing blog posts across social media profiles
Blog commenting on relevant authority blogs
Guest blogging on popular blogs in the industry via blogger outreach
Optimizing your blog posts for mobile uses and improving page load speed are the other factors that help you increase the visibility of your blog in search results.
7. Make Money from your Blog
When you start getting massive visitors to your blog, you can turn your blog into earning machine. There are several ways you can make money with blogging and some of them are listed below:
Monetization with Ads networks: Content monetization using advertising services like Google Adsense is a popular way of making blogging money.
Affiliate marketing: You can insert relevant affiliate links in your blog posts to get a handsome commission percentage upon sales made through your blog.
Selling products or services online: Selling products or services through your blog is another best way to make money online with your blog.
Sponsored content: Publishing sponsored posts on your blog to promote relevant products or services on your blog is another great way to make lots of bucks every month.
Final Words
Blogging is the best way to build brand awareness, become an expert in your industry, drive your target audience, and boost conversions. I hope this comprehensive blogging guide has answered all the questions you had on how to start a blog. If you are unclear about any of the above-mentioned steps, you can contact us for assistance or hire us for creating a blog for your business or personal brand.