Blogging
Common Guest Blogging Mistakes To Avoid
8 Mistakes to Avoid While Guest Posting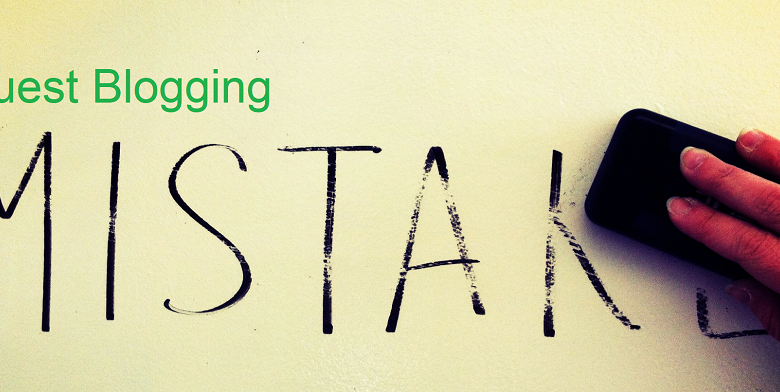 As a passionate blogger, you are most likely familiar with the famous term 'guest blogging', as it is one of the best ways to boost authority for your business website or blog and to get massive traffic as well. Since guest blogging offers a lot of benefits to bloggers and businesses as well, one should be doing this in the best way avoiding the serious guest posting mistakes.
What is guest blogging?
Guest blogging is the most favorite method used by bloggers and website owners not only to increase blog traffic but to build quality backlinks as well that adds real value to the blog or website. It is the process of writing high quality, unique and most relevant content for similar high authority websites or blogs in a niche or industry.
In results, guest bloggers receive quality links back to their websites or blogs and a golden opportunity to appear in the industry as a specialist or expert. Most of the guest bloggers only do guest blogging in order to promote their names and services in a specific industry to strengthen the client base.
In simple words, guest posting or guest blogging is an opportunity to take your skills and share it with like-minded people by hosting a quality guest blog post on another similar blog or website.
Guest blogging mistakes you should avoid
Nowadays, guest posting errors are common in beginners and avoiding the ordinary guest blogging mistakes is one of the best ways to become a successful guest blogger. Below are the common guest blogging mistakes to avoid as beginner guest blogger.


Guest Blogging Mistake # 1

– Pitching with generalized content

One of the most common guest blogging mistakes is pitching with generalized content available on hundreds of the blog and can easily be found on the web. It may irritate a blog owner and he/she rejects your blog posting pitch without any other reason.

There are a lot of great types of blog posts that can provide you brilliant guest posting ideas to get your pitch accepted even for high authority blogs like Forbes and The Balance etc. Always write something new and creative as well not only to add value to the blog for which writing you are but to get real traffic to your own blog or website as well.
Guest Blogging Mistake # 2

– Writing for the wrong blogs

Guest blogging will only provide you desired outcomes if you are doing it in right way. Yes, you should always choose most relevant and high authority blogs to write as a guest blogger. If you are writing for the wrong and irrelevant blogs, you are making the worst guest posting mistake.

In order to find high-quality guest blogs, you will need to spend precious moments on proper search. Instead of relying on the guest posting blog lists on the web, try to find and reach the blog owners yourself to build quality relations with them.
Guest Blogging Mistake # 3

– Guest posts stuffed with external links

Chances of getting your guest blog post rejected are always higher if it is stuffed with a lot of external links even without having a link of the host blog. You should leave it for the blog owner because he or she will better know that, whether to link the other blogs or not, if yes then how.

Most of the bloggers always use rel="nofollow" when linking the high authority sites in a blog post. It is the best possible way to add external links in a blog post without getting involved in any of the reasons why Google penalize websites or blogs for spam.
Guest Blogging Mistake # 4

– Not following the guest posting guidelines

No matter the blog owner has posted the guidelines for guest posting or not, he/she will definitely has for the guest blog post writers. Not following the guest posting guidelines can be one of the common guest blogging mistakes to avoid if you really want to get benefits from guest blog posts.

If these are not visible on the site, ask the blog owner via email message and read them carefully in order to write a quality guest blog post to get accepted immediately.
Guest Blogging Mistake # 5

Lack of content that blog owner wants

You are doing the guest blogging wrong if writing your own stuff instead of what the blog owner wants you to write. It is one of the horrible guest blogging mistakes that should be avoided.

If the blog owner wants you to write a topic regarding 'blogging tips', you should write the same instead of writing a post about 'Amazon best sellers'.  Always keep in mind that all articles cannot fit into any blog but you have to choose the right and relevant one to get most from your guest blogging efforts.
Guest Blogging Mistake # 6

– Poorly written bio

Poorly written section 'about the author' of the guest blog post is one of the biggest guest blogging mistakes keeping you from success. Here I am not telling you to write statements like 'I am a guest blogger and visit my blog to read more about me'. But, your bio should provide a solid reason to click on your links.

Add up your core skills and expertise in the niche and then let the readers know that what amazing your blog has for them and how they can get benefits by visiting your blog or website. Keep the 'about the author' section concise and appealing as well in order to boost the reader base for your own blog.
Guest Blogging Mistake # 7

– Not accepting the changes made by the blog owner

If you are not accepting the changes made by the blog owner or editorial team in your blog post, you are making the worst guest blogging mistake because they always care for their readers and provide quality content.

So, never ever be surprised if a blog owner makes edits to the submitted article because the quality of your guest blog post will reflect on the overall quality of the blog. Allow them to make minor changes if they want to make in your article in order to make it easily readable and error free for the visitors. And if there is need to make some major changes or edit in the article, they will probably contact you before doing so.
Guest Blogging Mistake # 8

– Not replying to Comments

Do you believe that user engagement plays a vital role in your overall SEO efforts? Yes, definitely. And if you are not replying to blog comments of readers on your guest blog post hosted on another blog or website, you are making another biggest guest posting mistake that is keeping you from success.

It is not only for the value and quality of the host blog but it can help you a lot in getting more clients or readers for your own blog or website.