A smart marketer utilizes the given resource to its full potential and extracts maximum benefits out of it. We are lucky enough to have so many different means to market our brands to the public at this age of the internet.
Although we have some amazing means to reach the audience, still given resources are underutilized, and hence we bring you some of the smart strategies that might help you to capture more audience. So in this article, we will be explaining to you some smart marketing strategies for Instagram.
Why Instagram?
Now, you must be thinking, out of all social media platforms, when we handpicked Instagram for this article. We have a simple explanation for that – It is estimated that Instagram has 1.074 billion users worldwide. That means the platform has a huge user base, while for people, it looks like just a number, for marketers, it looks like an opportunity to capture the maximum audience for their brand.
So, now you know the major reason we opted for Instagram, so some strategies might help you capture the maximum audience from the platform and utilize it to its full potential.
Instagram Marketing Strategies for 2022
Instagram is one of the most popular and influential social media platforms, and the way it is growing, there is no stopping this platform. Hence, it is important to have it on your social media marketing plan and to extract great benefits from the platform, you can adopt the following Instagram marketing strategies.


1. Optimize your platform
People are getting ease in accessing the internet and remain active on social media platforms. So it becomes important that you stand out from the crowd and draw your audience's attention. And everything begins from making an account.
Instagram provides you the option to convert your ordinary account into a business account. So while you are using Instagram to promote your brand and products, make sure you convert your account. There are various features that a business account offers you. For example, it allows your followers to connect with you in a simpler way. In addition, it provides you with analytics to examine the performance of your posts and make further plans, and more.
And while you are at it, make sure that you bring individuality to your profile and make it recognizable to others. So, add your brand logo as your display picture; in your bio, provide a summarized explanation of your brand, and provide the URL of your website in your profile. All these measures help to establish a presence on the platform and bring out individuality.
Read Also: Instagram Filters- How to Use Instagram Filters to Improve Your Photos?
2. Utilize the features from Instagram
Instagram is known for providing great features to its users to express themselves. So, when you are using the platform, make sure that you use all the features it provides. It brings out a great vibe to your account and also keeps the viewers engaged. What are these features? – The features include – images, reel videos, Instagram videos, stories, and more. Each has its own specialty and usage. So make sure you use each of them and engagingly spread your message.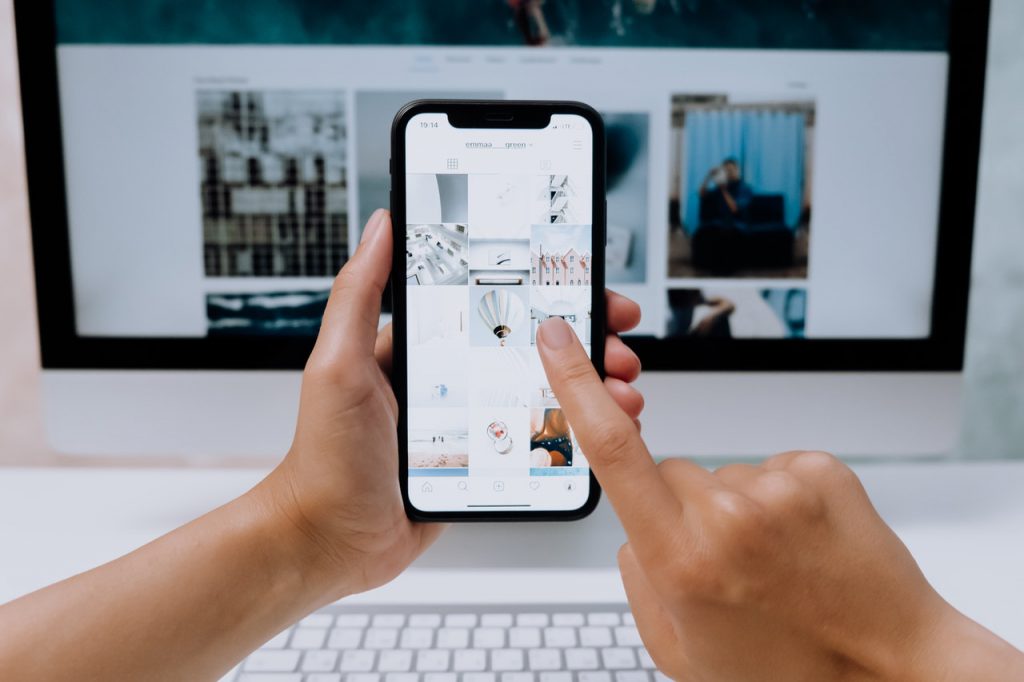 3. Embed Instagram feed on website
Consider this as the sequel to the above two points. You can provide a website URL to your account and link your website with your Instagram account. Similarly, you can create a bridge between your website and Instagram account by embedding Instagram feed on the website.
And while you are using different Instagram mediums for your content and then embedding them on your website, you bring a great appeal and charm to your website. You can choose to pick particular posts to embed on your website, copy the embedding code of each post, and paste it on the backend of your website. Or you can simply use the social media aggregators tool – these tools help you collect a social feed from your desired social media platform. So you can opt for Instagram and showcase Instagram feed on your website. These tools provide an easy embedding process and offer various other features that add great value to this strategy.
4. Cross-platform promotions
As there is a huge user base on Instagram, similarly, there is a huge user base on other platforms. So while you are using various mediums to express yourself and provide your message, your objective should be to capture as much crowd as possible. To use Instagram to create engaging, attractive content and spread it across the platform and beyond geographical boundaries by sharing them on various social media platforms.
5. Hashtags!
No matter what the year is, no matter how many features Instagram introduces, hashtags aren't going anywhere. Hashtags are the prime weapon for marketers that helps them to gain more followers and reach the target audience. So, while you are using Instagram for your social media marketing, make sure that you use appropriate hashtags that not only help you to gather more audience but also helps you capture your desired audience. Explore the platform, look for the relevant hashtags for your industry and seize your business aims.
The Ending Note
Instagram is a great platform that provides great help to businesses, and it helps them capture a great audience and offers various features to spread the message. If used correctly, the platform has the power to build your brand and establish it in front of a huge audience. So, utilize the platform by adopting the strategies mentioned above and watch your business grow.