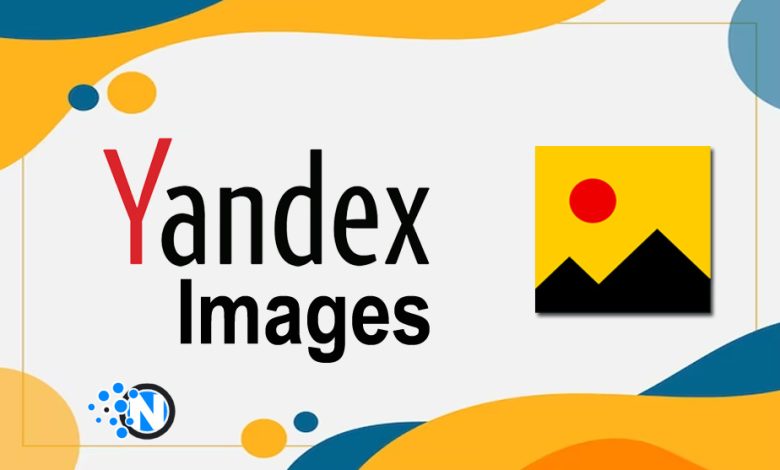 Yandex Images is a service provided by Yandex, a Russian multinational IT company. It allows you to search for images online, similar to Google Images. It gives you several filters that make your search effective. You can apply filters by sizes, color orientations, and specific types. Yandex is an online search engine web portal that allows services including music, TV shows, online shopping, translation, maps, weather, and an online cloud-based storage system. The marvelous function of Yandex is that it gives you full-screen mode when you want to view full photos with its high resolutions. The article below describes some practical ways to assist you in a better search of images on this platform.
Yandex Images – A Stock Photos Searching Platform
Yandex Images is a subdomain of the Yandex browser, that provides a direct way to find images for your requirements by utilizing specific filters. The site contains millions of high-quality images for each main and subcategory. Just like Google Images, the platform is easy to use and has multiple image search capabilities.
Pros and Cons of Yandex Images:

Powerful Image Search
Reverse Image Search
Filtering Options
Huge Database
User-friendly Interface
Language Bias
Language Bias
Privacy Concerns
Registration Process:
If you want to become a regular user of Yandex, you need to register on this platform. Follow the below steps to register on this Images platform.
Open the Yandex Images home page and click the Register option in the upper right corner.
Provide your phone number and verify it by passcode.
Enter your first and last name, which will automatically create your account.
Once registered over the platform, you must only log in via your phone number. Having an account helps you to save your browsing activity and review details.
Importance of Yandex Images:
Users can effectively use Yandex Images for several purposes, such as discovering new ideas, researching topics, and monitoring how others are using your photographs. Everyone, from students to working professionals to occasional users, finds value in this image search engine.
Yandex Images employs advanced algorithms to provide users with relevant search results. If you are diving into specific image searching, you should know about Yandex, which is essential for you.
This website has a simple interface for beginners to put their keywords and return them according to their results. More relevant results are displayed when they click on a new image.
Effective Yandex Images Searching Techniques: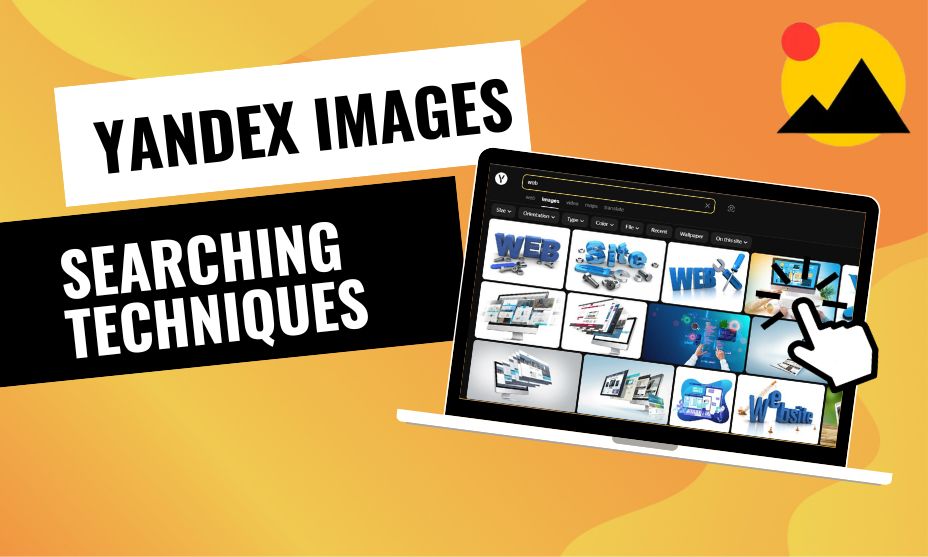 1- CST Filters
Yandex provides filters for users to scroll down results based on type, colors, and size. These filters resolve your issues, and you get accurate results according to your perspective. Filtration makes your search easier.
Color: Yandex provides color filters for reliable image output. This is beneficial for matching photos to color schemes. Without this filter, users get different color images in search results.
Size: Images require specified dimensions. Because photos vary by topic and structure, Yandex lets users pick the size they want.
Type: Yandex also categorizes images in various kinds and sections. If you want to find images according to your theme and subjects, you can use these filters for your image relevancy.
Image Search Based on File Format: Users can specifically format images that meet their demands. Yandex offers JPEG, PNG, GIF, and SVG file formats on-demand to its users.
Image Classification: Yandex Images incorporates image classification, enabling users to determine whether an image matches a specific property, such as containing adult content
2- Reverse Image Search
Yandex images, in which you can use visual content-based image search for reverse image search. Through this, you do not need to remember the keyword again for more results. Reverse image search provides accurate picture results automatically. As a result, reverse image search shows the specific page where the image is used already. The most beautiful function is that Yandex does not apply the limits on the reverse image search tool. This feature secures your data from third parties without any leakage. Below are some steps to help you perform a reverse image search on Yandex:
Visit Yandex Images: Go to Yandex Images on your web browser.
Upload Image or Provide URL: Select "Search by image" or click the camera icon. Two options are available: use your device files or input the image URL you wish to search for.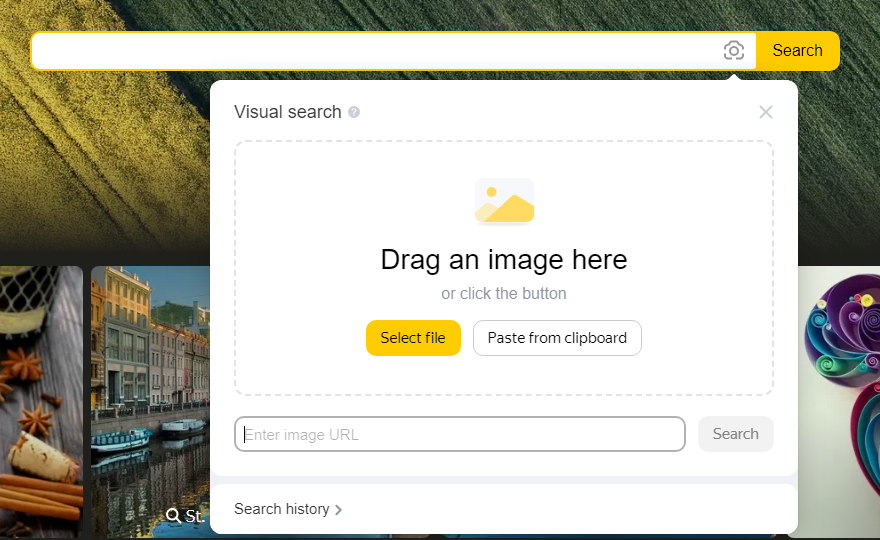 Review Results: Yandex will provide results showing visually similar or related images, along with the source websites.
Additional Options: Yandex offers other features, including image classification and filtering options to refine your search.
4- Optimized Image Search
Yandex shows multiple results according to your specific keyword. If you want to get accurate results, you should use the exact keywords of refined words for your queries. Using proper keywords for image searching will bring the image most relevant to your objective.
6- Image Search Based on Sites
Yandex images tend to bring the image for a keyword from any specific website. In this case, if you click the button 'Setting,' you can see the dropdown. So, you can paste the URLs of different websites you want to include or exclude there. Your search might be narrowed down to a source you prefer or trust by stating the websites you want to have. This can be helpful when looking for pictures from a particular photographer, artist, or business. This way, the image platform ensures you customize your search according to your preference.
7- Search Based on Recent Images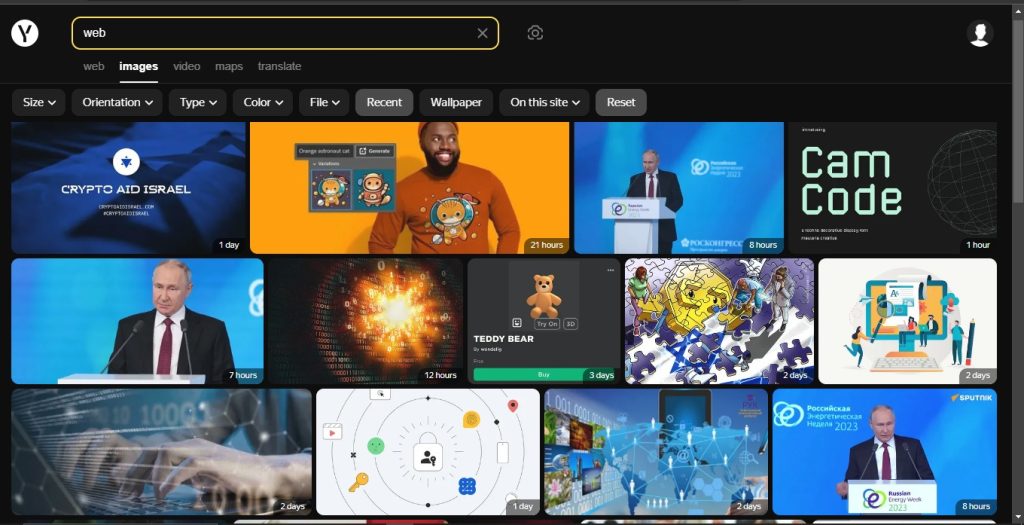 Yandex offers the latest images, and you can check this daily to find more recent data for your projects. If you are looking for inspiration and want to get in touch with the latest images, click the 'Recent' tab. You will find many pictures from all over the web while scrolling this feed. Yandex ensures you check the latest and top trending images on the internet.
8- Uploading or Pasting the URL
If you upload or paste the URL, Yandex gives the familiar results related to your pictures. It can be helpful when you see the photos and want information about this image. With Yandex, you can search, discover, and explore ideas according to your needs.
9- Enhancing Your Image Searching Skills
The extensive database and excellent search tools offered by Yandex Images make it a go-to tool for image searches. If you use this platform regularly, you can easily find your desired results because practice makes perfect. I noticed that understanding the Yandex search algorithm is easier than on any other platform. You can filter out your results if you use the filters mentioned earlier. In this case, you can target your main section for your desire. After some time, your skills improve your way of seeking. Yandex gives you access to all the features via filters.
Conclusions
Yandex Images is a valuable resource for your search; you can rely on it. You can significantly increase your image searching skills through these techniques under this platform. This platform helps you more than the other image search engines. I hope you understand Yandex's tips on how you can swiftly search your results. Consider our value on visual content while searching Yandex to discover the ideal wallpaper or a specific image. Let's make sure we focus our time and energy on things that matter because life is about so much more than the pixels on a screen.