Tech
Top 11 Contents Collaboration Platforms in 2023
Contents collaboration platforms offer ample storage spaces for organizations and companies to manage their content in a single place. As a result, the workers can access them conveniently and work in a more collaborative environment to produce enterprising outcomes. It will not only benefits your business' performance but also generate heavy revenue to increase your worth. There are numerous options available in the market to own in 2023. However, we have listed the top 11 best platforms in this guide after sorting them on multiple criteria.
What Is Contents Collaboration?
Contents collaboration refers to the activity where many users or workers can access the data at a common place to perform different functions. These include editing, designing, proofreading, and many others. Thus, they will be able to communicate easily with each other to carry out the essential changes. Furthermore, they can catch more productive ideas to direct the company's growth. Several platforms are offering this feature to benefit organizations and businesses.
Top 11 Best Contents Collaboration Platforms In 2023
In the under-section, we have listed the top 11 best contents collaboration platforms to buy in 2023 as they can deliver maximum beneficial outcomes.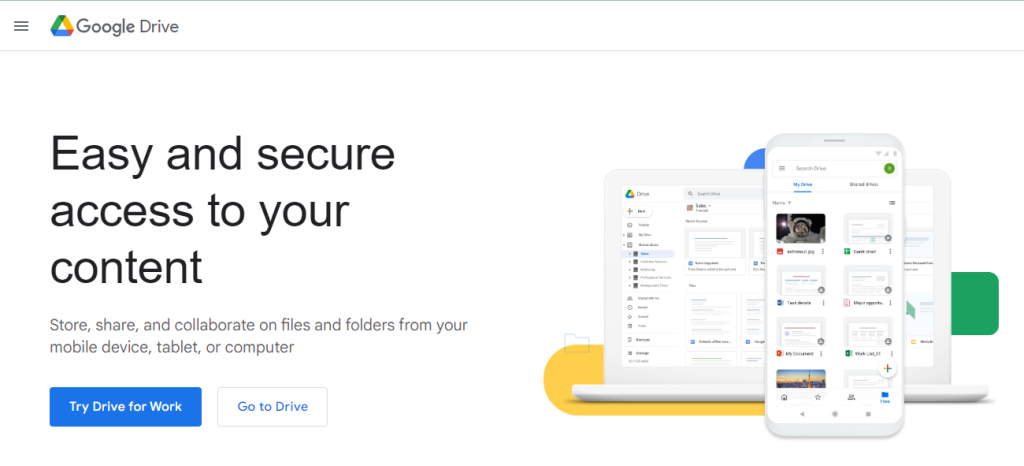 Google Drive is the widely used platform to readily store many files, including images, voice, videos, and documents. Whenever you create a Google account, it provides you with 15 GB of free cloud storage. The features of Google Drive are the following.
Create sharable links to edit the files
Allow third-party usage by adding more users
Data can be accessed even during offline activities.
Pricing
There are multiple subscription plans. The Basic will cost $209/month, while the Standard and the Premium accounts are available for $339/month and $1,049/month, respectively.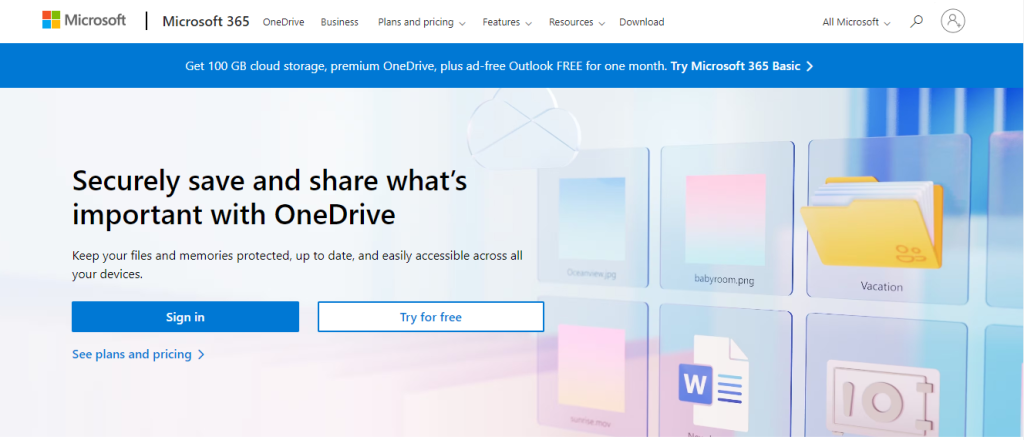 Secondly, with highly integrated structure and characteristics, Microsoft OneDrive is becoming one of the popular contents collaboration platforms. You can secure the folders' rights to prevent any harmful or illegal activity and allow the functioning of only selected files. Other benefits are the following:
Custom privacy allows editing of specific files
Integrate with Microsoft 365 products
Enough data storage for files
Pricing
OneDrive offers a membership plan per user, with the Business Basic coming for $6/month and Business Standard for $12.50/month.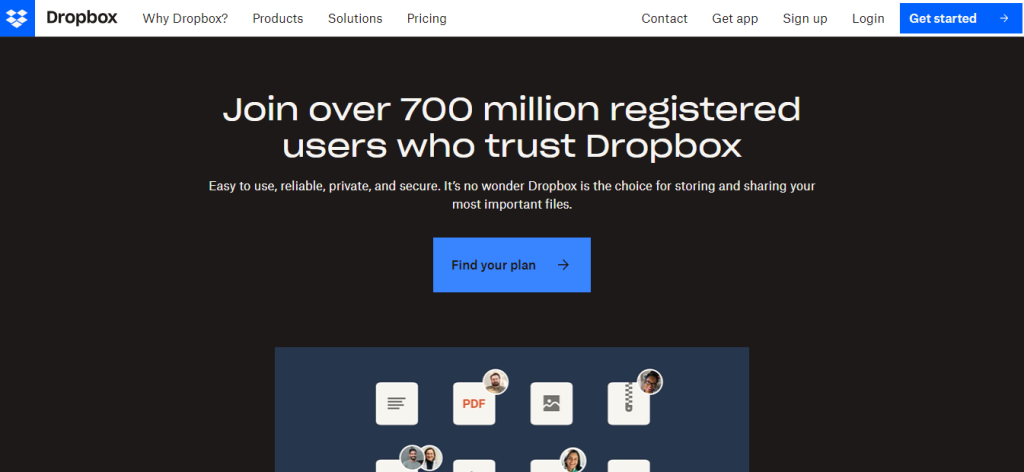 Another wonderful addition to the contents collaboration platforms is Dropbox. The tool lets you include your devices with the storage to allow cloud operating. As a result, it gives a more convenient way to carry out teamwork. Additionally, it possesses the below-mentioned attributes:
Allow sync with Zoom and Slack for online operations
Provides you with one organized space
Enhanced security to keep data safe
Pricing
There are 6 plans available for individuals and companies at different prices. However, the difference is based on storage capacity. Companies can purchase the Advance plan for $24/user/month.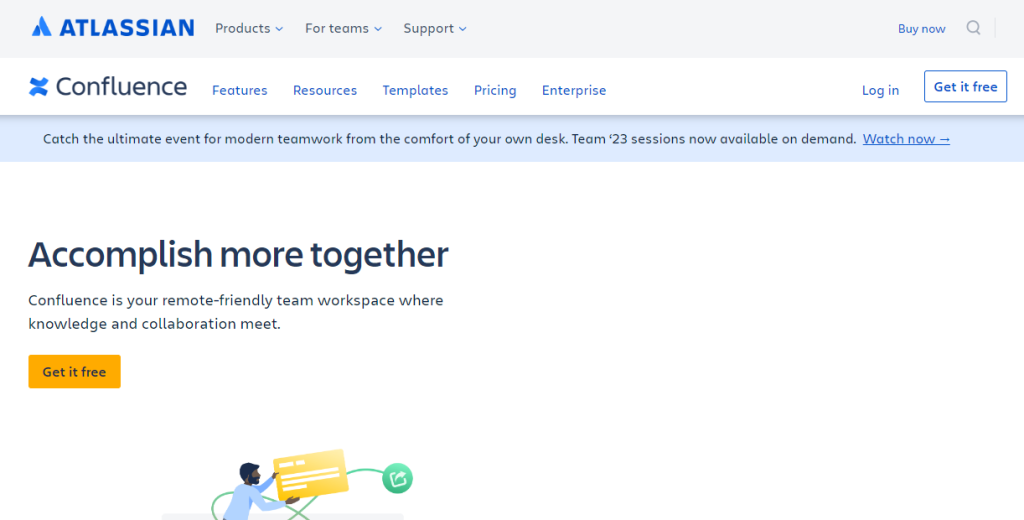 Fourthly, Confluence is considered the top pick for small businesses to collaborate easily, as it comes with numerous features at low prices. Furthermore, you can add up to 10 team members in a free plan to ensure effortless communication. Other advantages are:
Remote-friendly team workspace
Deliver page insights to track team's working
Offers team calendars to schedule the tasks.
Pricing
Besides the free plan, the Standard plan is available for $5.75 per user per month. While the Premium account will bill $11 per user per month.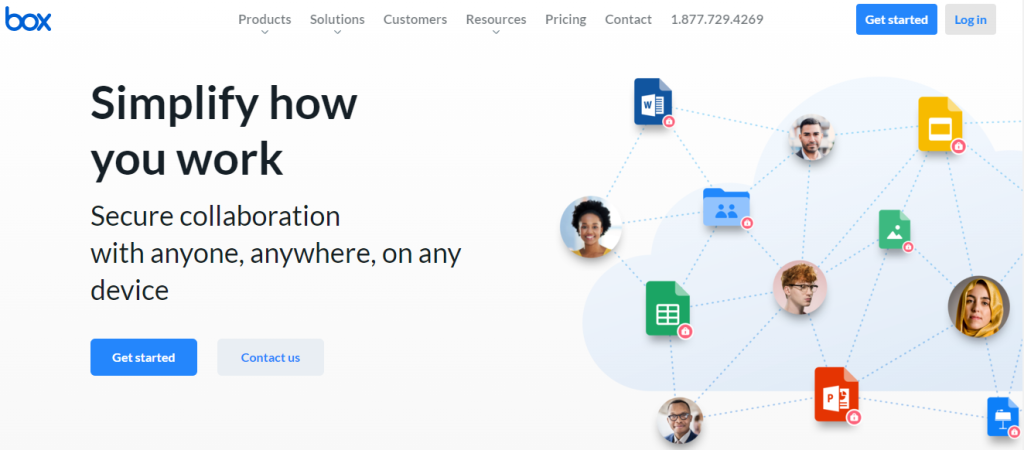 With built-in control protection, Box promises to deliver the ultimate level of security to the stored data. Thus, it provides a safe space for managed working. Moreover, it also features some exceptional attributes, making it one of the highly demandable contents collaboration platforms. Some of them are described in the under-section:
Features a Box Canvas to provide attractive whiteboards
Integrated artificial intelligence for personalized work suggestions
Accessible inside or outside the organization for remote working
Pricing
The Business Plus plan is widely purchased for the subscription cost of $25 per month/user.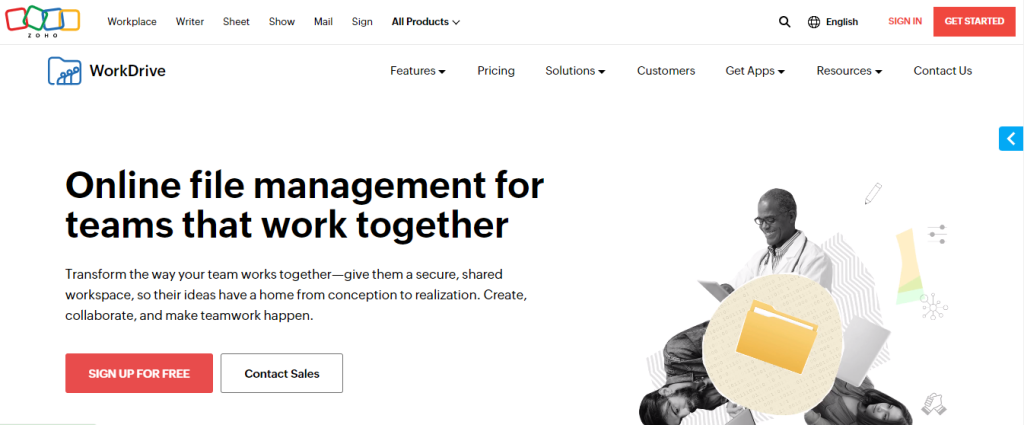 Zoho Workdrive has smoothened teamwork by making storing large files in a common workspace extremely easy. So, every user can access them when required despite contacting the manager or disturbing any other worker. The main features include:
Instant notifications regarding any update and change in the storage
Personalized AI insights to provide useful suggestions
Saves time by delivering immediate access to the files
Pricing
The Starter plan costs $2.50, while the Team and Business plans are available at $4.50 and $9 per month per user, respectively.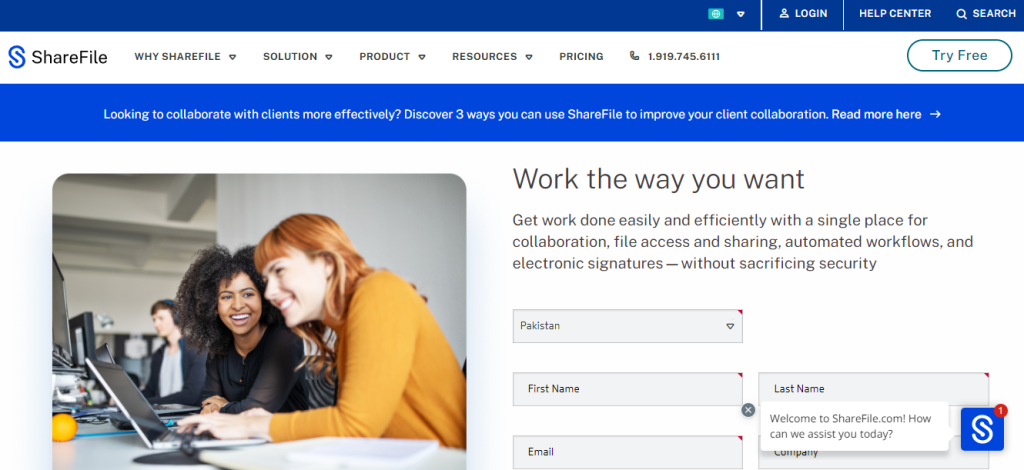 Citrix ShareFile is also a promising content collaboration platform that provides a satisfactory workspace for employees and managers to streamline the workflow. Other benefits are the following:
Managed workspace for quick actions
Ultimate data protection
Simple interface for effortless working
Pricing
The price of the Standard plan is $50/month, and that of the Advanced plan is $80/month. You can subscribe to the Premium plan for $122/month if running a large business.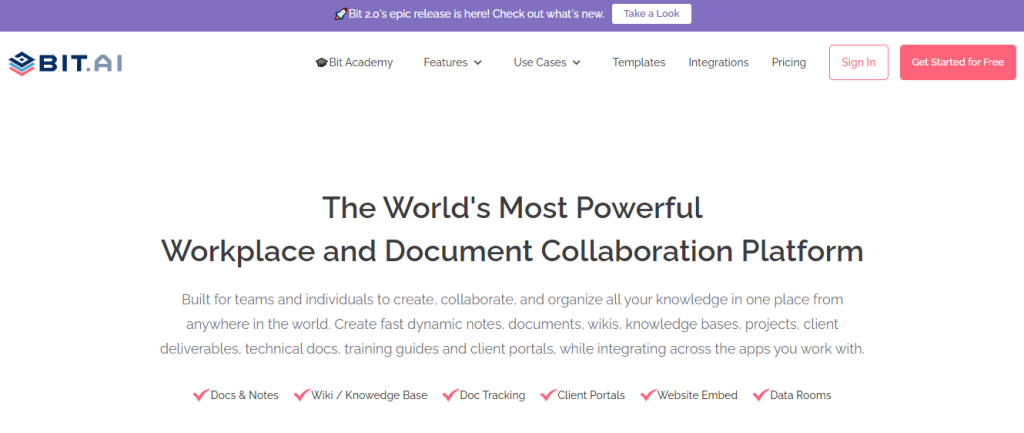 One of the newest contents collaboration platforms, Bit.ai, has dominated the market due to its enterprising features and quality interface. Furthermore, businesses of all sizes can acquire this tool to generate a strong communication network among the workforce. Below are some incredible attributes of this platform:
Smart editors for convenient data input and changes
Create organized work spaces for smooth functioning
Richly integrates with multi-media files
Pricing
Alongside the Free plan, Bit.ai offers two other memberships as well. The Pro plan costs $8/month per user, while the Business is available at $15/month per user.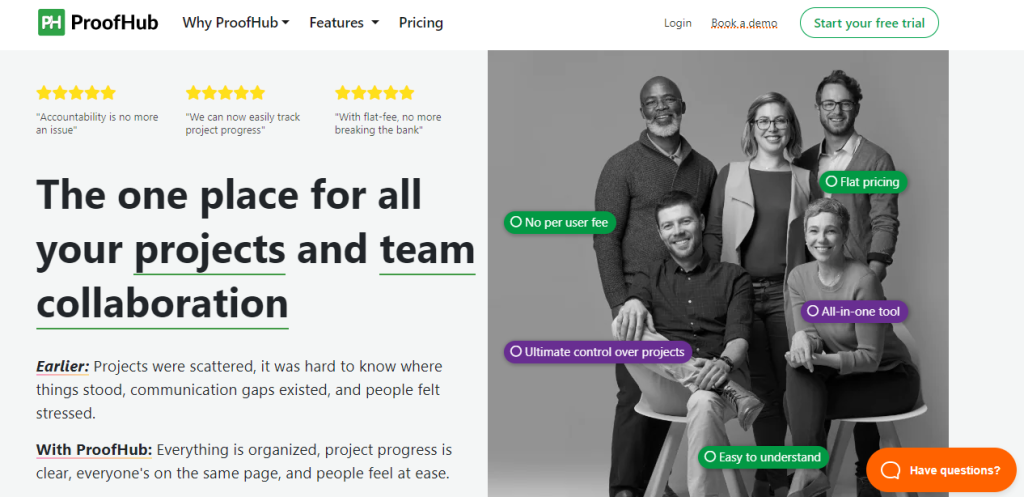 ProofHub has made it incredibly easy for organizations to store data in an ordered way to allow smooth employee work. Additionally, it delivers activity logs to check which content has been updated and which is not. Some of the other benefits are:
Generates a working calendar for convenient scheduling
Delivers performance insights to track the improvements
Design projects plans to carry out the essential activities
Pricing
Two subscription offers are available at ProofHub, with the Essential coming at $45/month, while the Ultimate Control is for $89/month.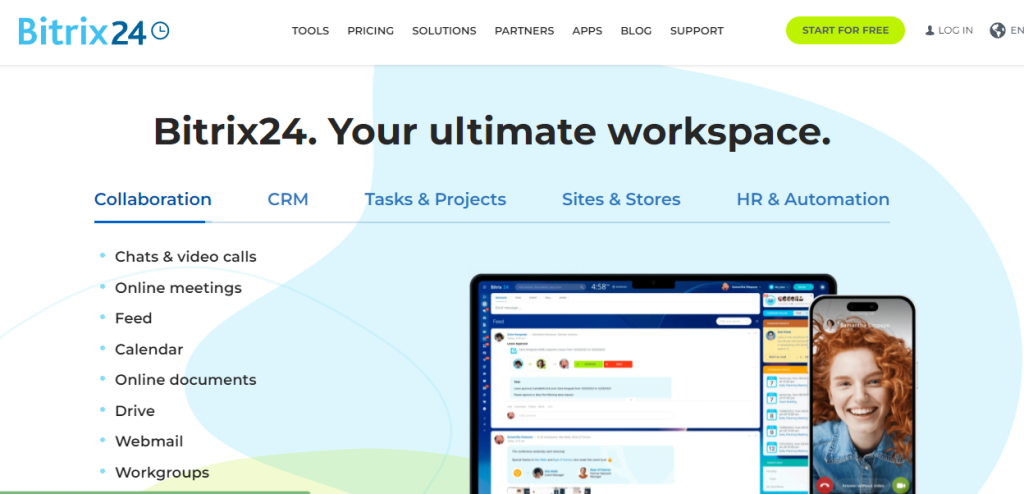 Bitrix24 stands out as one of the most intelligent contents collaboration platforms because of automation and marketing software integration. Besides these, it also produces useful metrics to deliver helpful insights:
Built-in chat system for rapid collaboration
Manage workers' performance by assigning compatible tasks
Multi-tasking software with marketing and project-management software
Pricing
The Basic plan can accommodate 5 users for $49/month. Moreover, the Standard is $99/month, and the Professional is $199/month.

Lastly, M-Files is in our list of top 11 content collaboration platforms. This tool offers a comprehensive working environment for numerous users to collaborate in a single place and perform their activities. Its practical benefits are the following:
Enhanced control over the documents
Shareable links
Can be integrated with other tools
Pricing
There are no details available regarding the M-Files pricing. You have to send a quote to receive custom suggestions for your Business.
Final Verdicts
All these are the details about the top 11 contents collaboration platforms in 2023. In conclusion, generating a highly communicated environment among the workforce becomes the necessary demand of the modern-world to take your Business ahead of the competitors. Therefore, these tools are developed. They will not only improve your performance but also enhance your credibility. As a result, you can generate huge revenue and achieve the desired milestones readily. That's all about this guide. Stay tuned for more information!