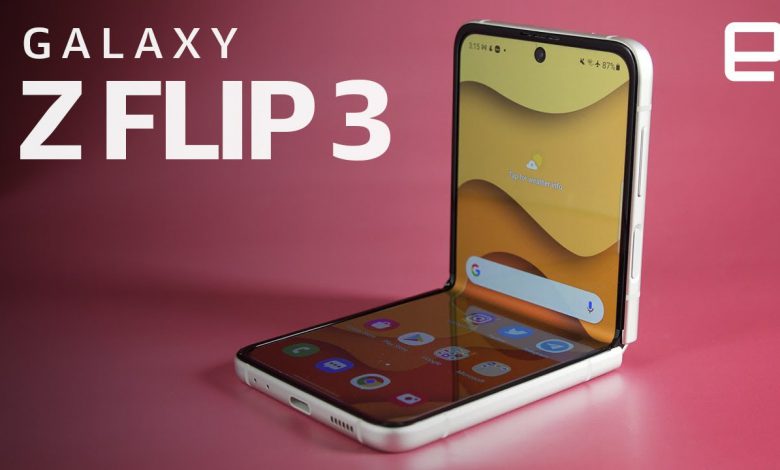 The Galaxy Z Flip 3 has come, and at $999, it is the "cheapest" foldable phone yet. No, a grand isn't cheap, but the Galaxy Z Flip 3 makes foldable phone technology more affordable. And now, more individuals than ever before can experience the foldable life. Because of its IPX8 water resistance, the Galaxy Z Flip 3 is also more durable than its predecessor. The screen is 80% more robust, and the phone features Gorilla Glass Victus on the outside display as well as Samsung's new Armor Aluminum shell. In short, the Z Flip 3 is more durable than the original Galaxy Z Flip, though we still wouldn't drop it.
Also Read:
Specifications
OS: Android 11 / One UI 3.1
Inner display: 6.7-inch Super AMOLED (2640 x 1080)
Outer display: 1.9-inch Super AMOLED (260 x 512)
Refresh rate: 120Hz (inner)
CPU: Snapdragon 888
RAM: 8GB
Storage: 128GB, 256GB
Rear cameras: 12MP (f/1.8) main, 12MP (f/2.2) ultrawide
Front camera: 10MP (f/2.4)
Battery: 3,300 mAh
Charging: 15W wired, 10W wireless
Charger included: No
Size: 3.4 x 2.8 x 0.63-0.67 inches (closed); 6.5 x 2.8 x 0.27 inches (open)
Weight: 6.5 ounces
Durability and the Framework
With the Galaxy Z Flip 3, Samsung prioritized durability. Thanks to a new film, the screen is now 80 % more durable than the one found on the Galaxy Z Flip and Galaxy Z Flip 5G. The 1.9-inch outside display is protected by Gorilla Glass Victus, while the phone's frame is made of Samsung's Armor Aluminum technology. All of this contributes to increased scratch resistance, particularly on the cover display.
The Galaxy Z Flip 3 is available in four different colors: cream, green, lavender, and phantom black. In our hands-on, the lavender really shone out to us, striking the eye and exemplifying Flip 3's focus on elegance. In addition, Gray, Pink, and White colors will be available only on Samsung's website.
Another significant Galaxy Z Flip 3 addition is the phone's dual speakers, which were so loud during the hands-on session that we had to turn them down to avoid drowning out nearby conversations.
When opened, the phone measures 6.5 x 2.8 x 0.27 inches, making it a phone that fits well in the hand. And, at 6.5 ounces (just like its predecessor), the Galaxy Z Flip 3 is lightweight and portable. Overall, Samsung slimmed down the Flip 3 just a little. When opened, the original Flip sized 6.6 x 2.9 x 0.28 inches and closed, it measured 3.4 x 2.9 x 0.61-0.68 inches.
Read:
Camera
On the camera front, they are identical to the original Flip. On the back, there are two 12MP (f/1.8) wide-angle cameras and one 12MP (f/2.2) ultrawide camera. The selfie camera has a 10MP resolution and an aperture of f/2.4. The camera upgrades on the Galaxy Z Flip 3 are software-based, with improvements to portrait mode and indoor photography.
Flex Mode and Software
The Galaxy Z Flip 3 comes with Android 11 and One UI 3.1, with an Android 12 update on the way. The Flip 3 will receive three years of platform upgrades and four years of security patches, just like other Samsung phones. Samsung's update policy has cleared the way for stronger support for Android phones, particularly in the United States, where the company has a large presence.
You can split UI elements between the two monitors using Flex mode. One of the best places to experiment with this is in the Camera app, where you can have the viewfinder on the top and the shutter controls on the button. Similarly, you can video call while sitting on a table with the phone folded at an angle, which should reduce arm fatigue during long video talks.
Read:
Battery Life and Performance
The Galaxy Z Flip 3 is a powerhouse, sporting a Snapdragon 888 processor and 8GB of RAM. In fact, the Flip 3 feels like any other gadget powered by a Snapdragon 888. On Flip 3, intense games like Genhin Impact and Asphalt 9 perform excellently. Games that support higher refresh rates, such as Dead Cells, also perform admirably on this device.
The Galaxy Z Flip 3 keeps the original Flip's battery capacity with a 3,300 mAh battery. This is cause for concern, as the Flip's battery life was not particularly impressive. 3,300 mAh is smaller than other Samsung phones, too, including the regular Galaxy S21 with its 4,000 mAh battery. In our testing, the Galaxy Z Flip 3 recharged from 0% to 22% in 15 minutes, and to 44% in 30 minutes. That's not bad per se, but the battery is also smaller than many Android phones nowadays.
The Galaxy Z Flip 3 is meant to push things forward, offering something novel versus the glass and metal slabs we're so used to nowadays. However, the Flip 3's extremely disappointing battery life gives us pause, making it difficult to recommend this phone in the end. You'll want to keep a charger or battery pack with you if you decide to go with the Galaxy Z Flip 3.