Blogging
Repurposing Content: A Complete Guide
Whether you are running a blog or social media page, content matters the most when it comes to building a strong fan base. Nevertheless, this fast-paced world has made it extremely challenging to create high-quality content daily to maintain the same standards and resonate with the basic idea. You must be a robot if you want to follow this hectic task or work an effective strategy as a substitute option. One such tactic is repurposing content. It puts you on the route of creating good content swiftly. We have developed this comprehensive guide to understand its benefits.
What is Repurposing Content?
Repurposing content is not the one generated from scratch. Instead, it is the modified form of your current material but presented in a fresh format. Thus, people will find it more exciting and engaging, helping you to attain the deserted goals. Through this strategic approach, you will not only save enough time but also improve your content value.
Additionally, visuals play an essential role in enhancing your material. That's why you must focus on integrating videos, podcasts, infographics, and social media snippets into your content. Also, it helps you optimize search engines by resonating with original content's core ideas. Repurposing enables you to bring versatility and flavor to your articles, videos, etc. and proved to be an efficient approach in today's hard-bound landscape.
Benefits of Repurposing Content
We should learn about the benefits of repurposing content before delving into the strategies to create high-quality repurposing content. It will direct you to understand the purpose, needs, and requirements of this high-end strategy.
1 – Time Efficiency
Creating new content from the very beginning takes a significant toll on time and resources. But, when you are going to recreate or modify your existing material, it will save a larger time period. Furthermore, you don't need to put in extra effort as most of your content is already generated. You only need to optimize it according to the current standards to pocket all the possible benefits.
2 – Extended Reach
Repurposing content not only improves the quality of your existing material but also enables you to attract a broader range of audience by making your content compatible with different platforms. You can place your content on YouTube or another video-sharing platform by integrating the videos. Similarly, social posts let you share them on Instagram, Facebook, Twitter, and other handles. Hence, you can reach a broader audience.
3 – SEO Enhancement
Another exclusive benefit of repurposing content is its viable effects on the search engine optimization of your website. By recreating the articles, you will be able to target the desired keywords at the right position. Thus, it helps you improve the rankings of your site. Moreover, you can interlink the relevant posts or articles. Also, the updation of images signals Google about your active approach toward your site.
4 – Showcasing Expertise
Through repurposing the content, you can showcase your material in different formats. These may include blog articles, social media posts, videos, etc. Through this strategy, people will get the same knowledge in different structures. It will make them acknowledge your expertise and efforts in your skills and work. Hence, it will build up the authority and expertise in your niche.
How to Create Repurposing Content?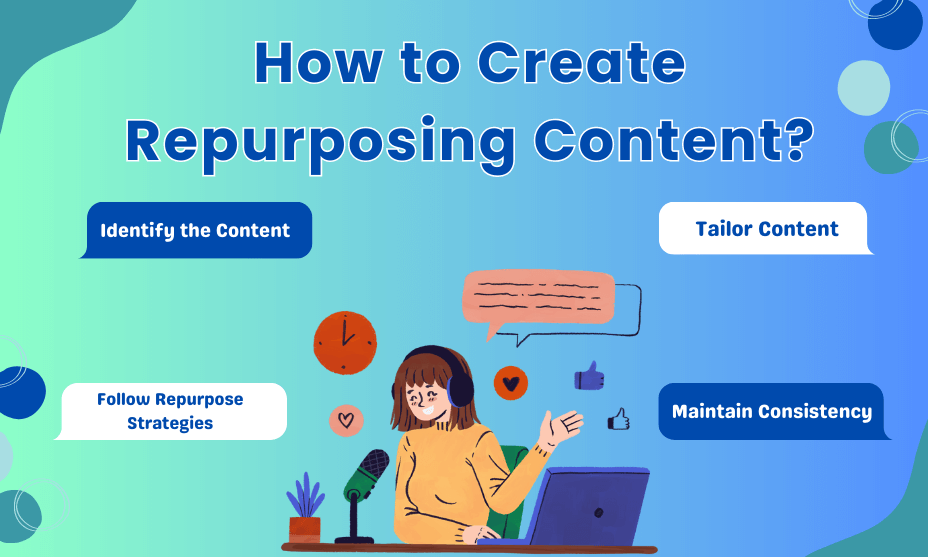 Creating and repurposing content is not a complex procedure. However, you must be precise and methodical when carrying out this activity. The primary reason is that the transformed content must resonate with the original to maintain credibility.
1 – Identify the Content
If you are running an online website or social media page with a lot of content, it's quite challenging to repurpose all the articles or social posts. Here, you need to be very strategic and depend on data-driven insights. Determine which of your content is performing at its best online. Similarly, find the content with poor performance in the online world. Later, follow the effective strategies to take your existing material ahead of the competition.
2 – Follow Repurpose Strategies
We described previously that repurposing content not only helps you improve the quality of existing content but also gives it a new structure. The next step in this process is to create different forms of the same content. You can elaborate on your material through the help of high-quality videos, infographics, social media posts, and blogs. It also helps you broaden your audience by resonating with their interests.
3 – Tailor Content with Different Platforms
In the previous section, we talked about creating different types of content. This point details tailoring the content with different platforms to optimize its ranking in this highly competitive environment. While creating social media posts, you must take care of the dimensions and make them well-suitable per the selected handle, like Facebook, Instagram, Twitter, etc. Furthermore, you must follow the same strategy for videos, presentations, and other formats.
4 – Maintain Consistency
The primary requirement to maintain the effectiveness of repurposing content is to ensure consistency across all formats. Whether you create videos, social posts, infographics, or blog posts, you must provide the same knowledge to allow users to understand the desired information effortlessly. It also helps you build strong credibility over competitors and improve your trust score.
5 – Track Performance
Lastly, you have to track the performance of repurposing content. If you see a clear improvement between the previous and new stats, you are moving in the right direction. Otherwise, focus on creating more compelling content to engage the users better and deliver the desired outcomes.
Final Verdicts
Repurposing content is a powerful strategy to optimize the value of your current content effortlessly. By understanding the benefits, you can direct yourself on leveraging this mighty approach for more exceptional perks. Similarly, by identifying suitable content and implementing creative strategies, you can transform your material from a dull and boring structure to highly engaging content. Also, by adapting to different platforms, maintaining quality, and consistently tracking performance, you can effectively extend your content's reach, enhance engagement, and achieve tremendous success in your content marketing endeavors.