On the market, thousands of speakers with the best audio quality are available. It depends on the consumer to decide which type and quality of smart speaker are best for regular use.
When talking about the most recent improvements in the building of smart speakers, the word "smart" is the appropriate one to choose. Customers are using smart speakers in intuitive and seamless ways to purchase, enjoy music, and browse information, which significantly affects user behavior.
When Google launched its mini smart speaker, then it replaces the famous and widely used speakers. Google has made its voice assistant which is widely used by people.
Therefore, if an individual is extremely concerned about sound quality and prefers simple integration, Home Max might be a fantastic choice. This wireless smart speaker is intended to replace the home sound system.
The Google Home Max smart speaker is Large, powerful, and tremendously loud. Many individuals utilize the Google Home Max to listen to songs because it has a good loudspeaker for its design.
Google Home Max Charcoal- The Powerful Smart Speaker
This amazing Google assistant is very unique and extremely loud. Google has beautifully designed this smart speaker. The google Home Max has a substantial weight and is made with exceptionally good quality.
It offers excellent sound and includes various functions that will make the user experience better and more enjoyable. When your favorite music is played on Max smart speakers, then you will feel more relaxed.
The majority of Android and iOS users realize that interacting with a Google voice Assistant-enabled is the best smart speaker. The Max incorporates Google Assistant's ease into a plus-sized speaker offering superb sound.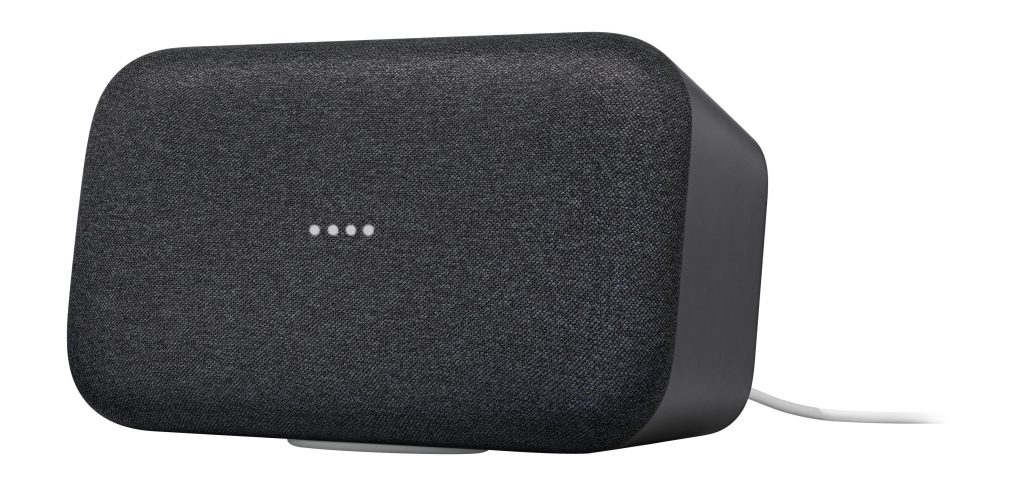 General Features
The Google Home Max Charcoal is manufactured very intelligently and according to public demands at a reasonable price. The amazing features of this smart speaker are described below in detail.
Design
Google designed its smart speaker very technically and according to people's demands. A small port for a USB connection is also available in the speaker. This USB port can be used to charge Android and iOS smartphones. The speaker also has a small and strong processor of 1.5 GHz ARM.
This smart device has many tremendous benefits people can connect and control the other devices in their offices and homes. Through this Max speaker, people can hear the latest news, know about weather conditions, and can enjoy sports.
The exterior surface is designed with magnetic rubber and a beautiful fabric cover, which makes this smart speaker glassy. The Google Home Max has 2 subwoofers of almost 4.5-inch size. It also consists of 2 tweeters.
Best Quality sound
This Google Max speaker is very powerful. This smart speaker is designed in a great way with a greyish fabric cover and round edges that will produce the best quality sound. This speaker also consists of 6 class D amplifiers which amplify the sound and make this smart speaker the best choice for everyone.
The woofer system of this smart speaker produced high-quality sound and is considered the best smart speaker in the market. It produces a clear sound with a high pitch without noise and distortion.
This Max smart speaker has 4.5'' size 2 woofers which are playing a very effective role in producing great-quality sound for music.
The speaker has 2 tweeters of 0.7'' which produce a very clear and best sound for songs. It also has the feature of optimizing the sound in the area where the speaker is placed.
Google has also added a new feature of voice recognition to this smart speaker. This voice recognition technology is wonderful and effective in recognizing the voice. All these features help in making a great fit for people.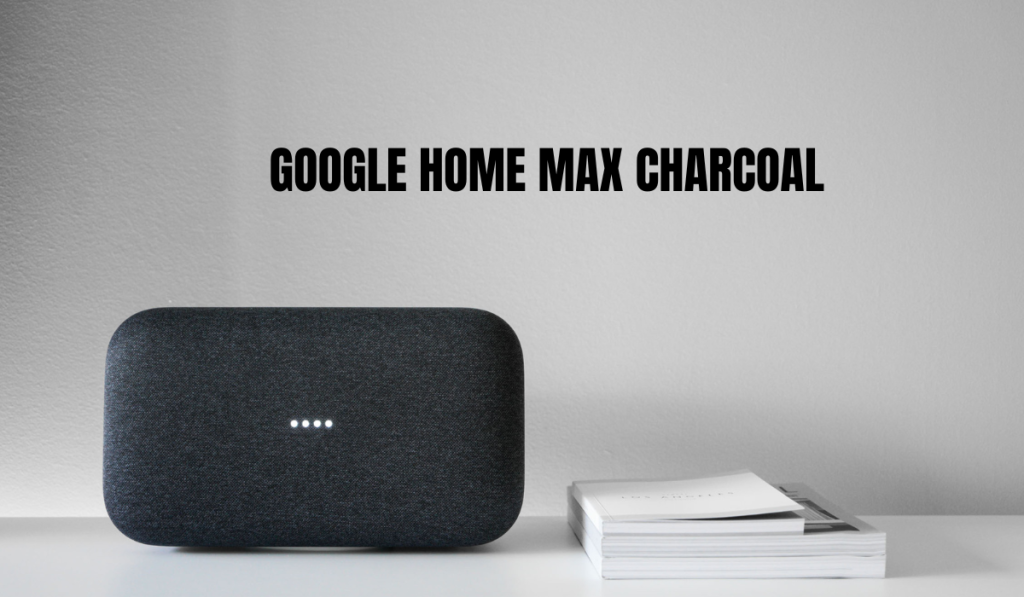 Ports and USB
The Google Home Max Charcoal also consists of one USB-C port. This USB port can be used for connecting any data cable to charge mobile devices and connect any device, like a laptop, with the speaker.
Microphones
This Max Charcoal smart speaker consists of 2 microphones fixed in it. The Google Assistant also has strong compatibility with these microphones.
Due to this compatibility and integration, it can control smart home appliances and respond to queries. This microphone is very helpful for people with many homely tasks.
Bluetooth Connection
This wireless device of Google has a feature of Bluetooth and Wi-Fi. The Ethernet adapter is also present in the smart speaker. Through Bluetooth, people can easily connect the speaker to any device without any wire or cable.
The device also has a Wi-Fi connectivity feature which allows all users to search, play, and enjoy the music of their interest.
App Compatibility
The Google Home Max charcoal is famous for its powerful features and small size. The best feature of this speaker is strong app compatibility. Users can also set their work reminders. The powerful function of this Max smart device is to manage smart gadgets.
At a time, people can connect 2 smart devices with this smart speaker. The stereo cable can also use to listen to and enjoy songs. The smart speaker has a small touch strip to stop, play and change the songs.
Lightweight
The smart speaker is of small size with great functions and top-notch sound quality. This smart speaker can be placed in every position.
Easily Transportable
Portability is the best feature of this smart speaker. People can also easily transfer it from one place to another. It is a lightweight and small smart speaker. Due to its transportability factor, users love to purchase it. People can easily and comfortably handle this smart speaker. You can also carry it anywhere without any inconvenience.
Due to its lightweight and portability, people can easily place it in any position or adjust it in any position on any flat surface. Google designed this smart speaker to be very unique and classy.
Reasonable Price
The price of this tremendously featured smart speaker is very reasonable according to its functions and compatibility with Google Assistant. It is regarded as the best smart speaker available on the market. The actual price of Google Home Max Charcoal is $200-$250 from the Amazon and Google stores.