The Clevo nh70 is a new laptop that has been getting a lot of attention lately due to gaming-dominant features. This laptop is packed with features and specs that make it one of the most powerful laptops on the market. This laptop is the perfect pick for anybody seeking to get robust features and performance at a budget-friendly price. It's an ideal machine for multitasking, heavy workloads, or just everyday computing. If you're in search of a powerful laptop, this is an ideal choice. In this review, we'll cover every detail from its specs and features to pricing so that you know what to expect.
What is Clevo nh70 Laptop:
Clevo nh70 laptop is designed and crafted by a Taiwanese company, this gaming device is an ideal choice for the younger generation who loves playing cutting-edge games. The NH70 laptop is the perfect choice for anyone who needs a powerful machine with plenty of features yet doesn't want to break the bank. With its versatile multitasking capabilities and robust performance, this laptop will not disappoint.
Clevo nh70 Specifications:
| | |
| --- | --- |
| | |
| Operating System | Windows |
| Display Size | 17.3 Inches Full HD |
| Processor | Intel Core i7 9750H Clocked at 2.6 GHz |
| Resolution | 1920×1080 |
| Graphics Card | NVIDIA GeForce GTX 1650 |
| Battery | 14.4v 3275mAh |
| Battery Standby Time | 3.5 hours |
| Storage | Up to 1TB SSD |
| RAM | 8GB |
| Weight | 2.5KG |
Clevo nh70 Features:
The Clevo nh70 laptop has features that make it stand out from the competition. There are several features that make this laptop stand out, all are given below in detail:
Clevo nh70 Memory:
The Clevo NH70 offers exceptional performance with its maximum of 8GB DDR4 RAM, a type of computer memory used to store data the processor needs quickly. As we all know, more RAM can be advantageous for laptops, permitting it to handle multiple programs and boost overall system performance. This is one of the biggest advantages of this laptop, as gamers can enjoy more smooth multitasking and gaming capabilities.
Clevo nh70 SSD Drive:
The NH70 laptop harbors a reliable SSD for storage. The size of the drive will depend on the model you purchased; some may have an appreciable 128GB or 256GB and others could contain a more impressive 512GB or 1TB capacity.
This type of storage is much faster than traditional HDD, providing faster boot times and data access speeds. It also offers a large storage capacity for storing games, files, photos, music, and more.
Clevo nh70 Ports and Connectivity:
The Clevo nh70 laptop offers plenty of ports for connecting additional devices. It has multiple USB 3.1 ports, a USB-C port, an HDMI output, and an SD card reader. It also features Wi-Fi connectivity and Bluetooth 5.0 for easy pairing with other devices. These ports offer great flexibility and are perfect for connecting external displays, gaming controllers, headsets, and more.
Clevo nh70 Display: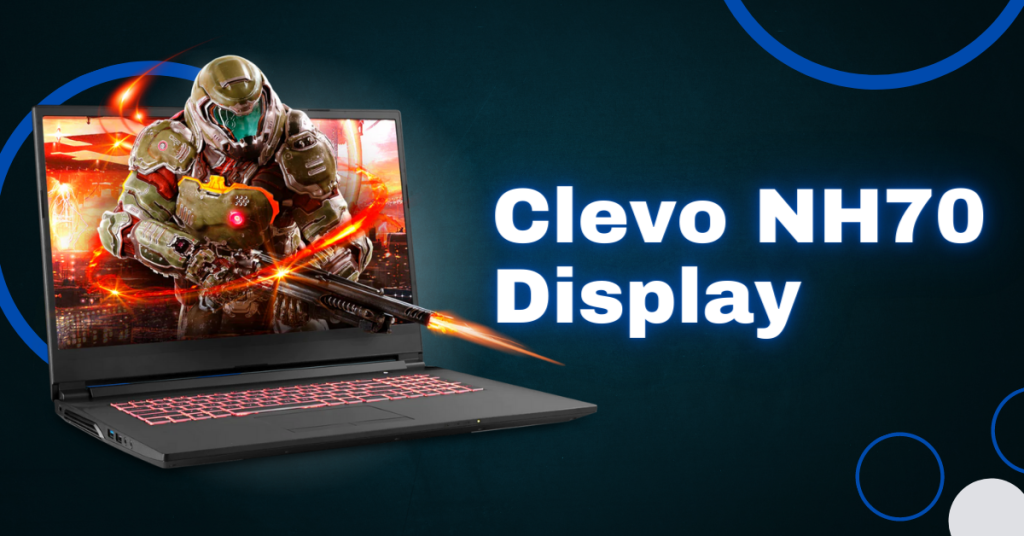 The Clevo nh70 laptop has a 17.3-inch FHD (1920×1080) display that is perfect for gaming and multitasking. The display offers bright and vibrant colors, making it ideal for watching movies and playing games. The display also supports full HD video playback with an anti-glare coating to reduce reflections and provide better visibility.  Complete with an RGB keyboard of a sleek and minimalistic design, this laptop is the perfect combination of modernity and functionality. Its chassis is thicker than other models, giving it that extra bit of weight at 4.8 lbs (2.5 kg). The top bezels are thin around the screen for a truly streamlined look overall.
However, compared to the higher-end laptops, the laptop has no edge-to-edge display or slim bezels.
Clevo nh70 GPU & CPU:
The Clevo CPU NH70 facilitates a comprehensive view of the processor, with Frame A Buffer being its main component and Frame B Buffer as secondary. To ensure any problems are fixed quickly, follow these simple steps.
The Core i7-9750H processor and powerful Nvidia GTX 1660 Ti GPU combine to give the Clevo NH70 laptop a great performance. The fast, six-core processor can handle all types of tasks, from essential office work to heavier gaming. The graphics card is a mid-range card that can handle modern games at high frame rates and resolutions.
Clevo nh70 Battery Life:
The battery life of the Clevo nh70 laptop is quite impressive, with up to 3 hours of battery life on a full charge. The battery comprises four-cell lithium-ion batteries and can easily last through a workday or an intense gaming session.
This laptop was designed with powerful fans underneath the keyboard, ensuring that it will remain cool and quiet no matter how intense your gaming sessions get. To maximize efficiency in heat dissipation, carefully placed vents are located at each side of the laptop.
The charge time of the nh70 laptop is fast, with a full charge only taking around 2 hours. This means you don't have to wait long for a full charge and can quickly return to gaming or other tasks.
Clevo nh70 TouchPad and Keyboard:
The Clevo NH70 laptop has a responsive and accurate touchpad and an RGB keyboard with a sleek and minimalistic design. The keys are comfortable to type on and have a good amount of travel. Unparalleled user interest and engagement with the device is provoked by this. For an optimal gaming experience, play gg Roblox if you want to join in on popular games such as Minecraft. The touchpad is smooth and responsive, making navigation a breeze. Additionally, the laptop offers a wide range of customizable settings, so you can tailor the laptop to fit your gaming needs.
Sound Quality:
The laptop also offers an array of audio solutions, including built-in stereo speakers and a 3.5mm headphone jack for external headphones or headsets. The sound quality is quite decent, offering good audio performance while gaming or watching movies.
Clevo nh70 Price:
The Clevo NH70 laptop offers a variety of features and capabilities at an affordable price of $1,015. It provides an excellent balance between performance, portability, and affordability. It is great for gaming, multimedia, office work, and more. Its reasonable price makes it a great choice for anyone looking for a powerful, yet affordable laptop.
Warranty:
The Clevo NH70 laptop has a 1-year limited warranty and an extended warranty. The extended warranty covers two years of parts and labor and accidental damage protection. This gives you peace of mind that your purchase is secure and will be free of any issues in the future.
Clevo nh70 Customer Review:
The Clevo NH70 laptop has received a lot of positive reviews from customers, with many praising its performance and value for money. Most users find it to be a great laptop for gaming, multimedia, and office work. A few users also mentioned that the battery life could have been better, but overall they were satisfied with the device's performance. Some also claim that the laptop runs hot after prolonged use and may require additional cooling solutions and considered it not budget-friendly.