Finance
Practical Competitor Price Monitoring Tips in 2023
Competitor price monitoring has become a pivotal aspect of staying ahead in the business game. It has become a essential to examine many facets of your competitors, such as target market, product offers, and price points, to traverse the market environment. Mostly, retailers keep helping out through the monitoring software to keep in touch with the new prices and stock availabilities simultaneously. They keep an eye on the latest updates from the competitors through web applications, mobile applications, and various Google extensions. This article will explore some of the best competitor price monitoring tips for increasing business profits.
What is Competitor Price Monitoring?
A deep process of examining the prices of essential competitors to build a picture of pricing patterns is known as competitor price monitoring. This eventually enables planning teams to predict and anticipate changes more precisely. You may acquire a historical macro view of competition pricing by gathering and consolidating daily data with a price monitoring tool. You can also be informed of developments like discounts to enable quicker modifications to your pricing strategy.
Competitor Price Monitoring Tips for Business
We will look at improving your pricing strategy and keeping up with the competition. You can check the new pricing updates of relevant marketers. This article tells you about competitor monitoring price tips for your business through these steps:
1- Research The Competitor's Prices
Competitors' price tracking is the first and foremost step of competitors' prices, promotions, and strategies daily. You should start researching by broadly analyzing your competitors' pricing policies and searching deeply into the market competition. This thorough research will give you priceless knowledge and a deeper understanding of the pricing environment, enabling you to see opportunities and fill gaps to differentiate your brand. You can group your competitors based on different criteria, such as their target market and the caliber of their products, to streamline your competition study.
2- Advance Your Pricing Changes
Customers love the latest deals, promotions, and seasonal deals. Mainly, the companies consistently change their prices to become a market competitor. You should respond to changes frequently. You can use software tools that give you the macro view of pricing and alert you about such changes as discounting and the latest deals.
3- Stay Competitive in Every Marketplace
Customers check your website and visit different marketplaces to know about the prices. Keep in mind to update the prices on every marketplace. Customers scan the marketplace place, collect data about the costs, and then decide. They buy there where they will see the reasonable price. It is a good thing to compare your products to other places. You should use several tools that automatically alert you about competitors. When you observe that the stock of your competitors is decreasing, you should run big deals on different marketplaces to sell that specific product.
4- Improve Customer Satisfaction
Customers become satisfied after your reasonable prices. When you offer better services, the attention of your customers is enhanced consistently,
Price Comparison Features: The owner gives the price comparison feature to their customers. Through this feature, they can compare the real-time prices.
Achieve consistency: Understanding the competitive perspective allows businesses to produce prices and give services without fairness, enhancing customer satisfaction. When online sellers offer reasonable prices, they can build trust with their customers, who will recommend the store to others.
5- Swift Decision-Making
Swift decision-making can bring you success against competitors when they are planning against you. You should have the ability to adapt to business trends. Price monitoring can allow the leaders to receive data faster and make accurate decisions on time according to the market. By swifter matching the competitors' prices, you can enhance the conversion rate and keep a balance between the flocking of competitors.
6- Scrutinize Your Costs
Scrutinize the cost of your product before manufacturing and publishing. While calculating your product worth, you can follow these steps,
Material Costs: During manufacturing, you should have an idea about the components of your product. Take note of the quality, quantity, and price of the material then you make sure of your calculation.
Labor Costs: Calculate the main labor cost during manufacturing, then analyze the whole cost. After the delivery, you can overcome your expenses when you get an idea, including labor costs. This may give you more wages, benefits, and instruction needed for the workers.
Overhead Expenses: This expense mainly fixes your budget and includes your business operations, such as utilities, marketing, etc. 
7- Respond Swiftly and Strategically
Price monitoring ensures that companies respond quickly to overcome the changes in markets. However, making the right decisions and being well-informed rather than reacting immediately to your competitors is beneficial. The companies should consider the profit margin and delivery charges and make strategies before manufacturing. It's not like you will increase your conversion after reducing your prices. You can compete through the great offers and deals with swift responses according to the customers' perspective. 
8- Competitor Price Monitoring Tools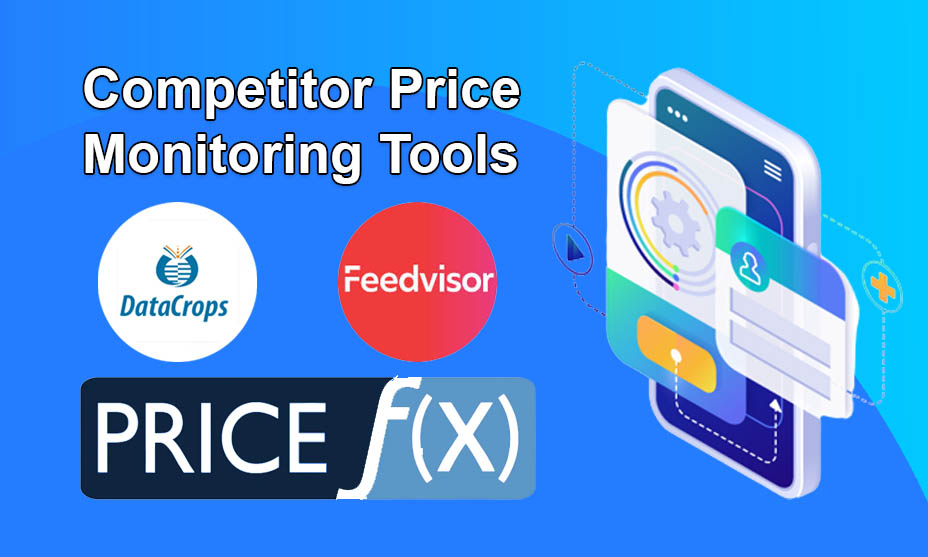 Making informed judgments about your pricing strategy depends on how you interpret the data the tool provides. You can use the following advice to analyze the data:
Dtacrops is a web monitoring tool that is used for the extraction of web data including product pricing, review sites, images, videos, and business profiles from online stores. Datacrops email reports include screenshots and extracted text changes for each scanned page.
8.2-Pricefx
Pricefx is a cloud-based price monitoring tool that tracks the inventory and pricing of your rivals and enables you to implement dynamic repricing policies in reaction to the comparisons. The software features and options can change over time, so it's best to check the Pricefx website or contact their sales staff for the most recent details on their services.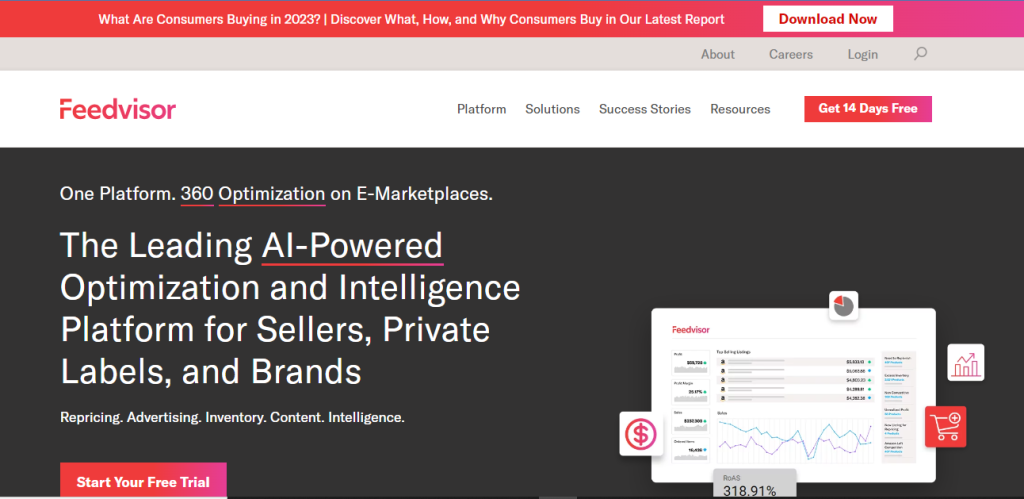 Feedvisor is the online optimization and intelligence platform for sellers on Amazon, Walmart, and other e-commerce platforms. This platform offers services including pricing technology, content management, profit, and revenue growth. These features are trending in e-commerce marketplaces.
Conclusions
Pricing strategy is essential for any organization's success in today's cutthroat business environment. Monitoring the prices of your rivals is one efficient technique to improve your pricing strategies. Tracking and evaluating the prices of goods and services your enemies provide is known as competitor price monitoring. This can be done manually or with tools for keeping track of competition prices. Through these tips, you can compete with your competitors. It's dependent on your high-quality products and the reasonable prices of your brands. I hope you understand the price monitoring tips.