Marketing
Top Marketing Analytics Tools to Level up Your Business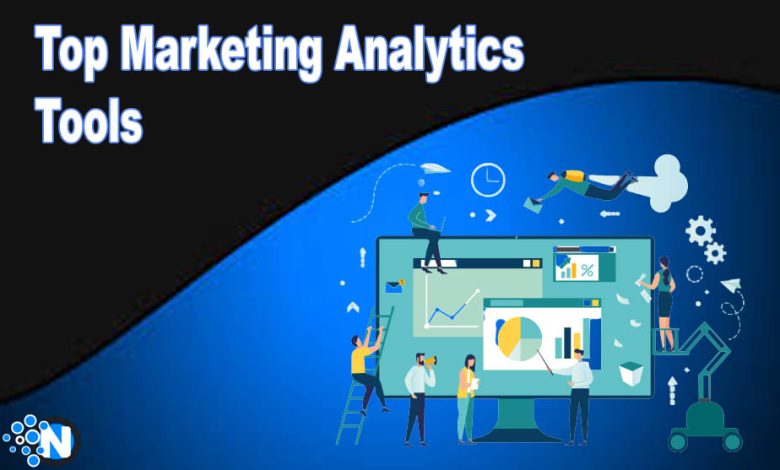 Marketing analytics tools are the most important requirement for analyzing your company's performance over the web. They help you make informed decisions and drive business growth based on the data generated through effective AI-integrated robots. Hence, you can redirect your brand's approach to improve its productivity and consistency to reach the desired milestones. A large number of options are available on the web, making it hard to find the best one. We have developed this guide on the top 5 best marketing data analytics tools to take your business to an advanced level.
What are Marketing Analytics Tools?
Marketing analytics tools are the software that tracks, measures, and analyzes the company's web outreach and performance. It also produces AI-integrated suggestions to direct your company's growth in the right way to gain more ergonomic and seamless results. Whether running a small industry or expanding your scale to a global level, you must leverage help from a top-quality tool. It will not only automate your several steps but also help you understand the marketing trends quickly. In this way, you'll be able to receive more sales and revenue.
Best Marketing Analytics Tools
Technological evolution has made it quite effortless for companies to produce and launch their software in the market. The same is in the case of marketing analytics tools. A wide collection is present, promising to offer all the significant functionalities and associated advantages. Thus, it becomes increasingly difficult for one to pick the perfect choice. In the under-section, we have listed the top best marketing analytics tools which you should consider opting for in 2023.
Salesforce Marketing Cloud Intelligence is the top tool for businesses of all sizes to maintain their marketing requirements and achieve all the desired results. With the help of Artificial Intelligence, you can earn greater insights to improve B2C marketing. Additionally, you can automate various steps to carry out the essential processes speedily. Some other exceptional attributes are the following.
You can centralize your data in a single place for enhanced collaboration.
Personalized dashboard to learn and comprehend the analytics properly.
Visual explanation of data for seamless learning.
Pricing
Salesforce offers three membership plans for marketing cloud intelligence for businesses of all sizes. The pricing details are the following.
Starter: $3,000 per month
Growth: $10,000 per month
Plus: Custom Prices
Fivetran is best famous for its exclusive security features and enhanced marketing analytics dashboard. Thus, you can easily monitor your brand's performance and check out the critical flaws. Furthermore, you can connect your data sources with this tool to quickly retrieve the necessary files and streamline this hectic task. Additionally, you will find the below-mentioned benefits.
You can scale your company's growth with real-time CDC data movement.
Fivetran offers tremendous security to keep the data safe.
Moreover, it automates several steps to make the marketing approach seamless.
Pricing
A free plan is available for this tool by which you can check its functioning. Besides, 4 other subscription offers are the following.
Starter: $505 per month
Standard: $2,375 per month
Enterprise: $5,322 per month
Thirdly, Domo is part of this best marketing analytics tools rundown, as it delivers a comprehensive review of your organization's performance. The best thing is that it gives you a general overview of all the necessary factors to open up for a detailed examination. In this way, you can achieve better results which could be impossible otherwise. Domo comes up with several other fascinating features with associated advantages, explained in the under-section.
Integrated components for building applications to smoothen the marketing operation.
You can track down the performance easily with real-time data analytics.
Detailed view of the campaigns with date and day to analyze the marketing approach.
Pricing
Domo hasn't revealed its subscription and pricing details so far. However, you can get the pricing details by sending a message to the developer's team. You will receive custom quotes based on your brand's requirements and operational abilities.
HubSpot is a complete solution for all your marketing requirements, from capturing more leads to estimating the analytics. The easy-to-use interface saves time and resources, helping you reach a larger audience and capture their insights. Consequently, you can make data-driven marketing decisions to direct your brand's growth more effectively and swiftly. Hubspot lets you measure and optimize the insights simultaneously. In addition, it provides you with the following outcomes.
Personalized onboarding plan to move along the way to your analytics.
Top-quality customer support for 24/7 queries via live chat, Emails, etc.
It can also be integrated with other tools for an effective marketing approach.
Pricing
HubSpot is famous for its cost-effective membership plans. So, every business can easily acquire this to get ultimate advantages.
Starter: $45 per month
Professional: $800 per month
Enterprise: $3,600 per month
Lastly, we have placed Mailchimp among the best marketing analytics tools. Having evolved from an Email marketing tool, Mailchimp is now the widely-used marketing analytics suite for smaller brands. With its help, you can design incredible campaigns and work accordingly to achieve better results. Furthermore, you can generate landing pages, digital advertisements, and postcards to send personal recommendations to the audience. Moreover, a highly-contrasted dashboard lets you measure the essential metrics.
Pricing
Besides the free plan, three other membership offers are also present. The pricing details are listed below.
Premium: $87.50 per month
Standard: $5 per month
Essential: $3.25 per month
Final Verdicts
All these are the details about the top 5 best marketing analytics tools to level up your business in 2023. In conclusion, perfectly complied software with all the necessary integrated components and a highly-contrasted dashboard helps you achieve all the milestones by automating several tasks. You can measure all the metrics to estimate the brand's growth and simultaneously take crucial steps. As a result, it will take your company to an advanced level to compete against the big giants at the top. That's all about this guide. Stay tuned for more information!