The Dell Vostro 15 is a budget-friendly laptop that doesn't sacrifice performance. It's perfect for students or anyone who needs a durable and powerful laptop without spending a lot of money. Dell has been in the market for a while now, and it's one of the most trusted brands when it comes to laptops. In this review, we'll go over the features, specs, and price of the Dell Vostro 3583 so you can decide if it's the right laptop for you.
Dell Vostro 15 3583:
The Dell Vostro 15 3583 is the perfect notebook for both work and play. This latest Dell innovation features an Intel Core i7 processor, allowing users to multitask with speed and ease. On top of its impressive power, it has a crisp 15.6-inch screen, up to 8GB of memory, and lightning-fast NVidia graphics, making it the ideal choice for work tasks such as design or video editing. Its slim design makes it easily portable and its long battery life lets you work away from home or in transit. With the Vostro 15 3583, you can have want you to want – a sleek design and powerful performance.
Dell Vostro 15 3583 Features:
Like all gadgets, Dell Vostro 15 3583 has also come with some of the best and most user-friendly features that are sure to make your life easier. Here in the features section we'll look deeply into the features of the Vostro 15 3583 and see what it has to offer.
Dell Vostro 15 3583 Display:
The Dell Vostro 15 3583 offers a stunning 15.6-inch full HD LED display with anti-glare technology and 1920 x 1080 resolution for an optimal viewing experience. You can maximize your connection with its range of ports and other connectivity features. On top of its sizeable display, perfect for both web browsing and streaming films, this device is facilitated with a dedicated graphics card that allows for seamless gaming and multitasking.
This laptop provides a multi-touch capable Touchpad, along with a Standard Notebook Keyboard to enhance user interactivity. Furthermore, the laptop includes an integrated webcam for video recording and making calls.
Dell Vostro 15 3583 Touchpad and Keyboard:
The Dell Vostro 15 3583 comes with an impressive touchpad and keyboard. The large, smooth touchpad provides plenty of room to navigate and its sturdy design ensures minimal bouncing and a comfortable experience. The full-size, spill-resistant keyboard is also designed for comfort and accuracy, so you can type quickly and accurately, even in dim light. The keyboard also features dedicated multimedia keys for easy access to audio and video controls.
Both the touchpad and keyboard are designed for durability and long-term use, so you won't have to worry about replacing them any time soon. Customers review it highly as it is one of the best features that Dell has included in this device.
Dell Vostro 15 3583 Multimedia: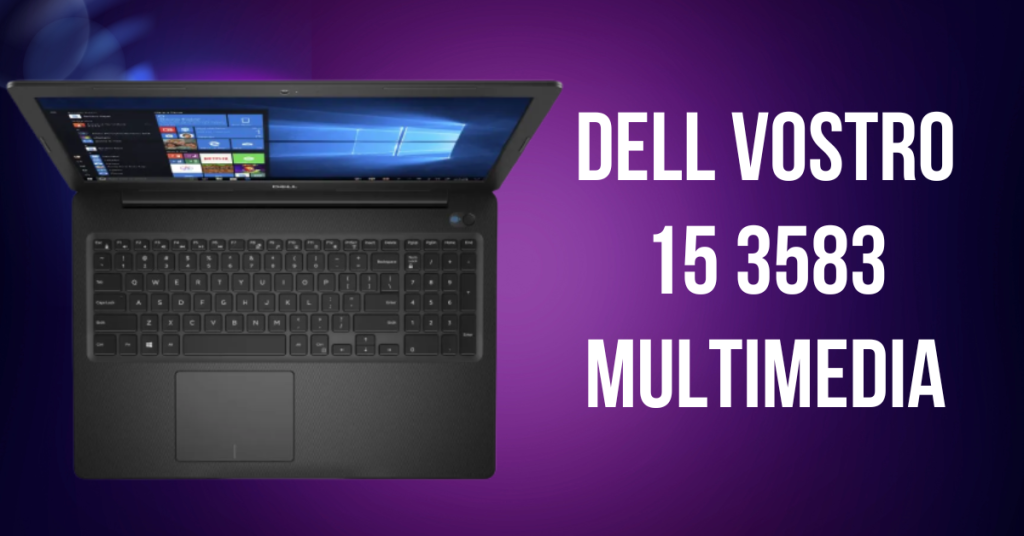 The Dell Vostro 15 3583 also includes a range of multimedia features. It has two built-in stereo speakers that produce clear and immersive sound, offering an enjoyable listening experience. The laptop also comes with an optical drive for CD/DVD burning and playback, and it supports audio formats such as WAV, MP3, and more. The laptop has a high-definition webcam for internet video chatting.
Dell Vostro 15 3583 Connectivity:
The device is equipped with a range of connectivity features – 802.11a/b/g/nac dual-band Wi-Fi, Bluetooth 4.2, two USB 2.0 ports, an SD card reader, and headphones as well as microphone jacks for audio input and output respectively. To make the most out of your internet connection and streaming, the laptop also supports HDMI output, allowing you to easily connect to your TV. These ports are neatly placed at the sides and back of the laptop, allowing quick and easy access. There is no chance of there being a lack of connectivity options with the laptop.
Dell Vostro 15 3583 Input Devices:
The Dell Vostro 15 3583 also offers its users neat input devices. The laptop comes with a standard full-size keyboard, complete with dedicated multimedia keys to easily access audio and video controls. In addition, it has an integrated touchpad that provides precise cursor control and enhanced user interactivity. Featuring a built-in webcam on the upper bezel, video calls and 720p videos are easily accessible.
Dell Vostro 15 3583 Memory:
The Dell Vostro 15 3583 comes with 8GB of RAM, making it suitable for heavy multitasking and everyday usage. It also has a large storage capacity to store all your files – 1TB SATA HDD. This laptop also supports up to 32GB of DDR4 RAM expandability, which allows you to easily upgrade the memory when needed. You can also add an SSD drive of up to 1TB for faster loading times.
Dell Vostro 15 3583 Battery: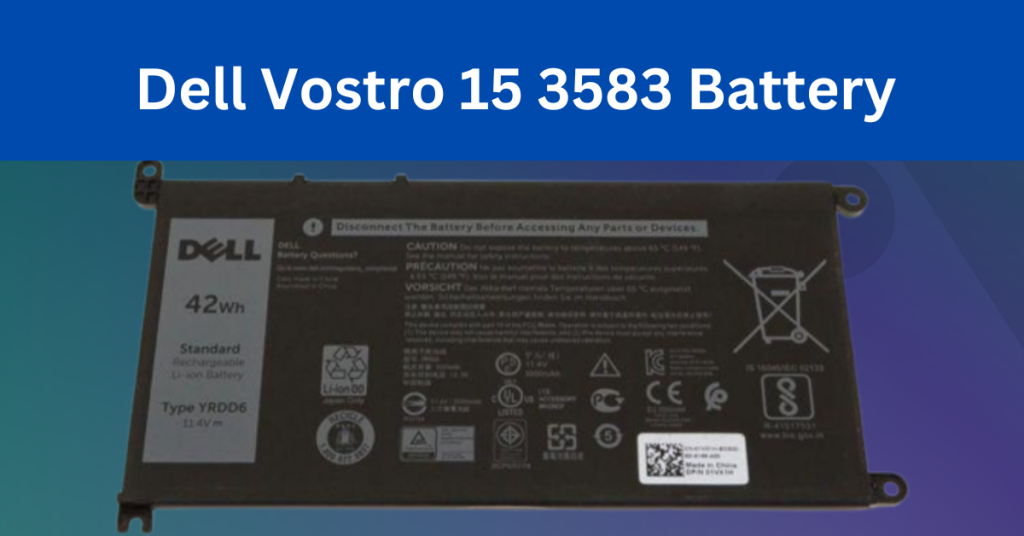 The Dell Vostro 15 3583 also provides great battery life, giving you up to 9 hours of usage time on the go. This laptop includes a 3-cell 42Whr Li-ion battery that keeps it powered up and running all day long. The power button at the top of the laptop is also conveniently placed for quick access.
This laptop comes with an in-built thermal management system that keeps it cool and running at optimal temperatures. This helps to protect your device from overheating and damage.
Dell Vostro 15 3583 Performance:
The Vostro 15 3583 is powered by the 8th Generation Intel Core i7-8565U processor, with a base speed of 1.80GHz and a max turbo speed of 4.60GHz for lightning-fast performance and multitasking capabilities. It also comes with integrated Intel UHD Graphics 620 for visuals that are as clear as day.
This laptop is perfect for gamers, video editors, and other professionals who require high-end performance. This might not be the most powerful laptop around, but it still sports a potent processor and extended battery life. Though keep in mind that this model is more significant than its peers, so factor that into your decision-making process when buying.
Dell Vostro 15 3583 Operating System:
The Dell Vostro 15 3583 runs on the latest Windows 10 Home operating system, giving you access to hundreds of apps and features that make your user experience more productive. You can also update the operating version from Windows 10 to 11 or from the home to the pro version according to your requirements.
Is Dell Vostro 15 3583 Good for gaming:
The Dell Vostro 15 3583 offers great performance and solid battery life making it a good option for gamers. Due to low-end dedicated graphics cards, it can't handle the latest AAA titles on high settings but with a few adjustments here and there you can play old and some of the latest titles on this laptop. It is not a gaming laptop in the true sense but it's good enough to fulfill casual gaming needs and that too with good battery life.
Overall, the Vostro 15 3583 is a great laptop for everyday use and casual gaming. Moreover, due to its size and weight, it might not be the most suitable for gaming on the go.
People consider it a professional laptop rather than a gaming laptop due to its size and structure. However, you can also use it for gaming purposes. It offers great performance, storage, and battery life making it a suitable option for gamers.
Is it Worth Purchasing Dell Vostro 15 3583:
The Dell Vostro 15 3583 is a great choice for professionals who desire powerful performance combined with laptop portability. It offers reliable performance, long battery life, and good multimedia features making it an attractive option. The laptop also comes with Windows 10 Home which gives you access to all the latest features and apps.
Overall, if you are looking for a laptop with great performance and portability, then this is definitely worth considering. It has all the features and specs you need to get your work done efficiently.
Dell Vostro 15 3583 Pricing:
This laptop is available at various price points, depending on the configuration you choose. The basic model starts at around $650, while higher-end configurations can go up to $1000.
Things to Consider Before Purchasing Dell Vostro 15 3583:
Before purchasing the Dell Vostro 15 3583, it is important to consider your budget and what you plan to use the laptop for. If you are looking for a lightweight professional laptop with great performance and long battery life, then this model is definitely worth considering. If you want a more powerful gaming experience, then you should look for a laptop with dedicated graphics. You should ensure that the laptop is equipped with enough RAM and storage capacity so that you don't have to upgrade in the future. Be sure to check the various ports available for connecting peripherals like external hard drives and other accessories.
Conclusion:
The Dell Vostro 15 3583 is the perfect laptop for individuals looking to buy a mid-range device. It contains truly impressive features, such as an incredibly fast processor, abundant RAM, and graphics card that offer seamless multitasking performance and lag-free gaming experiences with low-resolution games. However, this device disappoints in terms of its hefty body weight which may not be ideal at its current price range. The Vostro 15 3583 is a great laptop for those who want to buy an efficient and powerful device without spending a fortune.