Virtual Reality gaming has revolutionized the world and provides gamers with a whole new set of challenges and interactions. Further, the latest technological development and improved product features have also made it possible to enjoy the real-world experience in games. Currently, several cutting-edge gadgets and virtual reality enhancers have entirely transformed the gaming domain and provided gaming lovers with a new landscape where they can perform better and show their skills. This guide will look toward the comprehensive approaches and dimensions of virtual reality gaming in 2023.
What Is Virtual Reality Gaming?
Virtual reality Gaming refers to utilizing unique products and software-integrated components to enjoy the real-world game experience. Generally, it is a virtual world where you can feel, see, and hear common features in enhanced quality. Hence, it will take your experience to the ultimate professional level. Over the years, several companies and industries have made incredible efforts to scale this exceptional approach. As a result, several countries can design such gadgets that offer VR gaming. Still, certain flaws are present that need to be addressed properly for more exciting fun and entertainment.
Dimensions Of Virtual Reality Gaming In 2023
There has been a significant rise in VR gaming in recent years. Thus, different brands and industries are on their way to taking the gamers' experience to the next level by designing cost-effective strategies and ergonomic products. In the under-section, we detailed the changing and evolving dimensions of virtual reality gaming in 2023.
1 – Improved VR Gaming Hardware
Virtual Reality gaming is impossible without possessing essential gadgets with the required features. Therefore, gaming developers have directed their efforts to improve the quality of current ones and design new devices simultaneously. Further, they are also looking to add exclusive attributes to deliver a highly immersive experience. With the help of improved hardware structures and components, players can find a more realistic world that could be impossible otherwise.
In the under-section, we have listed some of the essential hardware features on which companies are working to improve the visual and VR experience.
Full-Track Suits: VR gaming is meant to deliver a top-quality real-world gaming sense. Thus, the developers are working to create full-track suits which you can wear to take full advantage of virtual reality gaming.
High-Resolution Displays: Companies are working to improve the quality of video pixels so that players will enjoy high-quality graphics. Additionally, the wider view field helps you have an immersive visual experience with maximum resolution. Besides, the improved refresh rates reduce video latency and ensure optimal synchronization.
Improved Motion-Tracking Systems: In 2023, the dimensions of virtual reality gaming have also been broadened to improve the motion-tracking system. As a result, the players can locate the game characters conveniently and enjoy natural phenomena.
2 – Software Development
Software development is primary in VR gaming as it directly relates to how the hardware will capture it. Catching its popularity and understanding its narratives, the industries have focused on integrating more complex components into software development to generate more natural gaming angles and views with adorable features. Furthermore, they are also working to create engaging gameplay mechanics with realistic graphics to expand the dimensions of virtual reality gaming.
Along with the developmental procedure mentioned above, the developers have also leveraged artificial intelligence and machine-learning algorithms to create more compelling, intelligent, and dynamic non-player characters. In this way, the players can find the virtual world more related to real life, enhancing playability. In addition, the procedural generation techniques have also made it quite easy for companies to focus on particular aspects of virtual reality gaming separately.
3 – Enhanced Accessibility
In 2023, the companies are looking forward to expanding the dimensions of virtual reality gaming by making them accessible. Therefore, they have developed easily acquirable and accessible gaming gadgets. The standalone VR headsets are on top of this list. You can purchase them from online stores and also from nearby shops. With this gadget, you can enjoy different games. For example, if you want to play cricket or a racing game, a headset will create a gaming scenario to enjoy an immersive world experience in real time.
Similarly, the developers have ensured the use of simple components which can be available to the general public with a low budget. It is truly a great approach to increase the users' domain. Analogous to these, cloud storage eliminates the need to download heavy software and acquire high-end devices, like smartphones, laptops, and other gaming products.
4 – Social VR Spaces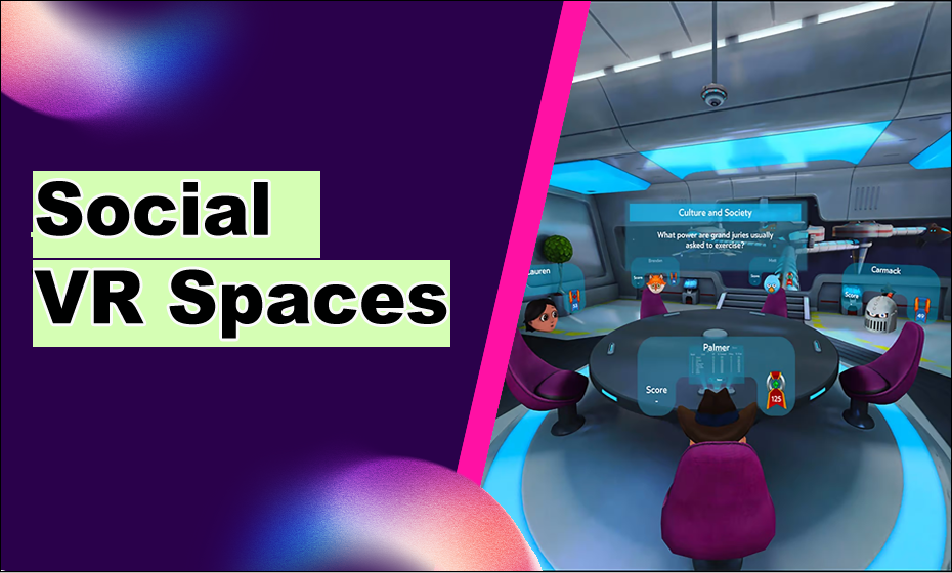 Certain industries have started implementing the social aspects to take virtual reality gaming to an incredibly advanced level. As a result, the players can communicate with each other effortlessly and play with each other to test their skills. Furthermore, they can interact through voice chats during the gameplay, which helps them enjoy the meetings in the virtual world. Additionally, the developers are generating a mechanism to allow players to interact with each other to do real-world activities together virtually.
5 – Augmented Reality Involvement
Augmented reality delivers a composite view of the real world with computer-generated images. On the other hand, the VR technique expands the pictures in 3 dimensions to allow real-life experience. Combining these two techniques has broadened the dimensions of VR gaming, ensuring players find themselves in a completely different environment. Moreover, the involvement of AR in VR gaming has transformed the gaming playground into a whole new scenario by enhancing virtual elements.
Final Verdicts
All these are the details about the dimensions of virtual reality gaming in 2023. In conclusion, there has been an extensive rise in the popularity of VR gaming. Considering this rising trend, developers have used numerous advanced techniques to design more innovative gameplay and enhance the visual elements. In this way, it allows the players to have a more immersive real-life experience in the virtual world. Besides, integrating Artificial Intelligence and Augmented Reality with enhanced accessibility and improved hardware promises to deliver more exciting fun than before. That's all about this guide. Stay tuned for more information!