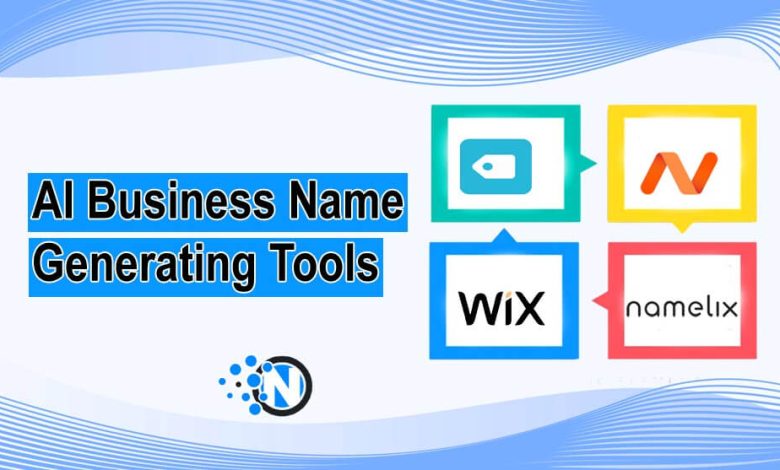 Business name generating tools have gained immense importance in the past few years because of the integration of Artificial Intelligence. Consequently, their performance is upgraded to the next level, and are providing brilliant services to the users. Considering this popularity and marketing requirements, numerous developers have launched their tools into the market, which results in excessive saturation. Thus, it is a lot more difficult for people to find the one. Therefore, we have developed this guide on the best 8 AI business name generating tools 
Best AI Business Name Generating Tools
Below, we have detailed the features of the best AI business name generator tools you can select for 2023.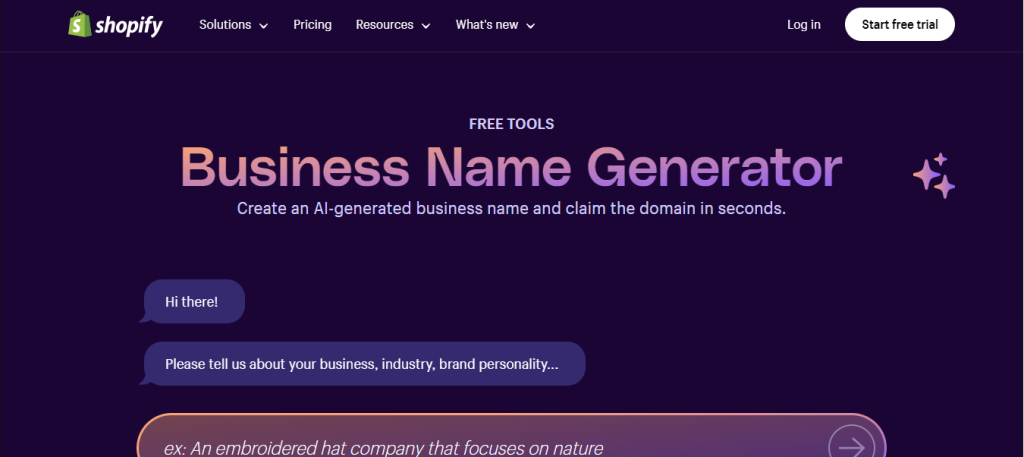 Shopify is one of the most impressive eCommerce website hosting platforms. Besides wonderful data storage space, it provides you with a comprehensive set of free tools to take your business to an advanced level. The Shopify business name generator tool is entirely free and allows you to find the name of your company with its enhanced AI algorithms. You only have to enter the main keyword, and it will suggest some brilliant names to be incorporated into your domain. Hence, you will receive a unique identification in this modern competitive world.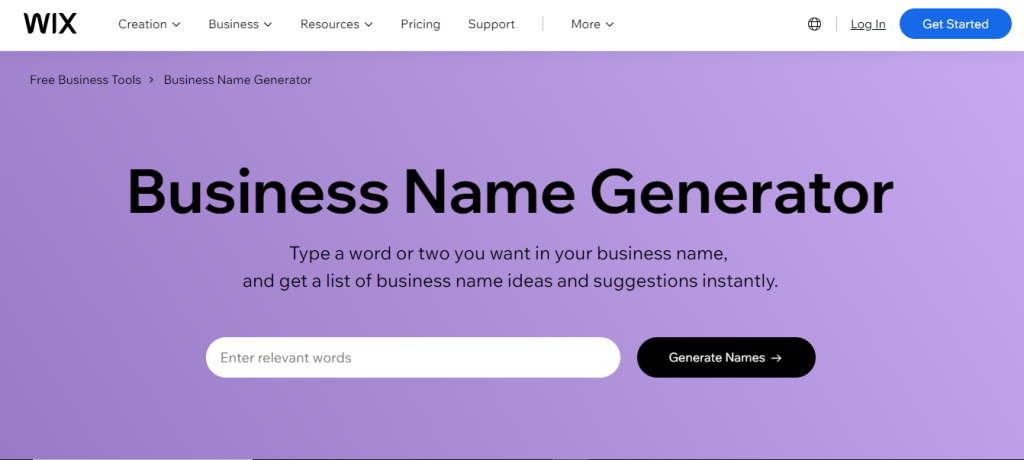 Wix has also made its entry into this rundown for its brilliant business name generator tool. In the past two years, this platform has gained enormous importance in the online world because of its several high-end attributes. It uses the GPT 3.5 version of artificial intelligence to come up with different suggestions and names. Also, it understands your brand vision and delivers insights regarding the other aspects. The key features of this tool are:
Personalized Suggestions: You can easily put the details to find the more customized suggestions that resonate with the preferences of your business.
Domain Availability: Also, you can check the domain availability. In this way, you can determine whether you can have the official website.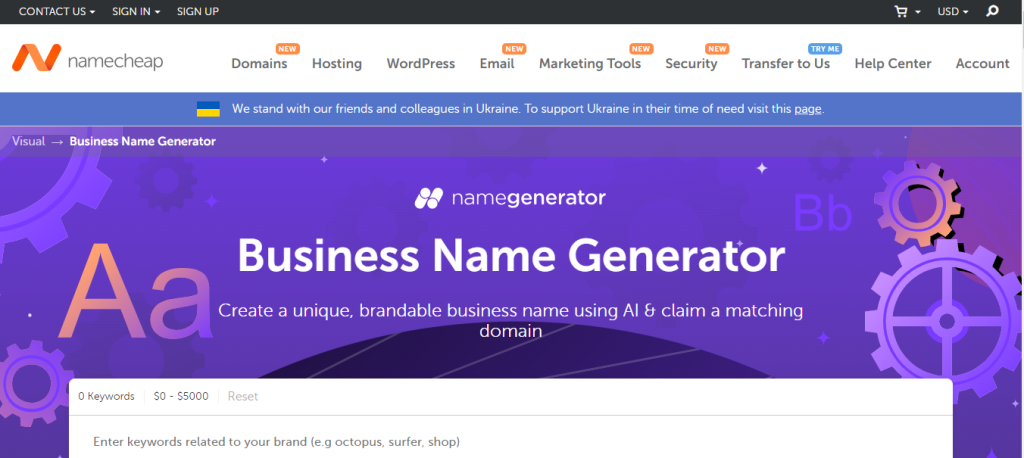 Most people will be astonished by seeing Namecheap in this list because this platform has made its mark among the best domain and hosting providers. However, the developers have expanded their branches to integrate several other tools into their infrastructure. Consequently, you can get AI suggestions for creating compelling business names. In addition, this platform allows you to check the availability of the relevant domains at relatively lower prices. Furthermore, you will get a free SSL certificate. Other advantages are:
Extensive Suggestions: Unlike other platforms, Namecheap offers extensive naming options, including short, moderate, and long.
Cost-effectivity: If you find the right business name and want to build the website, Namecheap offers cost-effective domains and hosting.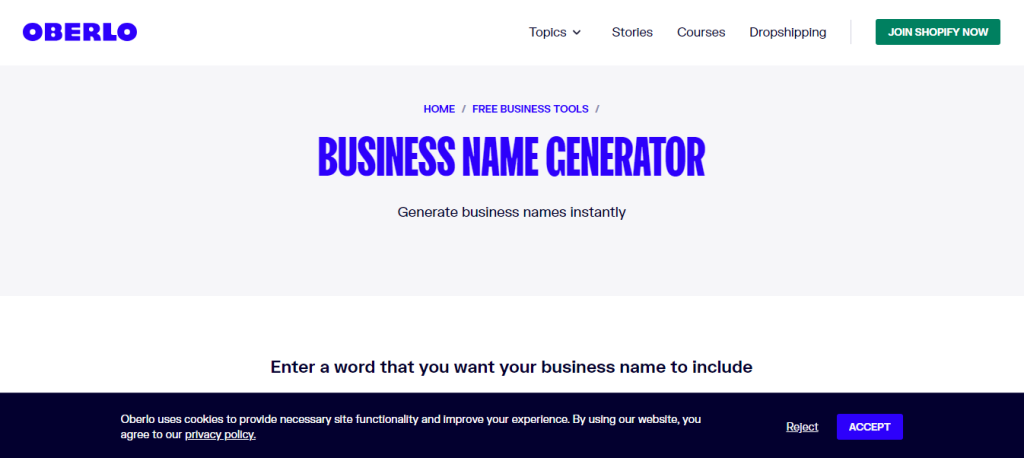 Oberlo also provides you with the exact offers and functions of Shopify. Nevertheless, the best thing about this platform is that it is designed primarily for eCommerce business owners. You can generate amazing names for your online store as well as for retail business. Consequently, this unique identity will help you flourish well in this highly competitive landscape. Other benefits of Oberlo are the following.
Quick and simple name suggestions
You can check domain availability simultaneously.
The platform is highly easy to operate.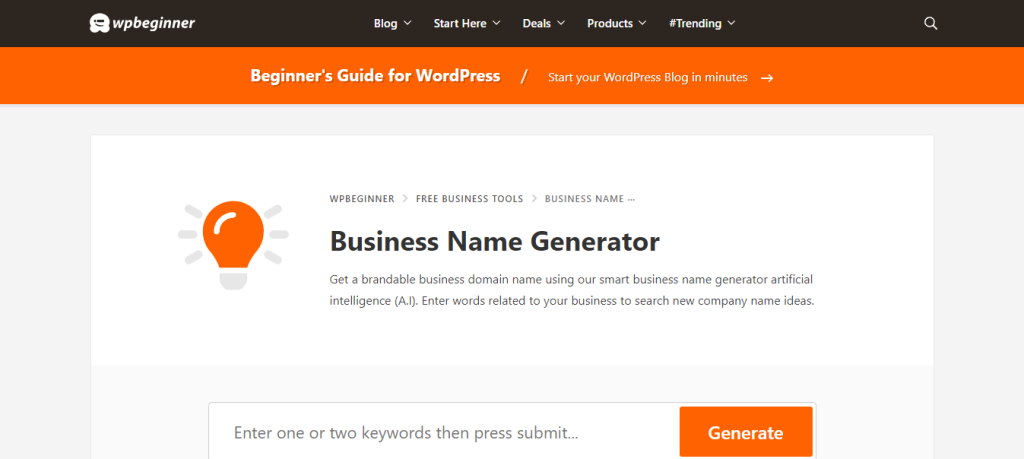 The Wpbeginner has earned fame as one of the best free WordPress resource sites for beginners who want to polish their skills and authorize their dominance in the market. With the passage of time, the developers have put extra effort into taking the standard of this brilliant website to an advanced level. By providing the business name generator tool, they have opened the door to their millions of users to find the best names for their company. Another brilliant perk of this tool is that it is completely free to use. Just reach the official page of the website and enter your keyword into the tool. Then, it will provide yu with brilliant naming suggestions.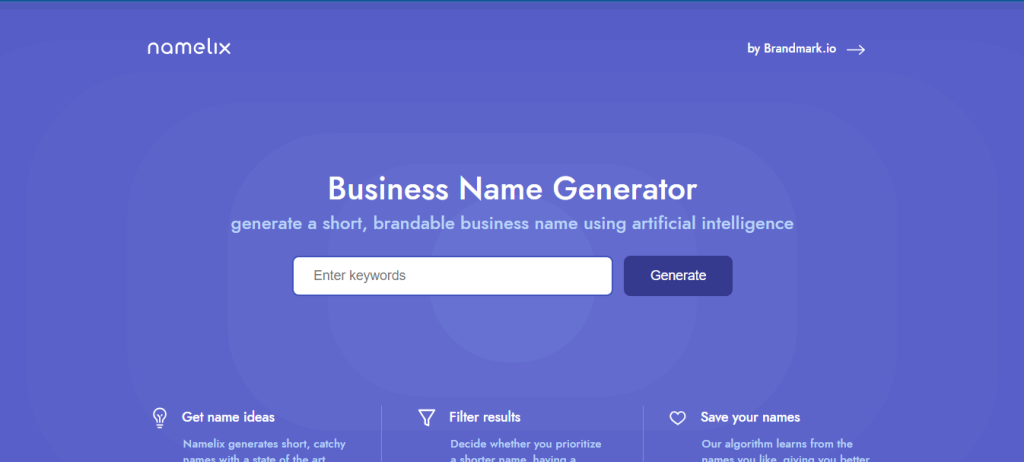 Next, we have enlisted Namelix among the best AI business name-generating tools. It is the simplest tool to be added to this rundown. The site owner has focused greatly on the usability and simplicity of this tool. Consequently, every user can operate it and get more personalized suggestions regarding the naming of their company. You can also utilize the potential of this amazing tool if you have launched your company recently. In addition, you can get the following advantages.
Quick name suggestions
Filter the data for industry-relevant names
Premium plans available for better outcomes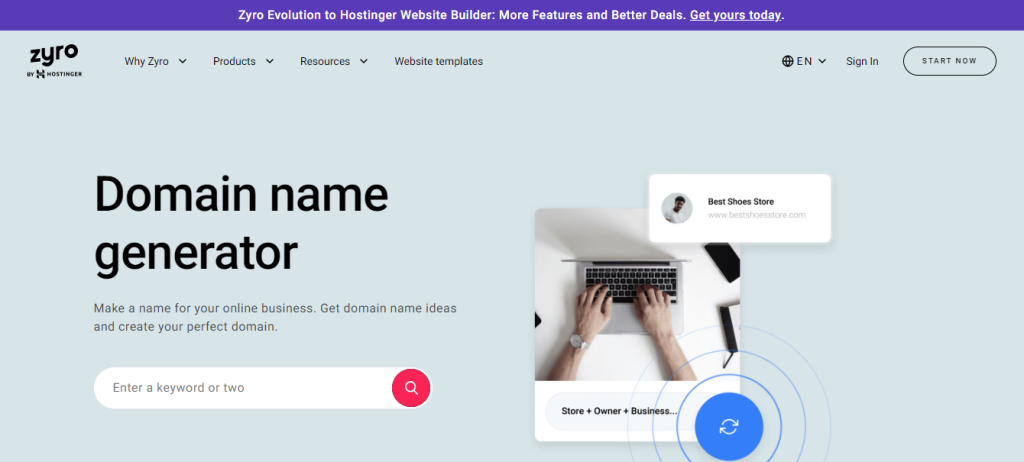 Zyro is a versatile business name generator tool that helps the user to create catchy and memorable names for their users. They incorporate several algorithms to ensure name generations that are not only simple but also match linguistic preferences. In addition, you can make sure that the names generated are aesthetically pleasing. Businesses that are at the real start of their marketing journey can leverage the potential of this site. By blending the unique keywords with compelling suggestions, you can have a variety of options to choose from.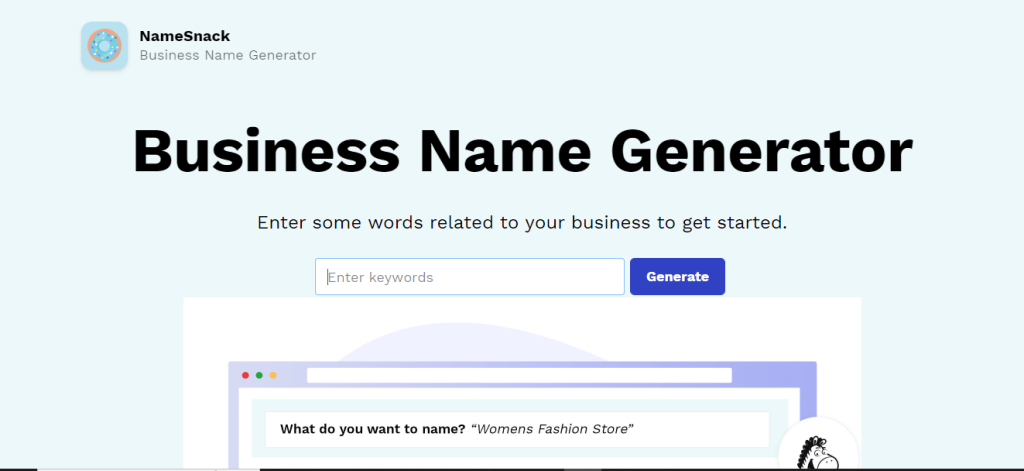 Lastly, we have enlisted NameSnack in this list of the best AI business name generators. It is present here due to its extremely simple interface and name suggestions technique. The platform features GPT 3.5 version with GPT 4 coming in the near future. Based on these features, this tool offers a practical choice for humans and company owners in their business name-creation procedure.
Final Verdicts
It is not easy for anyone to pick the right business name generator for his company because not all of them provide the same outcomes. However, Artificial Intelligence has paved the route to more functional tools that can deliver the best outcomes in 2023. Not everyone can provide you with the proposed outcomes. But the top 8 listed in this guide are the result of extensive exploration of the web. So, you must check them and determine the one that can easily be accessed from your area. Further, previous experience matters a lot.