Software
Top 11 Collaboration Tools For Productive Teams
The best collaboration tools make it easy and quick to work in a team on an extensive range of tasks. It isn't effortless to select the best suitable collaboration tool nowadays.
What is a Collaboration Tool?
The best collaboration tool allows teams to work together. The main thing about collaboration is that you will get better efficiency and productivity when using the best tools in your place. You can select your tool by analyzing your team size, project type, and requirements. It allows teams to work remotely and in real-time. A collaboration tool can be simple, like Google Docs, or comprehensive project management tools.
Top 11 Collaboration tools for productive teams
Below are listed the top 10 picks of the best collaboration software available in the market for employees and teams working in mid-level and large companies.
Asana
Flock
Slack
Microsoft teams
Monday.com
Airtable
Wrike
JIRA
Trello
Podio
ProofHub
Asana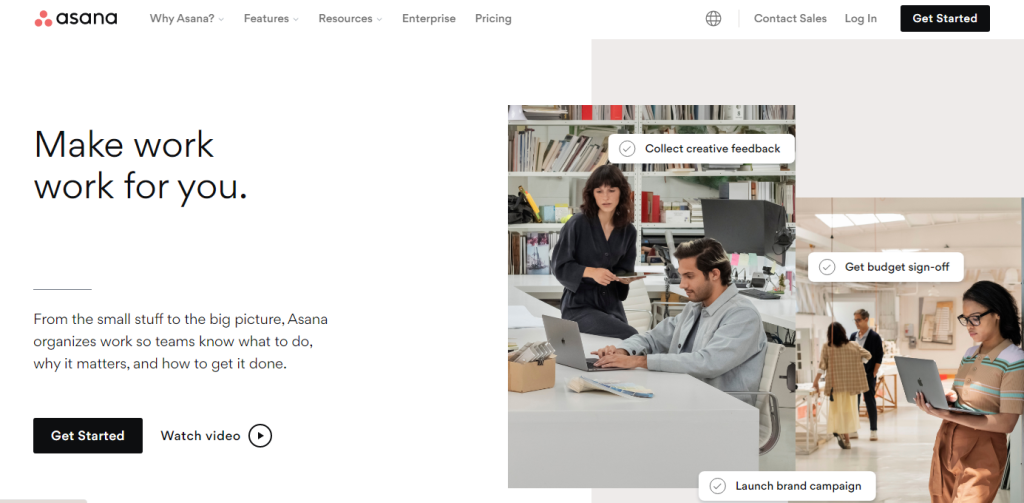 Asana is a flexible SaaS tool with a focus on collaboration. It helps the teams collaborate on tasks from all projects by combining team communication and project management. The tool is not just for the teams' productivity but also focuses on getting projects done. You can use a customizable view to see specific projects' progress.
It enables you to map out your project as a Gantt chart. You can make arrangements for steps and monitor the workload of every part. Asana has various combination tools like Adobe creative cloud, Slack, Microsoft 365, Gmail and many more.
Features
Project management estimation
Workflow builder
App integrations
Automation
Timeline and reporting
Workload
Flexible & best Kanban boards and goals
Desktop and Mobile apps
Calendar
Customizable templates
Pros
Asana provides a user-friendly interface as it is designed highly instinctive.
It combines many collaboration tools, which makes it highly integrated.
The project management tool focuses on collaboration between task management and collaboration features.
It makes sure task management is organized and efficient.
Pricing
Basic plan: Free trial for up to 15 users
Premium plan: $10.99 per user/month
Business plan: $24.99 per user/month
Enterprise plan: Custom pricing
Flock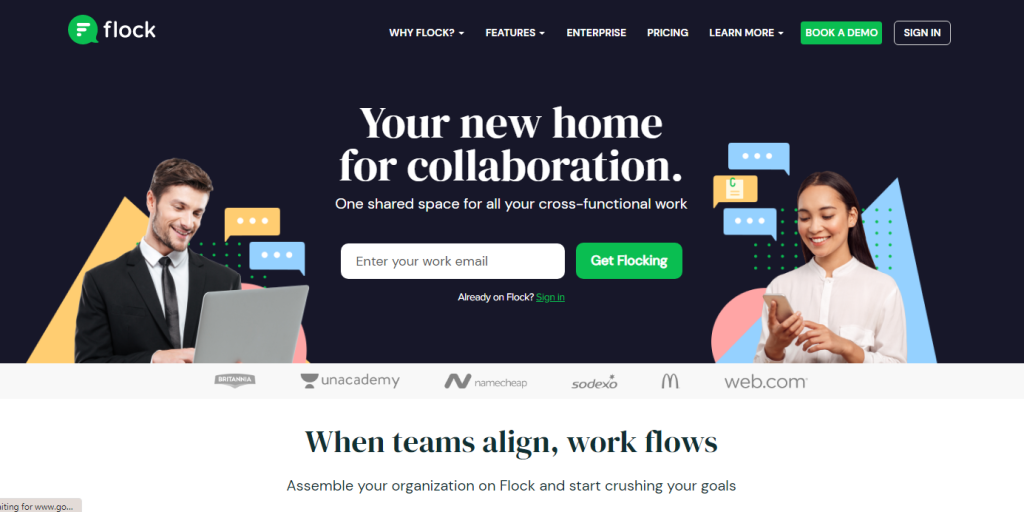 Flock is one of the best online collaboration tools that organizations of all sizes and ventures trust. The main focus of the cloud-based tool is to work on a more streamlined type of communication for its employees. It is the solution that can fill the communication hole in your organization. The organizational teams can work on built-in features like group discussions, surveys, and shared tasks. It also communicates with other apps such as Trello, Google Drive, Asana and more.
The teams get more productivity when they finish their work using Flock. Users can create projects and tasks, email reminders and look for essential comments or files. The software helps teams to schedule video and audio calls. You can show the clients what you are working on in your organizations.
Features
Direct and team messaging
Video conferencing and screen sharing
File-sharing
Advanced search
Guest management
Announcements and directory
Auto-generated mailing lists
To-dos
Pools
Notes and reminders
Share code snippets
Process automation
Integrations
Pros
The platform provides more accessible communication as the main goal is to allow a messaging channel for groups everywhere.
You can use built-in tools that provide excellent efficiency to get your work done.
It gives you to do secure communication equipped with advanced features like data encryption and privacy practices.
The teams can collaborate by using an extensive list of integrations.
Pricing
Starter: free
Pro: $4.50 per licensed user
Enterprise: Custom pricing
Slack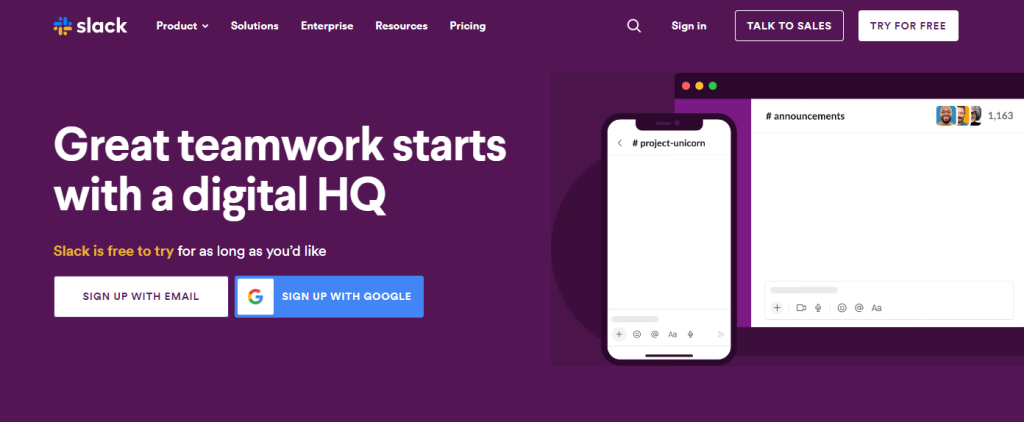 Slack is a well-known instant messaging (IM) software that big companies like Lyft and NASA use. It includes many integrations and tools that can be useful for organizations. You can use it as a cloud-based collaboration system that allows you to use all the services to meet the collaboration expectations. The main focus is to integrate a wide variety of services from Dropbox and Google Drive to Salesforce and Zoom, which many organizations use.
Millions of users are using it in their businesses globally. It is a responsive platform that can support any screen size, like a desktop or smartphone. The software can channel multiple conversations. Teams can collaborate using video calls, direct DMs and file-sharing. You can talk about a project by texting your employees, but it is not a replacement for cloud-based storage services.
Features
Project-friendly structure
Integrate your other tools
Simple and automated reminders
Task list management
Easy note-taking
Collaboration with posts
Powerful search capabilities
Custom shortcuts and slash comments
Audio and video calls for teams
Useful bots
RSS feeds
Pros
Slack helps to save time by allowing teams to search important subjects and files for organizations.
It is the most organized tool that helps create channels that increase workflow and communication.
The platform permits you to paste announcements, task guidelines, and materials inside your team.
The team can access it using desktops and smartphones.
Pricing
Free: $0 per month
Pro: $6.67 per month
Business+: $12.50 per month
Enterprise Grid: Contact sales
Microsoft teams
Microsoft teams has a significant contribution to the collaboration. The platform provides remote working, meeting, call and team-up all at the same place. It is a new date tool, bundling together numerous Microsoft items such as Skype, Office 360 and OneDrive.
It is the best tool for a modern scenario where teams can easily do screen sharing with others. If you want to show your success on an assigned task to your team, then Microsoft teams should be your pick. You will be allowed to use multiple features like document sharing, online meetings, calling, and more.
Features
Direct and team messaging
Team and channels
Chat functions
Built-in Office 365 apps
Document storage in SharePoint
Online video calling and screen sharing
Online meetings
Advanced search
Directory
Integrations
Live events
Pros
The platform is an excellent choice for those using Microsoft tools.
It has a decent pricing plan with free chat functionality.
Pricing
Free: free for only chat
Business Premium: $12.50 per month
Office 365 E3: $20 per month
Monday.com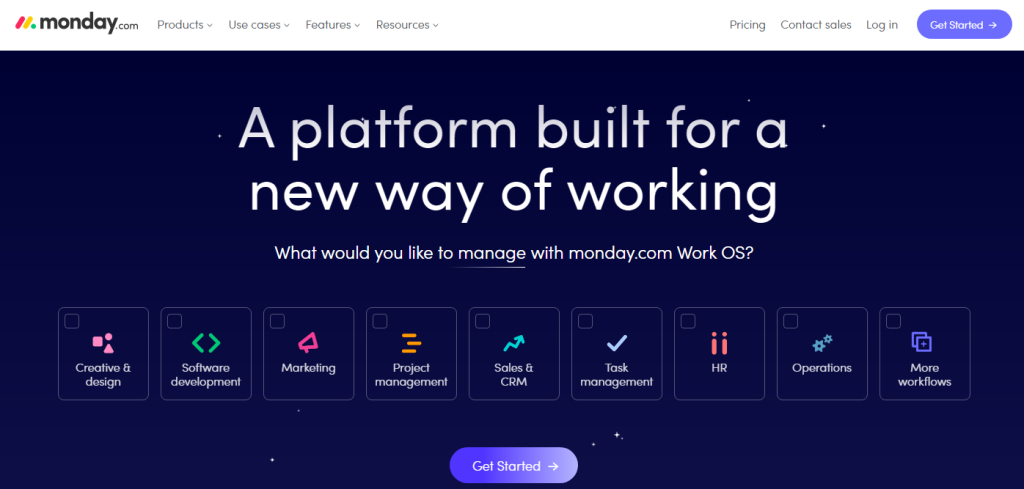 Monday.com is undoubtedly one of the best collaboration tools that are easy, friendly and intuitive. You can communicate the processes by using the platform.
It offers team and collaboration features with a variety of multiple project trackers and file-sharing capabilities. The platform provides Kanban, form and calendar views, file sharing and workflow automation.
Features
Customizable project tracking
Cantt chart and Kanban
Boards and columns
Checklists
File view
File-sharing
Desktop and mobile
Integrations
Process automation
Pros
The tool helps to analyze your virtual team productivity using a built-in time tracking column.
You can use multiple views like Files view, Kanban view, Form view and Chart view for your boards.
It helps visualize project progress using Gantt charts.
You can use the mobile app of Monday.com to manage your team's progress on the go.
Pricing
Free: $0 with a free trial
Basic: $25 per 5 users/month
Standard: $39 per 5 users/month
Pro: $59 per 5 users/month
Enterprise: custom pricing
Read More:
Airtable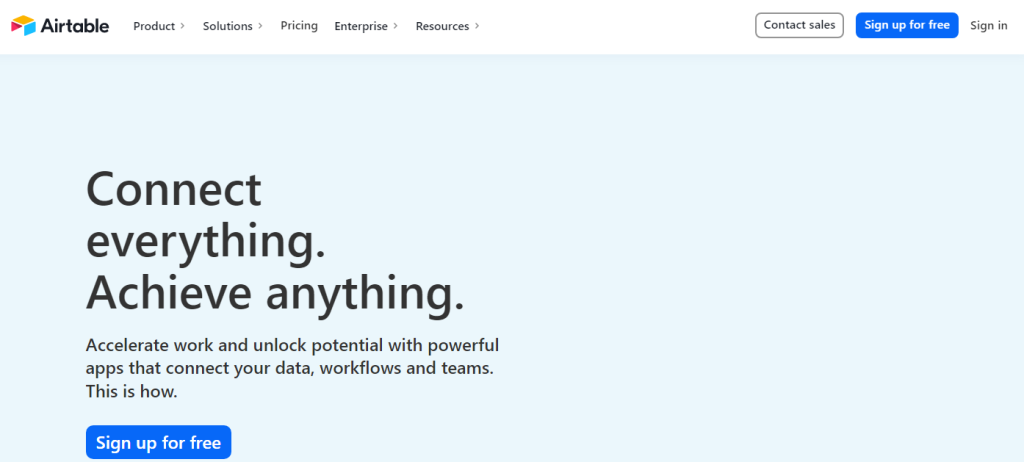 Airtable is an easy-to-use collaboration tool that combines database and spreadsheet tools. The software can manage inventory data, track lists and build temporary CRM software. It can generate management apps that help to integrate the platform with other tools like Dropbox, Basecamp and more.
You can add records and databases to a table. It provides a default grid view for platforms' workspaces.
Features
Customized fields
Filtering and sorting
Customized view
Document storage
Task management and tracking
Integrations
Data synchronization
Links records between tables
Pros
It is flexible for all kinds of businesses because of its user-friendly interface.
You can easily share files and Airtable data using a desktop or smartphone.
Pricing
Free: $0
Plus: $10 per month
Pro: $20 per month
Enterprise: Custom pricing
Wrike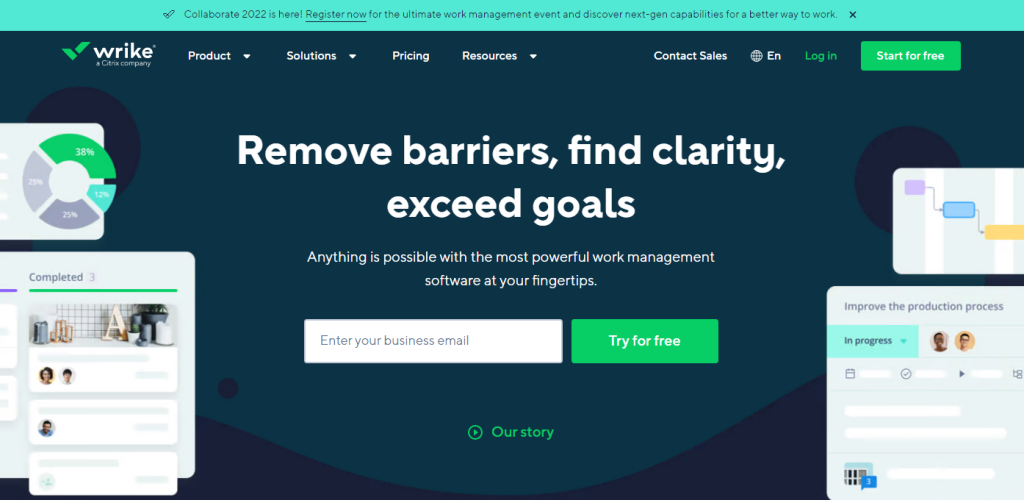 Wrike is one of the best quality collaboration tools that help all teams across the hall and the globe. The platform supports the team to work easily, quickly, and efficiently by collaborating with the other team members.
It provides multiple teams to work together flexibly and effectively. You can schedule the teamwork in real-time using the software. It is used by many companies like EA Sports, Adobe, Stanford University, etc.
Features
Task management
Time tracking
Integration
Workload management
Task prioritization
Desktop and mobile apps
Apple Mail Outlook add-ins
Document collaboration
Real-time newsfeed
Interactive timeline
Pros
The main benefits are features, ease of use, and security.
You can track project progress using mobile apps.
It offers high-security measures that only authorized persons from the database can access the data.
The navigation is user-friendly, and an employee will get everything in one place.
Pricing
Free: $0
Professional plan: $9.80 per month
Business plan: $24.80 per month
Enterprise plan: Contact sales
Pinnacle plan: Contact sales
JIRA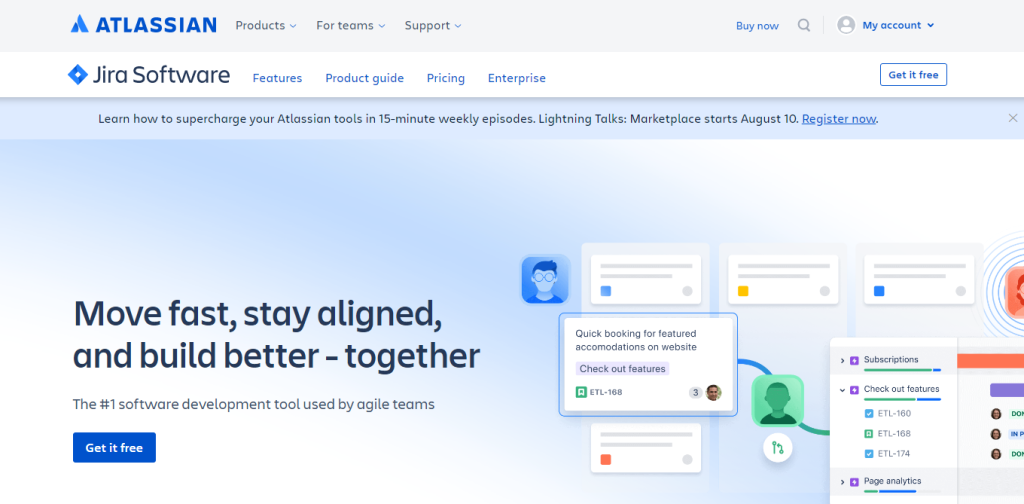 Jira is a bug tracking and project managing software that helps users to define, assign and set work priorities. The platform's primary purpose is to help you manage agile and scrum teams, organize project tasks and record issues.
It helps to manage app development and generate ideas. The teams will enjoy effective collaboration, which will help them to get the work done.
Features
Manage your work with agile boards
Custom workflows
Reports and insights
Project flexibility
Drag and drop automation
Security and scaling
Mobile applications
Kanban boards
Roadmaps
Pros
The software is built for agile and scrum management.
It is highly customizable and great for issue management.
You can track agile projects using user stories, story points, and sprints.
Pricing
Development: starts at $20 per 10 users/month
Service desk: $20 per 10 users/month
Projects: starts at $10 per 10 users/month
Trello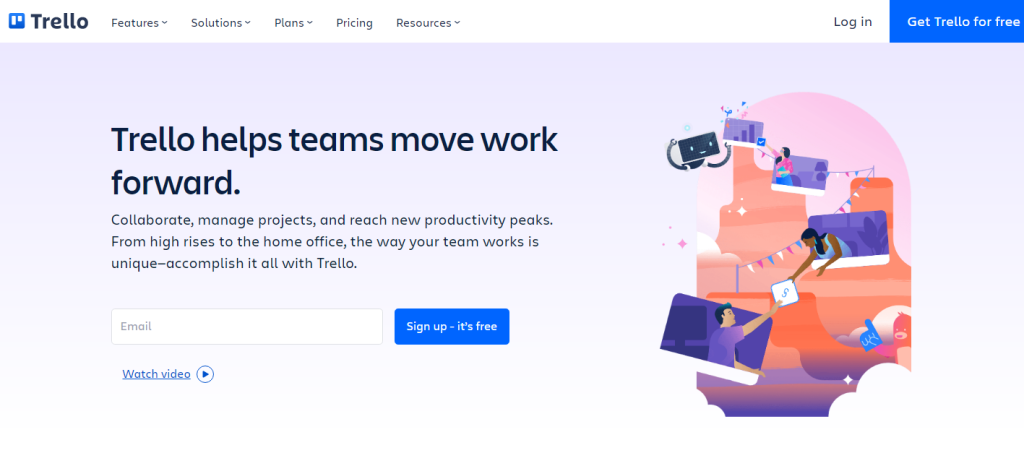 Trello is a collaboration tool that is world famous for its Kanban board style. The teams can view their workflows, create and assign tasks, collaborate, and communicate. The tool is a cloud-based solution that helps users define projects, requirements and workflows. It organizes tasks into boards which allows a peek into ongoing studies. The special teams use cases which is helpful for remote working.
Features
Drag and drop features
Team management
Design tracking
Marketing and productivity
Butler feature
Cards features
Trello boards
Integration features
Pros
The platform is ideal for agile workflows.
You can use a Trello board to see what they need to do, their to-dos and potential bottlenecks.
It has been used for everything because of comprehensive cases with Trello boards.
Trello is perfect for effective communication with Trello cards.
Pricing
Free: $0
Standard: $5 per month
Premium: $10 per month
Enterprise: $17.50 per month
Podio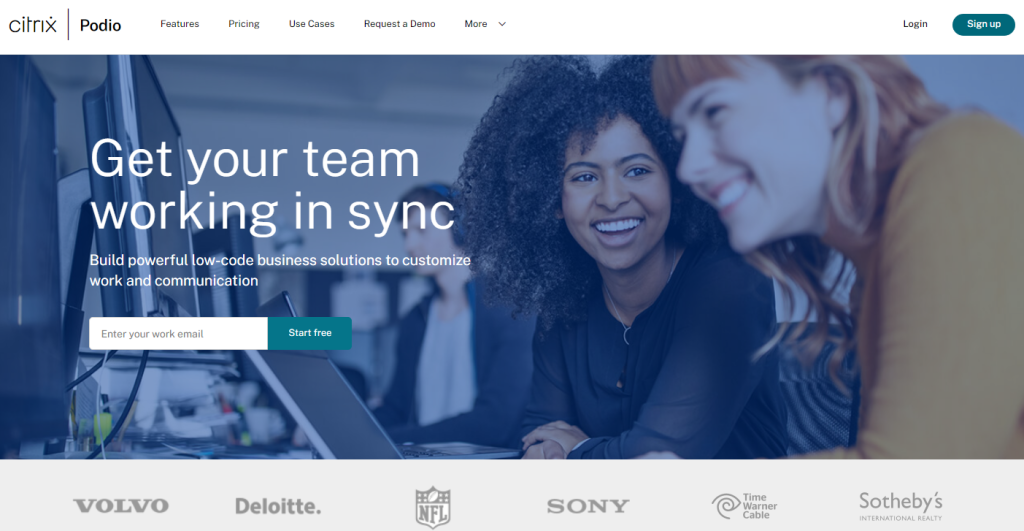 Podio is a collaboration tool that helps teams to communicate while doing tasks. You can align your task, messages and processes in one place. It allows teams to share data, customer support items and marketing tools. There are multiple features that Podio offers, like task management, automated workflows, scheduling tasks, etc. The software will provide you with a virtual workspace for your tasks.
Features
Task management
Apps and workspace
Unlimited items
User management
Unlimited external users
Light user role
Automated workflows
Read-only access
Visual reports
Dashboards
Pros
The website is customizable, which helps teams to perform many tasks very efficiently.
It provides granular admin that has access to the environment and adjustments.
Pricing
Free: $0 per month
Basic: $7.20 per month
Plus: $11.20 per month
Premium: $19.20 per month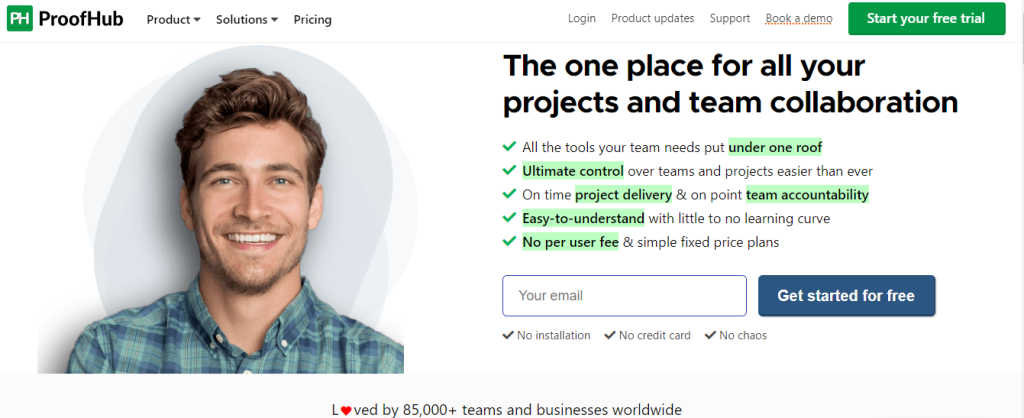 A highly customizable and versatile tool, ProofHub allows both in-office and remote teams of all sizes from any industry to achieve hassle-free collaboration on tasks and projects from a common, shared platform.
The tool offers a host of work management and communication features, like Instant chat, Kanban boards, Gantt charts, time tracking, Discussions, Notes, Real-time updates, Announcements, etc., that enable users to effectively coordinate on work to ensure timely completion and delivery.
A simple learning curve, advanced features, and intuitive interface make ProofHub a trusted collaboration for more than 85,000 teams and businesses across the globe.
Features
Online proofing
File sharing
Instant chat
Task management
Table view
Real-time updates
Announcements
Multilingual interface
Scheduling calendar
Discussions
Pros:
All the tools your team needs put under one roof
Teams can customize their workflows to fit their work structure
ProofHub is easily accessible across various devices, which allows teams to collaborate from anywhere
Multiple views (Gantt, Kanban, Table, Calendar) enable users to organize, filter, and track their work
A list of smart communication features encourages seamless collaboration among users
No per-user fee & simple fixed-price plans
Pricing:
Essential : $45 per month when billed annually, unlimited number of users
Ultimate Control: $89 per month when billed annually, unlimited number of users