Microsoft Teams helps you enhance a collaborative work culture in numerous ways, allowing you to enjoy ergonomic benefits. With the help of this platform, you can actively communicate with your team members to convey messages. Furthermore, the benefits reach sky-high when it comes to communication with remote workers. Consider leveraging this platform if you also run a business where your workers are dispersed in different geographic locations. We have developed this guide to help you learn about the ways Microsoft Teams can help you build a collaborative environment to carry out necessary operations.
What is Microsoft Teams?
Microsoft Teams is a collaborative communication and productivity platform developed by Microsoft. Serving as a centralized hub, it offers people different options, like chatting, sharing files, and collaborating on documents. In addition, you can conduct virtual meetings with your contacts to have a more precise conversation with them.
The easy-to-operate interface allows users to integrate third-party tools, like Microsoft 365, for more productive outcomes. To allow businesses to have a strong collaborative environment, the developers have added numerous features, like text-based chats, voice calls, video conferencing, and screen-sharing options. Moreover, you can customize the access to ensure real-time collaboration on documents. Hence, it can be one of the most powerful tools for enhancing organizational productivity and teamwork.
Ways Microsoft Teams Enhances a Collaborative Work Culture
In the under-section, we have elaborated on the important ways Microsoft Teams can work to enhance a collaborative work culture.
1 – Unified Communication
As described previously, Microsoft Teams offer a one-stop solution for all messaging needs. Combining text-based chats, voice calls, video conferencing, and other options, this platform offers versatility and streamlines interaction without hassle. Furthermore, it offers users to communicate through different channels to find the most effective way to converse. In this way, they can send their messages more precisely and accurately.
2 – Team Collaboration Spaces
Another amazing feature of Microsoft Teams is that it allows you to create groups and channels effortlessly. Utilizing this feature for business activities, you can divide your workforce into segments to work on different projects simultaneously. Create a separate group for each Microsoft project and add specific employees. Later, ensure them that they must focus on their project. As a result, you can boost the productivity and efficiency of your company and take it to an advanced level.
3 – Integration with Third-party Apps
Microsoft Teams features flexible infrastructure and allows the integration of several third-party applications. One of the most famous examples is Microsoft 365. You can add this tool to the teams to create and edit different files. For example, you can utilize Word to prepare important documents by using the interface of Teams. Similarly, Excel sheets can be made to schedule essential tasks. Besides, project management software and time-tracking apps are useful for completing different projects on time.
Read More: Best Microsoft Alternatives for 2023
3 – Real-time Collaboration on Documents
In the previous section, we already mentioned that you can utilize the interface of Microsoft Teams to operate Microsoft 365 tools. It could be significantly surprising for some individuals that you can allow access to other workers to edit the document and add their insights and experience. Consequently, they can generate more functional ideas to finish the tasks readily. This real-time collaboration also boosts the company's productivity, promising to deliver long-term benefits.
5 – Virtual Meetings and Webinars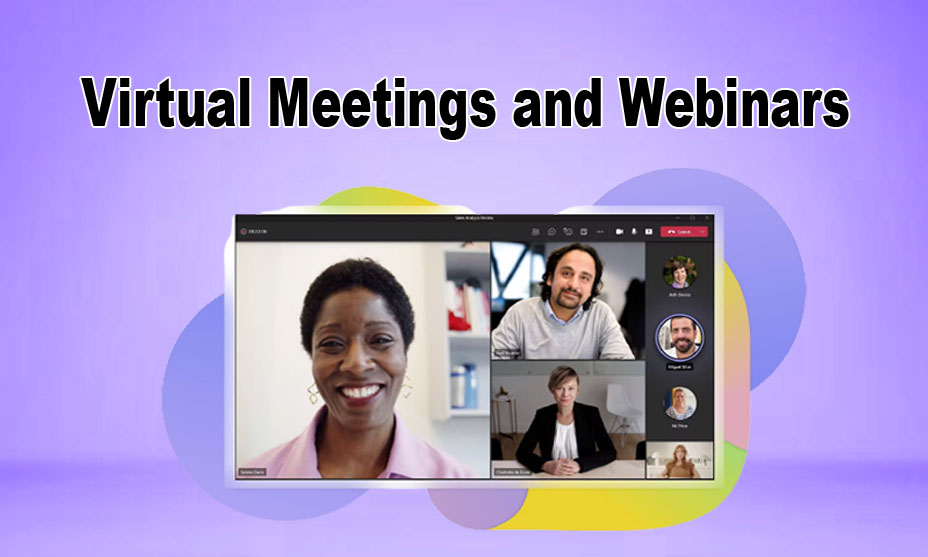 Since its launch, Microsoft Teams has been the top choice for businesses to collaborate with its team through virtual meetings and webinars. Although Zoom also provides the same service, Teams has certain exclusive and additional features. That's why it has dominated Zoom and all other relevant platforms. You can schedule the meeting at a specific time, and by sharing the link, you can add specific users. Further, you can set up webinars to reach the general audience and share your thoughts for recruiting more users or other purposes.
6 – Screen Sharing
Screen sharing is not a new or exclusive feature of Microsoft Teams, as numerous other platforms also offer the same. However, some characteristics and attributes have enabled it to surpass all the other contenders and help it stand at the top. By sharing screens with your team members, you can deliver better insights to them about your project or next goal. Above all, you can also allow team members to participate by giving access to them. As a result, they have the freedom to deliver their ideas to get more significant outcomes.
7 – Persistent and Searchable Chat
Another exceptional characteristic of Microsoft Teams is its persistent and searchable chat options. You can learn about previous conversations and discussions even after a long time passed. It means you can access important information and details in a chat anytime without difficulty. Microsoft Teams is a cross-platform tool allowing you to use it on different devices so you can easily retrieve essential information.
8 – @Mentions and Notifications
Microsoft Teams allow @ mention feature in the group chat or virtual meetings. In this way, you can highlight specific users to perform the desired task. One associated benefit is that the tagged user will get notifications, enabling him to respond timely to the business owner. Hence, he can save himself from getting punishments for late replies.
9 – Security and Compliance
Microsoft Teams is one of the most highly trusted and secure platforms currently working in the market. The Microsoft Corporation has built a sturdy infrastructure to protect users' data. Additionally, the developers are active 24/7 to make necessary changes in case of an emergency.
Final Verdicts
Microsoft Teams can streamline your workflows and improve the productivity of your business by creating a positive and engaging workplace environment. It serves as a unified platform where company workers can collaborate with each other, fostering seamless communication and efficient teamwork. Its immense array of features, third-party app integrations, and security measures make it an essential tool for organizations looking to enhance their collaborative work culture. By completely understanding its interface, businesses can create a positive and engaging work environment to drive more success and innovation.