In this highly competitive landscape, the Lenovo Ideapad 330-15 AMD laptop is making its way to the market for its high-end features and attributes. Although different tech giants have played exceptional roles in providing reliable products to computer or laptop enthusiasts, Lenovo has been a prominent player best known for its innovative designs. The Ideapad 330-15 is one of their latest products powered by AMD technology. Furthermore, many other high-quality characteristics make it highly useful for people in every industry. In this article, we will look into this high-end laptop's specifications, features, and pricing.
Lenovo Ideapad 330-15 AMD Specifications
Laptops or computers were popular only for gaming and entertainment purposes in the past. They have gained enormous importance for business owners and digital nomads because they can perform their crucial operations with them. Many companies, for example, Dell, HP, Acer, and Apple, have launched their brilliant devices in the market, and Lenovo is no exception. The Lenovo Ideapad 330-15 AMD specifications are elaborated on in the following section, showcasing that it is highly efficient for freelancers as well as for gamers.
| | |
| --- | --- |
| | |
| Processor | AMD Ryzen 5 2500U Quad-Core Processor |
| Graphic Card | AMD Radeon Vega 8 |
| Battery | Li-Battery |
| Memory | DDR4 8GB (Minimum) |
| Storage | HDD (Customizable), SDD (256 GB) |
| Audio | Dolby Audio |
| DVD Drive | Yes |
| Battery Life | Up to 5 hours |
1 – Processor
Lenovo Ideapad 330-15 AMD laptop is not ideal for gaming because it features an AMD Ryzen 5 2500U Quad-Core processor. Although it perfectly balances power efficiency and performance, you cannot run games like GTA 5, Forza Horizon, etc., on this laptop. The processor showcases the base clock speed of 2.0 GHz and the ability to receive a turbo boost of up to 3.6 GHz. Thus, you can multitask, handle everyday tasks, and comfortably enjoy light gaming. This specification is best for use as an office laptop or for working as a student.
2 – Graphic Card
We already mentioned that Ideapd 330-15 is not meant for gaming. It features an AMD Radeon Vega 8 graphics card, which is the best option currently available to deliver enhanced pixels of videos and images. Moreover, it is enough for casual gaming and running low-end titles. Old game lovers can also utilize the power of this Lenovo Ideapad 330-15 AMD laptop. If you are a digital nomad with a music taste simultaneously, you can own this product, as the 128-bit memory interface is suitable for multitasking. The decent graphics performance is enough to run almost every tool and application without lagging.
3 – Battery
One central area of concern regarding the laptops is their battery. Most of the options available are not trustworthy in this aspect. That's why you must research heavily to have your hands on the product with improved battery life. So you can complete your tasks without charging your device multiple times. The Lenovo Ideapad 330-15 AMD laptop features a Lithium battery that can be recharged quickly. Hence, it would be an excellent choice for business owners who often need to visit different places and locations to scale their growth. Another benefit of lithium batteries is that you don't need to consider a replacement every few months for their sturdy nature.
4 – Memory
Memory or RAM directly impacts the performance capabilities of a tech device. The RAM must complement the processor to make a computing gadget highly efficient. So, you can run all the applications in no time or without any lag. Considering this, the Lenovo Ideapad 330-15 AMD laptop showcases DDR4 RAM with a base memory of 8GB. It is super efficient and is one of the top-selling products for office and home laptops.
Furthermore, the DDR4 is among the latest developments, allowing the processor to quickly load and process the data. Hence, you can enjoy speedy task completion. Also, it ensures smooth performance during multitasking and running applications.
5 – Storage
Another factor or specification that impacts the performance and efficiency of your laptop is its storage capacity. Traditional HDDs are suitable for storing larger files and are much cheaper. But, they are not good at providing speedy work. On the other hand, Solid State Drive guarantees fast data access and quick boot times. The Lenovo Ideapad 330-15 AMD comes up with 256 GB SSD, which improves the overall responsiveness of the laptop, making it an excellent choice for versatile activities. You can enjoy everyday activities, like movies, dramas, shows, songs, assignments, online browsing, and casual gaming seamlessly.
Features of Lenovo Ideapad 330-15 AMD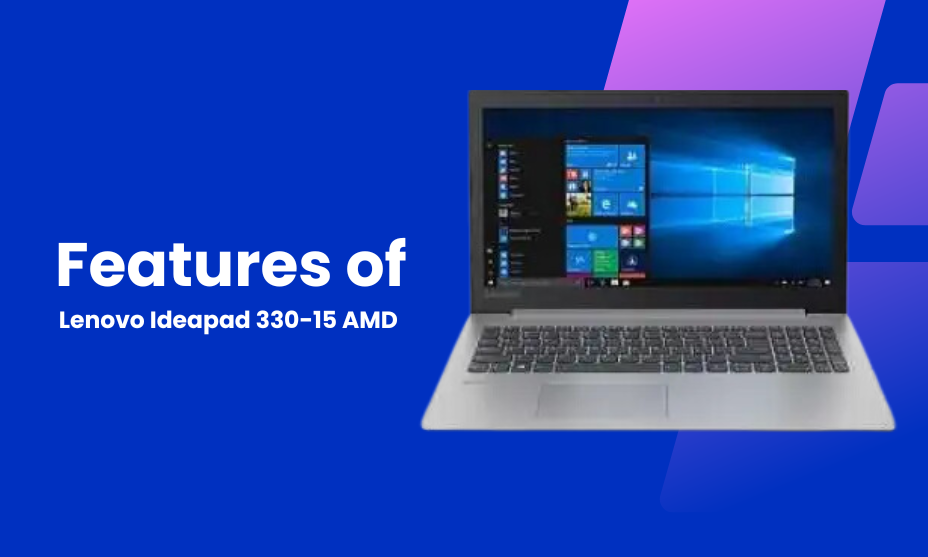 In the under-section, we have elaborated on the highly engaging features of the Lenovo Ideapad 330-15 AMD laptop.
1 – Beautifully Crafted Design
The Lenovo Ideapad 330-15 AMD exhibits a sleek and matte finish design with minimalistic and clean lines, giving it a professional look. As a result, you can use it both as an office laptop or for personal uses. Lenovo has also been famous for its beautifully crafted products, and they have showcased its talent by making this product incredibly beautiful and giving it an eye-catching look.
2 – Sturdy Manufacturing
Generally, laptops are highly vulnerable to physical damage, even with a minor stroke. However, there is no such situation with the Lenovo Ideapad 330-15 AMD laptop, as it consists of a sturdy plastic chassis that feels durable. While metal or aluminum is not included in the manufacturing, it can easily withstand everyday jerks and rigors. Above all, the hinges are robust, ensuring smooth opening and closing of the display.
3 – Extremely Lightweight
In the previous section, we have detailed that the Lenovo Ideapad 330-15 laptop is made up of sturdy plastic chassis, making it extremely lightweight and highly portable. Thus, you can easily take it on your journey to perform the necessary operation without worrying about the weight. Also, you can take it easily to your college or office daily without getting tired.
4 – Operating System
Lenovo Ideapad 330-15 AMD has the Windows 10 operating system, which is highly compatible with the applications of daily usage. Thus, you need not worry about essential activities. The laptop comes with the already installed Windows 10 Office (64-bit) version, enabling you to use it right after purchasing. In addition, the SDD storage stores the files smoothly, allowing the processor to retrieve and process the data quickly.
5 – Display
Under specifications, we have described that the Lenovo Ideapad 330-15 AMD contains the Radeon Vega 8 graphics card. Thus, you can enjoy crisp texts and images. Also, you can have their detailed overview with a resolution of 1920 x 1080 pixels. Besides, the laptop has a screen size of 15.6-inch, with a full anti-glare coating to deliver sharp and vibrant visuals. This coating also reduces reflection, making it comfortable to operate the laptop even in highly lit environments.
6 – Keyboard
Another exceptional feature of the Lenovo Ideapad 330-15 AMD laptop is that it offers a comfortable typing experience with its well-structured keyboard. The keys are spaced at a decent level, helping you avoid errors. Although it is not as premium as Lenovo's Thinkpad series, you can still use it for long typing sessions. Above all, including a numeric keyboard has made it a well-suited gadget for those who work with numbers frequently.
7 – Mouse Pad
The mouse pad of this premium laptop is highly responsive, making navigation highly efficient. While it supports multi-touch gestures, it ensures that multitasking is a breeze. Moreover, it can easily accommodate an external mouse, as some users don't like using the built-in mouse pad. You can also change the DPI of the external mouse through settings for more precise control.
8 – Connectivity
The Lenovo Ideapad 330-15 AMD laptop is a breeze to operate and browse online because of its exceptional connectivity with available networks. The wireless network drivers are present, guaranteeing you to connect your device with a high-speed Internet connection. As a result, you can stream your favorite events and watch the latest movies live online.
9 – Ports
With 2 USB 3.0 ports and a USB-C port, you can connect your smartphone to the Lenovo Ideapad 330-15 AMD laptop to transfer the data. Furthermore, an HDMI port allows you to deliver presentations and assignments on multimedia effortlessly. In addition, a headphone or microphone combo jack is present. So, you can enjoy your favorite songs and videos for an immersive experience.
Price of Lenovo Ideapad 330-15 AMD Laptop
With the rise in global inflation in recent years, it could be difficult for tech enthusiasts to leverage high-end gadgets. Nevertheless, the Lenovo Ideapad 330-15 AMD laptop is one of the most budget-friendly options available on the web. It only costs $499.99 if purchased from Amazon.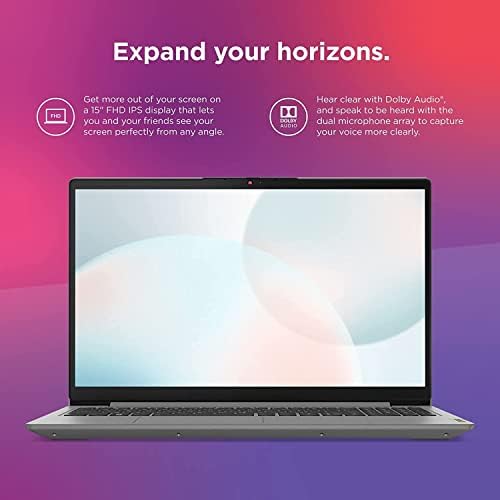 Final Verdicts
The Lenovo Ideapad 330-15 AMD laptop is the best option if you are looking for a reliable laptop to perform everyday computing tasks at a reasonable price. You can enjoy snappy performance with its AMD Ryzen processor and SSD storage. Moreover, the full HD display with enhanced pixels ensures high-quality images and video. Above all, the complete keyboard with soft touch delivers a comfortable typing experience to content writers. Although it is a well-suited gadget for high-end gaming, you can play some standard titles without trouble.