Homeworkify is a free educational resource developed with the crazy motive of free education for everyone. There are online homework platforms that offer similar services to Homeworkify, but none have the same level of expertise and demand for money. Students all around the world can seek assistance from these platforms to complete their homework, and the best part is that most of them are free. Sometimes, students might get stumped on a certain assignment and need assistance to get through it. That's where this online homework platform comes in handy, as they are easily accessible and offer guidance for free. This detailed note will discuss about this platform and some of the best alternatives and provide information about them.
What is Homeworkify?
Homeworkify is an online platform that helps students with their homework and assignments. Boasting a comprehensive knowledge base, this resource provides outstanding coverage of academic fields and topics – from biology to business and math to engineering. This assists with homework problems, offers topic-specific tutorials, and provides helpful advice and tips. It might not be a good platform for everyone, but it is a great source of information for students that need assistance with their schoolwork. As such, it pays to broaden your knowledge base by visiting other websites that can solve your homework difficulties.
How Does Homeworkify Work?
Homeworkify works by providing students with detailed, step-by-step guidance. This platform offers students a unique opportunity to benefit from the knowledge of experienced professionals and the resources necessary for them to excel in their assignments. They can use the tutorials, videos, and other content to understand better each subject area or concept they are studying. There are only four steps through which you can get the answer to your question:
Search the question on Google too which you want to get the answer
Copy the URL of the question to which you have searched on Google
Paste and submit the link on Homeworkify
After processing the question, it will generate the answer to your question
Benefits of Using Homeworkify:
Homeworkify offers students several benefits, including:
Easy to use and understand: The process of using Homeworkify is simple, and no experience is required
Comprehensive knowledge base: The huge library of content makes it a great resource for students
Free: Students don't have to pay for the services offered by this platform, making it an ideal option for those on a budget
Time-saving: students can receive assistance with their homework in a fraction of the time it would take them to find the answers independently.
Best Alternatives to Homeworkify:
There are plenty of alternatives to Homeworkify that offer students the same level of support and services. Some of the best alternatives include:
Chegg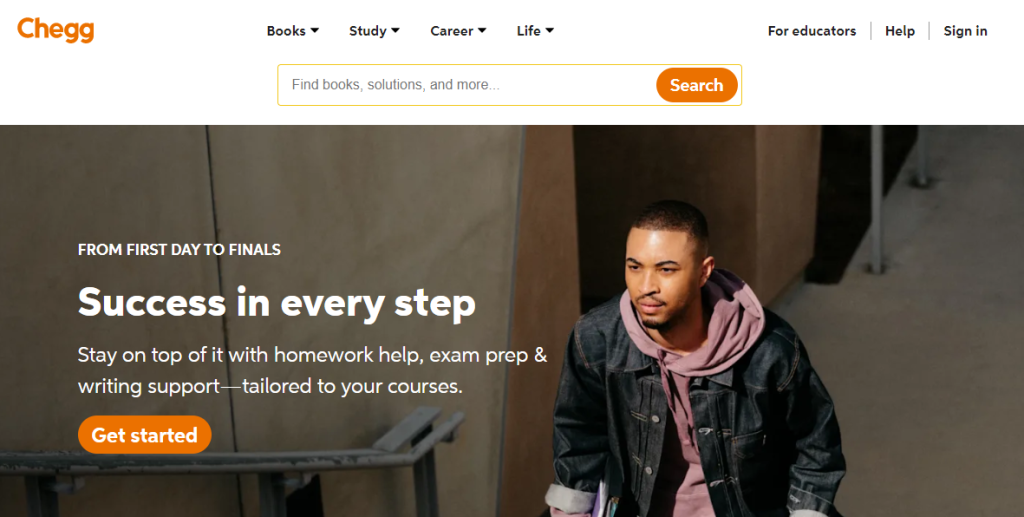 Chegg offers students several study aids, including online tutoring, homework digital and rental textbook solutions. It is one of the most popular and reliable platforms for online homework assistance, with a great selection of resources available at an affordable price. Chegg is the go-to platform for those wanting fast and reliable support with their online homework. This comprehensive site provides instant answers to any question, giving users access to a wealth of knowledge in mere moments. No doubt, it is one of the best alternatives to Homeworkify.
MyMathLab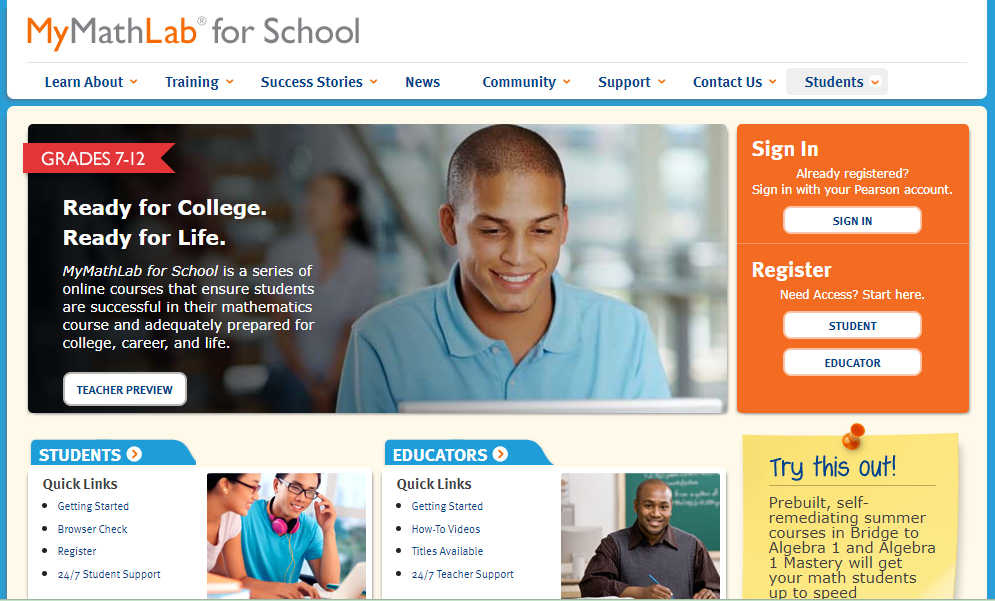 MyMathLab is the perfect study companion for any math student. With interactive lessons, personalized study plans and tailored feedback on math concepts, this online homework platform improves your skills in no time. You can explore new mathematical ideas while getting instant feedback to ensure that you are mastering each concept correctly with MyMathLab's assistance; success has always been challenging to achieve. It is an ideal platform for those wanting to take their math skills to the next level and looking for a Homeworkify alternative.
Brainly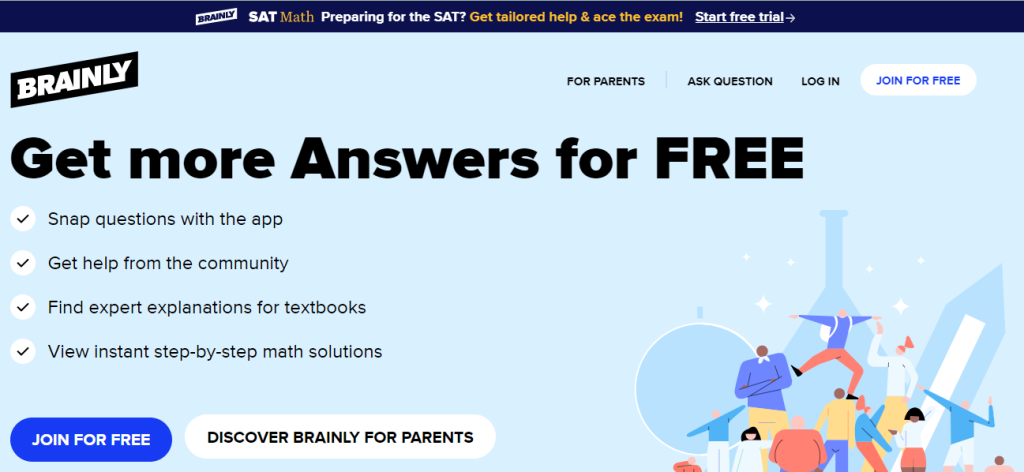 Brainly is an innovative educational platform that offers students a unique opportunity to connect with experts and peers from different countries, enabling them to find solutions for difficult homework inquiries. A student has to submit their query on the platform and others contribute to giving the best answer. It has an online community of over 200 million people, making it a great platform for resolving your homework queries quickly and accurately. It is an excellent Homeworkify alternative for those seeking a more interactive approach to online homework assistance.
Quizplus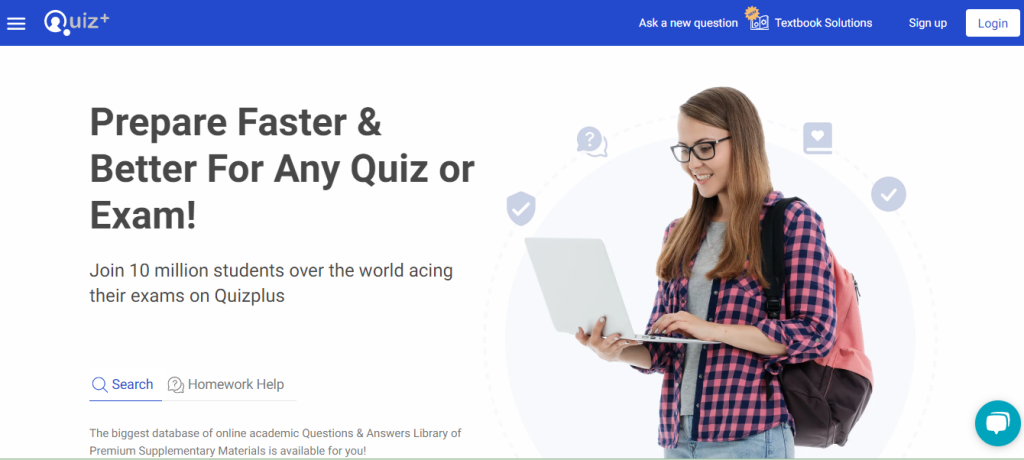 Quizplus is a more technology and college-related platform. It offers students a variety of study tools and resources, such as practice tests, step-by-step tutorials and more. Almost 200+ subjects are available, so you can easily find the topic you're looking for. Students get customized study plans and assignments tailored to their learning styles with this platform. You can help the Quizplus community expand its resources by uploading your study materials, and in return, you'll earn points to buy decks and quizzes that will broaden your knowledge base. An easy way to give back while advancing yourself.
Crazy For Study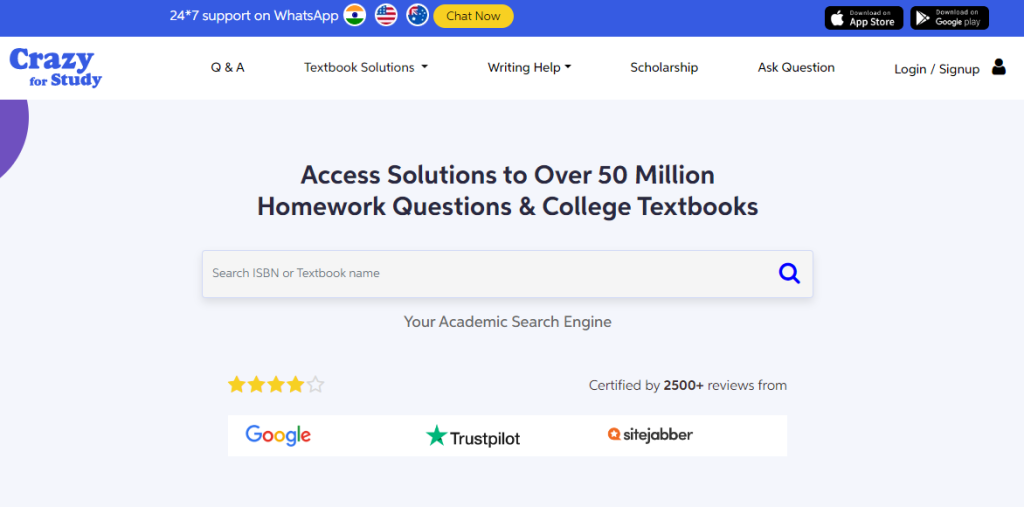 Crazy for Study is an amazing platform for students looking for a resource to assist them with their homework. It is a revolutionary academic search engine similar to Homeworkify that provides you with the solutions and answers necessary to complete your college tasks, papers, and exams. Moreover, it also gives you access to numerous knowledge resources with a database of 50+ million textbook questions already solved. It includes a great collection of study materials, such as notes, tutorials and online courses.
Studylib

Studylib is a great platform for those wanting to maximize their studies. The curriculum of this program is designed to make the study of intelligence, practical studies and cognitive science as comprehensive as possible. You can acquire knowledge on any topic with accompanying audio-visual materials. You can easily access reading materials, practice tests and quizzes on this platform. It is a great Homeworkify alternative for those wanting to enhance their
StudyPool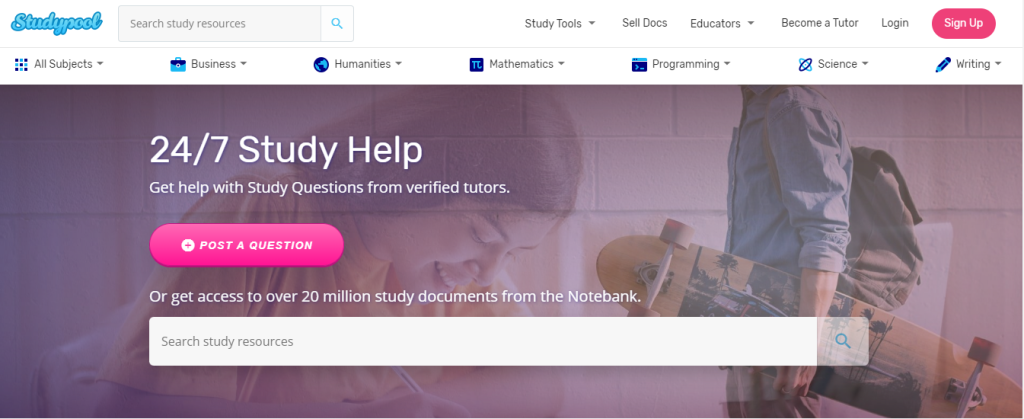 StudyPool is the perfect platform for students seeking useful knowledge and skills. This comprehensive learning system covers all subjects from Math, Science, and History, to English. StudyPool provides personalized online tutoring services that aim to improve your understanding of any topic and increases your grade level. The platform offers a variety of helpful features that can enhance your understanding, excel in your academic work, or boost your hands-on abilities. In terms of learning new material and improving academic performance, it is better to Homeworkify.
PhotoMath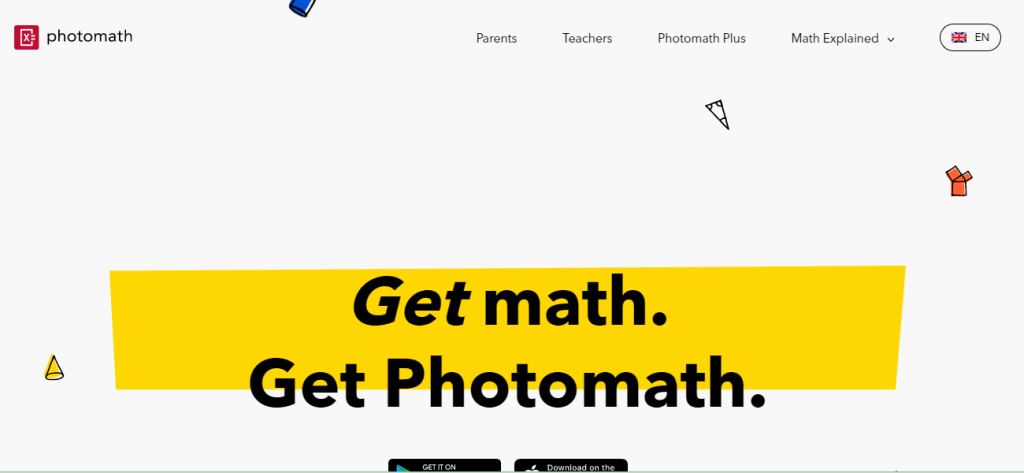 PhotoMath is a revolutionary mobile app that uses camera technology to read and solve mathematical problems accurately in seconds. You can use the app to scan and solve questions in textbooks, exercise books, or even handwritten notes without any hassle. It is an easy-to-use app that helps students understand the problem better. If you're looking for a time-saving alternative to Homeworkify, try this instead.
Socratic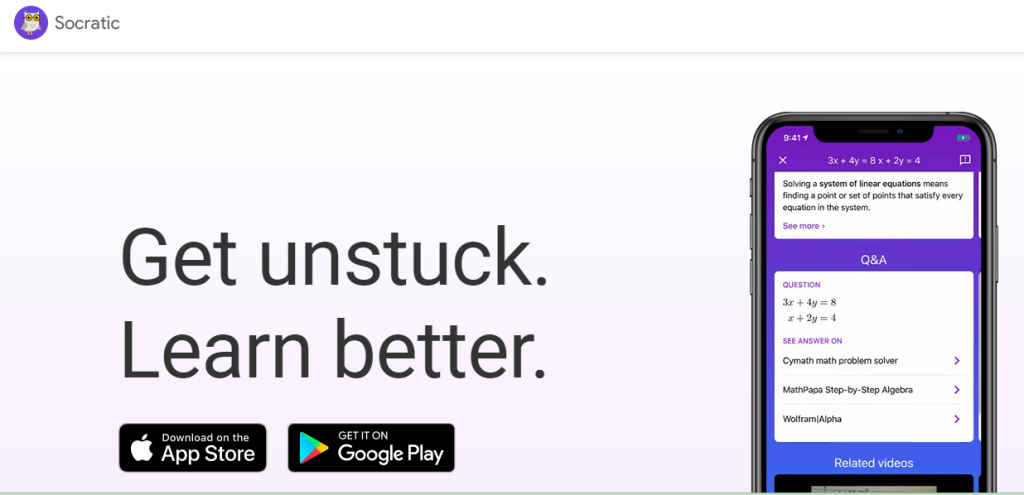 Socratic is a citizen science platform specifically designed for students. This app uses Artificial Intelligence technology to answer questions from various sources, including textbooks, websites, or even other students. It is an excellent Homeworkify alternative for those looking to find reliable resources and get help from experts. You can use it for various purposes, such as completing homework, preparing for tests and exams, filling knowledge gaps, researching concepts and improving your understanding of subjects during study sessions.
JustAnswer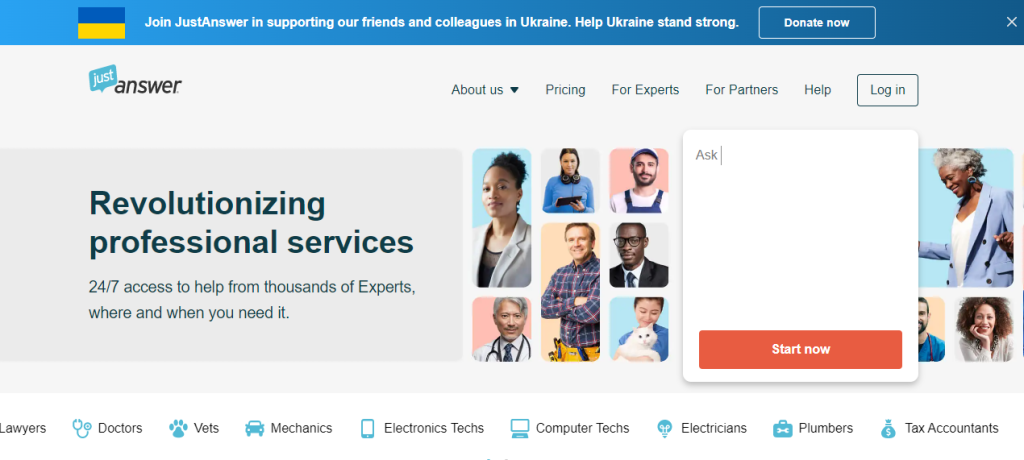 JustAnswer is a great platform for those seeking quick answers to homework questions. This app provides immediate access to experts who can answer your questions and provide assistance with your homework assignments.  In addition to saving money, consulting with an expert allows you to address your specific issue. The app connects users with knowledgeable individuals who can answer their questions quickly and accurately. If you're looking for a replacement for Homeworkify, try JustAnswer instead. It's a convenient tool for getting help quickly.
Final Words:
Mode of learning in the present century is changing rapidly with the advancement of technology. After the pandemic, the traditional classroom was replaced by virtual classrooms. To simplify learning, various online platforms are available for students to encourage their learning effectively. Most of these platforms offer similar features, making it difficult to choose the right one. The Homeworkify mentioned above alternatives are the best choice for those seeking reliable resources to improve their studies. I hope that this detailed note will assist you in choosing the best learning platform for your needs.