Apps
9 Best Useful Apps for Students in 2023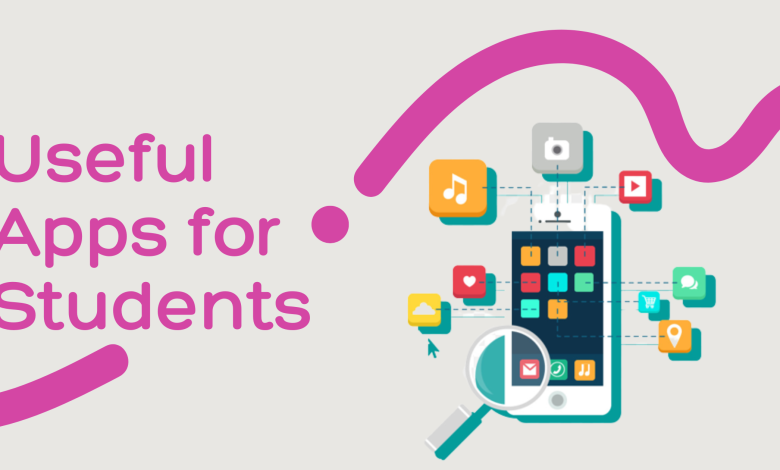 In the era of tech development, where everything is digitalized, students are also relying on technology. They are using different apps and websites for educational purposes like Z library. They are using their devices not only for study-related apps but also for study planning apps. Students from every major are connecting to the internet for their comprehension, concept check, skill development, schedule management, planning, time management, learning a language, etc.
List of Useful Educational Apps
Following are the best useful apps for students in 2023. These Apps are of great help for the students as they are helping the learners get done with the tasks and assignments in a manageable way.
Students find it very useful to use task-managing and time-managing apps. Evernote is one of the best apps to take notes in the form of videos, audio, or saved and updated web content. Students can make a to-do list and keep everything organized the way they want. There is a separate dashboard on the homepage of the app that gives access to the quickest and most relevant information which learners save.
Brainly is a learning platform for students that allows peer-to-peer learning not only for students and teachers but also for Parents. Homework-related questions can be asked by Parents on this platform. It is one of the most popular apps for academic learning that has almost 350 million monthly users on record. Subjects such as English, science, mathematics, and social studies. Questions are ranked according to the subjects and the discussion topic. Brainly has a diverse setup of learners in which they discuss different subjects and problems related to them. Learners can upload a picture of any question and people with authentic answers would help them in solving those.
3 Study Timer
Study Timer is an online application designed to help users optimize their study time. It tracks the amount of time spent studying, such as Set a timer for 25 minutes. As well as the quality of study sessions. It also provides features such as setting goals, scheduling reminders, and tracking progress. By providing users with these organizational and motivational tools, Study Timer helps them stay on task and makes studying more efficient and effective.
Khan Academy is one of the best non-profit learning platforms for learners that provides free education to anyone, anywhere in any part of the world. The personalized learning environment for the students according to their level of comprehension is carried out followed by their pace of learning. Authentic and Trusted content is provided by the company in the form of lectures and lessons. Everything is free of cost for academic personnel. Teachers can carry out the need analysis of every student they meet through khan academy.
If a learner wants to learn any second or foreign language but has no idea how to get started with it,duolingo comes in handy which makes language learning easier and fun. It uses visuals for learners to grab a concept in long-term memory. Language learners are of the view that learning is comprehensive and that detailed lessons are provided effectively and efficiently. Learners also acquire skills of reading, listening, writing, and speaking unconsciously if they follow the instruction provided by duolingo in learning any language. This Language learning app is rated as a 5-star learning app and it also boosts the confidence level of learners.
This app is designed to make learners learn language by listening to the news related to current issues and incidents happening all over the world. Learners are given articles with a list of difficult words and synonyms, audio is also attached with the transcript of the article. This makes learners learn about current issues, general knowledge, and global news, by making them learn the language through the use of all four skills of the english language. This is a very effective and useful app for English language learners.
With everything available and accessible through tech advancement, it can be admitted that students also need to learn using E- media sites. Coursera is a learning platform that provides thousands of learning videos and lessons to make individuals learn skills. By paying for some of the courses, they can get the authentic certificate delivered to their homes. This web asks learners to work and upload assignments in various subjects and domains. Everything from language to digital marketing skills can be learned by getting done with the endless courses provided by this platform. It provides technical educational skills too so that learners try to get promoted in their fields by providing their respective organizations with certificates and other requirements.
If You want to learn about Literature, art, classic literature, history, philosophy, and film sparknotes is the best app to look for. It provides all the archaic words, details, literary work, poems, novels, and dramas with their description in the modern English language. it also provides chapter-wise summaries of different books and students can look for a different genre. The website also provides quizzes and crucial details in the form of a summary that learners can only scan to have a quick understanding.
9 Dictionary Apps
To learn anything in any genre , the best way is to have an electronic dictionary that provides answers to all the confusing words with synonyms, antonyms, and the maximum possible collocation list. The first ever English language dictionary is the Oxford English Dictionary, which has the most important and useful words for any age group learners and provides satisfactory answers to the confusion people have.
Other dictionary apps that are also useful for learners are Merriam-Webster dictionary and World Wide Web. They are authentic and provide quick and reliable answers to queries.
This is one of the best apps that every student should have on the device. Students can know once they use it that this is the most compatible and professional office software that provides all the features within the reach. Students can edit the document, and convert them into a specific format. All the documents within the device can be seen in a single organized app. It provides the learner with a lot of innovative and creative ideas to be more productive in their assignments, presentation, or other collaborative tasks.
Conclusion
Students, in this age, are being provided with a lot of ease by the use of these task-managing and note-providing apps. These apps must be used by learners and institutions to boost productivity, improve intellectual abilities and achieve higher IQ levels.