Apps
Top 12 Free Live Cricket Streaming Apps for 2023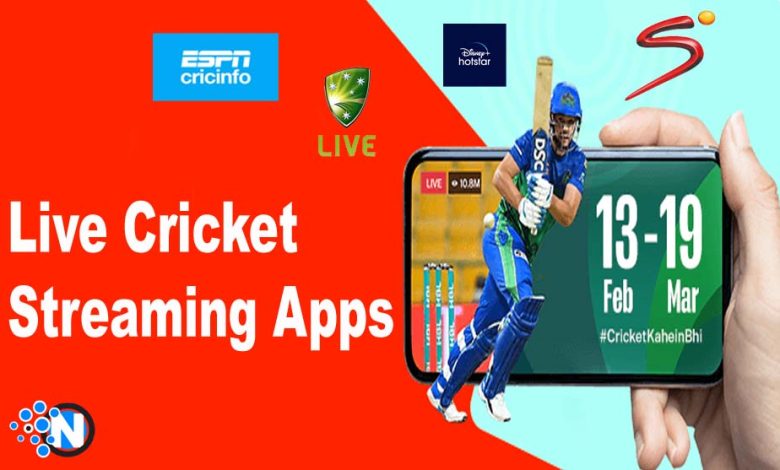 Live cricket streaming apps have become the best sources to watch live events happening across the globe. Like football, cricket also has a massive fan following and is extremely popular in certain areas, like India, Pakistan, England, Australia, and Bangladesh. Considering this, International Cricket Council (ICC) and different countries' boards hold yearly contests to boost the fans' interest and entertain them. However, you cannot visit every stadium to catch the action in front of your eyes. Thus, mobile applications become a convenient method to watch matches on the go. In 2023, numerous options are available. We have listed the top 12 apps offering services for free.
Live Cricket Streaming Apps
Based on the features and interface, you will get the best experience with the following mentioned 12 free live cricket streaming apps.
ESPNcricinfo is one of the top live cricket streaming apps you can go for in 2023. Its exceptional interface and comprehensive cricket coverage make it the top choice for sports enthusiasts. You can watch the live stream of domestic and International matches in ultra-HD quality. Besides, the application offers you in-depth analysis, exclusive interviews, and expert opinions. Hence, true cricket fans can have a deep understanding of every match. In addition, users can access real-time scorecards and match stats in detail.
Hotstar is also among the popular live cricket streaming apps with a wide range of cricket content. It is one of the most versatile online platforms, providing TV shows, movies, dramas, and news. Although some features require a paid subscription, Hotstar allows live streaming of certain cricket matches, including some bilateral series, domestic tournaments, and international events. The dominating point of this application is that it offers streams in ultra-HD quality, enhancing your visual experience.
Sony, the leading television network in the world, has launched its official application for mobile users. It is available for Android and iOS users, providing live streaming of cricket matches broadcasted on Sony Sports Network. This may include domestic as well as International tournaments, including country leagues and World Cups. The only downside of this application is that it follows geo-restriction policies for some countries. However, using a VPN and connecting with Indian servers can unlock its interface and allow you to enjoy your favorite matches.
SuperSport holds broadcasting rights for African countries. However, the mobile application is available worldwide, making it one of the most accessible live cricket streaming apps for 2023. Whether you are an Android or iOS user, visit the application store to download the official app. It not only helps you watch the live streams but also offers highlights of important contests to bring back old memories. Besides, you can get the post-match analysis and experts review to learn more about different aspects of the contest
If you are residing in Australia or a die-heart fan of the Aussies national cricket team, Cricket Australia Live is the most suitable option to download on your mobile phones. The live streams of all the domestic and International cricket matches played in Australia are available on this platform. If you have subscribed to the Kayo Sports TV channel, you can use the same credentials to operate this app. Consequently, you don't have to pay any extra cent to get in touch with the details of your favorite team.
Tata Play, previously known as Tata Sky, is one of the greatest live cricket streaming apps, despite providing access to different TV channels, shows, and much more. The best part is that it is available globally. So, you don't have to install the VPN to utilize its features. Installing this application on your smartphone makes you feel like carrying a smart TV in your pocket to catch up on your favorite sport or shows. In addition to cricket, Tata Play lets you watch different sports, including football, rugby, wrestling, hockey, and NFL.
Although the US is not a permanent member of the International Cricket Council, the craze for cricket is mounting in different states. One of its best examples is the inauguration of Major League Cricket, where top stars from every nation have played their part. Considering this huge fan following, Willow TV has launched its official application with the same title. It is dedicated to providing HD streams, primarily targeting the United States audience. But, users outside the country have to bypass the location proxy to access the interface and unlock all the features of this highly anticipated platform.
Mobdro is a third-party application available only for Android phones. It provides access to different sports channels, enabling you to catch the action effortlessly. Just visit the official website and Install the APK on your smartphone without paying a single dollar. You can access multiple sports channels, like Fox Sports, to catch the action of your favorite tournaments live. Based on these attributes, we are ranking it among the top live cricket streaming apps for 2023. Nevertheless, you must not add credentials or other important details, credit card or account number to avoid negative results.
ThopTV also works on the same pattern as Mobdro. But the only difference between the two is that this application offers streams in more enhanced quality. In this way, you can watch every aspect of the contest clearly. Moreover, the infrastructure of ThopTV is sturdy, preventing unnecessary glitches and bugs. We have listed ThopTV among the best live cricket streaming apps for several reasons. The most dominating one is that it allows you to save videos and highlight them for offline enjoyment and entertainment. Additionally, you can watch premium PPV sports entirely free with this application.
Live NetTV is a versatile platform offering live sports streaming, enabling users to watch their favorite matches, leagues, and International events. It features a larger collection of channels, including movies, shows, dramas, sports, and many others. Thus, you need to sort them out to find dedicated channels for cricket. Generally, you can access the Sony sports channel to catch the ball-by-ball action of the new matches. Similarly, it allows access to the interface of Star Sports, one of the biggest giants of the sports industry.
JioTV is the next application present in this rundown of the best live cricket streaming apps for its outstanding features and exceptional characteristics. Featuring more than 650 channels, you can watch TV programs, movies, shows, dramas, and sports, including football, cricket, and others. JioTV is one of the most famous Indian broadcasters that allows you to enjoy live cricket streams and highlights of important matches. Moreover, you can watch Indian Premier League and ICC World Cups in ultra-HD quality without missing a single shot or wicket.
If you are a resident of the Middle East and North Africa (MENA), OSN Play serves as one of the best live cricket streaming apps you can opt for in 2023. This app gives you free access to International matches, IPL, PSL, BBL, and BPL. MENA countries are often not covered by so many broadcasters. Thus, people in these areas lack enough options to watch their favorite stars. But, OSN Play has resolved this issue by delivering a comprehensive option to fulfill their interest and have solid entertainment and fun.
Final Verdicts
The year 2023 offers a plethora of free live cricket streaming apps for cricket enthusiasts worldwide. From established platforms like Cricbuzz and ESPNcricinfo to popular streaming apps like Hotstar and SonyLIV, users can choose from a wide range of options based on their preferences and regional availability. Additionally, third-party apps like ThopTV, Mobdro, and SportsAngel provide alternatives for users seeking unconventional streaming sources. By installing these apps, cricket fans can stay connected to their favorite sports and enjoy the thrill of live matches right at their fingertips.