Crazy Shooters has taken the world by storm and emerged as the best crazy shooting game for its outstanding features and stunning visuals. With time, the shooting genre is consistently improving and becoming a top source of entertainment for gaming enthusiasts. However, some titles can deliver more damage than fun due to their increased violent gameplay. Thus, they are unsuitable for under-aged gamers, spoiling the charm and beauty of this crazy genre. On the other hand, this outstanding shooting game has earned a reputation for its safe gaming interface, stunning graphics, and immersive experience.
What is Crazy Shooters Game?
If you are looking for a game with an exhilarating nature and online multiplayer shooting experience, Crazy Shooters is the best option to go with. Its fast-paced actions and responsive controls offer a wide array of backgrounds. Furthermore, the diverse gameplay modes, an extensive arsenal of customizable weapons, and a thriving eSports scene put you at the top of the competition.
Such a wholesome nature is suitable for people of all ages. Whether you are a teenager or in your 60s, you can pocket the same level of amusement and entertainment. Moreover, with its commitment to community engagement through social features, you can share your insights with the newbies to help them have more fun. 
How to Play Crazy Shooters?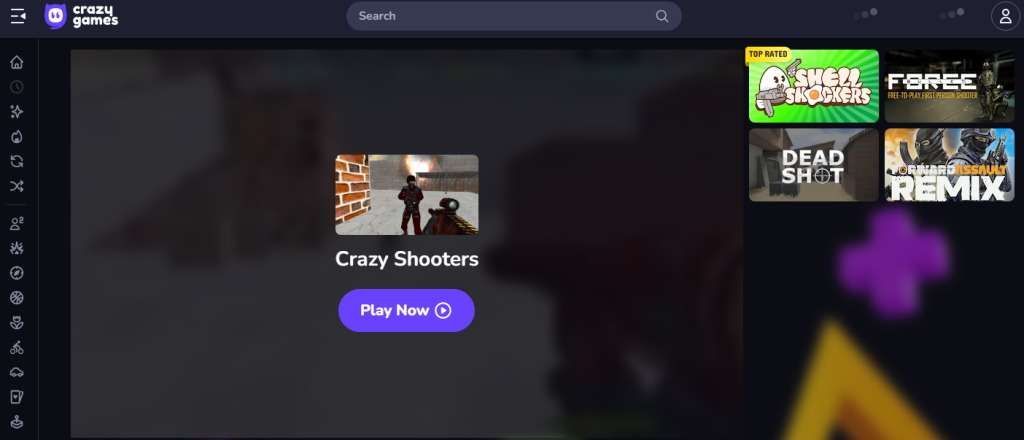 Playing Crazy Shooters is not rocket science. Just grab your smartphone and start enjoying this high-end title. If you are a laptop or PC user and want to explore the beauty of this game on a larger screen, you are in the right place. We have enlisted the complete details in the under-section, helping you through the way to play this crazy shooting game on your mobile as well as on your laptop or desktop.
a. Mobile Users
Crazy Shooters was built especially for mobile users and features cross-platform compatibility. Thus, Android and iPhone users can both enjoy this masterpiece. If you own an Android device, visit the Google Play Store and search for the game in the search bar. iPhone users also have to perform the same operation. But, they must visit the App Store to download and install the application on their mobile. In this way, you have seamless entertainment on your smartphone, tablets, and other devices.
b. Laptop Users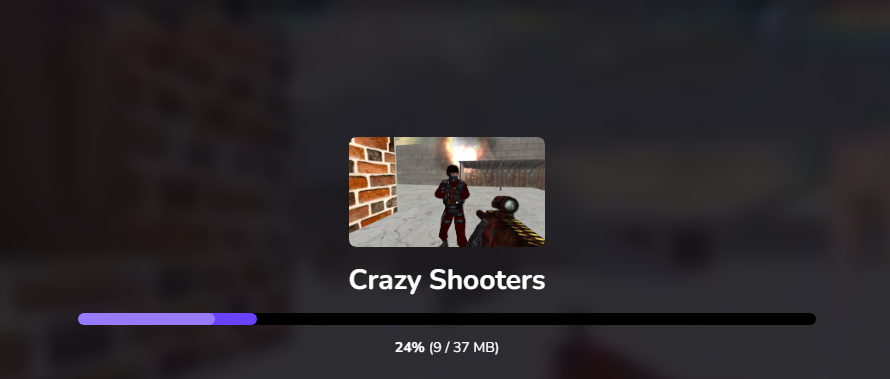 Laptop or PC users cannot access the Crazy Shooters directly. That's why they have to follow some other steps to entertain themselves. We have enlisted the details in the following section.
Grab a compatible laptop or PC with enough processing speed to browse the Internet.
Leverage a high-speed Internet network and connect it to your device.
Install the latest browser to ensure all cookies are available for seamless browsing.
Search for the Crazy Shooters online in the search bar to reach the results page.
Then, sort out different websites to find which provides the game with high graphics.
Features of Crazy Shooters
We have elaborated on all the features of Crazy Shooters in the under-section that will develop your interest in this high-end title.
1 – Wide Selection of Weapons
Crazy Shooters is a shooting game. Therefore, it offers a broader selection of weapons to give players a comprehensive experience. You can enjoy fighting against enemies with traditional shotguns and rifles. Also, you can access futuristic energy weapons, like Ak-47 and others, for more entertainment.
2 – Intuitive Gameplay
Another exceptional feature of Crazy Shooters is its intuitive gameplay. Whether you are a newcomer or have been playing this game for a long, you can find exciting landscapes and the same sort of entertainment at each level. Further, the controls are very simple, allowing you to utilize all aspects during a war.
3 – Dynamic Maps
Most people think Crazy Shooters possesses the same map and modes to fight against enemies. Nevertheless, this is untrue, as it showcases numerous landscapes to keep players engaged. Besides the traditional gaming mode of capturing the flag, you can play the zombie apocalypse and boss battles.
4 – Competitive eSports Scene
Unlike other games, Crazy Shooters support a competitive eSports scene because of its multiplayer approach. Numerous events and tournaments are organized regularly where skilled gamers can showcase their talents. Similarly, you can hold a competition between you and your friends to polish your skills.
5 – Realistic Environments
Playing games in high pixels for seamless entertainment and fun is a modern-day requirement. Crazy Shooters guarantees to deliver stunning graphics. So, people can enjoy every aspect of the competition in an improved quality, taking their experience to an advanced level.
6 – Character Designs
Crazy shooters provide stunning visuals and appealing character designs and animations. In addition, many built-in customization tools are available, allowing you to create the character of your own choice. Hence, you can make it your trademark sign.
7 – Particle Effects
To make the gameplay look realistic, the developers have integrated the particle effects inside the Crazy Shooters game. Consequently, you can experience more engagingly fireworks, bullet fires, and explosions. These effects are impressive and helpful in assessing the situation in real time.
8 – Social Features
We described previously that Crazy Shooters emphasize building a community of people with the same interests. The built-in chat system also enabled people to communicate and share their thoughts. As a result, they can have more ergonomic experience.
9 – Regular Updates
The developers of Crazy Shooters are continuously making efforts to improve the gaming infrastructure. They announce regular updates after a specific interval to engage players more effectively and resonate with their preferences.
Final Verdicts
Crazy Shooters has impacted the shooting game genre with its extensive features and accessibility. Players of every age can benefit from the intuitive interface and easy controls. Whether you are a beginner or have some experience playing this game, you will always find something new in this high-end title. Grab your smartphone and visit the respective stores to download it. Conversely, laptop and PC users can enjoy shooting through numerous online platforms available over the web. Just understand the basics and have your hands on the tremendous entertainment.