Apps
Best Football Streaming Apps for Android & iOS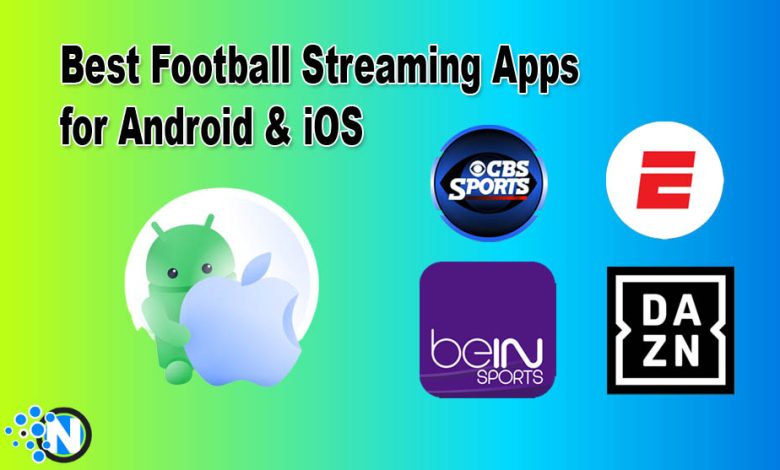 Football streaming apps are the best sources of watching live contests as well as highlights of important events and post-game interviews. With the increased usage of mobile phone technology, broadcasters have shifted the trend from traditional TV channels to mobile apps and websites. Now, you can watch every kick live without any delay directly from your smartphone. Due to the improved accessibility in technology, many options are available on the web. However, we have listed the top 10 most popular football streaming applications you can download on both Android and iOS devices.
Best Football Streaming Apps for Android and iOS
In the under-section, we have detailed the top 10 most popular and easily available football streaming apps for Android and iOS mobile versions. Android users can easily download them from the Google Playstore, while iOS users must visit the Appstore.
ESPN stands for "Entertainment and Sports Programming Network." Launched in 1979, it is one of the biggest sports industry broadcasters, covering almost every football event, from the World Cup to association leagues. You must purchase the subscription plan to access live events completely. 
ESPN is the official mobile application developed and launched by ESPN Inc. to allow smartphone users to enjoy football matches live. You only need to visit the respective store to have this one of the best football streaming apps to watch the contests in ultra-HD quality. You can get ESPN monthly subscription for $9.99 per month.
beIN Sports is the next application on our list. Famous for its interactive interface, it provides live streams in ultra-HD quality. beIN, one of the most famous Qatari broadcasters, owns this application to cover mainly the Middle East and North America (MENA) regions. Furthermore, it covers areas including Canada, Australia, New Zealand, Turkey, Hong Kong, and Singapore. Besides, people from every part of the globe can get these football streaming apps for enhanced entertainment and fun. The monthly subscription cost of the beIN Sports app is $14.99.
DAZN is the next option on our rundown of the top football streaming apps. Featuring the largest gallery of football collection, you can entertain yourself with the highlights, live matches, and on-demand videos. Moreover, this application covers major leagues like English Premier League, Spanish La Liga, and German Bundesliga. Although DAZN has launched its official application, you can also enjoy football matches on the official website. DAZN is available for free, enabling football geeks to have fun for zero dollars.
If you reside in America and are interested in watching American football matches, CBS Sports is one the most accessible football streaming apps. It only offers live streams and highlights but also post-match analysis and interviews. National Football League has the official broadcast deal with this broadcaster, making it easy for football enthusiasts to catch the live action. The application features a user-friendly interface, allowing everyone to navigate and find the match to his interests. Beyond soccer, you can also watch many other sports events. Just like DAZN, you don't need any subscription or account for this app.
Hotstar is also one of the most appealing football streaming apps for Android and iOS users. Owing to its intuitive interface and exceptional color scheme, it fascinates users and enhances their visual experience. Additionally, ultra-HD streams help you have an enhanced view of every field corner, even if the stream is done through a distance. One of the most fascinating things about Hotstar is its multiple membership plans, as per their features. The minimal subscription cost is $10.99 for the Super Plan to access the contents for a complete month.
If you are a die-heart fan of the English Premier League and want to have a complete eye on every moment of the content, NBC Sports is one of the top quality options as football streaming apps. Just visit the app stores and download it on your devices. Besides providing a live stream, you can easily watch the highlights. Above all, the deep analysis of the matches after every contest can lead you directly to enhanced entertainment and amusement alongside a deep knowledge of the game. You can acquire NBC Sports for $4.99 per month.
Since the departure of Ronaldo and Messi, La Liga has never reached the same heights of glory again. Still, millions of fans are wild to watch every second of the matches. La Liga TV serves as the official application of the league, allowing you to catch the live action and highlights. The videos are available in ultra-HD quality. Therefore, it is among the top football streaming apps. Pay $10.99 to get a monthly subscription to this app.
OneFootball is also included in this rundown of the best football streaming apps, providing you access to multiple sports events worldwide. Whether you love watching Premier League, La Liga, or Bundesliga, OneFootball surely has something for you for the monthly membership of only $1.99.
Although YouTube doesn't feature live streams, you can watch the highlight of important games and match analysis. Due to its free availability and easy accessibility, it is also among the top football streaming apps.
10 – Facebook
Lastly, we have placed Facebook among the best football streaming apps. Several people have their pages to provide the live telecast of important matches. Similarly, you can enjoy the highlights on Video Feeds.
Final Verdicts
These are the top 10 best football streaming apps for Android and iOS smartphones. You can download them easily from the Playstore and Appstore to enjoy the live actions, highlights, and post-match events, including analysis and expert advice. All the mentioned applications offer ultra-HD streams, enhancing your visual experience. Some of them are free, while you may have to purchase a membership plan to unlock the features of the other apps. ESPN, DAZN, beIN Sports, and Hotstar are the most widely used apps and available worldwide.