Anime websites are in high demand these days because of their ability to provide access to the latest shows and movies. Now, Anime has become a global phenomenon because it has the potential to captivate the audience with exciting storytelling and visuals. In recent years, they have risen to glory, and the demand for reliable sources to stream and enjoy this beautiful genre is increasing. Numerous platforms are designed and launched over the web, enabling you to watch classic series to the latest release. However, not everyone delivers the same perks. We have developed this guide on the top 12 sites you can access in 2023.
Best Anime Websites for Entertainment
After exploring the web and a large number of platforms, we have created a list of the top 12 best anime websites for entertainment.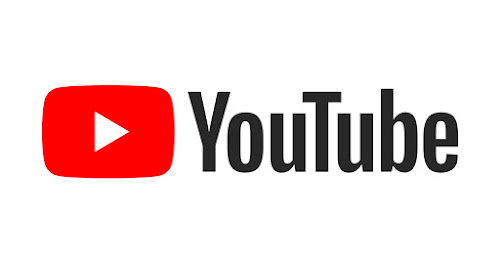 Seeing YouTube at the top of this rundown of best anime websites could be surprising for most users. However, it is what it is, as this top video platform has extended its library to include anime series. Now. you can watch your favorite shows and characters from the official channels created by the developers of the original series. Furthermore, some local creators have also tried to take your fun and enjoyment to another level by producing quality content. Some top perks of watching anime on YouTube are the following.
You can download them for offline amusement.
YouTube allows ultra HD quality videos over a good connection.
Lastly, you don't have to pay anything to stream YouTube on your devices.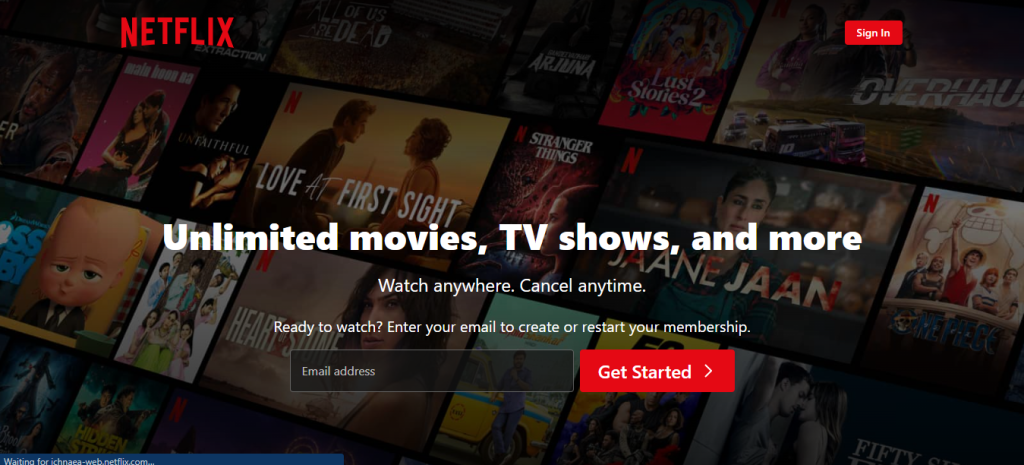 Secondly, we have placed Netflix on this list. It is also becoming one of the top anime websites for its exceptional quality perks and features. Launched as the top video platform for watching web series, TV shows, seasons, and movies, the developers have scaled the infrastructure of this platform to incorporate complete animation series. You can watch cartoon series, like Ben 10, Tom and Jerry, Barbie, and many others on the website as well as the mobile app available for both Androids and iOS. Nevertheless, Netflix is a paid website, and you must purchase a subscription plan to watch the videos.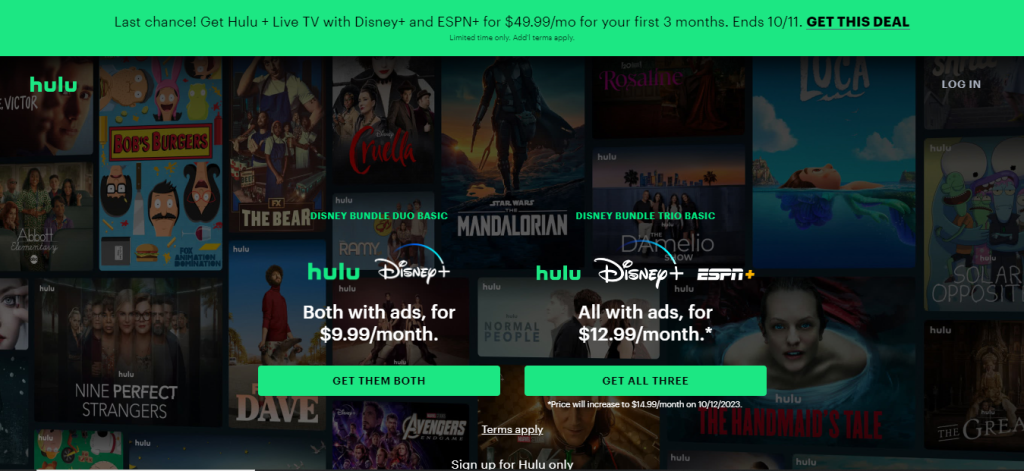 If you live in the United States of America, Hulu could be the best among the other anime websites to watch anime and cartoons. It is also a paid website and works on a subscription model. You must buy a membership plan in order to protect your favorite series. The top feature of Hulu is that it not only features high-quality videos but also provides a customizable option to save your data balance. On the other hand, the only downside of this outstanding website is that it is not accessible outside America. You must bypass the location proxy with a VPN to unlock the content.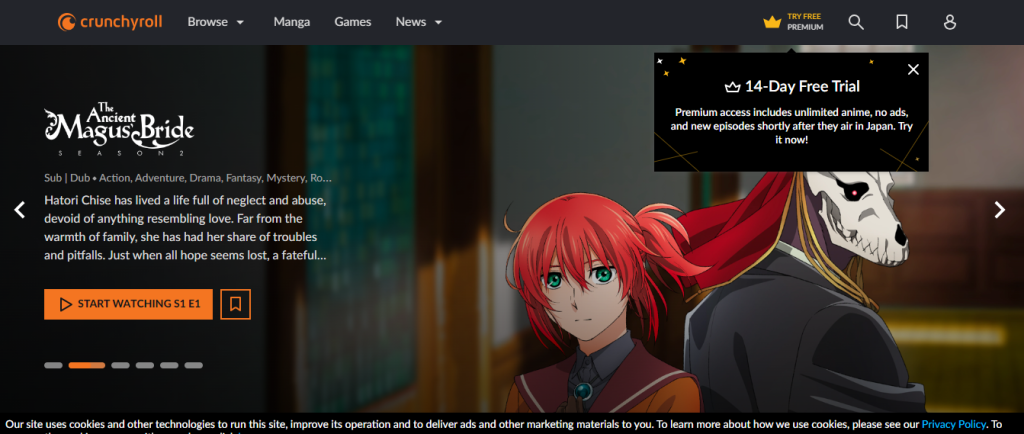 The first platform ever developed to provide anime series to cartoon enthusiasts, Crunchyroll has taken the world by storm for its unique interface and global availability. You can access a vast library of anime series and movies in the free version. However, accessing the full content is only associated with purchasing the premium plans. The subscription offers ad-free access to a wide selection of anime and the latest episodes of your favorite series. Above all, Crunchyroll possesses an extensive manga collection and exclusive original content, making it a must-visit anime website for fans. If you are among those people, you can entertain yourself with this brand.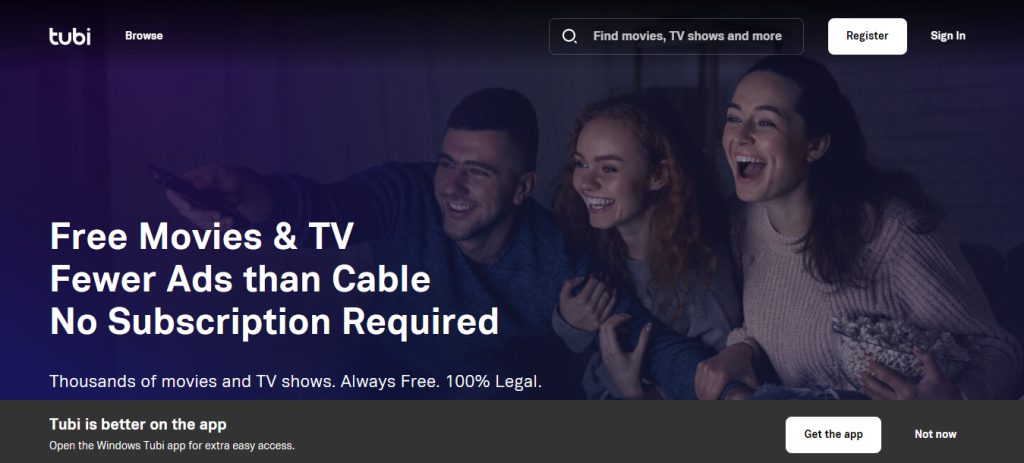 Tubi is another brilliant option among the anime websites you can access in 2023 to fulfill your interest and pocket maximum amusement. It is undoubtedly one of the best platforms because of its top-quality video accessibility features. You can enjoy your favorite series on the free plan. On the other hand, the memberships charge you a reasonable fee, allowing you to watch the best shows without effort. Furthermore, you can access the vast library of more than 50,000 videos, providing you with a comprehensive range of entertaining options. Additionally, you can watch the on-demand videos based on the pay-as-you-go service.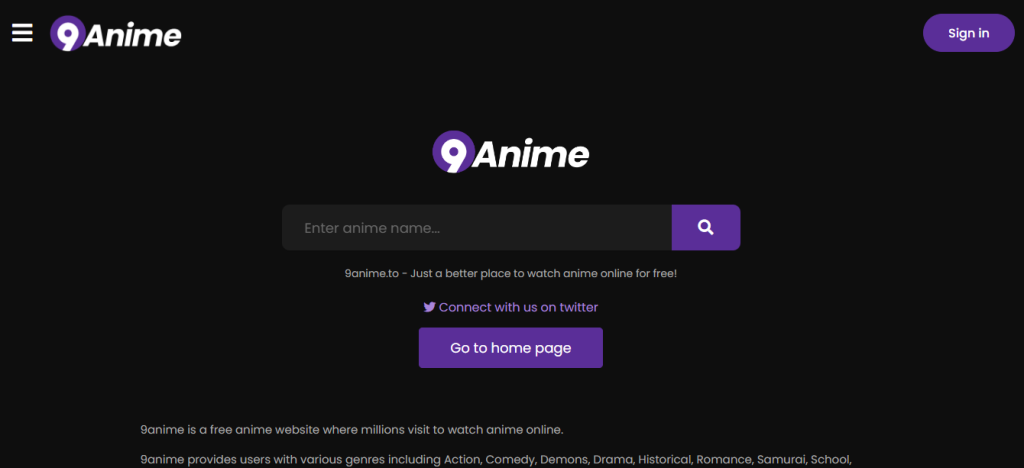 We have added 9anime in this rundown on the best anime websites because of its free access. Consequently, you don't need to subscribe to any plan or pay dues to stream any cartoon or movie. However, it lacks certain features, such as a small video library. Moreover, some shows are not available in ultra-HD quality, causing a poor visual experience. Overall, it is a stunning platform for anime geeks who don't have a reasonable budget to spend on a premium platform. Whether you have a laptop or PC, just open your search engine and enter the title to access the official website.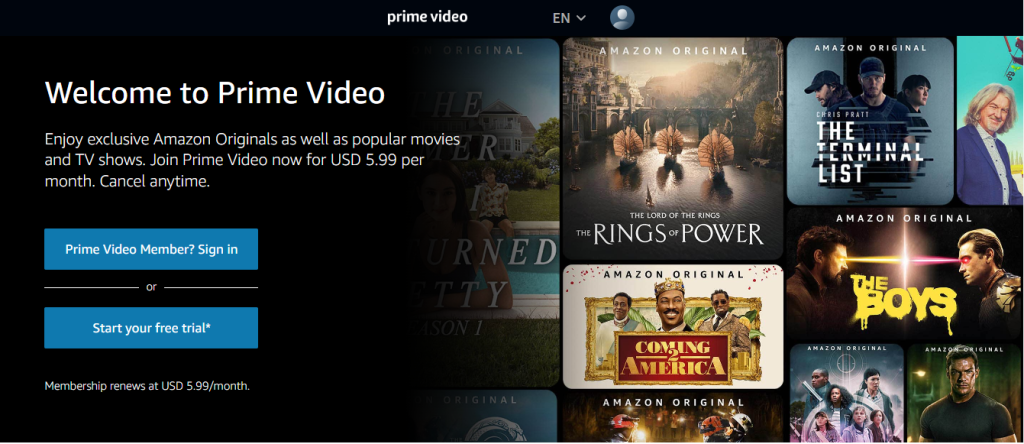 Amazon Prime Video has also paved its direction toward providing anime series because of their extensive popularity in recent years. Amazon has launched this platform to allow users to enjoy their favorite movies, TV shows, dramas, and other series in ultra-HD quality. Recently, the developers granted permissions to the creators to upload anime content on this platform., It benefits not only the users but also the platform, as they have received a solid boom in the total audience. The top attributes of Amazon Prime Videos are the following.
Budget-friendly plans enable you to watch videos without breaking the bank.
Extensive library to help you find the content catering to your interest.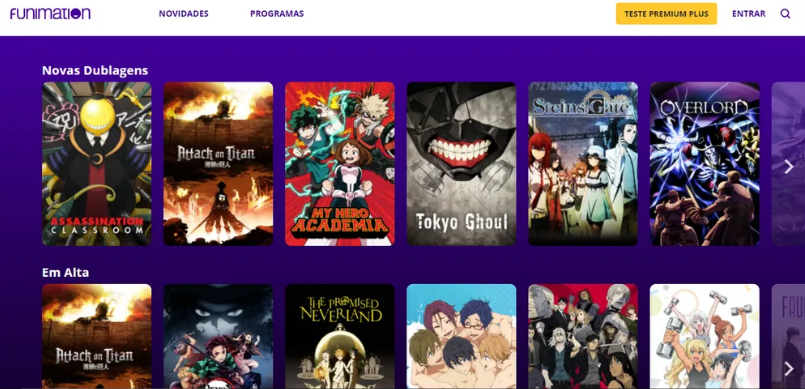 No other anime websites could be more flexible than Funimation in delivering the top series and shows. The primary benefit of this brilliant platform is that it provides you with English dubbed and subbed content. Thus, if you aim to watch any anime featuring a language other than English, open this website and enjoy it. One of the significant characteristics of this platform is that it offers a diverse catalog of classic and contemporary titles. Including popular series like "My Hero Academia" and "Dragon Ball." You can also subscribe to the premium model of this platform to access the ad-free content.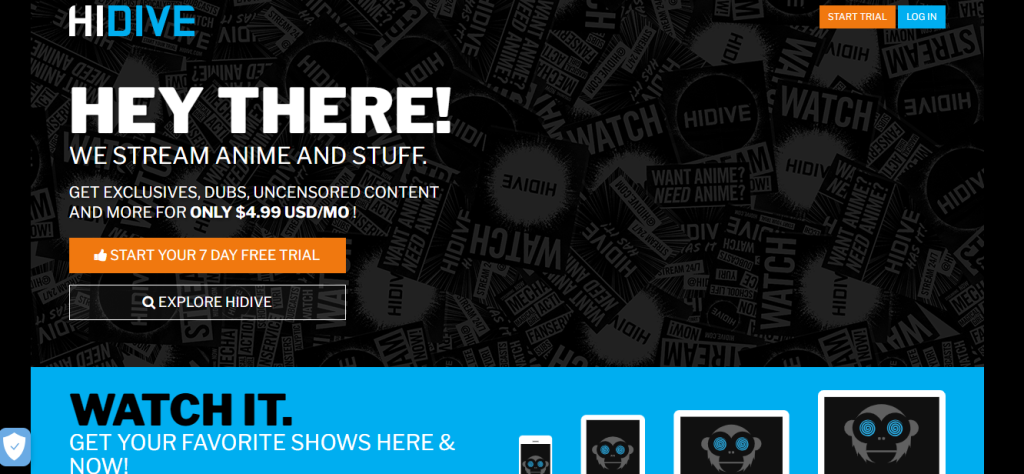 Best famous for its extensive library of anime, HiDiove has made its entry into this rundown on the best anime websites in 2023. It provides access to classic and lesser-known titles, ensuring that you can enjoy the best cartoon series available over the web. While the free account is beneficial in certain aspects, you may get frustrated with advertisements and promotional popups. On the other hand, premium users can have an ad-free experience and early access to new episodes. In addition, you can download the content for offline viewing. HiDive also includes a unique OVA series, which couldn't be found anywhere. As a result, you can have your hands on many other relevant titles.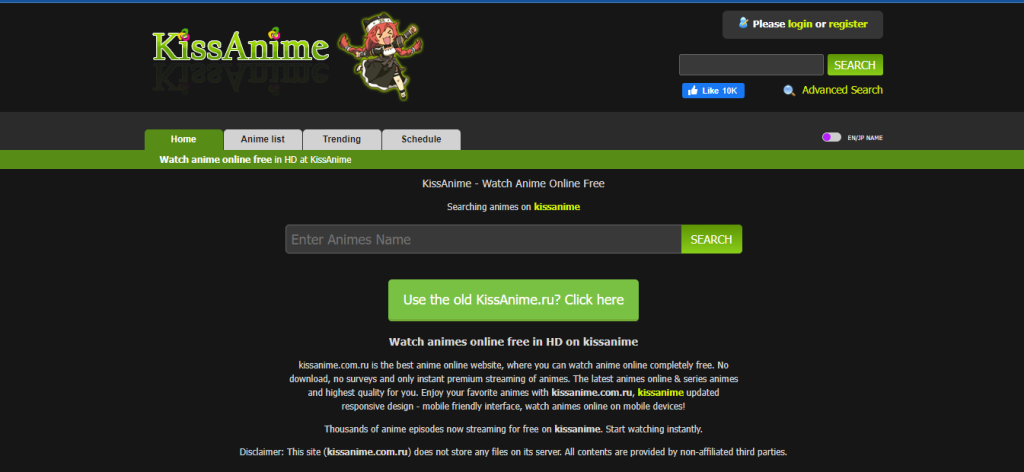 Kissanime has a massive collection of anime titles. That's why it is present among the top anime websites. It enables users to browse their favorite titles while watching them for free without any membership. However, Kissanime comes with several risks, such as you may come across with intrusive and explicit advertisements. Similarly, some copyright concerns are there, spoiling the whole charm and beauty of the platform. With some precautions, you can guarantee the safe usage of this tremendous platform in a legal manner. Besides, if you are living in an area where this site is restricted., install a high-quality VPN to get access.

VRV is not a simple platform to provide you access to anime content. Instead, it is a comprehensive video streaming platform incorporating numerous channels such as Crunchyroll, HiDive, and more. As a result, the subscribers gain access to various anime titles and other content. VRV users can customize their collection and list their favorite channels to prioritize watching the top shows. Among the top attributes of VRV are a diverse content library, affordable fees, and ultra-HD streaming. After understanding its advantages, choosing this platform to find a variety of streams resonating with your interests is the best possible activity you can perform.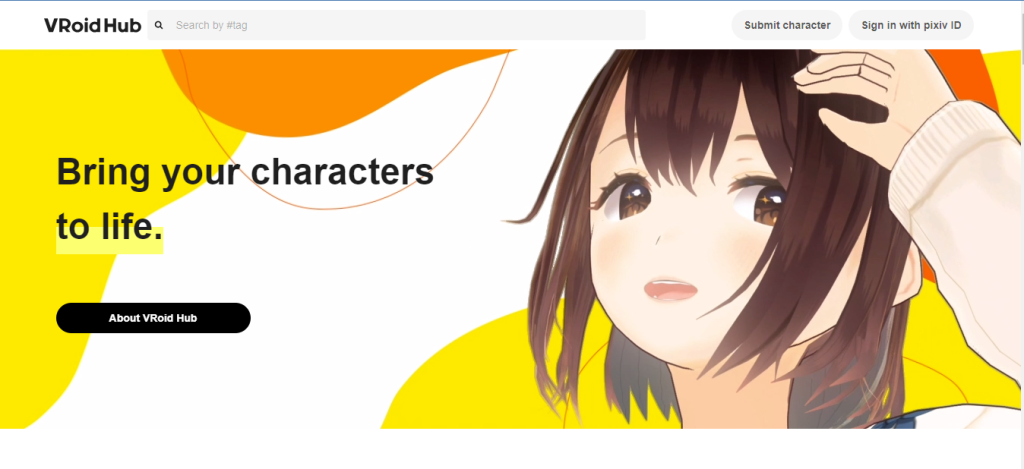 Not so many anime websites allow creators to create and upload their anime content or characters. Such people are called Vtubers and are highly advanced in their skills to generate their own 3D anime-style characters. Besides featuring a typical anime website interface, this platform has showcased the creative potential of anime-inspired character design and virtual entertainment. These benefits make VRoid Hub an intriguing addition to the anime world. The only downside of this platform is that some users won't understand the language. Nevertheless, some extensions are available to translate non-English languages into English, streamlining your tasks and efforts.
Final Verdicts
These are the top 12 anime websites you can visit to watch your favorite characters and the latest episodes in ultra-HD quality. Some of them are paid, while others allow free access. You must consider the pricing plans and subscription duration before making a purchase decision. As a result, you can avoid breaking the bank and make the most of your money. Additionally, you must consider explicit ads and other licensing considerations before subscribing to a platform to avoid legal complications. However, the websites mentioned in the above section are entirely safe to stream.