Internet
How to Stream Netflix on Discord- An Ultimate Guide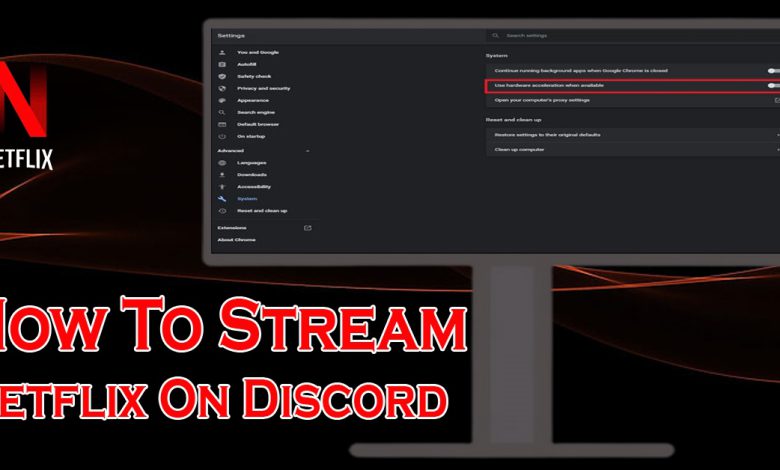 Netflix is one of the most fascinating streaming services on the planet. Millions of people are using it to watch online films and TV series. Yet, on the other hand, Discord has gotten several updates to make it a standard correspondence platform that does not only focuses on gamers.
The method involved with Streaming Netflix on Discord is very simple. You can communicate with friends, live streamers, developers, and communities. It is convenient to share the screen on Discord when using mobile. The other thing you cannot do is stream Netflix on Discord's phone applications because of DRM limits, which include Android and iOS. Netflix and Discord collaborated long ago to give clients a far superior streaming experience. In addition, some people face problems like encountering a dark screen while attempting to watch Netflix through Discord.
How to Stream Netflix on Discord using Windows and Mac
These steps give the perfect response on how to stream Netflix on Discord. Fortunately, there are some steps you can follow to have a quality streaming experience. Following the steps below, you can easily stream Netflix on Discord.
The first step you have to do is to download the Discord app from the official site. When the installation procedure completes, you should sign while using the QR code while using a smartphone app or Discord command.
It would be best if you opened the web browser on your system to stream Netflix on Discord and cruise a Netflix website.
Once you have logged in using your account, open your Discord and make sure it is associated with a server. It is necessary to create your own server in case you are not a part of the server.
Now, click on Setting (the gear icon) from the lower part of a page.
When opening Settings, scroll down and conclude your Activity Status like "Game Activity.
Beneath No game detected messages, you should click on Add it! You can pick any tab in Google Chrome with a live streaming accommodation.
You should choose your browser before running Netflix – Mozilla Firefox.
Before proceeding further, just click on Add Game button.
After quitting from Settings, please click the screen-shaped icon appearing in the left corner on the baseline of the screen.
A Screen Share pop-up message will be shown where you choose Google Chrome or any other browser you recently utilized for streaming.
After adjusting the stream settings, you should click on Go Live and start streaming on the platform.
Problems When Streaming Netflix on the Discord
When streaming Netflix videos on Discord, numerous issues can happen in your stream. You can look for multiple solutions for the problems you can face during consistent gameplay or stream.
Streaming with Sound
The primary reason is that Discord should have access to administrative. To watch a film with your mates or play a video game with a gathering, you want to ensure that the drivers are working appropriately.
In some cases, you will not find steadiness in the "Screen Share' feature. It can be why you probably won't have the option to hear anything. Please ensure you have provided all requirements to the Discord platform and all sound effects enabled for that situation.
Perhaps the most crucial question on the Discord tool is how to stream Netflix on Discord with sound. Assuming you are already confronting some sound issues during streaming. The main focus should be to find the problem by paying particular attention to it. You can provide many justifications to use another platform to o streaming, but you will barely hear a single voice.
Black Screen When Sharing Screen
Various users have looked at their black screen problem, interestingly attempting this sort of streaming. Multiple steps can assist you with fixing the Dark Screen when you are streaming online.
After signing into Discord, click on Settings and look for the Voice and Video tab.
It is better to click on Video Codec, where you will see OpenH264 Video Codec. It is up to you to disable either one or both.
There is the setting for Utilizing our latest technology capturing your screen that is empowering the platform on default mode. You can make it disabled if it is not going your way.
Another thing that could work is if these steps are not going in your favour.
Firstly, update your discord application.
Tab on Settings from the Google Chrome.
It would be best if you kept scrolling until you reached the base to see the Advanced drop-down menu.
By clicking it, you can track down an element, Use Hardware Acceleration When Available, that you will disable.
You should turn off all the other features during online streaming and also clear the cache folder from the platform.
How to Stream Netflix on Discord Using iOS or Android
Make sure are having the Netflix and Discord applications on your smartphone if you want to stream Netflix on Discord. After that, below are the curated list of steps that you should follow:
You should ensure that both Netflix and Discord are open on your smartphone and sign in to both platforms.
It is better to have Discord connected to the server. If no server there, you should create one for interaction.
You should pick up voice channels where you should stream your Netflix content.
Click the Join Voice button while a pop-up message appears.
Now, tap on the Screen Sharing icon close to the screen's lower part.
It can help you with how to stream Netflix on Discord.
To start transmission, please tap on the Start Broadcast.
The last thing you must do is return to Netflix application and start to play a video. Anybody that has access to a channel can see the stream. You can stop it by tapping the Quit Sharing button.
You can see on Discord that you are streaming Netflix movies or TV series. To interact with live streamers who are doing live streaming of mobile games like Pubg Mobile Battleground, Free Fire, and COD, people use Discord, in which they can chat with them and do super chat. It helps streamers to earn money and get more awareness of their channel. One can do streaming of Netflix on different devices, applications, and stages. Discord offers you more things than you expected. You will get assistance communicating with your mates when streaming something together, no matter your location.
Benefits of Streaming Netflix on Discord
There are various advantages of streaming Netflix on Discord.
The first and foremost thing you can do is to watch Netflix with your loved ones. You can talk to them as well when streaming your live video. It is ideally suited for mingling and investing energy with your mates and groups.
The main thing is that it is highly scalable and super-fast. These features help you watch movies and TV series without slack or buffering. It shows that you can encounter any interferences during live streaming on Discord.
Ultimately, it is an excellent method for saving data. If you have restricted data, you keep the information by getting the help of Discord as well as capitalizing on your month-to-month remittance.
What makes Discord streaming so fascinating is that you can stream a film or a television program, and your camera will be on and let your companions see your responses to what is occurring on the screen.
Read More:
Bottom Line
Netflix and Discord are two of the most well-known web-based platforms that provide online services – keeping in mind that the two offer an extraordinary experience that helps you stream Netflix on Discord. These platforms are capable of streaming Netflix on Discord without a dark screen in an effortless way. You should ensure that you have the updated version of the Discord application and follow the steps mentioned on top to get used to it. With only a couple of clicks, you can have the option to enjoy fascinating Netflix shows and films with your company. You should not extend your chance and get everything rolling today. You can utilize Discord to interact with your squad as you mess around, like how you are ready to do on other platforms such as Skype or TeamSpeak.