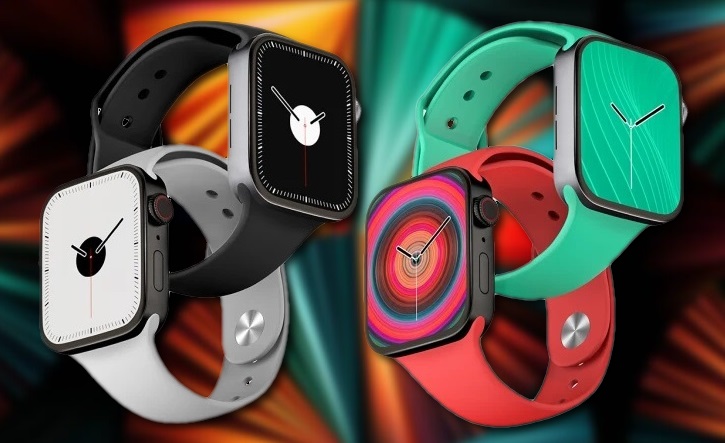 With a larger always-on Retina display and rounder shape, the Apple Watch Series 7 is the latest smartwatch and boasts enhanced durability and faster charging. This is the first generation of the Apple Watch Series 7, which is the newest Apple Watch is the company's collection. No reason to believe that a new Apple Watch Series 8 won't be released next year, as the company releases new models every September. Along with a number of other Apple products, the Apple Watch 7 was released on September 14th, 2021. There is a $399 starting price for the Apple Watch 7.
The Apple Watch Series 7 is more durable than series 6n with a crack-resistant front glass as well as dust and water-resistance ratings of IP6X and WR50 (water-resistance).
Also Read:
Framework
Additionally, the 41mm and 45mm case sizes have been added to the Apple Watch Series 7's design to accommodate a wider range of users and wrist sizes. This year's Apple Watch Series 7 features softer and more rounded edges, resulting in a more polished look. However, even though the casings have grown in size, they are still compatible with bands from previous generations.
Besides the Digital Crown, the Apple Watch contains a Side Button that can be used to open frequently used apps, access emergency services, confirm Apple Pay purchases as well as other functions.
Colors and Materials
There are three different types of materials available for the Apple Watch Series 7: aluminum, stainless steel, and titanium. As of this year, Apple has launched four new aluminum colors: Midnight, Starlight, Blue, and Green. It is available in silver, gold, and graphite for the stainless-steel models of the Apple Watch 7. The titanium models are available in a natural color (a gray-silver) and space black.
Durability
In the new Apple Watch Series 7, the front crystal component has been modified to be tougher and more robust in shape. It is 50 percent thicker than previous models, and it is more resistant to breaking than earlier models. Dust-resistant IP6X certification makes the Series 7 even more resilient in severe conditions such as the beach or desert.
Seals and adhesives keep the device's WR50 water resistance, allowing it to be submerged in water up to 50 meters deep. Ingress is only possible through a speaker that relies on air to make a sound. The speaker has been designed to expel water utilizing sound vibrations once it has been exposed to moisture.
Read:
Health Features
There are the same health features in Series 7 like there were in Series 6. To measure metrics like calorie burn, resting heart rate, and heart rate that is too high a second-generation optical sensor was designed. The electrical sensor can be used for electrocardiograms, while LEDs and infrared light can be utilized to monitor blood oxygen levels.
Users can take single-lead ECGs using the Apple Watch's back-mounted electrodes and Digital Crown.
Sleep monitoring is made possible by wearing a new Apple Watch Series 7 at night, with Apple providing statistics on how long you sleep each night.
WatchOS 8 Sofware
With the introduction of WatchOS 8, Apple's latest software upgrade, the company has focused on images and messaging, as well as fitness, sleep quality, and mindfulness. There is also greater support for smart home kits, as well as new Apple Wallet features. Besides that, the watch has Assistive Touch, which allows you to manage it with movements, and Siri can record audio directly on the watch itself.
In addition to the iPhone's Portrait Photos mode, the Breath app has been redesigned as Mindfulness, which now includes relaxing animations and a Mindful Minutes report. The Breath app has been redesigned as Mindfulness, which now includes a Pause to Relax option and a Mindful Minutes summary.
Read:
Battery Timing
As with previous models, the Apple Watch Series 7 has an 18-hour battery life on a single charge. New charging architecture and Apple's Magnetic Fast Charger USB-C Cable allow the device to charge 33 percent faster than the Apple Watch Series 6. It's important to note that eight minutes of charging time can produce up to eight hours of sleep tracking data.
For "all-day" battery life estimates, Apple relies on 90-time checks, 90 notifications, 45 minutes of app activity, and a 60-minute workout with Bluetooth music playback as a basis of calculation.
Certainly, the Series 7 has its features. Perhaps the new IP6X classification for grittier surroundings and sandy beaches appeals to those who want the most peace of mind or live a lifestyle that will really put a fitness-focused device to the test. Whether you're looking for the fastest charging, Apple Watch Series 7 is your best bet right now.