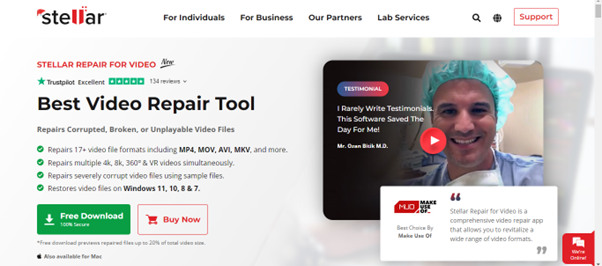 What to do when you have captured a video using a high-end camera, and it still shows an error or fault when you want to share it with your friends or upload it on YouTube? This is where a video repair tool like Stellar Repair for Video comes in handy.
A video repair tool is an excellent software that can fix corrupted or damaged video files. Such tools make it easy and convenient to retrieve, save and share valuable media content in minutes.
About Stellar Repair for Video
Stellar Repair for Video is a powerful and easy-to-use tool to fix corrupted or damaged video files. It can repair videos with various issues such as sound, codecs, resolution, frame drops, and color distortions. This tool allows users to repair their corrupted videos without technical knowledge easily. It has an intuitive user interface that makes it easy to use, even for beginners. Stellar Video Repair software also comes with advanced repair options like batch repairing multiple videos in one go and the ability to preview the repaired video before saving it. The tool supports a wide range of file formats, including MOV, MP4, M4V, 3GP, and AVI, for maximum compatibility. Overall, Stellar Video Repair Software is an effective solution for anyone looking to restore their corrupted videos with minimum effort quickly.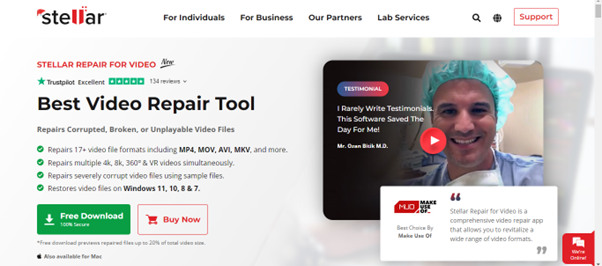 Why do you Need Stellar Repair for Video to fix your faulty videos?
When it comes to repairing video files, Stellar is one of the most trusted names in the industry. With years of experience and advanced technology, Stellar repair for video can repair all types of video formats on Windows and Mac computers. So if you've got an SD or HD video file that's damaged or corrupted and want to get it repaired, look no further than Stellar Repair for Video.
It supports various video formats and codecs and has a very simple user interface. It can repair videos with errors like truncated files, audio/video sync issues, corrupted headers and footers, audio video out-of-sync problems, etc. The software works perfectly on Windows or Mac computers and repairs movie files in any format, including MP4, MOV, AVI, F4V, M4V, and many more.
What can Stellar Repair for Video do?
A stellar video repair is a powerful tool that repairs your video files within a matter of moments. It fixes corrupted and broken video file formats like AVI, MP4, MOV, MKV, M2TS, 3GP, etc. You can use it to repair any of the following issues with your videos:
•Video corruption caused by bad sectors in the drive or bad sectors on the disc.
• Windows does not support some camera formats (like GoPro), and when you try to play such files manually, they show a black screen or corruption in the video. No need to worry if you have Stellar Repair for Video!
•Video files that become corrupt due to header damage.
•Corruption happens due to unexpected behavior of firmware or hardware on the device.
•Any other issues causing video files not to play properly. You can also use this software for repairing broken MP4/MOV and M4V/3GP videos. It has a powerful inbuilt repair engine that can fix any video file.
So, if your videos are not playing properly, try Stellar video repair and make them play perfectly again!
Amazing Features of Stellar Repair for Video
Simple and Intuitive User Interface
The User-Friendly Interface of Stellar Repair for Video is simple and easy to understand. It allows the users to perform their desired operation without difficulties or complications. Users can easily choose between different file formats for repairing, preview repaired video files, and save the same in desired formats like MOV, MP4, AVI, MPEG, and many more. They can also choose among different custom options to maintain the output quality of videos after repair.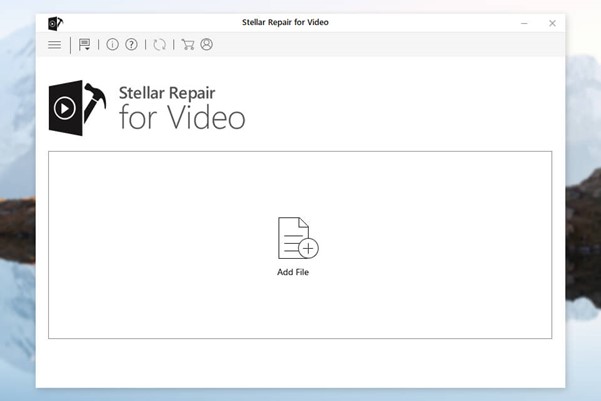 Safe and Secure to Use
Stellar Repair for Video is a legal and safe software tool for video repair. All your files and data are in safe hands when you are performing different video repairing actions. However, you must ensure the software has been downloaded from their official website to avoid any security issues. In addition, antivirus software is a good idea to avoid further security issues and any problems.
Preview Pre and Post-Repair Feature
Before you save your video after fixing it, you can see your video's original and fixed copy to compare the results. This allows you to check whether the issues are resolved properly or not. Having a quick look at the fixed video also helps you find further issues that need to be fixed.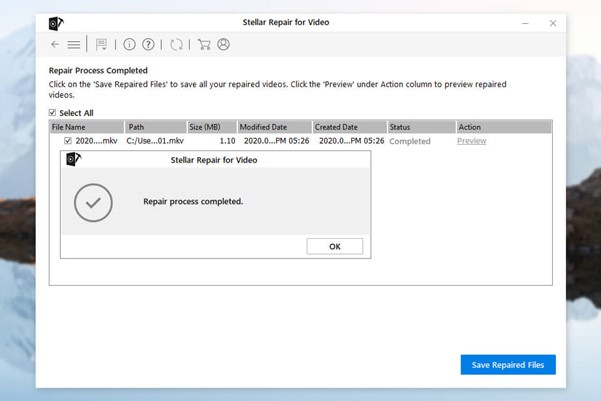 Repair Videos from Different Devices
Whether you have used a DSLR, CCTV camera, digital camera, drone, or smartphone to capture video, the software can help you fix videos captured from all types of video devices. This makes Stellar Repair for Video an all-in-one video repair solution for videographers using various video tools and devices for video capturing.
Repairs Multiple Video Files Simultaneously
Multiple video fixing is another amazing feature of this video repair software. Just add multiple video files you want the tool to fix and get them fixed at once without compromising the quality. This saves lots of time to increase your productivity and performance.
You can Save Fixed Files at a Desired Location
Stellar Repair for Video tool enables users to save their static video files at any desired location or folder of the computer or on any external drive such as USB. This helps you find all the repaired videos in one place so you can easily copy and transfer them anywhere you want.
Final Thoughts
Whether you have a corrupt video file on your hard drive or you accidentally deleted your favorite movie by mistake, this software promises to fix the problem. As such, I was eager to try it out and see how well it worked. Overall, I have to say that Stellar Repair for Video lives up to its claims. The program is really easy to use; just a few simple steps will enable you to repair any video file in your collection.