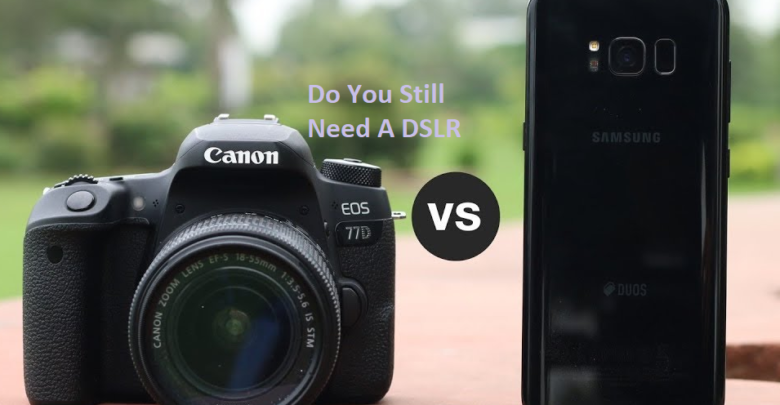 There was a time when a mobile phone had only one job to do; make and receive phone calls on the go. Time changed and companies started adding more features to these devices and we end up in the era where a mobile has become a smartphone. A device that is equipped with hundreds of features and the most important feature is the high-quality cameras. Expensive mobiles like Samsung Galaxy S9 or Huawei Mate 10 Pro are equipped with a high-quality lens and impressive features to produce impressive pictures and up to 4K videos. But, compared to a digital camera or DSLR, the result of a picture taken with a smartphone isn't so impressive.
It's a common question that if a smartphone has a good camera, do we really need to purchase a digital camera at all? The answer depends on what kind of pictures you take and how important photography is to you. If you are a regular person who takes few snaps on the go, a smartphone is a perfect choice but for a professional photographer, nothing can replace a DSLR camera. People usually debate that if a smartphone in 2018 is equipped with a camera that can take up to 4K high-resolution pictures and videos, imagine how good it would be in next 10 years. What they don't consider is the speed of development in digital camera market as well. Compared to today's top-ranked DSLR camera, the smartphone of future will definitely have a better camera but compare it to the camera of future and you will be amazed to how much catching up the smartphone camera has to do.
Reasons to choose a Smartphone
Reasons to choose a DSLR camera:
Image quality:


Let's get real for a moment here and face the fact that the picture quality of a smartphone is not even close to what a DSLR camera can produce. There are hundreds of options for choosing a professional digital camera and even if you are a beginner who doesn't know anything about photography, chances are that you can easily find a camera that does most of the hard work and with default settings, you will still end up with pretty impressive pictures. A smartphone is a device that can perform various tasks and taking pictures is just one of them but a digital camera has only one job to do; take pictures and videos. This means a smartphone camera might never outrun the image quality of a DSLR camera.

Setting control:

The camera on your smartphone has a bunch of options and you can tweak the settings as per your needs but compare to a DSLR camera, these features are just standard. You can still change the brightness settings or decrease and increase ISO value on your smartphone but a digital camera can do much more than that. There are expensive cameras that have hundreds of features built for professional photographers who know how important these settings can be for a perfect picture. Features like shutter speed and various apertures are things a smartphone can never offer.

Lens flexibility:
A smartphone comes with a standard lens for the camera that can't be changed. It is a lens built to take pictures in various situations and light conditions but when you need a specific type of lens, you can't just replace it on the smartphone. In 2018, Samsung announced Galaxy S9 plus smartphone that has variable aperture option but it still has a fix lens. This is something that you can play with on a digital camera because there are hundreds of lens options you can choose from. Professional photographers have a set of different lens to take pictures indoor, outdoor, natural photography and even underwater shooting.

Battery life:

The battery is something that you don't need to worry about when you are using a digital camera. Any standard good quality mid-range camera can take 500 to 1000 pictures or even more than that with add-on battery packs but a smart phone's battery can never produce that much of power. The reason is that it has to give power to lots of other features and applications which means if you browse web often or use social media websites continuously, smartphone will end up with empty battery by the end of the day.